I finally get to review a DeLonghi!
No products found.
The De'Longhi EO141164M Livenza is an toaster oven and air fryer combo — much like my favorite Breville Smart Oven Air — and that's important, because they allow you to fry wings, fries, chicken, and much more, without any oil.
Instead, it uses hot air to cook your food, leaving it crunchy on the outside, soft on the inside, without any extra calories.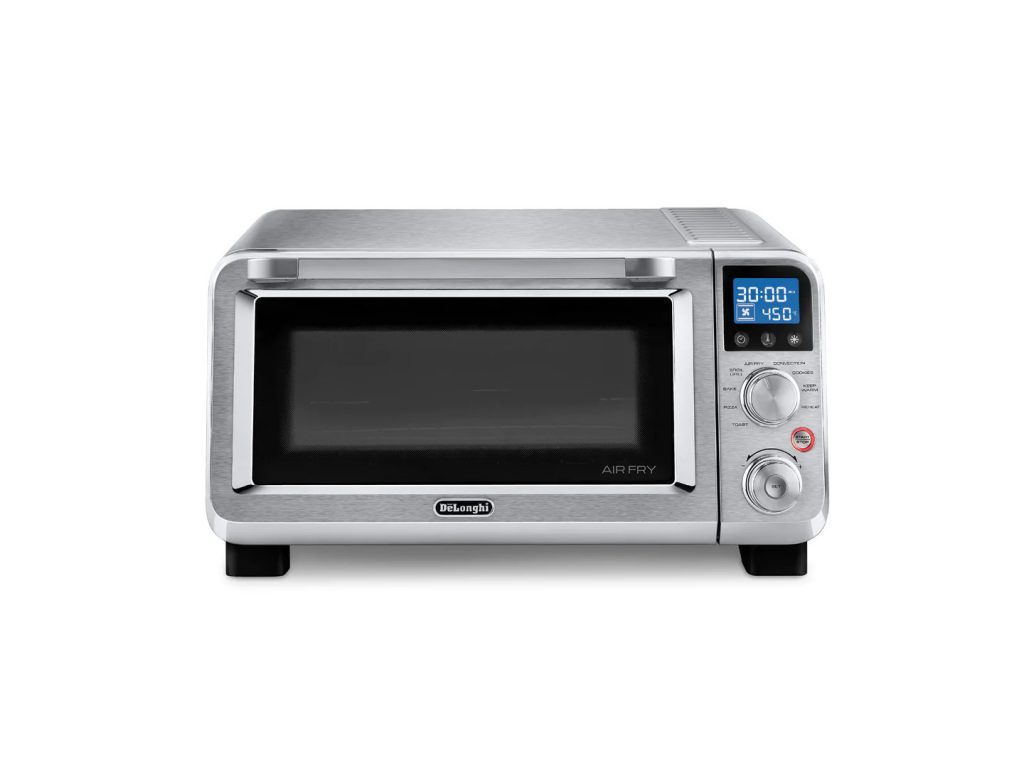 DeLonghi EO141164M: Features
Here's what I loved about the De'Longhi EO141164M:
Healthy air frying
This De'Longhi oven can fry all of your food with no oven thanks to its true convection capabilities.
With them, heat circulates around your food evenly, making the preheating and the cooking experience up to 60% faster.
This oven makes it easy to get started.
All you need to do is to select among the 9 presets to pick what you want to cook.
These presets already have specific items, like cookies and pizza, to make it easy for you to start cooking your favorite meals without any guesswork.
If you're looking for accessories to go with your toaster oven, see my recent Toaster Oven Accessory Buying Guide.
Industrial Design
To be frank, the Livenza Air Fry Oven is not a looker.
It's a bit prettier than the Panasonic FlashXpress — which is a Borg of toaster ovens — but its looks are not as streamlined as Cuisinart's or Breville's.
It does grow on you though, and that stainless steel exterior does look professional and can probably match your existing kitchen equipment.
It does make up for the looks on the inside.
It's one of the few toaster ovens outfitted with a double glass door and insulation to keep all of the heat inside.
With it, the oven emits up to 30% less heat than others through the glass door.
That's a real improvement over most counter ovens, that have a simple glass door and end up quickly heating up their surroundings — sometimes even melting counters.
The interior is coated with a non-stick finish to make cleaning as easy as wiping it down with a damp towel.
This oven also has a crumb tray that makes cleaning even easier.
You also get an oven light to easily check up on your food without opening the oven and interrupting the cooking process.
It seems like this is a given, but no…
DeLonghi EO141164M Specs
Here are the specs of this Air Fry Convection Oven:
Navigation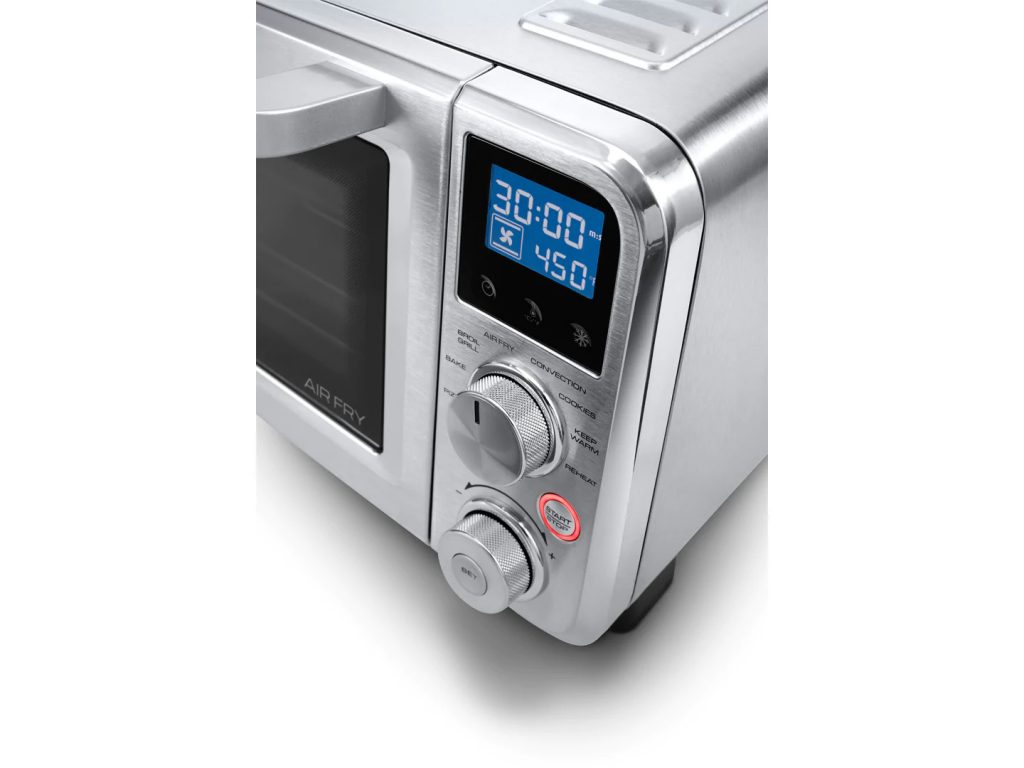 It is very easy to use. There are two dials. You start by using the first one to select among these 9 options:
Toast
Pizza
Bake
Broil/grill
Air fry
Convection
Cookies
Keep warm
Reheat
Then, you use the second dial to adjust the temperature and time. Lastly, you press the "Start/Stop" button to get started.
Besides the two dials and the button you also get three small touch buttons to select and adjust the time, temperature scales (Celsius or Fahrenheit), and temperature.
Dimensions
This oven is quite compact and light, but it manages to be big enough to cook most foods — even a whole chicken.
These are its measurements: height: 15.5 inches (39 cm), width: 9.6″ (24.5 cm), length: 17.9″ (45.5 cm).
The Livenza convection oven weighs 19 pounds (8.5 kgs), so it's easy to carry and put away if needed.
Despite it being quite compact, you still get a decent 0.5 cubic foot to cook, and the notch in the back makes it easy to fit up to a 10-inch pizza.
Included accessories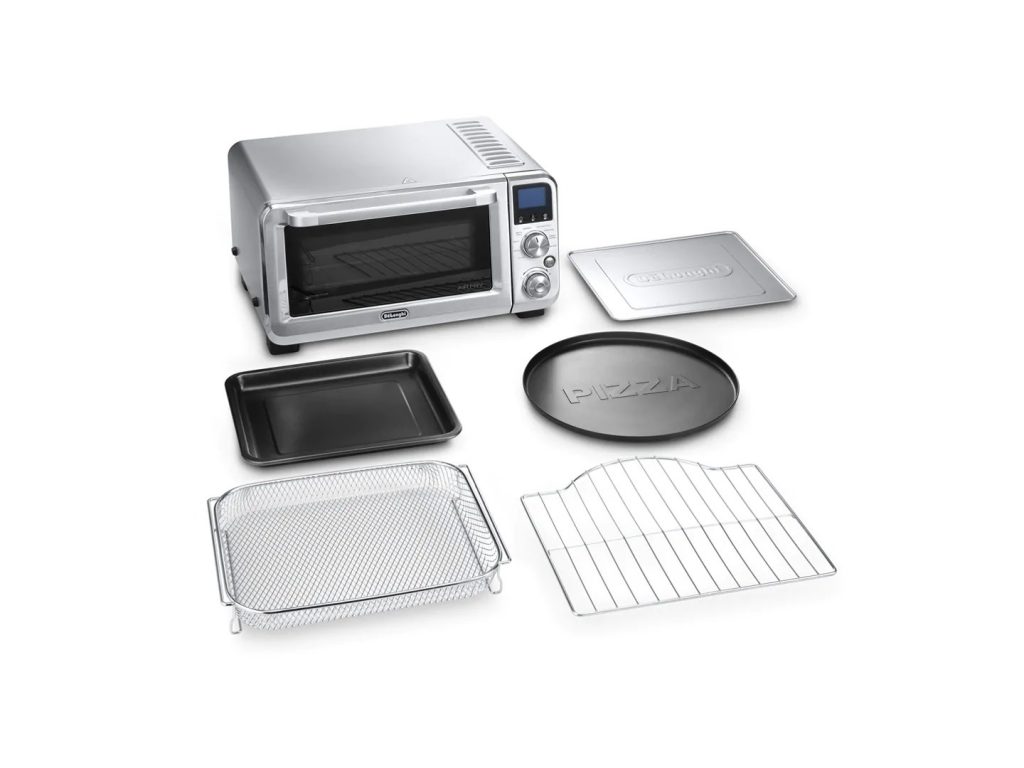 With the De'Longhi EO141164M Air Fry Convection Oven, you get quite a few accessories. The box also comes with:
An Air Frying Basket
A Bake Pan
A Pizza Pan
A Wire Rack
A Crumb Tray
Instruction Manual & Quick Start Guide
1 Year Warranty
All these accessories make it easy for you to start cooking as soon as you unbox it, without having to buy anything else.
De'Longhi EO141164M – Should You Buy It?
The De'Longhi EO141164M Air Fry Convection Oven is a very capable air fryer. Here's where it shines… and where it doesn't.
What I liked:
Compact, yet spacious: This oven's elongated design makes it compact enough to fit anywhere, yet spacious enough to cook most meals for a couple or a small family.
Intuitive navigation: You can get started by simply selecting the food you want to cook with one dial and pressing "Start".
Lots of accessories: You'll get all the accessories you need to start cooking, toasting, frying, and baking.
What I didn't like:
Not the best air fryer: Air frying is not always even and effective, and there are faster models out there.
Short warranty: Although the oven seems very reliable and I couldn't find a reviewer that complained about a malfunction, I would've liked to see a longer warranty with an oven at this price.
Just one rack: You can only cook one thing at a time with this oven.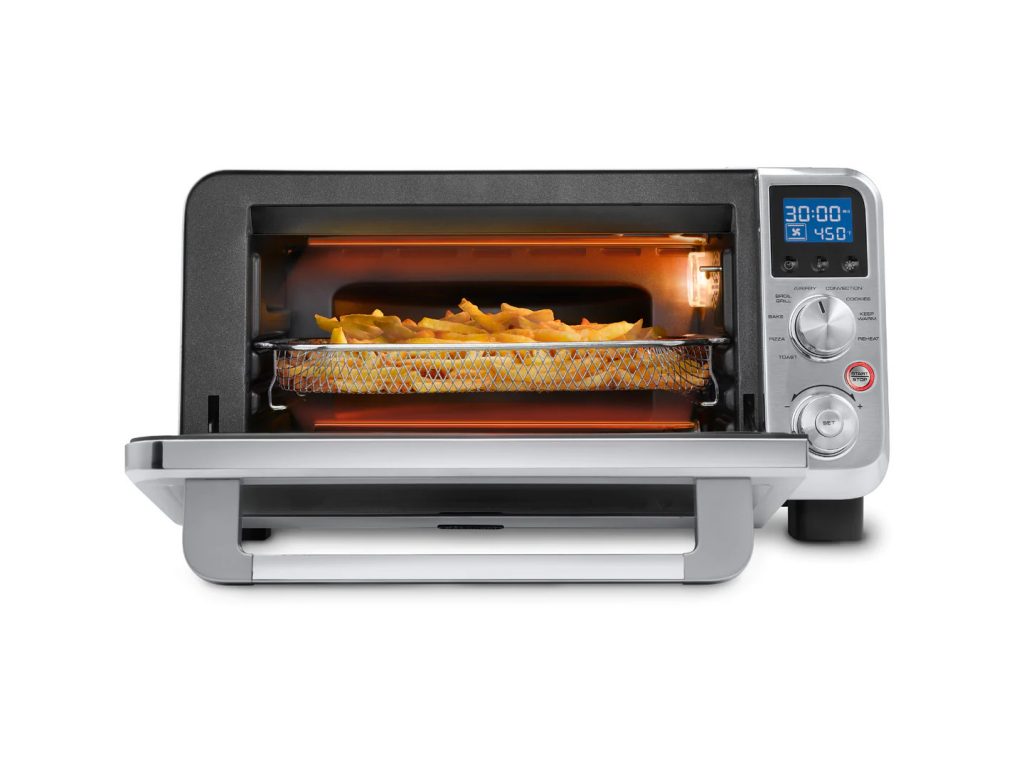 Conclusion
De'Longhi toaster ovens are not that common, when compared to something like Black&Decker or Cuisinart, and it turns out that it's a shame.
The De'Longhi EO141164M is a pretty capable air fryer and toaster oven that produces very reliable results.
I also loved how compact it is, making it perfect for smaller kitchens.
It's easy to store away and it won't take too much out of your counter space.
On the downside, it's not as solid a cooking machine as the Breville Smart Oven Pro or such a terrific air fryer as a Cuisinart TOA-60, and it can only cook one meal at a time.
Keeping that in mind if you want a small but powerful convection oven to fry, bake, toast, and cook healthier foods, you can't go wrong with it.
That's it!
Love,
G.
---