Check out my guide to the various Breville Toaster Oven models on the market today!
No products found.
Single-purpose kitchen appliances are almost a thing of the past.
Currently, the trend is to include more and more functions in a single device.
This versatility is one of the main characteristics of the intelligent Smart Oven Air, by Breville.
Smart Oven Air – The Smart Choice
In my case, what spurred my quest for efficiency was that I wanted to love every second I spent in my kitchen.
And the Breville Smart Oven Air Toaster allows me to have plenty of time for everything else.
I tried toasters, blenders, microwaves, breadmakers, and of course, toaster ovens.
It was hard to find a toaster oven that would fulfill all of my family's needs.
But eventually, I discovered the Smart Oven Air BOV900BSS, a countertop oven, which has quickly become one of the stars of my kitchen.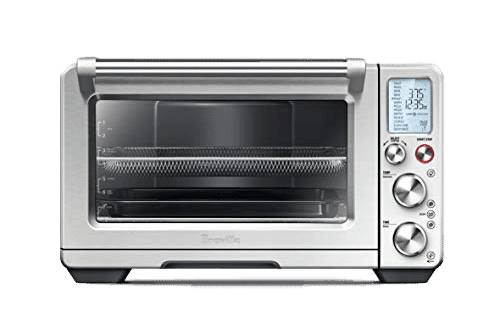 This Breville Air Fryer Toaster Oven quickly won me over.
I couldn't imagine my kitchen without this super convection toaster oven ever again.
Breville comes very close to ticking every single box for me, and that's why I often recommend it. It's a great air fryer toaster oven for any kitchen.
I give it 5 stars for its all-round performance.
Here's what I like about Breville's Smart Oven Air.
This Air Fryer Toaster Oven Excels!
I said above that I didn't necessarily love all the toaster ovens I tried.
Some weren't capable of doing the job of a wall oven, without hassle.
And a lot of the toaster ovens I checked out fell short.
But the Breville Smart Oven Air boasts an impressive 1800 watts of power.
This drives a 2-speed convection fan and 6 independent quartz heating elements.
Long story short — this thing is powerful!
A Multi-Functional Kitchen Appliance
It's a convection air fryer toaster oven.
This means that your food heats up evenly instead of being warm at the back of the oven and cold at the front.
The food is always crispy and there is no issue with browning, which is more than can be said about my wall oven.
It can bake, air fry, cook, and roast better than other toaster ovens and appliances I tried.
I guess that's why many customers give Breville's Air Fryer Toaster Oven 5 stars!
One superb feature of Breville's Air Fryer Toaster Oven is its LCD display and controls.
It's a smart oven and comes with a lot of fun additions that make life easier.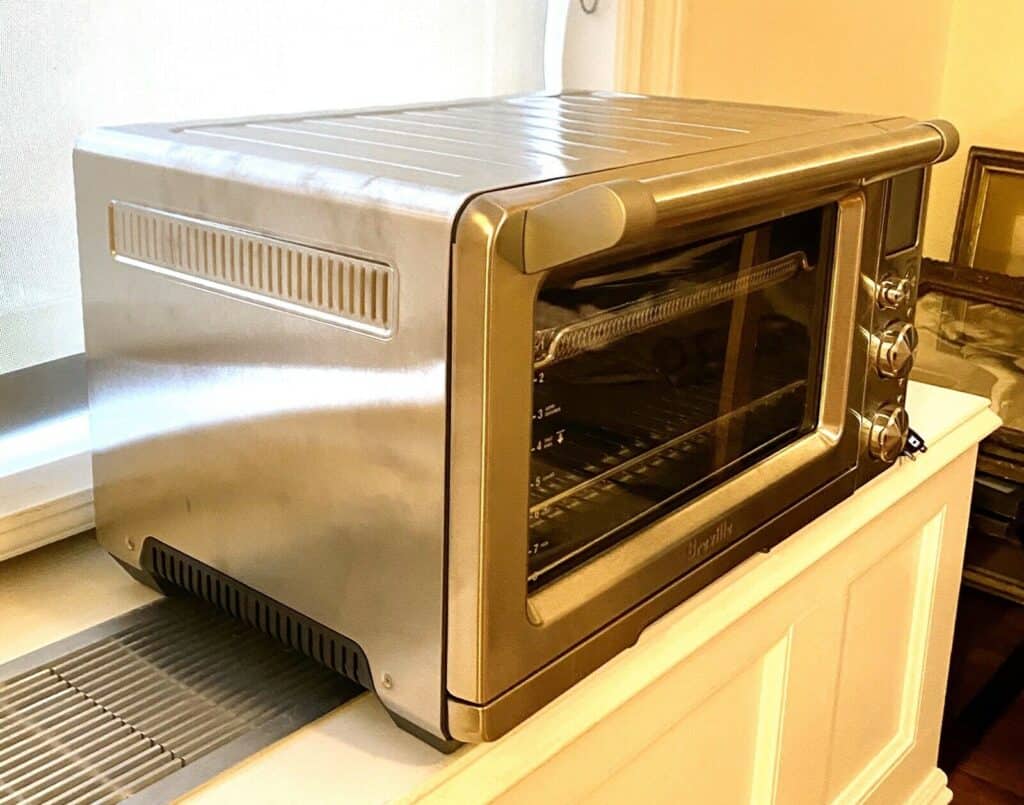 The Smart Oven Air Replaces Several Appliances
This Breville Smart Oven Air Fryer is capable of doing a whole lot of things.
Let's start with air frying.
An air fryer was something I'd wanted for a while, as I'm not a fan of deep-frying French fries.
Little did I know that a toaster oven would be enough.
No need to buy a stand alone air fryer – good news for our bank account!
Smart Cooking
The Smart Oven Air comes with 13 different smart cooking functions that make it more than just a smart oven.
It comes with Element IQ technology, which is a lot of preset cooking modes.
But it also allows you to set your own temperature and fan speed.
The settings on the Smart Oven Air are Toast Slices, Bagel, Broil, Bake, Roast, Warm Pizza, Air Fry, Reheat Cookies, Proof, Slow Cook, Dehydrate.
Easy To Use
Of course, there are also settings for the convection feature: you can switch to a higher fan speed.
There's also an internal light, so you can peek inside and check on your cooking.
Everything is clear and easy to see thanks to the bright LCD control panel incorporated on the front of the Smart Oven Air.
So if you're in the mood for a midnight snack, you won't have to alert your family members by turning on the kitchen light.
You Don't Need To Be A Chef To Get Excellent Results
You can control the Smart Oven Air using its four dials that are located below the LCD control panel.
There are a few smaller buttons as well.
It's best to read through the user manual to get used to all the controls – it's worth it.
With all the different Element IQ presets, I avoided buying an air fryer and dehydrator completely. I've almost completely given up on my wall oven.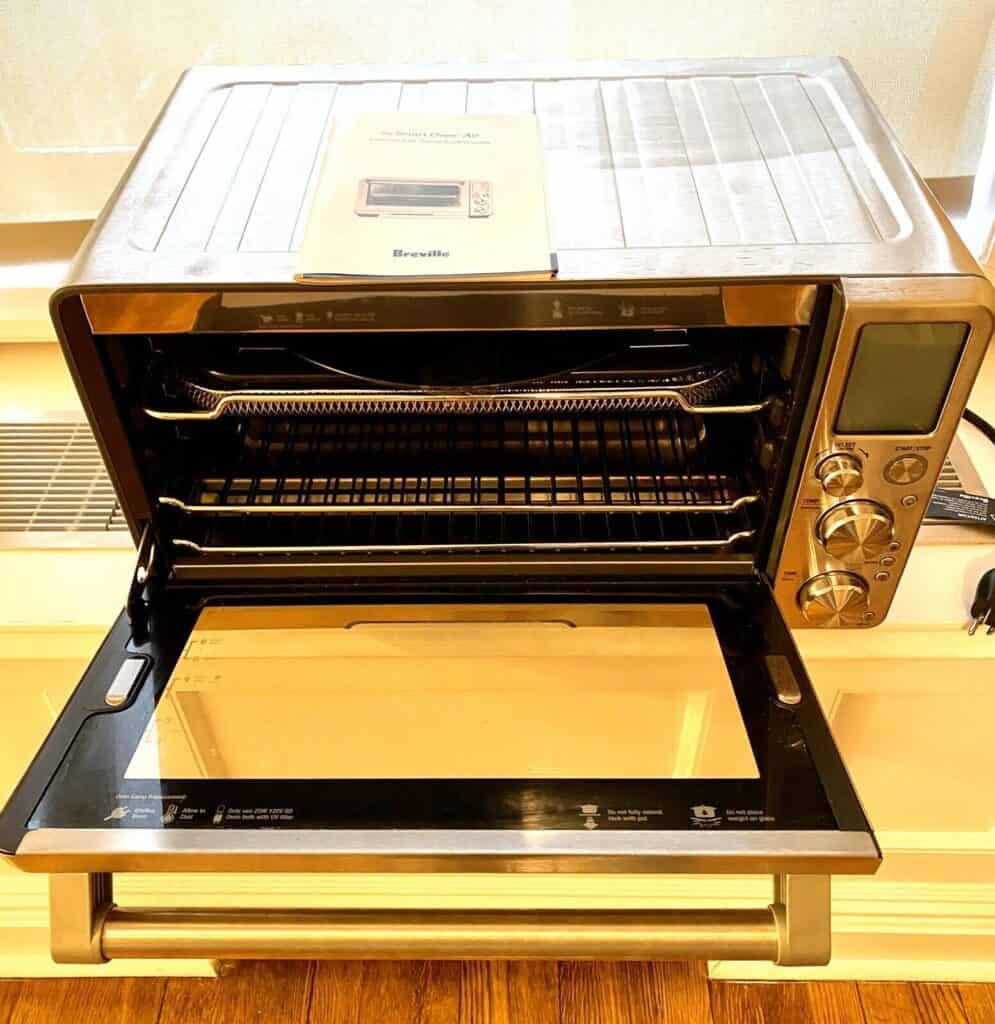 Big Enough For A Thanksgiving Turkey
No, I'm not kidding — I did actually use it to prepare our Thanksgiving turkey one year.
Granted, we didn't really have the space to entertain the entire family.
So it wasn't the biggest turkey I've ever seen – just under 14 pounds.
For a toaster oven, I find that pretty incredible.
It sure earned its 5 stars that day!
Family-Size Capacity
The BOV900BSS model is really spacious (21.4 x 17.2 x 12.8 inches) with a 1-cubic-foot interior.
It takes up a bit of space on the countertop.
But as it combines several appliances into one, I actually find I have more room in my kitchen now.
Aside from the turkey, I was able to comfortably fit most 9 x 13″ pans and even muffin trays into this smart oven.
Up to four trays can fit at any time, which is a real time-saver when preparing a lot of different things at once.
I was able to prepare a whole bunch of meals: dinners, lunches, hot breakfasts, snacks, and sweets.
You name it, I've tried it.
Some of my favorites include:
All kinds of roasts (chicken, turkey, etc.)
Pizza
Lasagna
Bagels
Toast
Cookies and cookie cups
Cakes
Nachos
Tacos
French fries (Thank you, air fryer!)
Muffins
Casseroles
Chicken wings
Ribs
Size Options
I also love that it has a few suggestions for tray placements when it comes to different types of food.
I have burnt a pizza or two in my time.
So this was handy when I first got the oven and had to learn all the cooking functions.
This model actually comes in four sizes!
I used the biggest one (BOV900BSS) and that's the one I recommend.
You never know what you may want to cook.
And if you're like me and you have kids or you like to entertain, you're better off aiming a little bigger.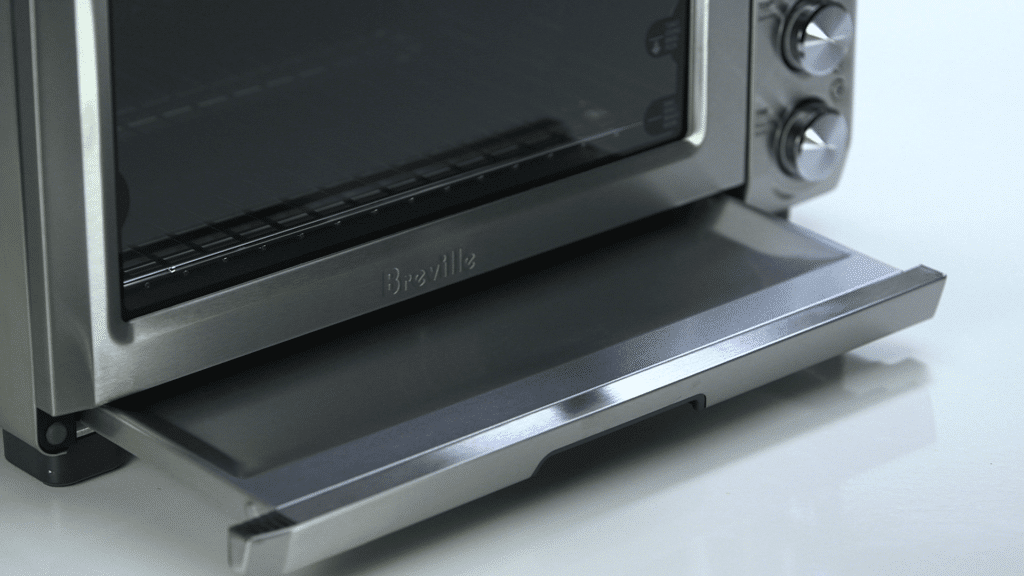 Quick to Use and Cleanup
If you read the list of food I used to make in my oven.
You can probably guess that some of it was messy.
Take pizza, for example.
Who doesn't love some extra cheese?
I know that my kids do, but extra cheese comes at the price of extra cleanup.
Fortunately, the Smart Oven Air makes cleaning up super easy!
Non-Stick, No-Fuss Interior
It has a non-stick interior, so all I had to do was use a bit of liquid cleaner on a sponge to clean it.
Not all the trays pull out, but the one that is not non-stick does, so cleaning it is quick and easy.
Fast And Easy Cooking
It's not only the cleaning that is quick.
The oven operates quite fast. I think it's the fastest countertop oven I've ever had.
It heats up in minutes and is ready to go.
But take care if you have small children around, because the exterior warms up quickly too, faster than you'd expect.
It also has a loud alarm that rings when the cooking process is over.
I often leave the kitchen and let it do all the work.
After all, that's what I want from kitchen appliances.
They have to earn their place on my countertop by making my life easier.
The Breville's Smart Oven Air really does that.
Breville's Air Fryer Toaster Oven: Pros and Cons
Let me tell you, I love it.
But I want to give you an overview of the good and the bad.
So let's take a look at the pros and the cons of the product DNA of this Breville model.
Pros
Versatility – the number of things I've cooked in the Breville is really off the chart. From brownies to a roast turkey, you can pretty much say goodbye to your wall oven.
5-in-1 – with all the different functions, this countertop oven can replace a wall oven, an air fryer, a dehydrator, and a microwave.
Clear LCD Display – the control panel makes choosing the right setting easy.
Element IQ cooking presets – Breville has 13 settings, making it easy to adjust for most types of food. I really love the slow cook option, and I soon got used to air frying too.
Massive interior – It can fit a 14 lb turkey or a 12″ muffin tray, and a large air fry rack.
Four trays at a time – Breville allows you to use four trays at the same time. Excellent for a movie or game night with a lot of different snacks!
Easy cleanup – the durable brushed stainless steel design and non-stick coating make cleanup super easy.
Quick preheating and cooking – this is a powerful smart oven; making dinner was much quicker than I expected.
Warranty – 2-year limited on the product.
Cons
Expensive – go for Breville if you want the best quality and customer service, but prepare to spend more than on other models.
Noise – on the 'super' speed setting, the fans can get quite noisy.
Space – as you can probably guess, it takes up a bit of room on your counter due to its huge interior.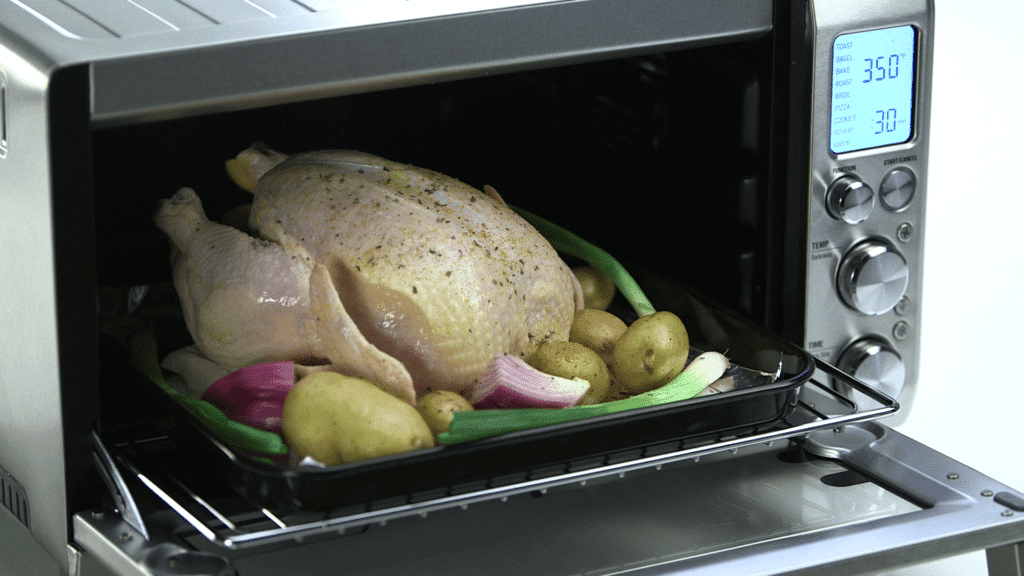 Final Thoughts
This Breville toaster oven improved my kitchen experience.
Its power, preset cooking modes, quick heating, fast cleanup, and versatility impress!
Sure, I may not have utilized all the different settings, but I know I used a lot more of them than I initially thought.
After getting the Breville, I found my wall oven and microwave started collecting dust.
The food prepared in this smart oven just tasted better.
That, combined with how easy it was to use, really sealed the deal for me.
I looked for a smart toaster oven that could feed my entire family, and I found that in Breville.
It remains one of my favorite purchases to this day.
And it has certainly earned its 5 stars.
So if you need an oven that's large and capable, I recommend it.
And you can't go wrong with its 2-year limited product warranty!
See you soon,
G.
P/S: Check out my Steak and Egg from a Toaster Oven recipe!!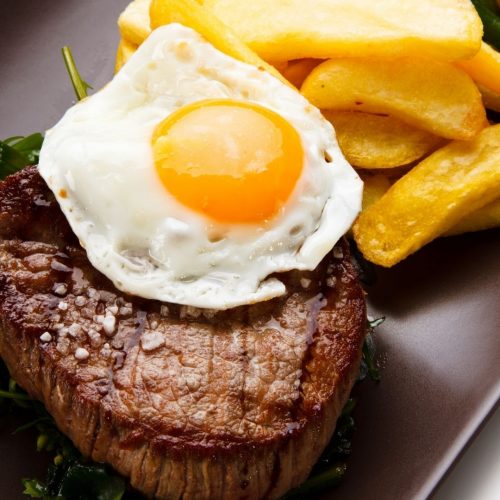 Steak and Egg from a Toaster Oven
This is the best breakfast or brunch ever. Include some hashbrowns, or some tomatoes for a British feel!
Ingredients
2

steaks

4

eggs

2

cloves

garlic

2

rosemary leaves

2

tablespoons

olive oil

1

tablespoon

butter

½

teaspoon

salt

½

teaspoon

black pepper

ground
Instructions
Season steaks generously with salt and pepper.

Preheat a frying pan over medium-high heat.

Pour in olive oil and add a tablespoon of butter. Place the meat, garlic and rosemary in a pan and cook it for 2-3 minutes on both sides. Using a tablespoon, continually baste oil and butter mix onto steak to create a golden crust.

Take the meat out of the pan and leave it to rest on a cutting board. Remove garlic and rosemary as well.

Leave the pan on heat and use it to fry the eggs. Crack the eggs in and season with some salt and pepper.

Cook for around 2 minutes. Remove from the pan and place on a paper towel to drain.

Serve the steak and eggs with some crispy baked potatoes. Enjoy!
Video
Nutrition
Calories:
730
kcal
Carbohydrates:
2
g
Protein:
57
g
Fat:
55
g
Saturated Fat:
19
g
Polyunsaturated Fat:
5
g
Monounsaturated Fat:
29
g
Trans Fat:
1
g
Cholesterol:
466
mg
Sodium:
833
mg
Potassium:
757
mg
Fiber:
1
g
Sugar:
1
g
Vitamin A:
528
IU
Vitamin C:
1
mg
Calcium:
83
mg
Iron:
6
mg
---