This toaster oven was selected as the "runner-up best" choice in my Ultimate Toaster Oven Buying Guide. Enjoy!
No products found.
Honestly, if not for my trusty Breville, I would consider this large toaster oven for the place of my main cooking appliance for the family.
It is very, very good. I'll briefly explain why.
These are some of my favorite features of the TOB-260N1 Chef's Convection Oven.
Even Heating
With Chef's Convection (Cuisinart's way of circulating air in the oven) you get five heating elements, two on the bottom and three on the top.
These elements are controlled by the Exact Heat sensors that should give you the exact temperatures you need for your food to be cooked completely and evenly.
In addition to the sensors, you also get your standard convection fan and a speed convection setting so the hot air circulates faster.
That way, you can choose any setting knowing you won't have annoying hot or cold spots.
Plus, it's one of the few toaster ovens that can air fry.
If you haven't yet tried air frying chicken wings or fries, you have to!
With the TOB-260N1's presets, you can also warm up or cook your toasts, pizza, sandwich, leftovers and more – and they come out great.
Easy To Use
Many toaster ovens are hard to use with many buttons and overwhelming controls.
The TOB-260N1, on the other hand, is pretty straightforward and intuitive.
If you're looking for accessories to go with your toaster oven, see my recent Toaster Oven Accessory Buying Guide.
The oven has a nice and simple blue LCD display.
On it, you can check the time, the temperature inside the oven and select your cooking functions.
You can also program the timer for up to two hours – which is a huge deal when cooking a large meal.
Scrolling and interacting with the features and temperatures is also very simple.
You have a convection button to easily add air circulation and a light button to turn on the light for two minutes to check up on your food.
Finally, you can also have a +30 button to add 30 seconds to your cooking time for when your food needs just a bit more.
I had no problems with controlling this Cuisinart from the get-go even without consulting the manual.
No More Forgotten Meals
This toaster oven has an interesting automation feature called The Dual Cook.
With it you can combine two baking functions or temperature settings in one cooking session.
Say you're baking bread.
You can program Dual Cook to bake your bread and, once it's baked, automatically raise the temperature to get that golden finish.
Combining it with the Keep It Warm feature allows you to leave your food inside the oven until you are ready to put it on the table.
Very nifty.
Cuisinart TOB-260N1 Main Specs
Here's a close look at the main features of the TOB-260N1.
1. Capacity
The TOB-260N1 has 0.95 cubic feet of cooking space.
That's enough for 9 pieces of toast, a 13″ pizza, a large chicken or a 9″ x 13″ baking pan.
That's a lot of space!
You also get four rack positions so you can easily place anything where it needs to go.
The top position also pops out when opening the door so you can remove your food easily.
2. Parts and Accessories
When buying the Cuisinart TOB-260N1 Chef's Convection Toaster Oven you also get a pizza stone (perfect for medium-sized pizzas), two baking racks, a baking/drip pan, a broiling pan and a small but handy recipe book.
The oven has a front loading crumb tray at the bottom which is very easy to remove for cleanup.
The interior walls are also finished with nonstick coating.
You also get a pair of cord cleats at the back of the oven to store your unused cord.
This also prevents you from placing your oven too close to the wall.
That way you can keep your working surface clean and safe.
3. Outside Finishes
The Chef's Convection's brushed stainless steel finish is made to look neat and professional in any kitchen and to stay fairly cool to the touch.
The bar handle makes it very easy to grasp whether you're wearing cooking mittens or not.
4. Power and Warranty
Finally, the Cuisinart Chef's Convection Oven uses 1875 watts of power and comes with a limited 3-year warranty.
Cuisinart TOB-260N1: The Bottom Line
The Cuisinart TOB-260N1 is a great model for most people.
It has a lot of good features and a bunch of accessories for a relatively low price.
What I liked
Great insulation: The TOB-260N1 insulation is pretty good and it barely releases heat from the oven, keeping it fairly safe as long as you don't touch the front crystal. This is good with you have little ones around.
Easy to use: As we've mentioned before, the straightforward navigation makes it unlikely for you to keep checking your manual.
Versatility: It has all the presets you will need, plus it's an air fryer. It halso has the Dual Cook feature that allows you to program acooking session with two features or temperatures so that you don't have to check up on your oven as much.
Quiet: The insulation also keeps your kitchen quiet, regardless of which features you're using.
Easy cleanup: The location of the crumb tray and the interior walls makes your oven very easy to clean, even after a messy experience.
Great visibility: With a clean large window and a bright light, checking up on your food only takes a quick glance.
What I didn't like:
Potentially unsafe cord: The cord lacks a third prong so you can't really ground your oven which, in such a powerful device, is a small but valid concern.
Long preheating time: While this toaster oven does offer a Turbo Convection option to preheat and bake at the same time, preheating takes longer than an average oven, especially when using the pizza stone.
Short timer options: The timer tops up at 2 hours, so if you need more time you'll have to manually come back to add it.
In addition, the large size of it makes it better for customers with a lot of countertop space.
Conclusion
The Cuisinart Chef's Convection Oven is very user-friendly and gives you a lot of value for its price.
The sensors guarantee that your food will be heated evenly at the right temperature and the automation makes it easy to step away from the oven.
As long as you're ok with longer preheating times, the TOB-260N1 Chef's Convection Oven is a great choice.
But don't take my word for it – try it yourself.
FAQ

How do you clean the Cuisinart TOB-260N1 Chef's Convection Toaster Oven?

What are the interior dimensions?

It's 12.5″ x 14.25.

Will the Cuisinart TOB-260N1 fit a 9×13 pan?

No, it won't.

Is it good as an air fryer?

Yes, it's one of the best.

Does the Cuisinart TOB-260N1 remember the last settings?

Yes, it remembers the last setting used for toast, and also remembers the temperature and time for baking and broiling.

What is the temperature range?

It's 150 to 450, 150 is keep warm range and 500 is broil.
Love,
G.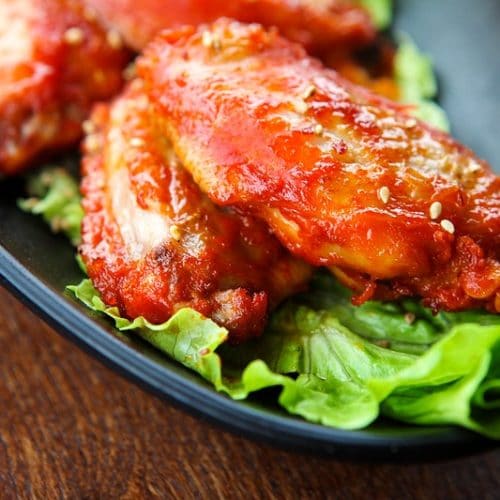 Air Fryer Chicken Wings with Flour
This recipe is so easy that you'll be able to whip up these tasty treats in no time.
Ingredients
1

lb

chicken wings

1/2

cup

all-purpose flour

1/2

teaspoon

salt

1/4

teaspoon

black pepper

1/4

teaspoon

garlic powder

1

tablespoon

olive oil
Instructions
Preheat your air fryer to 390 degrees F.

In a large bowl, combine the flour, salt, pepper, and garlic powder.

Add the chicken wings to the bowl and toss them around until they are well coated with the flour mixture.

Pour the olive oil or vegetable oil into the air fryer basket and add the chicken wings.

Cook the chicken wings for 20 minutes, flipping them over halfway through the cooking time.

Serve hot and enjoy!
Video
Nutrition
Calories:
449
kcal
Carbohydrates:
24
g
Protein:
26
g
Fat:
27
g
Saturated Fat:
7
g
Polyunsaturated Fat:
5
g
Monounsaturated Fat:
13
g
Trans Fat:
1
g
Cholesterol:
94
mg
Sodium:
672
mg
Potassium:
232
mg
Fiber:
1
g
Sugar:
1
g
Vitamin A:
181
IU
Vitamin C:
1
mg
Calcium:
21
mg
Iron:
3
mg
---