This toaster oven was selected as the "best small" choice in my Ultimate Toaster Oven Buying Guide. Enjoy!
No products found.
Toaster ovens are incredible, quick and efficient.
Back in 2013 I bought the famous infrared Panasonic FlashXpress Compact.
It was not my first toaster oven but one that served me well and one that I remember fondly.
At that point, I was still single and neck-deep in my work, living in a small apartment in Cincinnati.
I didn't have much time to cook, or counter space for a big appliance, but I was not giving up on eating healthy.
I decided that I wanted to try the infrared Panasonic after reading up the reviews.
I was sold on the idea of not having to heat it up for 15 minutes before I cook or reheat something (looking at you Black&Decker).
And it did become a trusted companion in my daily routine.
Seven years later, I can still recommend it for singles or small households.
Design
The Panasonic Flashxpress NB-G110P is not a looker.
Some of its physical attributes are odd to say the least.
The Fahrenheit-Celcius board, for instance, is a copy-cut of the traditional radio's AM/FM tuner.
I like that touch of retro, but again why Celsius?
But it is not all negative with the design.
It is still one of the smallest out there – and that's a big plus.
Plus I liked the color (mine was silver).
The timer is another area I felt Panasonic could have done better.
I mean, 25 minutes would not be adequate to cook most meals.
I find it hard to believe when Panasonic claim that most of their customers hardly cook anything that goes beyond the 25-minute mark – but then again, this is targeted at bachelors and couples, not large families, so no need for large meals.
If you do venture to cook something that needs a longer time, just be ready to set the timer several times.
There is a preset button for frozen pizza, frozen waffle, quick reheat, bread reheat, toasting and oddly enough one for frozen hash brown.
Once I found my way around the interface, I could skip pressing the preset buttons.
Instead, I used the up/down arrows to set the temperature and another set of arrows to set the timer.
The temperature is primarily calibrated in Fahrenheit, but also converted into rounded off Celcius figures.
Working around the two ends of the temperature board is rather odd.
For example, you can't set the temperature at 300℃ but you can set 290℃, or you can't set 350℃, but you can set it at 360℃.
Another deviation from the conventional toaster oven design is that Panasonic doesn't have a start/stop button.
In its place you have an on/off button, which is a bit weird and, in the beginning, I used to turn it off all the time.
It took me a while to get used to it.
I also didn't like the flimsy crumb tray.
Equally not up to my expectation is that small lip right under the oven.
It keeps accumulating crumbs and means more cleaning work.
While none of these points are significant dealbreakers, they are potential sources of frustrations, so keep them in mind.
On the bright side, Panasonic FlashXpress Compact is sturdy, even though it does not come with the sophistication you see in everyday stainless-steel toaster ovens.
It is in simplicity where this Panasonic shines.
It's also a big money- and space-saver.
But if you are looking for a fancy toaster oven with bells and whistles, you need to try something else.
If you're looking for accessories to go with your toaster oven, see my recent Toaster Oven Accessory Buying Guide.
Usability
Since I was single and didn't eat much, I got over the 25-minute timer and enjoyed the toaster oven.
It was always pretty straightforward.
I simply press the 'on' button, put in the food on the rack (only one rack height – remember, simplicity), then I press the specific preset, and voila.
It's almost the same drill with non-presets, but with a few twists before you get it all figured out for a specific dish.
Unlike most of other toaster ovens that use convection, Panasonic FlashXpress uses double-infrared heating.
It heats up miles faster than any other oven I have used before – and, what's extra important, it does not need preheating.
That is a big plus for the long game, even though when I started, I overcooked several times before I got it right.
I recommend you work with lower settings to undercook and keep on adding a bit until you get used to its cooking speed.
Performance
After the first few cooking sessions, I knew this Panasonic toaster oven will be a mainstay.
But I didn't know that was going to be years of loyalty service.
I cooked everything they said this machine could cook, and I also tried a few menus that are not on the list and it all went smoothly:
Cookies
Toast
Drumsticks
Frozen pizza
Frozen waffles
Hamburger (this one did not cook that well, however)
I was impressed by its performance.
You should give it a bit more patience and tweaking, but for me the price tag was worth it.
Not to mentioning cleaning was easy.
Size
While it's not going to win any beauty contests, it makes up for that with performance and size.
It has a small footprint of 13″/12″/10.5″, cubic foot volume, and 7.5 pounds weight.
The take home from this is that it does not need much space on your kitchen counter, but it can make you 4 bread toasts or 9-inch pizza at once.
This is exactly what I needed for the small snacks and bigger meals for two.
Pros
No preheating, faster heating, and evenly cooked meals
Space-saving design
Fairly priced and a better performer that its brothers
Accessible controls
Little or no radiation of heat when cooking
Easy cleaning and maintenance
Cons
Limited interior space that can't roast a chicken for instance.
Fiddly buttons
Hardly adequate timer duration
Not good at baking and broiling
Final thoughts
I couldn't afford a Cuisinart, and my kitchen space was cramped-up, and I've never been fond of fancy designed appliances that don't match their price tag with their performance.
Panasonic fitted by bill of needs and had been a loyal servant for several years in a row.
It cooked 9-inch pizzas and outperformed some more expensive toaster ovens.
It's affordable and small.
The presets worked fine.
It is the double-infrared heating that was the most helpful part: it could cook faster and get evenly cooked meals any time.
Though with a few flaws, the Panasonic FlashXpress compact toaster oven is a winner in so many fronts.
But don't take my word for it – try it for yourself.
See on Amazon
FAQ

How do you clean the Panasonic FlashXpress Compact Toaster Oven (NB-G110P)?

Does the Panasonic FlashXpress catch on fire?

Not in my experience. The heating elements sometimes cackle, but that's how they heat up. Although I must say that Panasonic has a

disclaimer on their product page

about fire safety precautions.

Can a burnt-out heating light be replaced?

It's very hard to do. If it happens to you, try their customer service.

Does it get hot?

The Panasonic FlashXpress does not appear to have any insulation at all beyond a double wall on the sides, which contains vents to the outside to help keep the temps there down a bit. It does get very hot. Try to keep some free space above it and to the sides of it.

What are the dimensions of the inner chamber?

It's 10″ x 9.5″ x 4″.
Love,
G.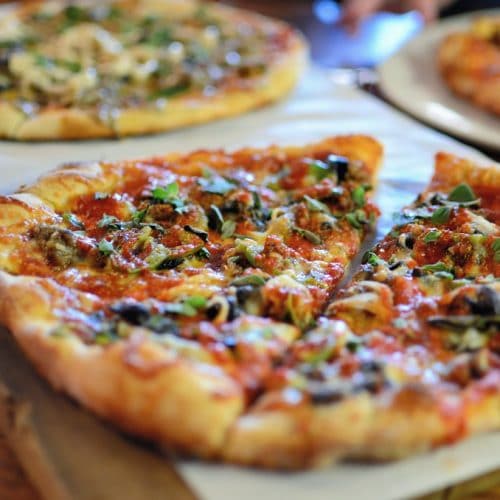 Victory Pig Pizza Recipe
This is an excellent recipe for those of you looking to try something new or those who want a delicious pizza that is sure to please
Ingredients
1

pound

pork roast

1

pineapple chunks

1

bacon

1/2

cup

BBQ sauce

1/4

cup

brown sugar

1

tablespoon

apple cider vinegar

1

teaspoon

garlic powder

1/2

teaspoon

onion powder

1/4

teaspoon

black pepper
Instructions
Preheat the oven to 350 degrees. The first step is to preheat your oven to 350 degrees.

In a large pot, cook the pork roast until it is cooked through. Once the oven is preheated, you will need to cook the pork roast in a large pot. Cook the pork roast until it is cooked all the way through.

Remove the pork from the pot and shred it. Once the pork roast is cooked, please remove it from the pot and shred it using a fork or your hands.

In a small bowl, mix the pineapple chunks, BBQ sauce, brown sugar, apple cider vinegar, garlic powder, onion powder, and black pepper.

Layer the shredded pork, bacon, and pineapple mixture on the pizza dough. Now it's time to start layering the ingredients on the pizza dough. First, layer the shredded pork on the dough. Then, add the bacon and pineapple mixture.

Bake the pizza for 20-25 minutes or until the crust is golden brown. Once all ingredients are layered on the pizza, bake it for 20-25 minutes. The pizza is ready when the crust is golden brown and cooked through.
Video
Nutrition
Calories:
582
kcal
Carbohydrates:
58
g
Protein:
53
g
Fat:
14
g
Saturated Fat:
4
g
Polyunsaturated Fat:
2
g
Monounsaturated Fat:
6
g
Trans Fat:
1
g
Cholesterol:
150
mg
Sodium:
929
mg
Potassium:
1100
mg
Fiber:
1
g
Sugar:
51
g
Vitamin A:
166
IU
Vitamin C:
1
mg
Calcium:
63
mg
Iron:
2
mg
---