There are different cooking methods because heat affects food in different ways.
Baking, broiling, and roasting are very popular cooking techniques, and because of the different flavors and textures they produce, they are often used interchangeably.
Understanding cooking methods allow people to be appreciative of good food and improve their cooking skills.
Cooking Settings on Your Oven
Generally, these cooking methods use higher temperatures compared to moist heat cooking methods.
The heat is usually transferred from the heat source to the food through air, fat, metal, or radiation.
Aside from roasting, baking, and broiling, grilling and frying are also dry heat cooking methods.
Broiling
Broiling is defined as cooking by exposing food to direct heat.
Usually, the broiler element is above the food instead of below the food, and it can be live coals, a gas burner, or an electric burner (baking and broiling are similar in this way).
The temperatures for broiling are usually high, i.e. 550 °F for your household oven or between 700 °F and 1000 °F for commercial appliances.
When you broil food, the high temperature perfectly chars your meat or vegetables, as long as you keep your eye on it.
Broiling helps you to achieve the perfect crust and color on your meat or vegetables without overcooking them, like a grill to your meat, because the food is usually close to the heat source.
To get the best results, here are a few handy broiling tips:
When preparing your oven, prepare your pan too by preheating the broiling pan as the broiler heats up. When you heat the pan, it helps to evenly sear your food and seal in flavor.
Food needs to get off the broiling pan eventually. To make serving easier, use olive oil or non-stick spray on your pan. Aluminum foil drizzled with olive oil on the bottom of a broiling pan can also work, but always avoid using parchment paper because it burns under broiling temperatures.
To ensure that your food cooks evenly, arrange your food in a single layer to expose every piece to the heating element.
Each oven is different but an instant-read thermometer can help you get the right temperatures and the best results. Radiation from different heating elements may differ but an instant-read thermometer clarifies the temperature easily, making broiling a breeze.
Never broil for longer than 10 minutes. You can begin or end the cooking process with a broiler for foods with longer cooking times. This prevents burn food or fire.
Avoid heavy oil-based marinades and use spices to pack flavors because oil-based marinades increase the chances of fire once they start dripping to the bottom of your broiling pan.
Baking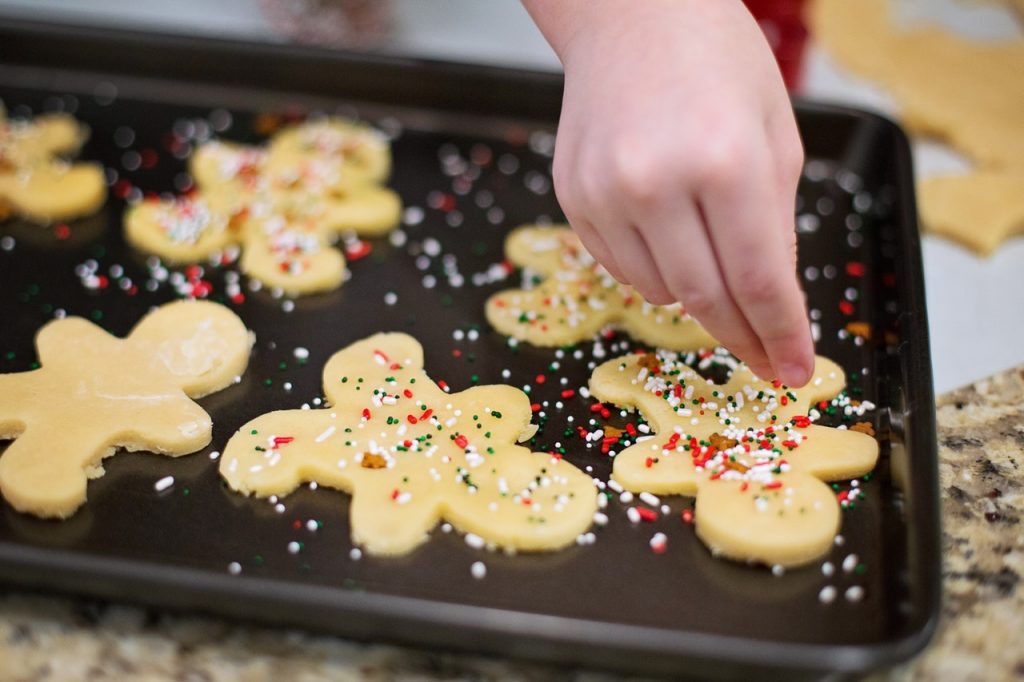 Baking is one of the oldest cooking techniques and it is defined as a cooking process that uses dry heat.
The baking process began ages ago when people started transforming their grains into flour.
It uses radiant heat to dry out and transform the food we want to eat by changing its structure.
When you place food inside a cooking appliance with the intent of baking it, the dry heat draws out the moisture from that food as hot air circulates throughout your cooking appliance.
The baking process happens at a temperature of 300 °F to 375 °F but there are always exceptions.
For perfectly baked cookies, cakes, and other baked foods, you need to understand humidity and heat and how they affect the food you want to bake.
Here are a few tips to make your baking experience easier.
The baking process begins the moment you turn on your heating element, so always preheat your appliances properly. Heating elements can reach 480 °F within seconds but you should allow the walls of your baking appliances to heat up too.
Every oven is different. It is crucial to bake as often as you can and take notes on the way your oven works. Some ovens may need more or less time from the recipe instructions.
Convection can be useful for baking, especially if you are baking delicate baked goods that tend to rise unevenly due to too much airflow moving in one direction. If you use convection, always use a low fan setting so that the hot air moves around evenly.
Remember that hot air is released from your oven the moment you open the door. It is crucial to keep an eye on whatever you are baking, but avoid opening that door frequently.
Roasting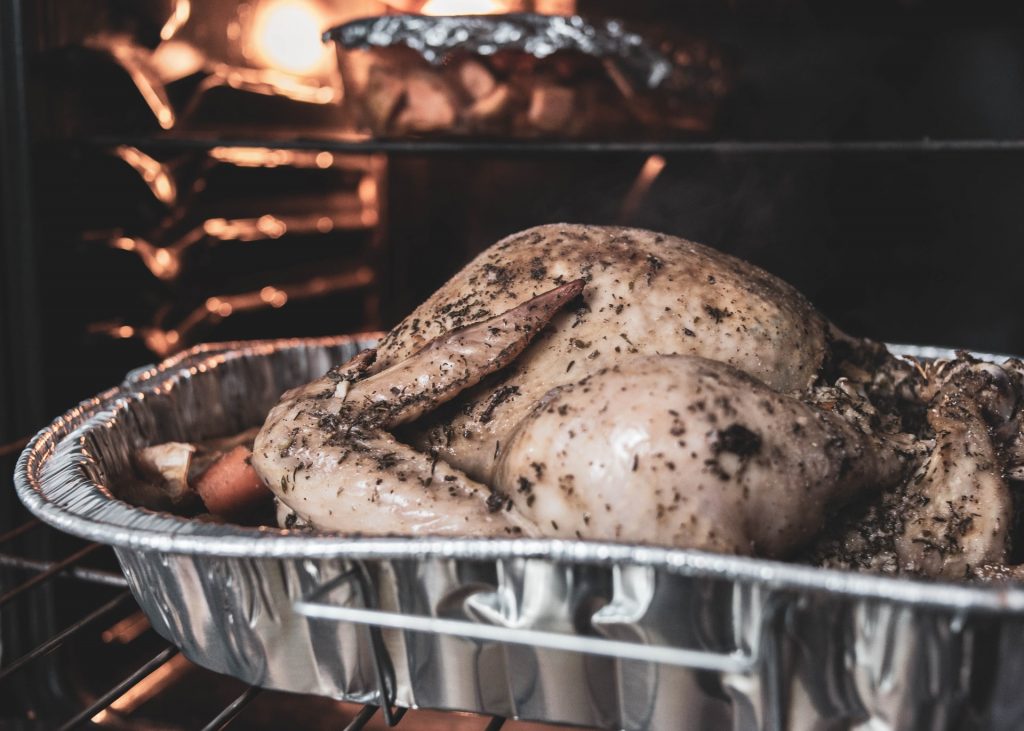 Roasting is defined as cooking by exposing your food to dry, radiant heat, which can either be from an open fire, within a reflecting-surface oven or from surrounding hot embers.
This cooking technique relies on air to transfer heat and gives the food a brown crispy exterior and a tender interior.
Here are a few hacks to ensure roasting perfection:
Temper your food before roasting so that it cooks evenly.
Use a meat thermometer to read the internal temperature of your roast. It is the most accurate way to tell if the food is done.
Different cuts of meat require different temperatures and cook times. It is advisable to be aware of your cuts, and the cook times.
Carryover cooking lets your large cuts to continue cooking even after they are away from the heat source. Let the roast rest for 10 to 20 minutes.
When roasting vegetables, cut them into the same sizes to ensure that they evenly cook.
Difference between Broil, Bake, and Roast
Most people use the word roast, bake, and broil interchangeably but these processes are quite different, even though they all use dry heat.
The major difference lies in the temperature.
Broiling requires a very high temperature of 550 °F, roasting requires temperatures of 400 °F and above, while baking takes place at temperatures of not more than 375 °F.
One major difference between baking and broiling is that baking requires a longer cooking time compared to broiling, but it all depends on different recipes' instructions.
When it comes to chicken, you can choose to broil it or bake it depending on the results you want to achieve.
Chicken wings for instance can be put on top of a grill, baked, or broiled.
All these methods will give you delicious chicken wings because no method is intrinsically better than the other.
Depending on the flavor you want or the type of food you want to cook, you have the option of either of the fore-mentioned methods.
However, it is important to remember that there are some exceptions.
For instance, slow-roasting meat requires one to use temperatures lower than 400 °F.
Baking and broiling can sometimes offer similar results for certain foods.
What can you Bake?
Baking as a cooking technique can be used to create numerous culinary delights apart from such as:
Baked fruits (apples, grapefruits, peaches, pears, etc.).
Pastries (cookies, cakes, bread, croissants, tortillas, muffins, etc.).
Vegetables (potato fries, zucchini chips, kale chips, etc.).
Fish
What can you Broil?
Broiling is a great cooking method for numerous foods.
When broiling meats, leaner proteins cut not more than one and a half-inch thick are amazing, fish fillets with low amounts of fat make for a good broil, and fruits and vegetables are excellent candidates for broiling.
If you want to heat up the broiler, try these foods:
Rib-eye steak
Lamb
Boneless tri-tip
Skirt steak
Pork chops
Chicken kabobs
Chicken breasts
Swordfish
Tilapia
Scallops
Shrimp
Peppers
Tomatoes
Green beans
Asparagus
Summer squash
Zucchini
Mangoes
Peaches
Pineapples
What can you Roast?
Roasting is ideal for foods that taste better with prolonged cooking.
You can roast foods like:
Large cuts of meat such as whole chickens and turkeys, beef tenderloin, ham, and rib roast.
Vegetables such as beets, carrots, sprouts, potatoes, sweet potatoes, winter squash, cauliflower, parsnips, zucchini, turnips, and Brussels sprouts.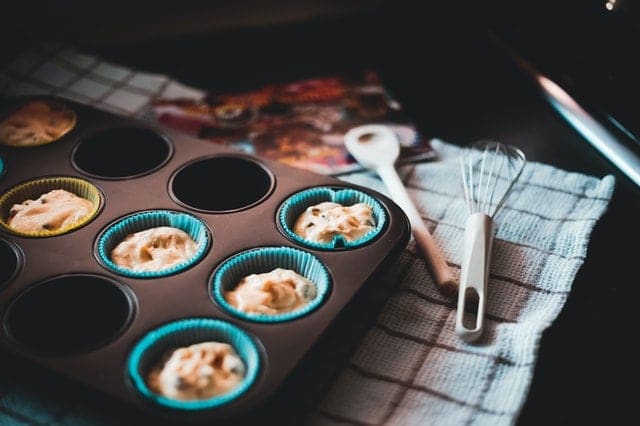 Cooking Settings on Your Toaster Oven
Depending on the model of your toaster oven, you will have several settings on the dial or display.
Bake
Similar to a wall oven, most of the heat is coming from the bottom elements (up to 375F), with top elements on lower power and convection fan on.
This is the most widely used setting.
Several things you need to know about baking in a toaster ovens vs. wall ovens:
Your toaster oven will preheat quicker. Depending on the size, it will preheat 30% to 50% faster than a traditional oven.
Your toaster oven will usually bake faster. Until you get used to baking with your toaster oven, begin checking on your dishes about 5 to 10 minutes earlier than the shortest cook time listed on your recipe.
On my Breville, here is what I do when I "bake" something:
Select the Bake setting
Set the temperature from my recipe
Set the time from my recipe
Press start to begin preheating
Once the toaster oven indicates it's preheated, I put the pan inside and close the door
If your toaster oven is not digital, preheat it for at least 5 minutes before putting in your pan.
Roast
Roast is the same as Bake, except it's hotter – 400F and above. Use it to create a crispy crust on the outside while keeping the insides tender.
For example, my Breville roasts a whole chicken in 30 minutes.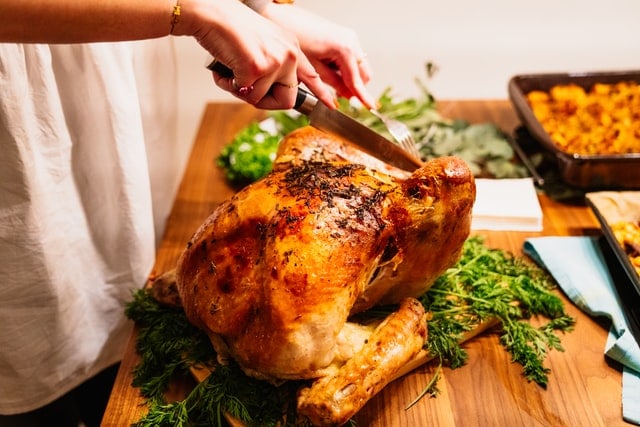 Broil
Broil is the hottest setting (up to 500F), and the heat only comes from the top heating elements with the bottom ones turned off.
Broiling is great for steak and seafood, melting cheese, roasting red peppers, or quickly cooking thinner slices of vegetables like eggplant or zucchini.
Several things to know when broiling:
There is no preheating.
Generally, you'll want to use the top rack placement.
Always use a broiler-safe pan, if you're not sure just use the pan that came with your toaster oven.
The heat is only from one direction, so if you want to cook or brown both sides of a dish, don't forget to flip it.
Use caution when grabbing pans that have been broiled, they will be extremely hot.
Toast
When using Toast, the toaster oven applies an equal amount of heat from the top and the bottom, and it's pretty hot.
The Light, Medium, and Dark settings control the amount of time the food is toasted.
Things to note when toasting:
Some people prefer to use Broil for sourdough. If you decide to do that, keep an eye on it – if you're not careful, it will burn quickly.
If you're using a Breville, there's an additional setting that adds an additional 15 seconds per slice for defrosting frozen bread.
Keep Warm
The Keep Warm setting is used to keep food warm enough to serve for 20-30 minutes after it's done.
Depending on the model, this will mean that the temperature is 130F to 180F, the top heating elements will be at 1/2 power, and the bottom elements will be off.
Pizza
When using the Pizza setting, the top elements melt the cheese and toppings, while the bottom elements create a crust. If you're using a pizza stone, make sure to heat the stone up before your "pizza" your pizza.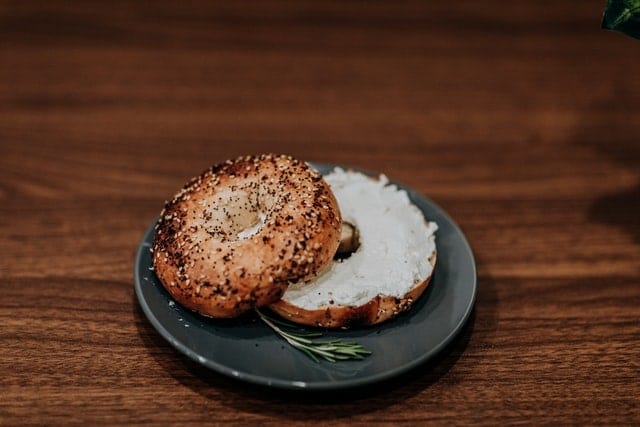 Bagel
When using Bagel, only the top of the bagel is exposed to high heat and therefore only the top browns and toasts.
The bottoms are exposed to a lower gentle heat so that the undersides of the bagel are warmed (not toasted) leaving the bagel's crust chewy.
Here's how you "bagel" a bagel:
Slice your bagel in half
Place it on in the toaster oven with the insides facing up
Toast the halves at the Bagel setting
Things to note when toasting using the Bagel function:
Like with the Toast setting, you can use the Light, Medium, and Dark settings control the amount of time the food is toasted.
This setting is available only for Breville and Cuisinart toaster ovens.
If you're using a Breville, there's the additional defrosting setting as well.
You should now have a good idea of what the different settings mean.
Other than that, just go and experiment!
Hope I was helpful.
Love,
G.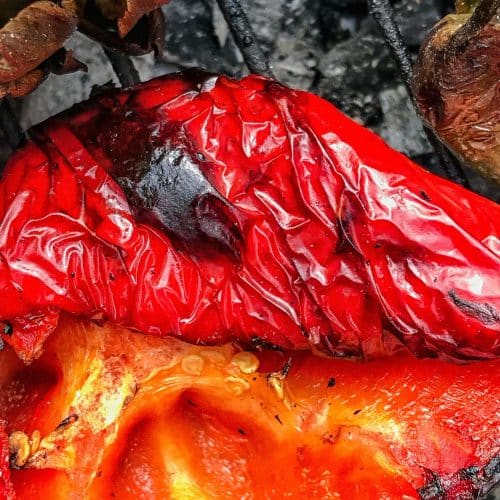 How to Roast Peppers in a Toaster Oven
Roasted peppers are so delicious and easy to make, especially when done in a toaster oven!
Ingredients
Red Bell Pepper

1

tbsp

Oil

1

tbsp

salt
Topping
1

cup

cheese

1

cup

pepperoni

1

cup

bacon

1

cup

tomatoes
Instructions
Pre-heat your toaster oven to 425°F.

Lightly oil the roasting pan.

I leave my peppers as is, but if you're not crazy like me, slice the peppers in half lengthwise.

Remove the stem, seeds and any large white pieces.

Place the peppers on a cutting board and gently press down and flatten them.

Arrange flattened peppers on the pan.

Roast peppers until the skins are wrinkled and bubbled with black spots (10 to 20 minutes).

Remove the peppers from the pan and transfer to a shallow covered container.

Place lid on container and leave for at least 10 minutes to steam.

Once the peppers are cooled enough to handle rub the skins off.

Sprinkle with salt and toppings.
Video
Nutrition
Calories:
3165
kcal
Carbohydrates:
16
g
Protein:
110
g
Fat:
293
g
Saturated Fat:
107
g
Polyunsaturated Fat:
40
g
Monounsaturated Fat:
124
g
Trans Fat:
3
g
Cholesterol:
541
mg
Sodium:
6288
mg
Potassium:
1702
mg
Fiber:
2
g
Sugar:
4
g
Vitamin A:
2537
IU
Vitamin C:
20
mg
Calcium:
863
mg
Iron:
4
mg
---