Since I am writing a series on the toaster ovens I've used over the years (I'm a huge fan of the toaster oven + microwave combo vs. wall oven), I thought I would share a great tip on how to roast red peppers in one.
Now, pay attention to step 6. Putting the peppers into a container after they are roasted may seem like a low-priority thing and something you would skip, but it's crucial if you don't want your peppers to be all sad, soggy and watery.
Ingredients
Directions
Pre-heat your toaster oven to 425°F.
Lightly oil the roasting pan.
I leave my peppers as is, but if you're not crazy like me, slice the peppers in half lengthwise. Remove the stem, seeds and any large white pieces.
Place the peppers on a cutting board and gently press down and flatten them. Arrange flattened peppers on the pan.
Roast peppers until the skins are wrinkled and bubbled with black spots (10 to 20 minutes).
Remove the peppers from the pan and transfer to a shallow covered container. Place lid on container and leave for at least 10 minutes to steam.
Once the peppers are cooled enough to handle rub the skins off.
Sprinkle with salt and toppings.
I've once again put together the recipe in a downloadable booklet for you. Hope you like it: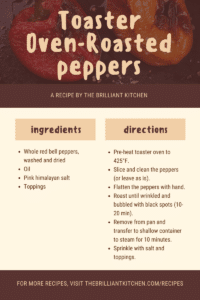 See you next time!
G.
PS. Check out my other recipes as well!
---