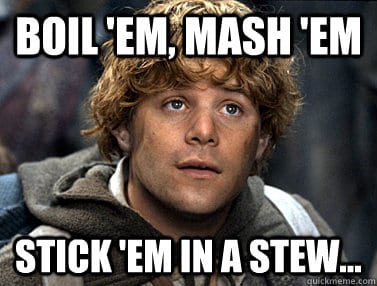 I know several friends who have trouble baking potatoes in a toaster oven – the skin either comes out to soggy, or the flesh is not fluffy, or the taste is meh. So today I want to share several time-tried tips that I have:
Fork potatoes before baking, otherwise they might explode in the oven!
Don't wrap them in foil or the skin will be too soft.
If your potato comes out undercooked even after an hour in the toaster oven, there is no secret: you just need to bake it for a longer time. I have friends who like putting sweet potatoes in at noon and taking them out at dinner time.
When they are done, cover them with a clean paper towel and sort of karate chop them with the side of your hand. This will absolutely change the texture of the potato – the inside becomes fluffy while the outside stays crispy!
The last one is key and something I stole from Nigel Slater (also try his salt cod and parsley recipe, it's heavenly).
So, here is the process.
Ingredients
Medium or large potatoes
Oil
Optional: cheese curds, gravy, parsley, tomatoes
Directions
Pre-heat your toaster oven to 425°F.
Wash, scrub (remember, most of the nutrients are in the skins) and dry your potatoes.
Fork your potatoes several times each.
Rub them with oil for flavor.
Place the taters on the toaster oven backing rack or cookie sheet.
Bake the potatoes as long as neccessary (45-60 minutes usually). When done, the potatoes will feel tender when squeezed, a knife or fork will go in easily and the skin will be lightly browned and crispy to the touch. Done!
Optional: sprinkle with cheese curds and pour some poutine gravy on top. Garnish with tomatoes and chopped parsley.
I've once again put together the recipe in a downloadable booklet for you. Hope you like it: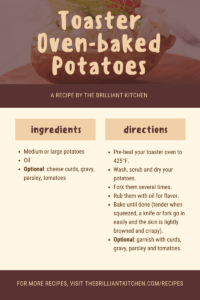 See you next time!
G.
PS. Check out my other recipes as well!
---