Now, this one is a bit different. I haven't any of the Proctor Silex appliances myself, but my parents are big fans – and they had this toaster oven for a while. They loved the fact that it was mechanic, like the older ones. So, I decided I might as well review it.
My parents used to regularly take trips in their RV. They like to pack everything up and hit the road for weeks on end, sometimes without even knowing the destination until they get there. While their RV is equipped with an oven, sometimes it is quicker and easier to use the toaster oven, especially in the middle of summer. Their only requirements at the time were that it be small enough to fit their cramped quarters, have a timer, and be reasonably priced – plus, the name was familiar, so they went with the Proctor Silex Toaster Oven.
Very Small
When you look at the Proctor Silex Toaster Oven & Broiler, the first thing you notice is the size. Their older toaster oven was bulky and took up a lot of counter space. This one, however, was just a little over a foot across. It was a great fit on the limited counter space. The full dimensions of the appliance are 13.5" long, 9" deep, and 7" tall with a weight of around 9 pounds.
Now since it's small it toasts quickly. The taller model toaster ovens have the rack further from the top and bottom heating elements, so it takes a bit more time to reach the desired levels of toasting. With the Proctor Silex, the cooking time was a fraction of what it would be in larger toaster ovens or traditional ovens.
If you're looking for accessories to go with your toaster oven, see my recent Toaster Oven Accessory Buying Guide.
Set It and Forget It
When you're camping, you do not want to have to sit inside and monitor whatever you decide to have for dinner. The Proctor Silex has a built in fifteen-minute timer and an auto-shut off that allows you to adjust your cook settings, start the timer, and go about your business. When it is finished, the spring-loaded timer lets out a chipper ping and the heating elements shut off.
This is useful when you're chasing little ones around the campground, have distracted teenagers doing the cooking, or if you're like my mom and tend to lose track of time. Nothing ruins a vacation quicker than the residual smell of burnt food lingering in the air. The auto-shutoff has proven to be a very handy feature.
Multi-Functional with Customized Settings
This multi-functional toaster oven comes with three preset cook options. It can broil using only the top heating element, bake using the bottom element, or toast while using both. The temperature control is adjustable from 150ºF to 450ºF. It even features a toast shade selector on the timer dial. While the Proctor Silex Toaster Oven is smaller than some models, it can still handle up to four slices of toast or two personal pan pizzas. Whether you are preparing a tray of appetizers for a small get-together or a quick lunch, this toaster oven is perfect for small batch cooking.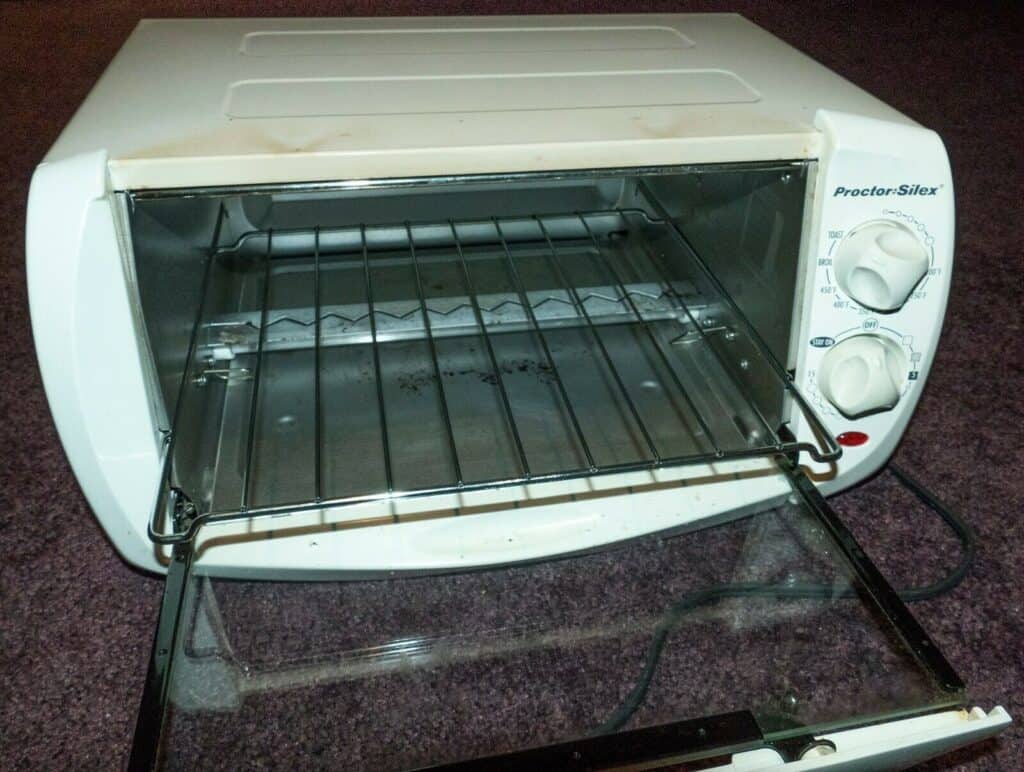 At a Glance: Pros and Cons
Pros
Energy efficient: this unit only draws approximately 1000 watts when both elements are on. It is perfect for energy conservation or if you're using it with a RV battery.
Space saving: with dimensions of 13.5" x 9" x 7", it will fit in most small areas without issue.
Adjustable timer dial: the adjustable timer allows you to select your toast shade for toasting and will go up to fifteen minutes for baking or broiling.
Adjustable temperature control dial: the temperature ranges on this unit are 150ºF to 450ºF. This makes it perfect for everything from reheating leftovers to cooking a full dinner.
Cheap: in comparison to similar models, the Proctor Silex Four Slice Toaster Oven is in an affordable price range for most. The multi-functionality and energy efficiency gives it a good bang for your buck. Plus it's very durable.
Cons
This model is not suitable for large families or big batch cooking: the interior of this toaster oven fits four slices of toast or two personal pan pizzas. It is intended for small batch or single person cooking.
It occasionally overheats in poor-ventilated areas: as with most small appliances, if the area is not well ventilated, your toaster oven can overheat. This can be remedied by turning on a vent fan and pulling the unit away from walls while cooking.
It produces an off-putting smell during the first heat: during the first heating cycle, the toaster oven produced a little smoke and an odd smell. After checking the instruction booklet, it is recommended you let your toaster oven heat on the highest setting for about ten minutes before you use it the first time.
Conclusion
The Proctor Silex is a good toaster oven for those with limited space or do not have a need for large batch cooking – or are just fond of retro. The included baking tray is perfectly sized for four slices of toast or two personal pan pizzas. It can crisp English muffins and bagels to perfection or broil a fresh caught salmon for dinner. It's multi-functional and energy efficient. The sleek design blends well with other appliances and the aluminum build stands up over time against tarnish and rusting.
Although there are a few downsides, such as the initial heating cycle prior to use and a chance of overheating if you crowd it, it is a wonderful toaster oven for small capacity cooking. The pros definitely outweigh the cons. It functions as well as the higher priced models but for a fraction of the cost.
But don't take my word for it – try it yourself.
FAQ

How do you clean the Proctor Silex Toaster Oven?

Easy – just take it apart and use a mixture of baking soda and dish soap. Here's a link to a more detailed

toaster oven cleaning guide

made by me.

What are the dimensions of the Proctor Silex Toaster Oven?

It's 13.5″ wide, 9″ long and 7″ high. It's a small one.

What are the interior dimensions?

It's 7 1/2″ by 14 1/2″.

Does the Proctor Silex Toaster Oven beep?

Yup.

Is the Proctor Silex Toaster Oven electronic or mechanical?

It's the only mechanical toaster oven I've seen.
Love,
G.
---