These easy ice cream flavours are the perfect addition to your next ice cream social.
Ice cream is one of those indulgences that we all look forward to, and while it might not be a regular summer food, it's always a nice treat when you don't have anything else planned for the day.
It's so satisfying, too.
Not only do these ice cream recipes feature creamy dairy products, but they also have a ton of different tropical and fruity flavors.
From fresh berries to tropical notes of coconut, there's something for everyone here.
And each of these ice cream recipes is the ultimate homemade indulgence.
You can make them from scratch, or use your favorite store-bought mix.
So check out these delicious ice cream flavours below, and let me know which ones you like best!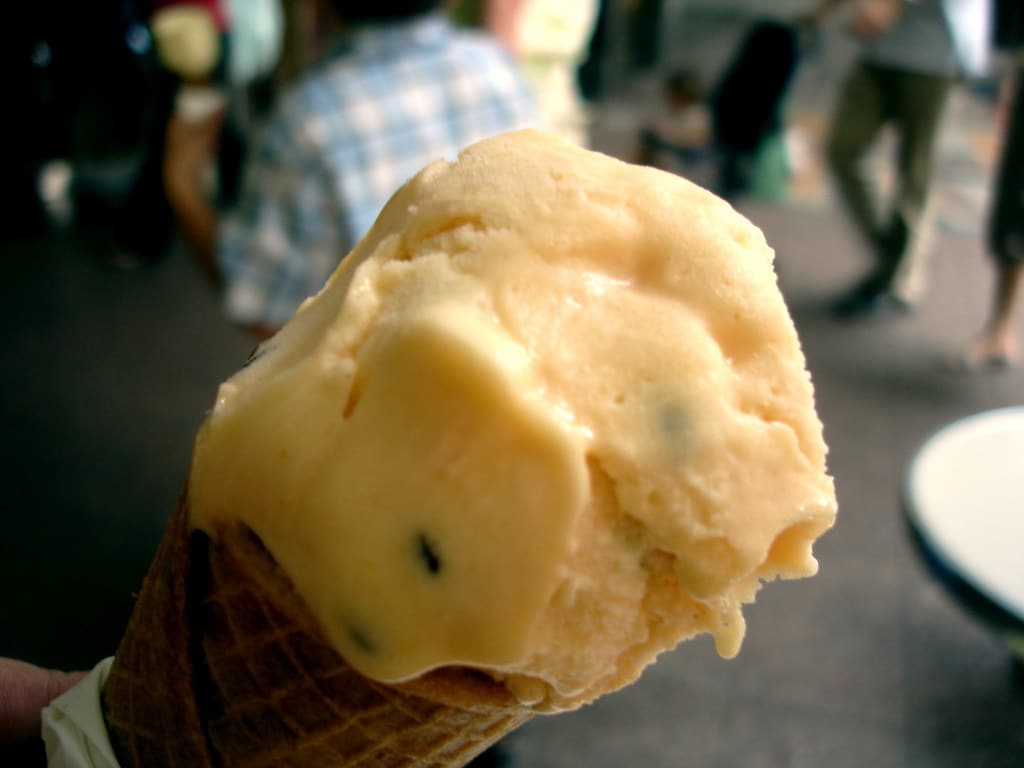 Tiramisu is the Italian dessert you've probably never tried making at home.
And it's quite a showstopper, to say the least.
You have to make the sponge yourself and follow this recipe exactly.
It's worth every second of patiently waiting for it to chill.
Then, pour over your ice cream of choice and top with chocolate shavings and/or whipped cream.
Salted caramel is a sweet and salty dessert that's sure to make your mouth water.
But if you're not a big fan of the flavor, it might be time to try something else.
This recipe takes the classic flavor and adds salted caramel and nuts.
The result is a rich, creamy dessert with a delightful crunch from the caramel.
The addition of sea salt gives it even more depth of flavor.
It makes this ice cream even better.
Do you have a craving for something sweet but still want to keep it healthy?
This pistachio ice cream is just the thing.
The combination of roasted pistachios and vanilla ice cream is pure magic.
This simple yet indulgent dish takes no time at all to make.
It's also perfect for summer!
I know what you're thinking: the two words "coconut" and ice cream are not a match made in heaven.
But let me tell you, this recipe is proof.
Starting with coconut milk (which will change the flavor slightly), this ice cream is super creamy and sweet, thanks to coconut extract and chocolate chips.
And when you add fresh cherries, that's where the magic happens!
The berries get nice and juicy while still retaining their natural sweetness.
Then they get blended with heavy cream, coconut nectar, vanilla extract, sea salt, maple syrup, and more to create a heavenly blend of flavors.
To top it off perfectly – yet not too sweet – I recommend using coconut flakes for texture.
Lemon is the perfect combination with ice cream.
It's tangy, sweet, and just right for this creamy treat.
The best part?
This recipe only calls for three ingredients.
All you'll need to make it are your favorite store-bought ice cream and lemon zest!
With this simple little recipe, you can have the ultimate summer treat on the table in just 10 minutes!
If you like your ice cream rich and creamy, this recipe is for you!
Lemon curd is a very basic custard-like pudding made with eggs and lemon juice.
It's similar to buttermilk in texture and tastes incredible when added to an ice cream.
This recipe uses steam-distillers, meaning it's more expensive than regular distillers.
But it makes such a dramatic difference with the flavor!
The only downfall is that it takes about 4 hours to make.
Gelato is a creamy Italian dessert made with frozen dairy products.
This recipe for mascarpone gelato is so easy to make and perfect for the holidays.
The best part of this recipe is it only calls for four ingredients!
Making this gelato at home guarantees you can create your favorite flavors without worrying about any mess or long hours in the kitchen.
Trust me, you're going to love having this frozen treat on hand when you need a sweet treat!
Huckleberry ice cream blows the competition out of the water!
There's a reason why they call it huckleberry ice cream.
While you may think this dessert is sweet, it has a hearty and tangy flavor that'll make your taste buds jump.
It's packed with fruity flavors from blueberries, raspberries, and blackberries that will perfectly pair with a scoop of vanilla ice cream.
If I could only eat ice cream for breakfast, it would be this coffee and mascarpone concoction.
It's a mouthwatering combination of hazelnuts, coffee, and mascarpone.
The combination of rich flavors – nuttiness from the hazelnuts, bitterness from the coffee, and sweetness from the mascarpone – is simply incredible.
And oh boy is it good!
You know what better dessert than passion fruit ice cream?
Ice cream!
This ice cream is rich and creamy with a bit of zing from the passionfruit.
It's so good, you won't even mind the added calories.
The best part?
This recipe needs just five ingredients and is ready in minutes.
If you want to make this fruity treat even more refreshing, use lemon juice instead of passionfruit.
It will still taste great but will keep your eyes on the food less.
If you think peanut butter ice cream is rich and creamy, wait until you try it with brownies and pretzels.
These treats are a sweet twist on traditional ice cream.
There's no need for an ice cream maker or churner because they have the same great taste.
The chocolate brownie base is a fantastic treat that makes the texture even better than regular vanilla ice cream.
Let it sit for about 5 minutes and serve with a scoop of this scrumptious dessert.
On a recent trip to the Starbucks at Fashion Island, I enjoyed their mini-cookies and cream ice cream.
I'm not sure I would go back for the latter…but I didn't have any ice cream chips!
Now that we have a sweetener and an ingredient for coffee ice cream, here's how it works.
You'll use instant coffee to make this dreamy creamy and strawberry-flavored combo.
Then you add whipped topping to coat each scoop.
That way, there are no chunks of cookie in your drink!
Honey ice cream is sweet, creamy, and naturally sweetened with honey.
It's perfect for any occasion.
A little bit of honey goes a long way in this recipe.
It adds just enough sweetness without overpowering the base flavors.
The result is a very light and flavorful dessert that you can feel good about indulging in.
An ice cream that gets a perfect blend of crunch and creamy goodness?
Yes, please!
If you love the taste of butter pecan ice cream but can't have any dairy (or are allergic), this recipe is for you.
Instead of butter, here you'll use coconut oil.
It has a similar flavor profile to butter, but gives it a tropical warmth that complements the nutty sweetness of the pecans.
The best part?
It only takes five minutes to make!
I can't help but think of a tropical vacation when I see this recipe.
The combination of coconut milk and vanilla ice cream is pure bliss!
This recipe uses canned coconut milk, and it's simple to make.
You won't need any fancy equipment or special ingredients.
If you have a high-speed blender, you can whip up the base in just 15 minutes.
Then, blitz in your favorite toppings.
For example, if you want shredded coconut and chopped nuts, blend them together until they are nice and thick.
Pour that mixture into the blender with the ice cream base and blend some more.
It doesn't get much easier than that!
Strawberry ice cream is light, creamy, and perfect if you want something a bit fruity.
It's also easy to make, so it's ideal for those busy spring breakers or summer picnics.
The best part?
This recipe uses frozen strawberries for an effortless way to keep them fresh!
Don't forget the whipped cream on top!
It adds an extra shot of sweet goodness.
This coffee and donut ice cream will be your new favorite.
It's creamy, smooth, and packed with flavor.
It's made with just five ingredients: heavy cream, vanilla ice cream, coffee liqueur, donuts, and powdered sugar.
The flavors blend together to create an amazing treat that'll have you coming back for more.
Vanilla ice cream is just like vanilla ice cream, only stronger.
It's made with condensed milk and pure vanilla extract.
It'll be silky smooth and rich in flavor to the max.
If you're looking for a replacement for your favorite summer treat, this is it!
Ice cream is the ultimate summer treat.
I feel like it's a little dessert indulgence that can be enjoyed year-round.
This Ube ice cream is an easy and delicious way to enjoy this classic flavor.
All you'll need is a box of white vanilla Instant pudding mix with water, sugar, vinegar, baking powder, and vanilla extract.
If you have fresh or frozen vanilla beans, those will do just fine!
You won't believe how smooth and creamy this ice cream comes out of the machine.
This is the perfect dessert for when you want something a little more decadent than fudgy brownies.
It's a smooth and creamy treat, with all the exotic flavors of butterscotch and pecans.
Even better, it only takes half an hour to make!
Ice cream always gets a bad rap, but this carrot cake ice cream is proof that you should give it another chance.
It's rich, creamy, and totally indulgent.
It'll melt your tongue with the warm, sweet flavors of gingerbread and cinnamon.
The best part?
It only takes 5 minutes to make!
Banoffee ice cream is a quintessential summer treat.
This sweet and creamy dessert is made with bananas, coconut, and crushed fritters.
The flavor of the banana ice cream pairs well with the fritters and cinnamon sugar.
It's a fun twist on an old favorite you've surely had before.
With this quick recipe, you won't have to wait for it to cool in the fridge!
I'm not usually a fan of Key Lime pie.
I mean, how can you beat the creaminess of the filling?
But with this recipe, I'll be a believer!
This is more like a citrus ice cream than a pie, but it tastes just as good.
You won't want to miss out on this light and refreshing treat.
It also makes for an easy-to-make summer dessert or holiday dessert.
It's hard to believe this recipe is so simple.
But thanks to a lot of cream cheese, double-boiler, and heavy whipping cream, it's surprisingly effortless.
There's no churning involved; just mix everything together and pour over the ice cream maker for about 5 minutes.
This will freeze the ice cream right in the bowl, which will allow you to cut it into square pieces.
The best part about making ice cream is that you can do so with minimal effort.
All it takes are a few simple ingredients and a blender or food processor.
Just like any other recipe, this includes whipping the cream until soft peaks form.
Then, add sugar, cocoa powder, vanilla extract, salt, and heavy whipping cream to your blender or food processor.
I suggest using a powerful machine to get it right!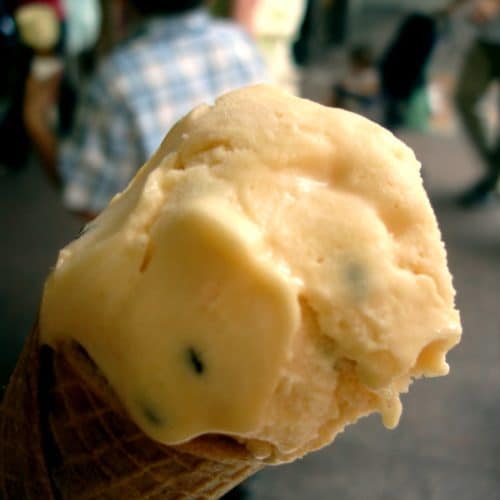 25 Easy Ice Cream Flavours
These easy ice cream flavours are the perfect addition to your next ice cream social.
Instructions
Select your favorite recipe.

Organize all the required ingredients.

Prep a delicious shrimp dinner in 30 minutes.
---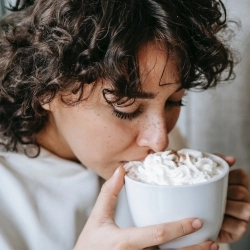 Latest posts by Grace Lambert
(see all)