These savory crepes are light and flexible, and they're perfect for breakfast or brunch.
From classic chicken crepes to vegan spinach and mushroom crepes, you can have them sweet and savory too!
Crepes are a staple in the French kitchen, and they're delicious in so many ways.
They're eggy, spongy, versatile, and easy to make.
Let's dig in.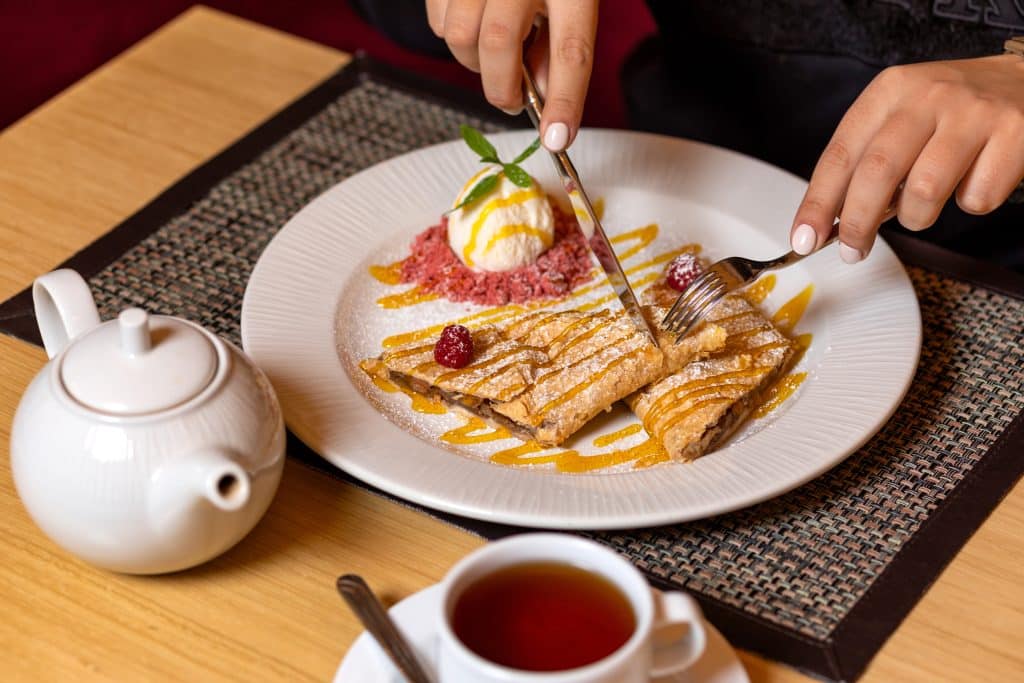 This recipe is a must-try if you're looking for a light and quick meal to impress your guests.
The inside of the cannelloni shells is filled with ground meat, tomato sauce, and cream cheese.
To add extra sweetness, they're topped with sour cream and Parmesan cheese.
This is a crowd-pleasing dish that will be gone in no time!
My mom makes these wonderful crepes, and I melt all my feelings for her in this one.
Radicchio di Treviso is a popular Swiss lettuce that has a milder taste than radicchio.
And believe it or not, you'll actually get more of a peppery taste with this leafy green.
It's the perfect addition to the creamy crepe filling and goes really well with the savory sauce on top.
Who doesn't love cheese and spinach?
They make a great combo, and this recipe is proof.
Crepes are like pancakes but softer.
And they have all of your favorite ingredients in one bite!
It's the perfect breakfast with crispy edges and soft interior.
Top it with buttery melted cheese, and you have a wonderful treat.
This recipe is a must-make for holiday mornings!
It's sure to warm your heart on St.
Patrick's Day.
If you love crepes, then this is the recipe for you.
You'll make them with fresh cream cheese and a creamy sauce that's bursting with flavors.
They're also topped with smoked salmon to give them a bit of marine goodness.
That way, they can be enjoyed as an appetizer or even dinner if needed.
Either way, it's a fantastic start to any meal.
Is there anything better than a savory crepe?
Just take this recipe and make it right, you'll be hooked!
The ham and cheese filling is rich, decadent, and oh-so-smoky.
That's what makes these crepes so delightful.
The flaky crust is to die for.
No matter where you eat them, you'll want to make sure you have the best crepes in town.
Florentine crepes are similar to French crepes, but they're also known as chicken Florentine crepes.
They're also full of veggies, including green onions and cherry tomatoes.
The sauce is made of lemon juice and olive oil with a dash of red pepper flakes and an egg yolk for consistency.
It adds more depth to the dish.
Crepes are a great way to get in some extra veggies on your plate.
They're also pretty easy to make, so you can feed a crowd.
This recipe is full of chicken and broccoli, along with cheese, creaminess, and delightfully crispy edges.
You can even add some shrimp for a little bit of protein boost!
If you're looking for an easy chicken crepe recipe that's also full of flavor, then look no further than this copycat recipe.
The cordon-bleu sauce is a rich and creamy blend of light cream, Worcestershire sauce, mayo, and Dijon mustard.
It's flavored with lemon juice and fresh herbs for a zesty kick.
You could even use whole-wheat or gluten-free flour if you prefer the taste.
When it comes to crepes, there's nothing like a savory crepe.
Savory crepes are the perfect comfort food for any occasion.
They're also a lot less messy than sweet crepes, which is always a plus!
Thanks to the "sweet" chocolate in the batter, these crepes are delectable and super moist.
Add some fresh toppings, and they'll be dripping with goodness.
These crepes are savory and cheesy.
They're also herby, earthy, and absolutely delicious.
They're the kind of recipe you want to make over and over again because they taste so good with everything from salty bacon to sweet strawberries.
You can use any mushroom in this recipe, but I love the texture of porcini mushrooms.
I think they have a bit more flavor than other mushroom options.
If you don't have porcini or a couple of tablespoons of oil for frying, then fry the onions until they start to turn translucent and add in the mushrooms when they start to brown.
The eggs will cook slightly on top, but there won't be much condensation on them.
It might seem like a lot at first, but you can always bake these right after cooking them if it gets too hot outside.
Full of flavor and texture, these crepes are perfect for a light lunch.
They're stuffed with asparagus, mushrooms, shallots, goat cheese, and fresh herbs.
Pile all the ingredients in a pan and cook until they're nice and soft.
Then fill them with your favorite filling for a tasty dish.
Serve them warm or cold.
Crab-stuffed crepes are a delicious way to enjoy crab while still feeling indulgent.
They're light and airy, but they have plenty of oomph inside them.
With crab meat and cheddar cheese in the mix, these crepes are practically bursting with flavor.
Serve them with a side of homemade whipped cream for dessert or try adding some fresh fruit for another great taste sensation!
Looking for a quick and easy seafood mornay?
This recipe is the answer!
It's packed with flavor, and all you need to do is throw it on the grill pan.
The best part is that this dish only takes 15 minutes.
How incredible is that?
This fabulous dish combines white fish, Béarnaise sauce, and Gruyere cheese.
It's a simple combination but completely amazing.
Serve this sensational dish over steamed rice or quinoa.
Yum!
With these three ingredients, you can easily transform any meal into a healthy and delicious breakfast or brunch.
Serve with some vanilla yogurt and fresh fruit for a healthy and satisfying start to the day.
Or just enjoy this scrumptious recipe as-is!
I like to serve this dish with a side of bacon, but I think even coconut milk would be good.
I highly recommend using frozen spinach to bulk out this crepe recipe.
The fresh ingredients will just wilt away in minutes!
I love making crepes when I have the chance.
They're so pretty and easy to make, and they're a great way to use up leftovers in your fridge.
If you don't have enough eggs or milk, be sure to double this recipe.
You won't believe how delicious these fillings will taste!
Try some of these bright and flavorful vegan-friendly fillings: roasted potatoes, roasted Brussels sprouts, carrots, or chickpeas.
Buckwheat crêpes are a recipe that is a must for breakfast, lunch, or dinner.
The crunchy edges and sweet toppings make them perfect for all types of dishes.
This crêpe recipe combines the flavor of mushrooms and hummus with buckwheat flour to create a healthy meal.
Add avocado and cilantro pesto on top, and you won't believe how easy it is to put together.
These gluten-free chickpea pancakes are the ultimate breakfast food.
They're fluffy, buttery, and bursting with flavor.
Flaxseed meal keeps the texture from being dry.
If you can't find them in your local store, feel free to use any nuts or seeds.
You can also use hemp hearts if you have them on hand.
(Be sure to soak them first.)
I like to top mine with Greek yogurt for a bit of protein and sweetness.
Chickpea flour is used to make these savory Indian crepes.
It makes them healthy, nutritious, and delicious.
They're a bit thicker than pancakes and are made with chickpeas instead of eggs.
You can use store-bought crepes for this recipe or make your own from scratch.
Serve these as a breakfast meal or enjoy them as a quick snack when you're on the go.
Swedish crepes are thin pancakes (called 'blomkruksaker'), featuring a sweet and fluffy custard filling.
You'll need to make them with milk and butter, so they have a rich, creamy flavor.
They're best served hot and fresh from the pan, but if you can manage them cold, that's what I like!
If you want your Swedish crepes to be crispy on the edges, try beating in some chopped nuts or raisins before adding your batter.
French crepes are a staple in my house.
They're light and fluffy, with a lovely, crispy texture when cooked.
The filling is creamy but not too much so that it will spill over the edges of the crepe.
There's also plenty of cheese here, which means there's plenty of yumminess to get you through one breakfast or snack.
These can be made ahead of time and kept in an airtight container until ready to serve.
(I like to keep some on hand for breakfast as well.)
I'm a big fan of savory cake, and this recipe is no exception.
A rich batter with lots of cheese and a hint of garlic is folded into a crepe pan.
From there, you add some soft veggies and herbs.
This cake will be filled with flavorful ingredients that come together in an instant!
These savory crepes with caramelized onions, spinach, and feta are a great way to start the day.
They're breezy with a touch of sweetness that will leave you feeling satisfied all day long.
You'll use olive oil for the filling, and it perfectly balances out the rich flavors of the onions, spinach, and feta cheese.
The best part?
These crepes are also incredibly easy to make!
Do you love spinach?
Do you want to try it in a savory dish?
Here's your answer!
This recipe combines spinach, onions, and potatoes into a crepe filled with cheese.
It's a fantastic way to add greens to your diet and make them even better.
Get ready to feel the luxuries of a hearty breakfast in your belly!
This recipe is an absolute must-try if you're looking for something light and comforting.
The perfect combination of asparagus and mushrooms creates a hearty base.
In this collaboration, the veggies add a rich, earthy flavor that complements the soft crepes.
Once you try this recipe, you won't be able to go back to regular pancakes!
I love crepes for breakfast.
They're light, fluffy, and super easy to make with a few ingredients.
For this recipe, you can use store-bought crepes or make your own with flour, yeast, and vegan butter.
I like mine extra crispy because they're always a little bit different.
But if you want something slightly more rustic, try using gluten-free flour instead of rice flour.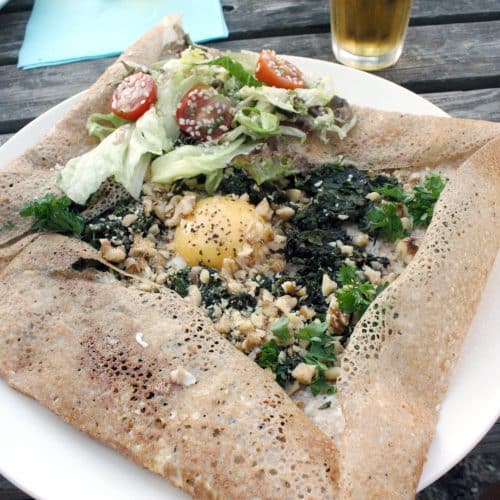 Savory French Crepes
Savoury crepes (known as "galettes" in French) are an excellent way to start the day. This batter has no gluten. They are dark in hue and more savory than crepes. Galettes are typically packed with salty components, however salted butter caramel can be used as well.
Ingredients
2

eggs

1 ½

cups

milk

2

tablespoons

butter

¼

cup

buckwheat flour

¾

cup

all-purpose flour

1

pinch

salt

3

tablespoons

butter

½

cup

cremini mushrooms

sliced

½

cup

oyster mushrooms

sliced

1

cup

tomatoes

diced

2

cups

baby spinach leaves

4

teaspoons

butter

divided

1

cup

Gruyere cheese

shredded, divided
Instructions
In a blender, combine the eggs, milk, and 2 tablespoons butter. Blend in the buckwheat flour, all-purpose flour, and a pinch of salt until smooth. Let the batter to chill overnight in the refrigerator.

In a large pan over medium-high heat, melt 3 tablespoons butter. Cook until the cremini mushrooms are golden brown, about 10 minutes. Cook and stir for 3 to 4 minutes, or until the tomatoes and spinach are wilted. Put aside the filling.

In a large skillet over medium heat, melt 1 teaspoon butter. Pour roughly 1/4 cup batter per crepe onto the hot skillet (depending on the size of your pan) and immediately tilt and swirl the pan to properly spread batter along the bottom. 3 to 4 minutes, or until the center is set and the edges begin to brown. Place 1/4 of the filling in the center of each crepe and top with 3 tablespoons Gruyere cheese. Set aside any leftover cheese. Fold the crepes into thirds over the filling to make triangles. Serve crepes with the remaining Gruyere on top.
Video
Nutrition
Calories:
510
kcal
Carbohydrates:
31
g
Protein:
21
g
Fat:
35
g
Saturated Fat:
20
g
Polyunsaturated Fat:
2
g
Monounsaturated Fat:
10
g
Trans Fat:
1
g
Cholesterol:
177
mg
Sodium:
473
mg
Potassium:
526
mg
Fiber:
2
g
Sugar:
6
g
Vitamin A:
2864
IU
Vitamin C:
9
mg
Calcium:
491
mg
Iron:
3
mg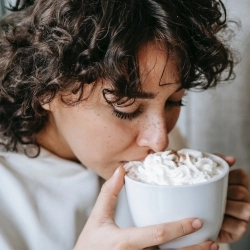 Latest posts by Grace Lambert
(see all)