These chicken skillet recipes are sure to impress.
From juicy rotisserie chicken to hearty rice and beans, they're all about comfort food at its best.
A single serving dish is exactly what you'll get when you use chicken in a skillet.
It's simple, it's easy, and it's delicious!
Chicken is one of the most versatile proteins out there.
It can be cooked in all sorts of ways.
And that versatility means you can use chicken in a variety of dishes from breakfast to dinner.
These chicken skillet recipes are all about bold flavors and super-easy preparation.
So grab your favorite cut of meat, and let's get to cooking!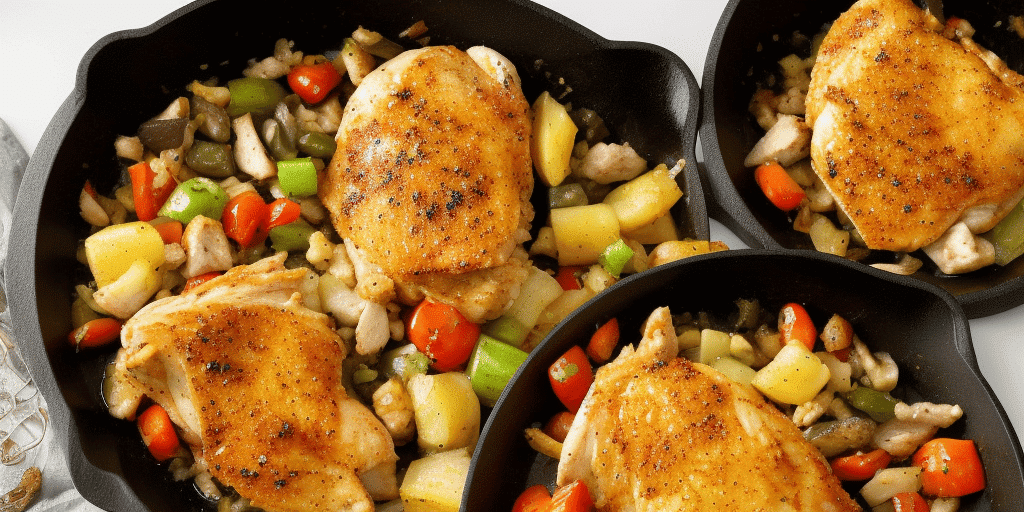 Chicken burrito skillet is a simple, delicious meal the whole family will love.
The chicken is tender and spicy with plenty of flavor from the ground beef.
The rice is fluffy and seasoned well with spices to give it an authentic Mexican taste.
And if you're looking for something different, try adding some cilantro to your rice!
This wine sauce is the perfect side dish for chicken, pork chops, and even steak.
It's a tangy and savory sauce that you'll want to put on everything.
Assemble your meal with this wine-infused mushroom sauce alongside roasted veggies and tender chicken.
If you're looking for a quick and easy lunch or dinner, this skillet lemon chicken is the perfect recipe.
It only takes 15 minutes to put together and has only eight ingredients!
The chicken is seasoned with salt, pepper, garlic powder, paprika, bay leaves, onion flakes, and canola oil.
It's then cooked in a skillet until it's crispy on the outside and tender on the inside.
You can serve it as is or add some extra flavor by using your favorite pesto or cheese.
This recipe is a wonderful way to use up leftover chicken.
The chicken cooks in a flavorful tomato sauce with pasta and mushrooms.
It's a simple dish that everyone will enjoy.
Of course, you can always put on the oven or grill if you have the time.
Either way, this dish is sure to impress.
This dish is a family favorite in our household, with the added bonus of being relatively effortless to make.
You'll use chicken breasts, white wine, onions, olives, and tomatoes.
Once you've sautéed them all to perfection, you can throw everything into a large skillet and let it cook down until it thickens.
If you're looking for a dish that will warm your belly and fill your belly, this is the one.
It has all the good stuff – juicy chunks of chicken, fresh herbs, and sweet tomatoes.
Plus, it's so easy to make!
Just grab the ingredients from your pantry and put them in a skillet.
It takes about 20 minutes.
Serve this over rice or beans for a complete meal. Or, chop it up and enjoy as is.
If you've never baked chicken before, this is the recipe for you.
With just a handful of ingredients and under 30 minutes, it's practically effortless.
The sauce is a blend of cumin, chili powder, garlic powder, paprika, cilantro, and lime juice.
You can use bottled or fresh salsa for a more authentic feel.
Or why not try some fresh-from-the-factory salsa?
Either way, there will be little to no "wow" factor in this dish.
Chicken in a skillet?
Yes, please!
This chicken dinner is flavorful and easy to make.
It's also filling and comforting without being too heavy or boring.
The key to this recipe is the garlic herb butter sauce.
It's delicious on everything from potatoes to rice bowls.
I don't know about you, but I fall in love with this creamy chicken skillet every time.
The meat is succulent and juicy, the sauce is rich and creamy, and the veggies are a touch crunchy.
And it's all done in one pan!
If you want to make this dish even more healthy, serve it over a bed of rice or quinoa.
This Tuscan chicken and orzo skillet is a rich, hearty meal that will warm your soul.
The orzo brings an earthy, nutty flavor to the dish and the chicken is tender and moist.
Serve it with some crusty bread for dipping for your next potluck or picnic.
This chicken burrito skillet is the ultimate meal for busy weeknights.
It's packed with protein, fiber, and healthy fats to keep you full without weighing you down.
Featuring a fantastic combo of shredded chicken, beans, and rice in a casserole dish, this recipe is easy enough to make on your own but also delicious enough for company.
Do you love the simplicity of a simple chicken and potatoes recipe?
Then you'll go gaga over this recipe.
With this one-pot skillet, you can have a healthy meal on the table in just 30 minutes.
There's no cooking involved here!
This dish comes together in one pot and has all the goodness that makes your tastebuds sing.
Serve this chicken and veggie skillet with fresh veggies for an extra bit of color.
It's easy to make vegan-friendly too, so feel free to be creative!
Seasoned with spices and chicken broth, these chicken thighs are fall-off-the-bone tender.
If you like your meat extra juicy, add a generous amount of water to the pan.
As long as you don't make it too dry, it should cook right up without any burning or sticking.
I love this dish with green beans and carrots.
But it can be served on its own as well.
You can never have too many chicken dishes, right?
Try this recipe for creamy parmesan dijon chicken to add more protein to your weeknight meals.
The juicy pieces of chicken are paired with a creamy sauce that's rich and earthy.
It has a ton of flavor and texture in every bite, so even picky eaters will love it!
This pasta dish is perfect for a busy weeknight.
It's simple, nutritious, and full of flavor.
It features tender chicken and fresh spinach in a zesty tomato sauce.
The roasted tomatoes add depth of flavor that pairs perfectly with the creaminess of the cheese.
Pot pie is really the ultimate comfort food.
But if you're looking for a way to up the comfort factor and make it even healthy, this skillet pot pie is the answer.
It's packed with veggies, chicken, sausage, potatoes, and a creamy sauce made from butter, sour cream, milk, and white wine.
Of course, there are also biscuits in every bite!
This recipe makes a big batch so you can share it with your friends.
Or serve it as is and enjoy every mouthful of chicken and gravy flavor.
This chicken is insanely tender, flavorful, and a breeze to make.
Tender chicken breasts are seared to perfection in a tasty tomato-based sauce.
And tater tots?
They're the best!
Let that skillet cook away while you whip up your favorite sides or finish off your meal with a dollop of Greek yogurt.
You can't go wrong with chicken and rice in a creamy sauce.
And this dish is no exception!
The soy sauce, garlic, and ginger add flavor galore.
Top the chicken and rice with plenty of veggies for a hearty meal.
Plus, it's so easy to make that you can whip up a batch of healthy leftovers on busy weeknights!
This recipe may be simple, but it's undeniably scrumptious.
The chicken cutlets are beautiful and juicy with a wonderful, crispy outer layer.
I love the honey mustard sauce on top because it's just sweet enough to compliment the chicken but not so much that it clashes.
Serve this over rice for an easy, delicious dish that is sure to please your family.
This whole family will enjoy this buffalo chicken and potato skillet.
It has the perfect blend of flavors that are sure to please everyone.
The key is in the sauce. It's creamy, tangy, and spicy.
The potatoes add a wonderful starchiness that complements the juicy chicken perfectly.
This dish is packed with protein, carbs, and deliciousness!
This recipe is the perfect comfort food, and it's so easy to make!
If you want to add more flavor to your chicken tenders, throw in some garlic.
Also, I like to dip mine in my favorite dipping sauce.
Why not try my favorite Chicken Tenders Garlic Butter?
When you're done with this flavorful dish, serve it with a side of rice or mashed potatoes for the ultimate meal.
If you've never made lasagna, then you're in for a treat.
The key to the best lasagna is to use layers of pasta and sauce.
That way, all those goodies are always in perfect harmony.
This recipe has everything you need – chicken, garlic, zucchini noodles, ricotta cheese, and so much more!
Ziti is already a huge favorite of mine, but this recipe shows it can be even more delicious.
Chicken and broccoli are the perfect match for this hearty pasta dish.
The zesty tomato sauce gives it all that extra punch you need to eat with a spoon.
This dish is warm, moist, and full of flavor.
All you have to do is add coconut milk and seasonings to the skillet and let it cook.
It's a quick and easy recipe that's sure to satisfy your hunger!
Soy sauce has a pretty mild flavor, but it does just about anything you want to add to the dish.
That's why I love this recipe so much.
It's sweet and savory and definitely makes this one of my all-time favorite chicken recipes.
Since ginger is such a popular ingredient in Asian cooking, it's hard not to put more than soy sauce on the bottom of the skillet.
However, if you prefer your sauces with slightly more kick, try adding some sugar or honey.
You can be sure that this dish will turn heads when you serve it!
Creamy garlic chicken thighs are also an excellent way to enjoy your favorite Chinese dishes without ordering a whole order from China.
This recipe is crazy comforting and delectable.
You won't even realize how healthy this chicken dinner is until you look at the nutrition facts.
It doesn't matter if you don't feel like cooking right now.
This simple dish will cheer up any drab day with its rich flavors and hearty texture!
The healthier option is just as delicious as its less healthy counterpart.
But I have to admit that I prefer homemade over store-bought! (and) :it tastes better than ketchup on a hot summer evening.
Trust me; I know what I'm talking about!:With only four ingredients – butter, cream, curry powder, and onions – it certainly isn't complicated either.
The result?
A divine curry flavored broth loaded with creamy rice.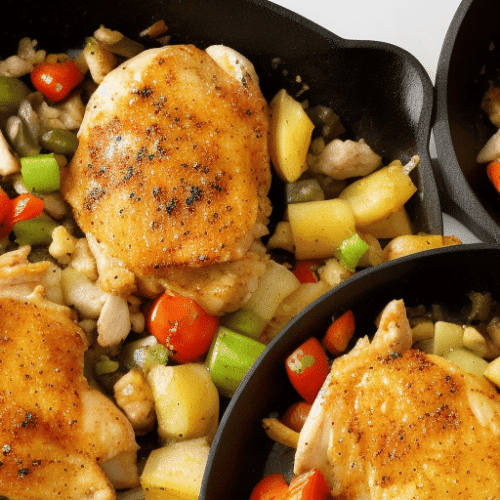 Creamy Chicken and Rice Soup
It will serve for everyone in your family especially in cold days.
Ingredients
1

stick celery chopped finely

2

medium carrots peeled & chopped finely

1/2

medium onion chopped

1

tablespoon

olive oil

3

cloves

garlic minced

3

tablespoons

flour

4

cups

chicken broth

1/4

teaspoon

Italian seasoning

3/4

cup

uncooked white jasmine rice

1

cup

heavy/whipping cream

1

pound

uncooked chicken breasts cut into bite-size pieces/strips

Salt & pepper to taste
Instructions
Prepare the chicken and vegetables.

Over medium-high heat, add the celery, carrots, onion, and olive oil to a soup pot. Sauté while occasionally stirring for 5-7 minutes.

After adding the garlic, stir briefly.

Add the flour, then stir and cook for one minute.

Pour the broth in gradually while stirring or scraping the brown browned bits off the bottom of the pot until the flour has been dissolved.

Rice, cream, and Italian spice are all added together. Once the soup has reached a soft boil on high heat, give it a good stir, lower the heat so that it is simmering, and then cover the pot with the lid slightly ajar. The soup should simmer for 10 minutes. Every so often, I give it a stir to avoid the
Video
Nutrition
Calories:
1073
kcal
Carbohydrates:
28
g
Protein:
15
g
Fat:
102
g
Saturated Fat:
57
g
Polyunsaturated Fat:
5
g
Monounsaturated Fat:
32
g
Cholesterol:
288
mg
Sodium:
3553
mg
Potassium:
426
mg
Fiber:
1
g
Sugar:
11
g
Vitamin A:
3526
IU
Vitamin C:
1
mg
Calcium:
206
mg
Iron:
2
mg
---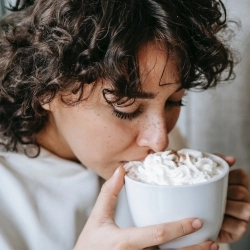 Latest posts by Grace Lambert
(see all)