When it comes to lebanese food, the possibilities are endless.
There are so many great things you can make with lebanese veggies and herbs, plus they take on a whole new flavor when cooked right!
If you're looking for some new ways to add more veggies into your diet, this list is for you.
From simple side dishes to main meals and even dessert, you'll find something that suits your tastes.
Whether you're in the mood for falafel or a traditional Lebanese meal, these recipes will surely deliver.
So sit back and get ready to fall in love with lebanese food all over again.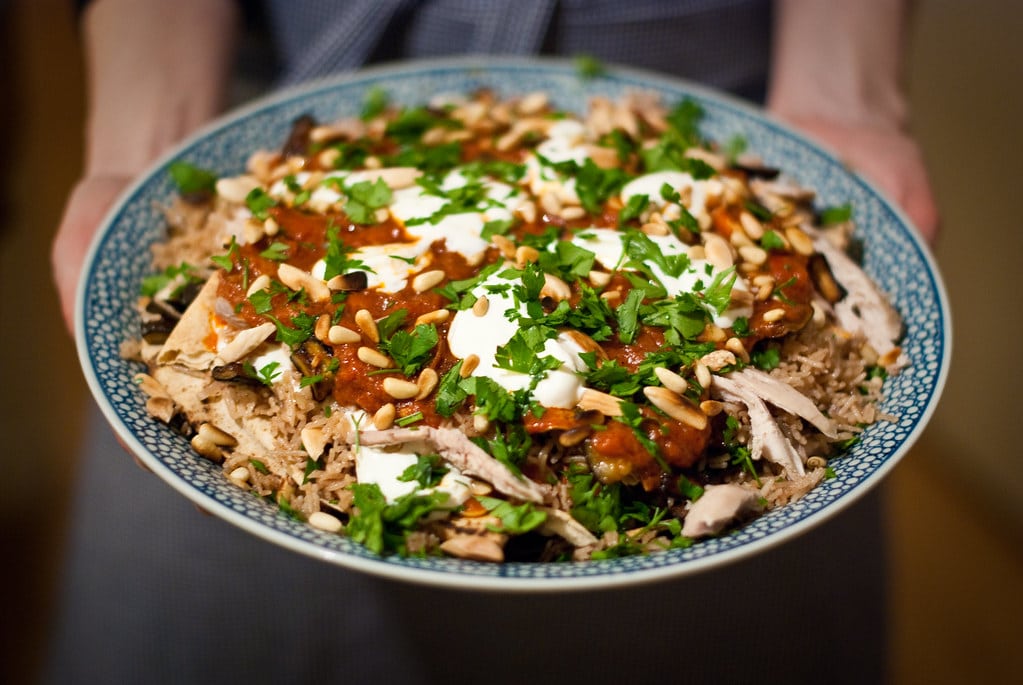 Tabbouleh is a fun way to introduce kids to their Lebanese heritage.
It's made with parsley, celery, and cucumber.
This recipe is so easy and comes out of the kitchen looking as good as it tastes.
Plus, it only takes 20 minutes of your time.
Lebanese spinach stew is the perfect dish for any day of the week.
You'll love how the bright and vibrant flavors perk up with every bite.
This stew has a rich, flavorful broth that will fill you up, leaving you feeling satisfied and energized.
The blend of ground beef and veggies makes this dish hearty without weighing you down.
It's perfect for a quick meal on busy days when hunger pangs are nagging at your stomach.
This stew is a great way to use up those leftover chickpeas.
It's flavorful and full of veggies, making it healthy and tasty.
You can make this stew vegan in the least time possible with the help of some simple ingredients.
The secret ingredient is a blend of spices like paprika, garlic, and onion powder.
It's mostly comprised of ground tomatoes, but you can use whole ones if you want it thick as well.
Also, feel free to add in more veggies if you have them available.
I love using carrots, rutabaga, potatoes, and other root vegetables.
If you're a big fan of hummus, you have to try this recipe!
The chickpea base gives it a creamy texture that'll make you feel like you're eating dessert.
Then, the jalapeño is super spicy yet perfectly balanced.
It makes for an incredibly filling snack or appetizer because it tastes so good on so many things.
Looking for a hearty, warming meal to keep you warm on a chilly night? Then look no further than this Lebanese lentil soup!
This wonderfully aromatic soup is packed with protein and fiber.
It's also loaded with delicious flavors, like garlic and spices.
Serve it up with crusty bread for dipping or as a standalone soup bowl.
Yum!
This stew features okra, onions, and tomatoes simmered in a rich broth.
It takes just 15 minutes to make but it's full of rich flavors.
The taste is so good that you can eat this stew for breakfast or dinner on its own.
Serve with crusty bread and a dash of Tabasco sauce for dipping.
Yum!
Cucumber is a great way to add flavor to your recipes.
It's so simple and packs a punch of cucumber goodness!
This recipe uses Greek yogurt, which adds a wonderful creaminess that will keep this sauce nice and light.
For added texture, I like to add some chopped cherry tomatoes and a dash of honey.
If you want this with more moisture, try using less yogurt and more mayonnaise.
I love cheese rolls because they're so easy to make, and you can adjust the recipe to whatever you have on hand.
You can roll them in anything from herbs and spices to sesame seeds or nuts.
They taste so good with a sweet barbecue sauce or honey mustard dressing.
Plus, their dense texture makes them ideal for sandwiches and burgers!
These Lebanese meat pies are a breakfast staple in my house.
They're flaky and buttery with a savory, peppery flavor that is hard to resist.
You can eat them plain or coat them in your favorite sauce, like ketchup or barbecue sauce.
Either way, they taste fantastic.
Mujadara is a popular Lebanese snack made of pita bread, meat, and vegetables.
It's crunchy with a nice balance of flavors.
For this recipe, you'll use ground beef with onions, tomatoes, and bell peppers.
The flavor combinations are strong but not overpowering.
The result is a hearty meal your family will love.
If you love Lebanese food, this fattoush salad is the dish for you.
It's a fresh and healthy version of the classic Middle Eastern salad.
The spinach leaves are crisp and crispy while the eggplant is tender and soft.
The lemon juice adds a zesty flavor that makes this salad a must-try!
Top it with feta cheese, pomegranate seeds, parsley, or chopped cucumber for a beautiful presentation.
This Lebanese chicken shawarma is flavorful and packed with flavor.
It's the perfect go-to meal for weeknights when you need something nutritious and quick.
You can always make this by roasting the chicken and making a marinade.
Then, stick it on a grill or oven to cook slowly until the meat is cooked through.
If you like your chicken super spicy, add some hot sauce before serving.
Baba ganoush is the stuff of legends and should be a staple in every kitchen.
Here's how to make it at home.
This baba ganoush recipe contains fresh garlic, herbs, lemon juice, olive oil, eggplant, and chickpeas.
The result is one versatile dish that can be used as a dip or spread on bread or pita bread.
It's beautiful and tantalizingly delicious.
The perfect smoky flavor comes from the roasted eggplant and chickpeas!
This Lebanese stew is a hearty meal for the warmer months.
It's made with white beans, lamb, and spices to keep you warm.
The perfect combination of creamy and savory, it has all the flavors you need in one bowl.
Plus, it's easy to make!
It has a warming variety of herbs that create a wonderful harmony of flavors.
Serve this dish over rice or quinoa for a complete meal.
This Lebanese soup is bursting with flavor and the best part?
It's so easy to make!
All you need is a handful of pantry staples and just five minutes of prep.
It's full of protein-rich lentils, tender kale, and tangy lemon.
Packed with flavor, it makes a satisfying meal that will warm you up on a chilly day.
Shish Taouk is a Lebanese dish that's rich and smooth with a crispy outer crust.
As you add the spices, be sure to give them time to mix and get hot before adding the chicken.
In some countries, moussaka is a dish of layered pastries.
In Lebanon, it's a savory pie.
Both versions are delicious and require minimal prep time.
The key to making this savory pie is to use ground beef for the filling.
Ground beef is leaner than meat from other parts of the cow and will give you even more protein in your meal.
For an extra boost of flavor, try adding some chopped tomatoes or bell pepper pieces.
This yogurt sauce is a staple in Lebanese cuisine.
It's a cool, refreshing drink that instantly cuts through the heat of chicken, beef, and fish.
But it's also great as an appetizer dip with crackers or pita bread.
And don't forget to serve this with fresh veggies and fruit!
Lebanese beef shawarma is a traditional Lebanese dish that's easy to make but extremely filling.
You can also adjust the spicing and serve it with pita bread for an extra special treat.
The result is a low-carb, high-protein meal your whole family will love.
Serve this shawarma with pita bread for dipping and enjoy!
This Lebanese bread is a simple affair but surely worth it.
The dough is made from flour, yeast, salt, water, and olive oil.
It takes about 30 minutes to make this exotic sandwich bread.
It's soft and fluffy and absolutely delicious.
Serve with hummus or yogurt sauce for a complete meal.
Or go crazy with the toppings!
If you're looking for an easy, delicious way to make your beef stew extra special, this is the recipe for you.
This braised beef and green bean stew is brimming with aromatic spices and flavors.
The carrots add a nice crunch that pairs perfectly with the tender beef.
For a hearty side, try rice pilaf or roasted potatoes.
This dish is one of my favorites.
It's simple, but it's so delectable and has a hint of Mediterranean flair.
The chicken can be made in the Instant Pot or oven roast with plenty of vegetables.
I like to add some potatoes and artichokes as well.
If you don't have lemon, try using Meyer lemons instead.
You need to make this twice – once for the chicken and once for the yogurt sauce.
Either way, you'll love how this dish comes together!
These spinach pies are just what you need to start your day off right!
They're loaded with a savory filling flavored with actual spinach, lemon juice, and herbs.
The pastry crust is buttery and flaky.
And the filling is creamy, cheesy, and cheesy.
What makes these so unique is that they contain no cheese at all.
The pie fillings are so good on their own — all you need to add is onion and garlic.
And don't worry; this recipe doesn't call for any eggs in the mix.
But if you do make some egg-free dough, don't forget to leave through holes in the middle when you roll up your little pies.
This authentic Lebanese garlic sauce is the perfect addition to your next meal.
It's a garlicky and salty dip that goes well with all kinds of foods, from meaty patties to soups and salads.
It also makes an excellent side dish for any occasion!
You can add this sauce to your favorite dishes or even make it at home! Just be sure you give it time to marinate, so you get the most out of every bite.
This recipe is a bit of a cheat.
You won't need to go out and buy rice or rice pasta.
You can, however, make it all in one pot!
It's not as healthy as the real deal, but it tastes just as good.
The vermicelli gives this dish an earthy flavor that balances out the sweetness of the rice.
With plenty of garlic and lemon juice, you'll have a quick weeknight meal that will impress even your pickiest eaters.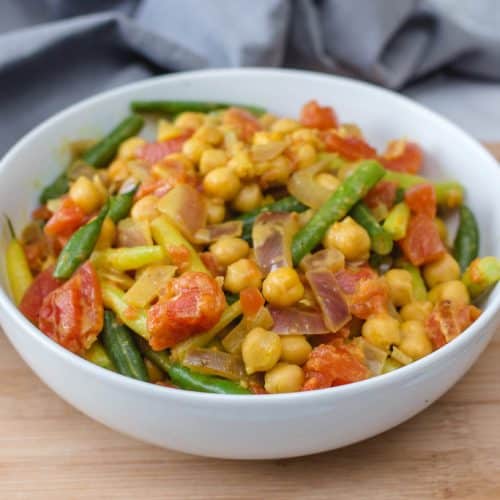 25 Easy Lebanese Food Recipe
This stew is a great way to use up those leftover chickpeas. It's flavorful and full of veggies, making it healthy and tasty.
Ingredients
30

ounces

chickpeas

5

cloves

garlic

1

tablespoon

cumin

3

teaspoon

za'atar

2

leaves

bay

1

teaspoon

red pepper flakes

1

teaspoon

paprika

2

tbsp

tomato paste

1

roasted bell pepper

2

teaspoon

vegetable oil

Salt to taste

2

tablespoon

parsley
Instructions
Crush the cumin and garlic together in a food processor or mortar and pestle until you have a very gritty paste.

Oil is heated in a saucepan.

Add the cumin and garlic mixture and cook for about a minute, stirring occasionally, until fragrant.

Add the paprika, red pepper flakes, and tomato paste. Saute for another two minutes or so, stirring constantly.

Stir in the chickpeas after adding them. Add the za'atar, bay leaves, roasted red pepper, and four cups of water. Mix well.

When the mixture begins to boil, reduce the heat so that it very softly boils for the remaining 15 minutes of cooking. To slightly thicken the stew, I like to mash a few of the chickpeas with the back of the ladle.

Stir in the parsley after adding salt to taste. Cut the heat off.

Serve warm. Brown or white rice go great with this. Serve alongside whole wheat pita bread or some crusty bread.
Video
Nutrition
Calories:
748
kcal
Carbohydrates:
127
g
Protein:
40
g
Fat:
12
g
Saturated Fat:
1
g
Polyunsaturated Fat:
5
g
Monounsaturated Fat:
3
g
Sodium:
436
mg
Potassium:
1575
mg
Fiber:
35
g
Sugar:
23
g
Vitamin A:
1323
IU
Vitamin C:
30
mg
Calcium:
309
mg
Iron:
18
mg
---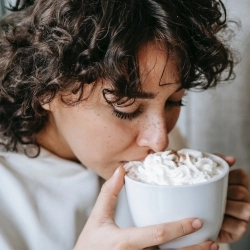 Latest posts by Grace Lambert
(see all)