.The microwave oven is one of your kitchen's most efficient but under-utilized gadgets.
While you may use your microwave on a daily basis for reheating and defrosting, most people overlook the second word in the name: oven.
.Tofu is one of the many dishes that may be prepared in the microwave.
Microwave ovens were intended to cook food on a regular basis.
Cooking in a microwave oven is faster, more convenient, and healthier than cooking on the stovetop, despite the fact that it takes some getting used to.
Tofu has been around for a very long time.
It originated in China and Japan, and it has since evolved into a major protein source all around the world.
It's sold at large supermarkets, gourmet shops, and ethnic markets.
.Tofu, when prepared correctly, maybe either addicting or quite unappealing, even to the most diehard tofu fans.
Tofu, which originated in Asia, has garnered a lot of favor in the Western world.
Most meals include Hot and Sour soup with tiny shreds of firm tofu, thanks to the local Chinese takeout joints.
.
Here's What You Need To Know About Microwave Tofu:
.Making a more time-consuming meal, on the other hand, isn't always an option.
Fortunately, a quick, healthful, and protein-rich dinner may be made with little effort.
All you'll need is tofu and these microwave tofu cooking instructions:
.
Steps to keep in mind before Preparing Tofu In The Microwave:
.When it comes to tofu, concerns about its consistency and excess liquid are usual.
It's important to rinse tofu before cooking it because of this.
1.
Tofu can also be squeezed and frozen overnight to eliminate all of the liquid, resulting in a chewier, denser texture when cooked.
2.
To press a block of tofu, sandwich it between two layers of paper towels and place it on top of a cutting board, plate, or hardcover book.
3.
Allow for at least 15 minutes and up to 45 minutes for the excess moisture to evaporate.
4.
Cut the tofu into cubes or slices once it has been pressed. Freeze it overnight if desired.
5.
Remove and defrost the tofu the next day before cooking it in the microwave.
.
.
Different Recipes For Microwaved Tofu:
Tofu that is extra-firm works well for steamed dishes since it retains its shape and density, unlike softer varieties that may crumble during preparation.
If you are going to scramble tofu, go for soft tofu or medium-firm.
.Steamed Tofu- This recipe makes up to four servings
.Ingredients-
●
Herbs, or another seasoning, to taste
.Steps to Follow:
1.
Then, place the thawed, diced, drained tofu in a microwave-safe glass dish or bowl. Cover the dish or bowl with a lid.
2.
Microwave on high for 2-7 minutes, or until tofu looks to be cooked through.
3.
Allow cooling slightly. Serve with rice, noodles, or vegetables as a side dish.
.Scrambled Tofu- Approximately 1 to 2 servings
.Ingredients
●
soft tofu (6 oz.) or medium-firm tofu (6 oz.)
●
a quarter cup of vegetables (spinach, peppers, mushrooms)
●
a quarter cup of nutritional yeast
●
As desired, a pinch of sea salt, spices, turmeric, or other seasonings.
.Steps to Follow:
1.
In a microwave-safe glass dish or bowl, crumble tofu.
2.
Stir together the remaining ingredients in a mixing bowl.
3.
Melt in the microwave for 1-3 minutes on high.
4.
Add the rest of the ingredients and stir thoroughly.
.
.
The Health Benefits Of Tofu
1.
Tofu provides a wide range of health advantages and is a good source of nutrients like protein, iron, and calcium. In addition to fiber, potassium, magnesium, iron, copper, and manganese, tofu is a rich source of 'complete' protein, which means it has a well-balanced amino acid profile.
2.
Fat, salt, cholesterol, and carbs are all low in this dish. Tofu is high in vitamin B and the minerals manganese, selenium, copper, and zinc, as well as all nine necessary amino acids. What an amazing all-in-one meal!
3.
Tofu prepared with calcium sulfate includes a lot of calcium, so read the nutrition facts label on the container carefully. Between the ages of 25 and 30, our bones reach their maximum strength and density. Thus calcium is an important vitamin to pay attention to. Don't get me wrong: calcium consumption after the age of 30 is still crucial because we can still replenish the bone mass that is lost each day.
4.
It is recommended to buy organic tofu if your budget allows it to help you avoid genetically modified soybeans and the hexane used in the processing of regular soybeans.
5.
Tofu, like other soy-based foods, contains plant estrogens. For many years, people believed that soy produced too much estrogen in the body and caused breast cancer in women.
6.
However, much of the research that generated that concern focused on soy's effects on rats. Soy is metabolized differently by these animals than it is by humans. Human studies show that tofu does not contain enough plant estrogens to cause breast cancer. Tofu may also reduce your risk of developing the disease, according to several studies.
.
.
A word on storing tofu:
.If you don't use it all at once, cover it with cold water in an airtight container and change the water every day.
You may keep firm tofu in the refrigerator for a few days or freeze it for up to three months.
Soft or silky tofu, on the other hand, should not be frozen.
.
The Bottom Line
Tofu is high in protein and contains a variety of beneficial nutrients.
It comes in a variety of shapes and sizes, and it's a great addition to stir-fries, smoothies, soups, sauces, and even desserts.
Active ingredients in tofu appear to protect against diseases including heart disease, diabetes, and even cancer.
In addition, this soy diet may help with brain and bone health, among other things.
As a result, tofu is an excellent supplement to a well-balanced diet.
.Serve it with hot sauce, and try one of these dishes the next time you're short on time.
You'll be grateful for your money and tummy!
.
FAQs
.Why Is It Important to Drain Tofu?
.To firm up the tofu and prevent adding water to the completed meal, most tofu recipes ask for draining it.
It's critical to press tofu to drain the extra liquid before using it in recipes that require crispness, such as stir-fries or crunchy fried tofu.
1.
If you need to chop your tofu into cubes orbits for a recipe, make sure it's firm enough to slice. If you're making a recipe that calls for crispy tofu or marinated tofu, make sure you press the tofu beforehand.
2.
By removing any excess moisture from the tofu, the marinade and other ingredients have a higher chance of penetrating the Tofu.
3.
It's not necessary to drain tofu for meals like soups or smoothies, since the final product is smooth and creamy. Instead of taking something away or adding something unpleasant, the extra water in tofu contributes something to these dishes.
.How Healthy Is Tofu?
.Tofu is a great source of protein, calcium, and iron.
The low cholesterol and fat content of tofu makes it a good low-fat plant-based protein choice for vegans, vegetarians, and plant-based eaters.
.What's the Best Way to Prepare Tofu?
.By pressing the tofu or heating it in the microwave, you can drain the excess liquid.
Cut it into desired shapes and make crispy or spicy tofu using any of the ways described in this article.
.Microwave cooking method of making tofu like chicken?
.You'll surely love this style of making tofu.
Let's look at the steps to be followed:
1.
Tofu should be cut lengthwise and into tiny, thick pieces (around 1-2 inches). In a microwave-safe bowl, layer tofu strips.
2.
Simply season with salt, pepper, or a soy + sriracha marinade if you're using vegan chicken broth powder and oil spray. Carefully stir each tofu piece to ensure that it is well coated.
3.
In the bowl, layer the tofu once more.
4.
Tofu should be microwaved for 5–6 minutes or until it appears chewy and dried.
5.
To ensure consistent cooking, turn the tofu strips upside down after three minutes..
.How Do You Make Tofu Curry?
.To make Tofu Curry, pay head to the following process:
1.
Tofu should be cooked until it is crispy.
2.
Microwave, bake, pan-fry, or air-fry are all viable options.
3.
Add the curry paste, water, and curry powder to the pan. Toss in the sauce and bring to a boil.
4.
Add the crispy tofu and continue to cook the curry until it reaches the desired consistency.
5.
Add salt and pepper to your taste.
6.
Your tofu curry is now ready to eat.
.How can Tofu be served?
.Tofu can be served in a variety of ways.
Because of its versatility in texture and capacity to take on practically any taste, sauce, or spice, this protein-packed powerhouse may be utilized in a variety of cuisines.
.Tofu can be scrambled, steamed, grilled, or baked, and it works well in a variety of cuisines.
Furthermore, this soybean-based protein comes in a variety of textures, including soft, medium, firm, extra firm, precooked, and silky, and can be bought in most supermarkets.
Finally, it's less expensive than most meats and fish, making it a cost-effective protein choice.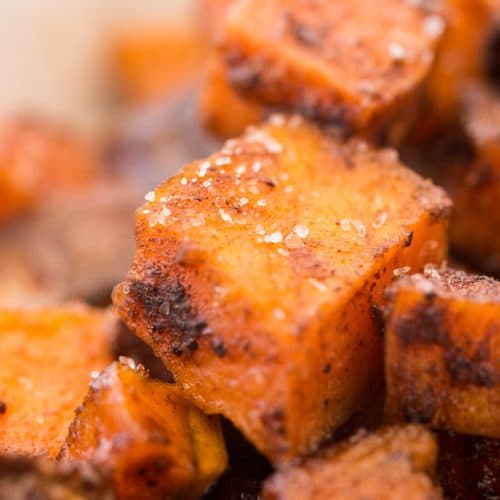 How To Cook Tofu In The Microwave
Tofu is one of the many dishes that may be prepared in the microwave.
Ingredients
14

oz.

Extra-firm tofu

1

Spices

1

Herbs

or another seasoning, to taste

1

sea salt
Instructions
Then, place the thawed, diced, drained tofu in a microwave-safe glass dish or bowl. Cover the dish or bowl with a lid.

Microwave on high for 2-7 minutes, or until tofu looks to be cooked through.

Allow cooling slightly. Serve with rice, noodles, or vegetables as a side dish.
Video
Nutrition
Calories:
55
kcal
Carbohydrates:
2
g
Protein:
7
g
Fat:
2
g
Saturated Fat:
1
g
Polyunsaturated Fat:
1
g
Monounsaturated Fat:
1
g
Sodium:
63
mg
Potassium:
155
mg
Fiber:
1
g
Sugar:
1
g
Vitamin A:
6
IU
Vitamin C:
1
mg
Calcium:
33
mg
Iron:
1
mg
---