No products found.
My Cincinnati apartment had a kitchen the size of a shoebox.
Well, maybe not that small, but it was ridiculously tiny.
Cooking was a hassle.
The kitchen was barely big enough for one person to maneuver and you had to access the oven at an angle.
Not to mention, when we would turn on the oven, the entire apartment would be sweltering.
If I had known then what I know now about counter-top appliances like toaster ovens, I could have saved myself a lot of time, energy, and cuss words.
The design caught my eye first.
If I'm going to have an appliance taking up space on my counters, it might as well look nice, right?
It didn't look like the others – it had rounded corners, and it was red.
The roll top door appeared to be slightly safer than the traditional fold-down style.
That also does away with the possibility of spilling food on the door and having to clean it up.
With less mess and a less likely chance of burning myself, I counted that as a double win.
Countertop appliances have come a long way in the last few decades.
While traditional toaster ovens were large and bulky, the Hamilton Beach Easy Reach Convection Toaster Oven is only 11" x 17" x 20".
With a cord length of 35 inches, I could place it almost anywhere in my kitchen.
With multiple cooking features, innovative technology, automatic shut off, thirty minute timer, and a spacious interior, this was an amazing option at an affordable price.
Convection Features
Traditional toaster ovens were designed with a single heating element.
While this might seem like a good idea, it often lead to drastically uneven cooking and burnt dishes.
The Hamilton Beach Easy Reach Toaster Oven has both a top and bottom heating element and a fan to help move the warm air throughout the device.
This comed in handy when making a cake or cookies.
The confection fan helps to crisp cookies to perfection.
It also reheats pizza like a dream: gooey, melted cheese, crisp crust, and evenly heated all the way through.
Auto-Shut Off and Timer
If you're anything like me, sometimes you will leave the house in a hurry and wonder for the rest of the day if you turned off whatever appliance you were using.
One awesome feature to this toaster oven is the auto-shut off.
Coupled with a thirty minute timer, the toaster oven shuts itself off at the end of its cooking time.
This can prevent a lot of unnecessary worry and burnt food. It also has an override for the timer, in case you need to use it longer than half an hour.
If you're looking for accessories to go with your toaster oven, see my recent Toaster Oven Accessory Buying Guide.
Spacious Interior
Another plus to the Easy Reach is the spacious interior.
It can hold up to six slices of toast or a 12" pizza.
You can also fit a 9×11 casserole dish for larger meals or meal prep.
In comparison to similarly priced brands, this particular model is a step up in interior space while remaining compact enough to take up less than two foot of precious counter space.
Positional Rack and Accessories
This toaster oven allows for baking, toasting, and broiling.
While it does not come with a broiling tray, it does include a baking pan, oven rack, and removable crumb tray.
The removable crumb tray is a real game changer for cleaning your Easy Reach Toaster Oven.
The larger opening is attributed to the aforementioned roll-top door.
The rack can be repositioned depending on what you'd like to do with your oven.
From broiling a lemon and herb crusted salmon for a delish dinner for two to making a tray of pizza rolls for your incredibly picky child, this oven can do it all.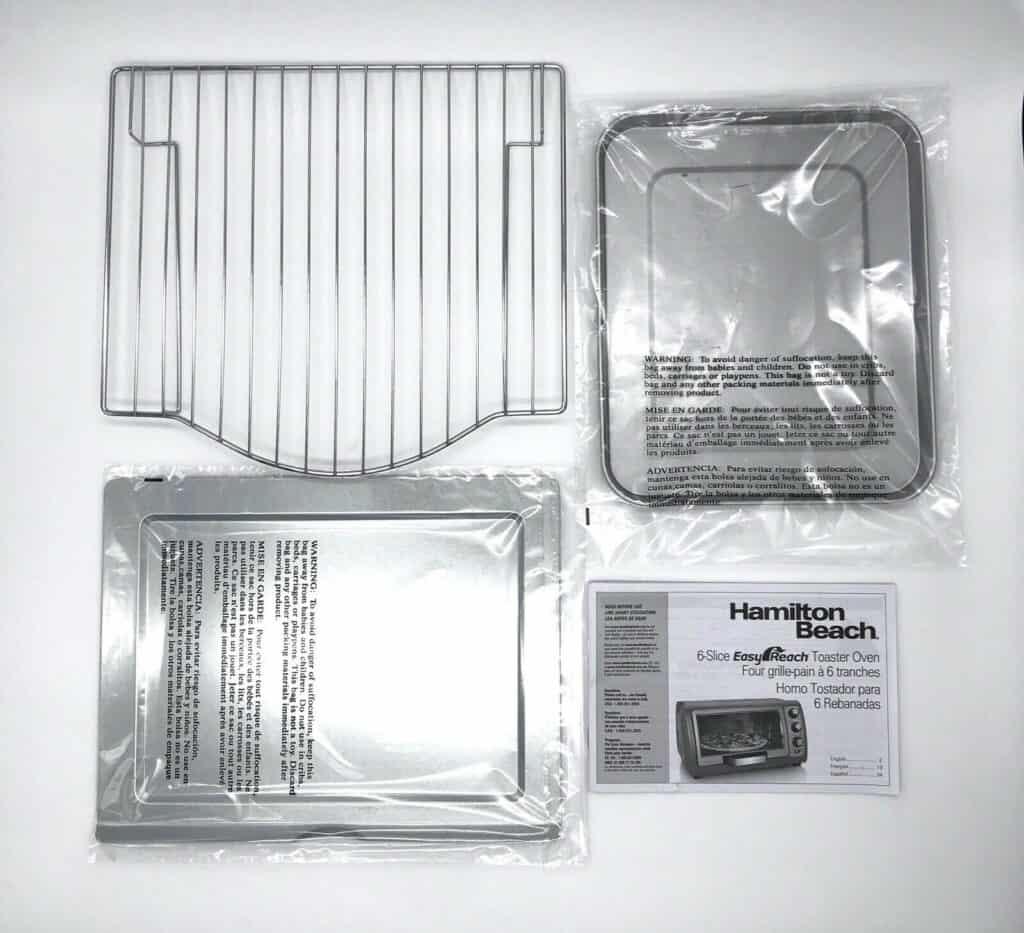 Affordability
As far as appliances goes, the Hamilton Beach Easy Reach is moderately priced.
It is not the cheapest version, but it is also not over-priced.
It holds the same quality as similar high-end models but for a fraction of the price.
Some can run as much as $200.
This toaster oven, however, gives you a good bang for your buck as far as functionality and performance.
At a Glance: Pros and Cons to the Hamilton Beach Easy Reach 6 Slice Toaster Oven
Pros
With bright colors and a roll-top door, the classic design now has a sleek, modern look.
Compact yet spacious, the Hamilton Beach Easy Reach 31334 can fit in almost all nooks and crannies of the typical kitchen.
Featuring both top and bottom heating elements and a confection fan, you can bake, broil, or toast almost anything.
At the end of a timed cook, an automatic shut off prevents the toaster oven from over-cooking or burning food.
A spacious interior can hold up to six slices of toast, a 12" pizza, or a 9×11" casserole dish to meet a variety of cooking needs.
This toaster oven comes with a multi-position rack, removable crumb tray, and baking tray.
Unlike high-end models, the Hamilton Beach Easy Reach is affordable for almost every budget.
Cons
Over-crowding the toaster oven will lead to uneven cooking. This can be fixed by spreading the food out a bit more or cooking in batches on larger items.
This model does not come with a broiling tray. While most people would not find this a major inconvenience, it is worth mentioning for those who may want to use the broil function.
The knobs function properly, but are a little hard to read if the lighting is not good.
While the confection fan is an amazing feature, it is a little loud in comparison to other models.
Conclusion
While there are a few cons to this particular toaster oven, over all the Hamilton Beach Easy Reach Six Slice Toaster Oven is a great deal.
It is both functional and affordable for many budgets.
Whether you're in a small space and need a compact alternative to traditional ovens, or you just prefer to prepare food on a smaller scale without utilizing a larger oven, this model could be the perfect addition to your home.
But I'll let you be the judge: click here and try it.
See on Amazon
FAQ

How do you clean the Hamilton Beach Easy Reach 6 Slice Toaster Oven?

Easy – just take it apart and use a mixture of baking soda and dish soap. Here's a link to a more detailed toaster oven cleaning guide made by me.

Would a 9″ round cake pan fit in this?

How big is the Hamilton Beach Easy Reach 6 Slice Toaster Oven?

It's exactly 15.75 inches wide, 11 inches deep and 9 inches tall.
See you next time!
G.
P/S: Check my Mixed Veggies Roasted in a Toaster Oven reicpe out!!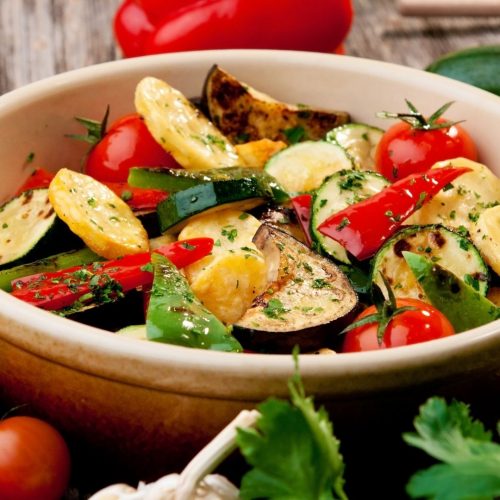 Mixed Veggies Roasted in a Toaster Oven
This colorful vegetable combination is very easy to prepare. If I have any leftovers, I include them in a salad for lunch. Baby potatoes can be replaced with sweet potatoes, cut in 1/2 inch (1 cm) pieces. Serve with cold roast chicken, cold ham, or deli meats. You will need a toaster oven.
Ingredients
8

oz

baby potatoes

halved (quartered if largish)

1

tbsp

olive oil

½

tsp

salt

¼

tsp

black pepper

1

small zucchini

halved lengthwise and cut in ½-inch (1 cm) pieces

½

red bell pepper

seeded and cut in ½-inch (1 cm) pieces

8

oz

thin asparagus

tough ends removed, cut in 2-inch (5 cm) lengths

4

oz

green beans

trimmed and halved crosswise
Instructions
Arrange potatoes on parchment- or foil-lined oven pan. Add oil, salt and pepper, toss and turn potatoes to coat with oil, then arrange in a single layer. Roast in preheated 425 °F (220 °С) toaster oven for 12 minutes.

Add zucchini, red pepper, asparagus and green beans to oven pan. Toss to coat all vegetables with oil. Roast for 15 to 18 minutes, or until all vegetables are tender.
Video
Nutrition
Calories:
108
kcal
Carbohydrates:
17
g
Protein:
4
g
Fat:
4
g
Saturated Fat:
1
g
Sodium:
302
mg
Potassium:
572
mg
Fiber:
4
g
Sugar:
4
g
Vitamin A:
1188
IU
Vitamin C:
46
mg
Calcium:
39
mg
Iron:
2
mg
---