Have you ever wondered what a clove of garlic is?
Whether you are a cook, a gardener, or just someone who is curious about the world around them, it is likely that you have at one point or another found yourself wondering about the nature of this small, but potent, ingredient.
So, what is a clove of garlic?
A garlic clove is one of the lobes you see after peeling off the papery skin on garlic bulbs.
A papery outer layer also covers every garlic clove, and you can easily take out an individual clove from the bulb.
However, cloves vary in size as some can be larger than their counterparts in the same bulb.
This article gives a detailed description of what is a cloce of garlic.
In addition to that are guidelines on how to peel and store garlic cloves.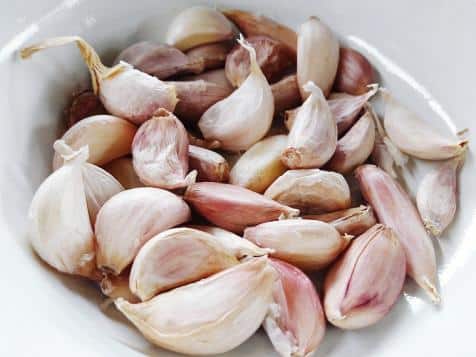 What is a garlic bulb?
It's easy to confuse a clove with a garlic bulb if you don't use these spices often.
A bulb is a whole head of garlic you buy at the supermarket.
It's covered with sheets of papery skin that quickly come off and splits into various segments called cloves.
The number of cloves in a head of garlic depends on its size and variety.
Some garlic heads can have as few as three cloves, while others contain more than twenty.
That said, most of the garlic bulbs you buy in the supermarket have between ten and twelve cloves.
What does a clove of garlic look like?
A garlic clove has an irregular shape and is wrapped in a paper-like skin.
Additionally, one of its ends is pointy, while the other is flat and rough.
That said, some garlic cloves are white, while others may be red or purple.
A garlic clove's size depends on its variety.
Their sizes vary from small to extra large.
A small-sized clove is about 1" long, while a large one can be 1.4".
What is a clove of garlic equal to?
This question may easily pop up if you're following a recipe with garlic but in different measurements like teaspoons.
One large clove is often equated to 1.5tbs, while a small one equals ½ tbs of minced garlic.
That said, if your bulb has surprisingly small or large cloves, use your best judgment to determine the right amount described in the recipe.
Moreover, one clove won't significantly affect a dish's taste.
How to peel garlic
Garlic cloves are covered in many layers of papery skin, which can be hectic to remove.
In this regard, below are some guidelines for doing it easily.
Divide the garlic head into cloves
Place clove on a cutting board
Place the flat side of your kitchen knife on the clove
Smash the clove by holding the knife handle firmly
Pull the papery skin off the clove
Repeat this process on all cloves
How to cut garlic cloves
Slicing – Hold a clove with one hand, place it on a chopping board, and make thin slices using a knife. Then, cut the clove into five pieces, both lengthwise and width-wise.
Dicing – Slice the clove first while holding the tip of the knife down, then, using the other hand, create a motion to chop it thoroughly.
Crushing – Place a peeled clove on a cutting board and use the flat side of your knife to smash it down. You can use a garlic blender to get the same outcome.
Mincing – Minced garlic is finer than chopped garlic. Thus, use a two-handed cutting motion to cut the garlic using a knife and run over it repeatedly to get fine bits.
Grating – This is an easier way of getting finely minced garlic. Running the clove up and down a grater is all that's required.
How to store peeled garlic?
Preparing garlic in bulk is efficient and saves you time, especially if you'll be using it in the course of the week.
However, these spices could quickly get spoiled.
Thus, below are guidelines on storing peeled garlic to prevent this from happening.
Place peeled cloves in an airtight container and keep them in the fridge.
Every time you cook, take out only the required pieces and place the rest back in the refrigerator.
Peeled garlic cloves shouldn't last more than a week as they may start to rot after that.
Never store garlic at room temperature or in olive oil.
This is because these spices may be contaminated with botulism spores while growing and the only way of getting rid of them is to store your garlic in cold areas.
Thus it's best to freeze or refrigerate your cloves.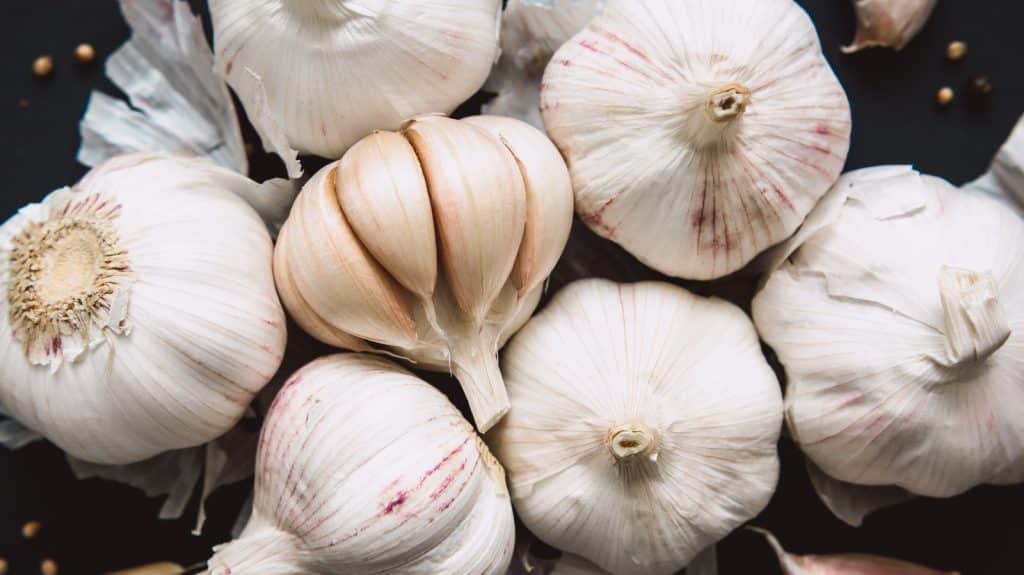 Garlic recipes
Below are some easy garlic recipes you may enjoy.
Garlic bread
Ingredients
4 chopped garlic cloves
12 tbs of unsalted butter
Salt
1 large and soft Italian loaf
¼ cup of shredded parmesan
2tbs of finely chopped parsley leaves
Method
Preheat the oven to 450F
Melt the butter under medium heat, add the garlic and cook for three minutes
Cut the loaf into two halves lengthwise, then apply the garlic butter.
Then slice the loaves widthwise at two inches intervals without cutting through the bread.
Apply the garlic butter on all cut sizes generously, and don't forget the top parts of the crust too.
Place the bread on a baking sheet(rimmed).
Sprinkle the leaves, parmesan, and salt on the loaf.
Bake until the bread edges are golden brown
Top it with some more parsley and serve it warm
Garlic butter shrimp scampi
Ingredients
5 cloves of garlic
Salt
⅓ cup of extra virgin oil
1 ¼ pounds of peeled and deveined shrimp
⅓ cup of dry white wine
¼ cup of parsley(finely chopped)
½ teaspoon of red pepper flakes
½ lemon(juice)
12 ounces of linguine
4tbs of unsalted butter
Method
Boil a pot of water, add salt and linguine, then let it cook as instructed
Retain a cup of water and drain the rest
Season the shrimp using salt
Heat olive oil on a skillet, add the garlic and red pepper, then let it cook for one minute.
Add the shrimp and let it cook for one minute on each side
Remove the shrimp and add the lemon juice and wine to the skillet and let it simmer for two minutes
Add the reserved water, shrimp, and linguine
Let it cook for two minutes and season with salt and parsley before serving.
Health benefits of a clove of garlic
Garlic is a nutrition powerhouse.
It's rich in manganese, selenium, carbohydrates, protein, fiber, and vitamins C and B6.
Below are some benefits of ingesting these nutrients.
Boosts the immune system – The immune system prevents us from getting sick by fighting diseases. Eating one to two garlic cloves daily will prevent you from catching a cold or flu.
Reduces cholesterol levels – High cholesterol levels will make you susceptible to contracting severe health conditions like heart problems. Garlic lowers cholesterol levels by up to ten percent making it essential for maintaining good health.
Reduces high blood pressure – High blood pressure is the leading cause of heart disease. Garlic increases the production of nitric oxide and hydrogen sulfide, essential in balancing blood pressure levels.
Prevents cancer development – Eating garlic frequently reduces the risk of colorectal cancer. This is because it helps in DNA repair, reducing the growth of cancer cells and inflammation.
Helps in detoxification – Detoxification involves removing foreign substances from the body. Garlic has a compound known as allicin that enhances white blood cell production and fights toxic substances.
How many cloves of garlic should I use?
Although garlic cloves are full of essential nutrients, including them in all your dishes is unnecessary to get these benefits.
One or two garlic cloves daily are enough to keep you healthy and boost your immune system.
However, different recipes require varying amounts of these spices.
Thus, ensure that you follow the quantities described in the specific recipes for the best results.
Can I substitute garlic powder for minced garlic?
Although garlic powder comes in handy whenever you are in a hurry, you shouldn't use it often in place of freshly minced or chopped garlic.
Garlic powder is dried and dehydrated, meaning it's more potent and tastes different from its fresh counterparts.
However, if it's the only option, using it in little pinches should do the trick.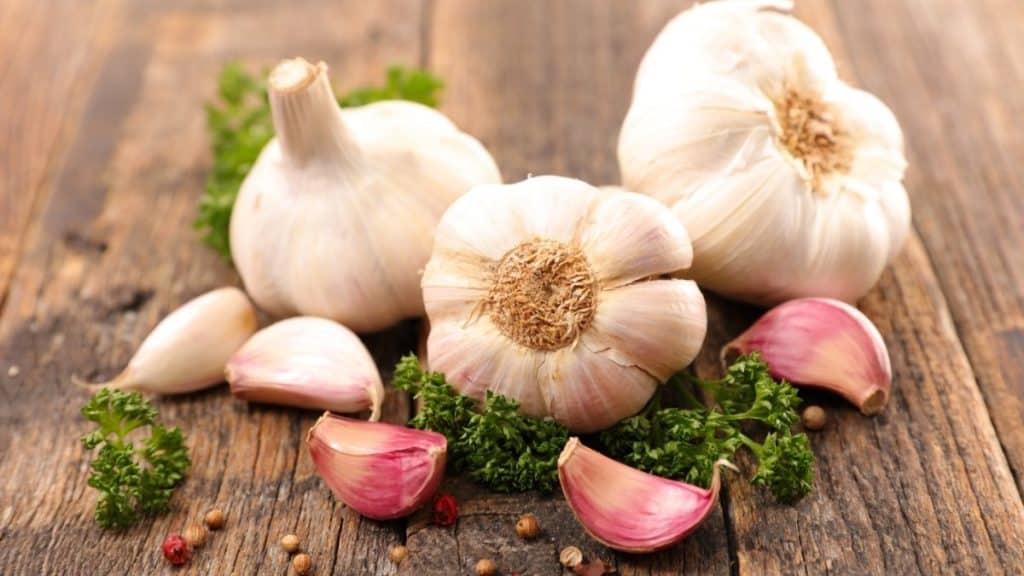 Frequently asked questions(FAQs)
What is a glove of garlic smell?
When cut, the sulfur components like allicin in garlic come to the surface.
Allicin is the component that gives this spice its pungent smell.
It also prevents the multiplication of mammary and colon cancer cells.
What is 2 cloves of garlic equal to?
Sizes of cloves vary.
That said, two large cloves can be equated to three tablespoons of minced garlic.
On the other hand, two small cloves are the same as one tablespoon of minced or chopped garlic.
What is a garlic pod?
A garlic pod is an entire bulb or head you buy at the market.
It's covered with a light and paper-thin cover.
Garlic pods are also made up of several segments.
What is a garlic bud?
A garlic bud is one of the segments in the garlic head or bulb.
It's also known as clove.
To wrap up
Garlic cloves are rich in essential nutrients like manganese, proteins, carbohydrates, selenium, and fiber.
They also add an exciting taste to your dishes and help treat diseases like flu hence worth trying out.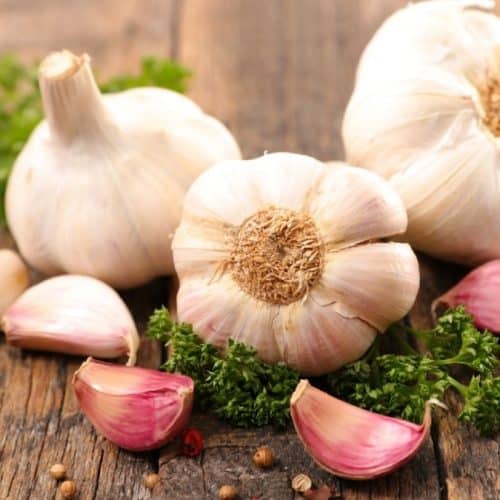 Garlic Clove Recipe
A garlic clove is one of the lobes you see after peeling off the papery skin on garlic bulbs.
Ingredients
4

chopped

garlic cloves

12

tbs unsalted

butter

Salt

1

large soft Italian

loaf

¼

cup shredded

parmesan

2

tbs finely chopped

parsley leaves
Instructions
Preheat the oven to 450F

Melt the butter under medium heat, add the garlic and cook for three minutes

Cut the loaf into two halves lengthwise, then apply the garlic butter.

Then slice the loaves widthwise at two inches intervals without cutting through the bread.

Apply the garlic butter on all cut sizes generously, and don't forget the top parts of the crust too.

Place the bread on a baking sheet(rimmed).

Sprinkle the leaves, parmesan, and salt on the loaf.

Bake until the bread edges are golden brown

Top it with some more parsley and serve it warm
Nutrition
Calories:
381
kcal
Carbohydrates:
1
g
Protein:
6
g
Fat:
40
g
Saturated Fat:
25
g
Polyunsaturated Fat:
1
g
Monounsaturated Fat:
10
g
Trans Fat:
1
g
Cholesterol:
106
mg
Sodium:
526
mg
Potassium:
69
mg
Fiber:
0.3
g
Sugar:
0.2
g
Vitamin A:
1846
IU
Vitamin C:
10
mg
Calcium:
198
mg
Iron:
1
mg
---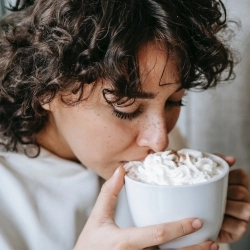 Latest posts by Grace Lambert
(see all)