Pork chops are a classic example of feel-good comfort food but can be ruined by using inaccurate temperature.
Cooking your chops at the appropriate temperature provides a perfect char on the outside yet juicy, tender, and flavorful on the inside.
While we enjoy this flavorsome dish, we may wonder what the ideal temp to cook it is.
So, what temperature is appropriate for pork chops?
As a good rule of thumb, the internal temperature of pork chops should be 145 degrees F.
This applies to all pork chops, whether boneless or bone-in, regardless of the cooking method (grilling, roasting, or frying).
This article will answer all your questions about the suitable temperature to cook your pork chops perfectly.
It will also discuss the potential health benefits and risks of pork chops.
How to check the temperature of pork chops
The best way to guarantee doneness is by checking your pork chops' internal temperature using a meat thermometer.
Simply insert the thermometer into the middle of the thickest part of the chop at a 45- degree angle instead of straight down.
The thermometer should read 145 degrees F for medium-rare, 150-155 for medium, 155-160 for medium-well, and 160 for well done.
However, you must ensure the thermometer stays in the middle of the meat without breaking through to the pan, as it may affect the reading.
In addition to that, the thermometer should not touch fat, bone, or gristle for accuracy.
You can also use a fork or knife if you don't have an instant-read thermometer by pricking the chops and checking that the juices run clear.
If your chops are pale pink, cook them a little further.
You can also press the top of the pork chops with your fingertip to test the texture.
If the chops feel firm and spring back to shape with clear juices, it's done.
Undercooked pork chops will feel soft and release a darker liquid.
However, if the meat feels firm and does not release juice, it's most likely overcooked.
Do pork chops need to rest after cooking?
Yes.
You should let your pork chops rest for 3 to 5 minutes before pulling them off the heat and serving to allow the middle to continue cooking a little more.
This allows the meat to relax and re-absorb all the juices for a tender, juicy outcome.
While diving straight into your chops fresh out of the oven may be tempting, it's best to wait.
This is because hot chops release more liquid when cut, drying them out.
Similarly, thinner cuts of pork chops should also rest but may require less time.
Generally, you should allow meat, including pork chops, to sit for half of its cooking time.
For example, if it took 20-25 minutes to cook your pork chops, the chops should rest for 10 minutes before cutting and serving.
When resting pork chops, leave them on a warm surface, such as the top of the stove, with the burners off.
Ensure that you leave the chops uncovered as covering them, especially with aluminum foil, will trap the heat and cook the meat further.
The health benefits of pork chops
Here are some nutrients found in pork chops:
High in Amino acids
Pork chops are high in Amino acids, which are the building blocks of protein, essential for various bodily functions.
Proper amino acid levels are vital for muscle development and strength.
They also assist in the production of hormones responsible for keeping our mood up.
Excellent source of lean protein
Lean protein may help lower blood pressure and increase your body's good cholesterol (LDL cholesterol).
Adding a few pieces of pork chops can help prevent blood pressure and all the risks that come along with it.
If you're trying to lose weight, protein-rich foods such as pork chops help you feel full longer, reducing the calories consumed daily.
It also helps the body maintain lean muscle mass, which is crucial for a healthy weight loss plan.
Rich in Carnosine
Pork chops contain the amino acid beta-alanine, which helps your body form a compound called carnosine.
Carnosine helps prevent aging and treat complications of diabetes, such as nerve damage, eye disorders (cataracts), and kidney problems.
In addition, carnosine stimulates the immune system, enhances mood, improves memory, and delays the onset of joint conditions.
High levels of carnosine have also been linked to lower fatigue and higher muscle performance in humans.
Contains Selenium
Selenium has antioxidant properties and may help protect cells from damage.
It can help lower rates of some types of heart disease, cancer, thyroid disease, and age-related cognitive decline.
Selenium helps to fight free radicals, decreasing inflammation, and keeping cells healthy while giving you a more robust immune system in the process.
High in Zinc
Zinc plays a crucial role in DNA synthesis, immune function, metabolism, and growth.
It helps reduce inflammation and prevents the risk of some age-related diseases.
Zinc is also responsible for wound healing and your sense of taste and smell.
Great source of Iron
Iron plays a significant role in preserving many vital functions in the body, including general energy and focus, gastrointestinal processes, the immune system, and the regulation of body temperature.
It's also needed to make myoglobin, the protein that provides oxygen to the muscles.
Why is it important to cook pork chops thoroughly?
Eating raw or undercooked pork chops can lead to severe health complications that are sometimes fatal.
The most common risk associated with undercooked pork chops is:
Parasitic infections
While most people may prefer rare pork chops, they're unsafe to eat as they have bacteria that can lead to illness.
Undercooked pork chops can result in parasitic infections like taeniasis or trichinosis, as the meat can harbor parasites, such as roundworms or tapeworms.
Taeniasis is an infection caused by a tapeworm whose side effects include abdominal pain, weight loss, and upset stomach.
While taeniasis can be harmless in most cases, it can occasionally cause a disease called cysticercosis, which may result in epilepsy, blindness, and meningitis.
Similarly, trichinosis can damage body tissues, causing symptoms ranging from mild to severe.
In some cases, trichinosis can be fatal, especially in older adults.
Always cook pork thoroughly according to safe temperature guidelines to avoid parasitic infection.
Check the chops' internal temperature with a meat thermometer to ensure the meat has become hot enough to kill parasites and bacteria before serving.
What temp and how long to bake pork chops
The USDA recommends that pork chops be baked to an internal temperature of 145 degrees F before eating for food safety.
Generally, the temperature and bake time will depend on the thickness of your pork chops and your choice of side dish being baked along with them.
However, you need to use a meat thermometer to test for doneness.
400°F – bake for 17-19 minutes
375°F – bake for 22-25 minutes
350°F – bake for 35 minutes
You can also broil for the last two minutes until they're nicely browned while sealing in the juices.
FAQs
How long should I bake pork chops at 400?
Preheat your oven to 400 degrees F for boneless center-cut pork chops and bake for 25 minutes.
Bake evenly by turning the pork chops just once until they cook through, about 25 minutes.
For bone-in pork chops that have about 1-inch thickness, preheat the oven to 475 degrees F.
How long can I bake pork chops at 425?
The easiest way to guarantee juicy and doneness is to bake your pork chops at high temperatures for a shorter time.
For instance, at 425 degrees F, 1-inch thick boneless pork chops take 15-20 minutes to cook.
What's the best duration to bake thin pork chops at 350?
Baking pork chops with 1-inch thickness at 350 F should take about 25-30 minutes.
However, the duration may be about 20 to 25 minutes for much thinner pork chops.
How long to bake thin pork chops at 425
Preheat the oven to 425 degrees F.
Trim the extra fat, place the pork chops on a greased baking tray, and put them in the center of the oven.
Continue baking for approximately 20 to 25 minutes while keeping an eye on them after 15 minutes of baking, as ovens have different calibrations.
What temp to cook pork chops on stove?
The internal temperature of pork chops cooked on a stove-top must reach 145 degrees F while cooking each side for about 4-5 minutes.
This allows your chops to hit a sweet spot of juiciness and a rosy interior.
In summary
Along with plating dry pork chops, you may be at risk of food poisoning or parasitic infection as undercooked pork chops can carry bacteria.
Following the recommended pork cooking temperature will ensure a safe eating experience while preserving the quality of your meat for a tender, succulent, delicious treat.
Ensure you measure the internal temperature with a food thermometer before removing the pork chops from the heat source, with a three-minute rest before cutting and serving.
The result will be pork chops that are both safe and perfectly done.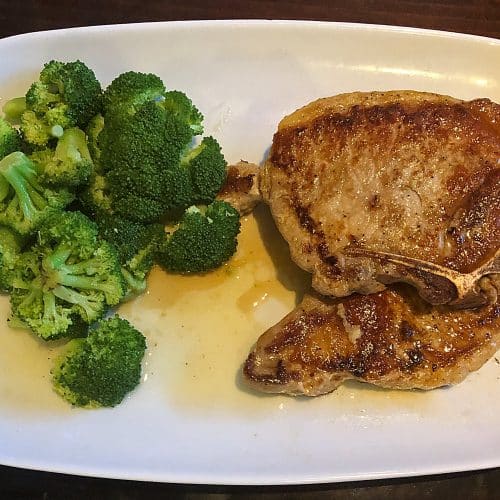 Pork Chops Recipe
Pork chops are a classic example of feel-good comfort food but can be ruined by using inaccurate temperature.
Ingredients
1

cup

vegetable oil

½

cup

all-purpose flour

½

teaspoon

seasoning salt

salt and pepper

4

3/4 inch thick

pork chops
Instructions
Choose thick, bone-in chops, and finish with indirect medium heat, and your chops will take about 25 minutes to grill.

Grill them until an instant-read thermometer hits 140 degrees F

They'll keep cooking as they rest on a plate for 5 minutes or longer.

They're done when the internal temperature is 145 degrees F
Video
Nutrition
Calories:
58
kcal
Carbohydrates:
12
g
Protein:
2
g
Fat:
0.2
g
Saturated Fat:
0.1
g
Polyunsaturated Fat:
0.1
g
Monounsaturated Fat:
0.04
g
Cholesterol:
1
mg
Sodium:
291
mg
Potassium:
21
mg
Fiber:
0.4
g
Sugar:
0.04
g
Vitamin A:
0.04
IU
Calcium:
3
mg
Iron:
1
mg
---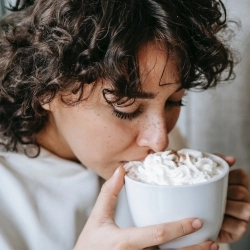 Latest posts by Grace Lambert
(see all)