Add meaty flavor to your meals with these andouille sausage recipes.
From pot pies to gumbos and soups, these babies are so good!
Andouille sausage is a versatile ingredient that can add a lot of depth to any dish.
It's a great way to make foods even more savory.
If you haven't tried this type of sausage before, you're in for a real treat! It has such a rich, meaty flavor that makes it ideal for any dish.
So what are you waiting for?
Read on and get cooking!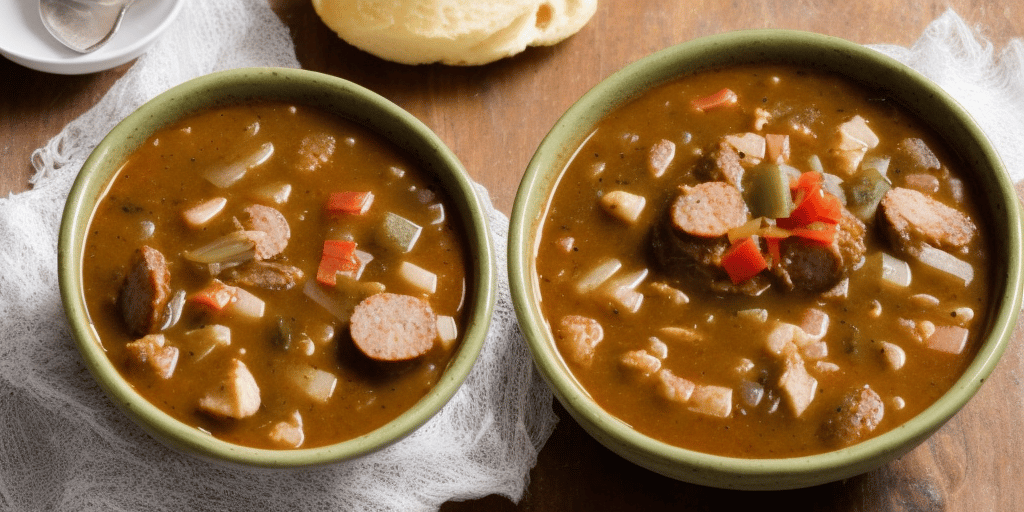 This is the kind of pie you'll want to make for a potluck or even just when you want something tasty and comforting.
The filling is so simple, but it has a lot going on.
It's made with tomatoes, onions, green peppers, fresh herbs, Andouille sausage, and Italian seasoning.
You don't need anything extra to get the flavors right!
This recipe for chicken andouille-stuffed peppers with roasted green beans is the perfect way to use up any leftovers from last night.
The mix of tender chicken and succulent avocados makes this dish absolutely irresistible.
The addition of garlic powder, onion powder, and Worcestershire gives the peppers a wonderfully sweet bite that's just delicious!
Serve them over rice or herb couscous for a complete meal.
These peppers are packed with spicy flavors from the Andouille sausage and garlic.
They'll be perfect for a hot summer night or just because.
For the sauce, you'll use tomato paste, Worcestershire sauce, ketchup, and yellow Bell pepper.
It's creamy and garlicky without being too much.
Serve these peppers on a bed of rice or with some pasta.
Either way, they're sure to be a hit!
This seafood gumbo is a Louisiana favorite.
And if you're in the mood for something a little spicy, you can't go wrong with their signature spice.
The shrimp and sausage are simmered in a rich tomato broth flavored with saffron, cayenne pepper, and smoked paprika.
Serve this chunky stew over rice and enjoy!
If you're a pasta lover, then this dish is for you!
This hearty meal combines the best of Italian and American cuisine with Andouille sausage.
It features tender zucchini noodles, tender shrimp, juicy tomatoes, and crunchy garlic bread.
It's loaded with flavor from the Andouille sausage, perfectly seasoned tomato sauce, and fresh herbs.
Whip up an easy one-pot dinner that will thrill your taste buds.
It's the perfect way to enjoy some hearty goodness!
Need a complete dinner in 30 minutes? Try this skillet with Andouille sausage and veggie side.
It's clean, bright, and just the right amount of spicy.
It's also hearty enough to feed a crowd (or just me!).
The veggies are mainly spinach and carrots.
The sausage is fairly lean, so you can leave it out if you want more meaty flavor.
Sausage gumbo is a traditional Creole dish made with chicken and sausage.
It's thick, rich, creamy, and has all the flavors of southern cuisine.
And there's no need to sacrifice any veggies for it!
This recipe uses Andouille sausage, which gives the gumbo a smoky flavor you can't get from chicken or beef.
Also, the shrimp adds a little bit of spice to the already perfect dish.
This dish is so good, you'll want to make it for every meal.
The sweet potatoes and brussel sprouts pair amazingly with the tender sausage and delicious sauce.
It's a game-changer that will have your tastebuds dancing.
Give it a try this weekend if you need an easy family meal that everyone can enjoy!
Pasta, potatoes, and sausage – two things I never thought I'd say – are my favorite three meals.
To me, they always bring a touch of spice to the plate.
This recipe features all three!
You won't want to miss this one.
It's hearty and delicious with a robust Cajun flavor that you can enjoy anytime.
This smoky, spicy stew has a lot going on.
But the lentils are where it all starts.
Adding ground beef to the mix gives it more meaty flavor without adding too much fat.
It's also got some cajun spice and a touch of garlic to make it extra tasty.
Pair this with crusty bread and you're good to go!
A simple stir-fry of veggies, chicken breast, and Andouille sausage is just what you need to get your dinner on.
The marinade has everything you'll want in a meaty dish – sweet, spicy, and smoky.
This recipe is so easy that even a beginner can make it by themselves!
Let's get a little bit fancier with this soup.
It has rice noodles, roasted corn kernels, green beans, and black beans in it.
That combination is why I love this soup so much.
It's hearty and filling, but not overly heavy or bland.
The flavors are bright and fresh without being overbearing.
This recipe takes about 2 hours to make, but you can whip it up in an hour with the right ingredients.
Do you have an eye for cooking? This black eyed peas recipe is sure to impress.
The Andouille sausage and black eyed peas pair perfectly together.
This dish will be a hit at your next potluck or BBQ!
If you want to jazz up this classic dish, try adding some garlic butter.
It adds a spicy kick that pairs well with the sweet flavor of the peas.
These roll-ups are a powerhouse of flavor.
And the shrimp in particular is super juicy and buttery.
Serve these with a dollop of sour cream and enjoy an explosion of flavor from Cajun seasoning.
If you're looking for a vegetable dish that's hearty and delicious, braised greens is the perfect choice.
This recipe relies on onion, garlic, ginger, and spices to bring out the flavors of the produce.
The result is a robust dish with a subtle sweetness from the sugar in the water.
Taste it with rice or quinoa.
You can also serve it as a main course with your favorite protein.
This comforting recipe is my go-to when I'm craving a bowl of soup.
Andouille sausage, potatoes, and carrots make up this hearty meal.
The addition of fresh herbs makes it all even more flavorful.
If you like the flavor from a spice rub, feel free to add some in the crockpot.
It will keep for days!
I'm a huge fan of stuffing, and when I see it in the grocery store, I always pick up a loaf.
It has so many wonderful flavors, especially once you add the Andouille sausage into the mix.
There's also ham to provide that smoky flavor and pecans for crunch.
Plus, this recipe only takes about 30 minutes to make.
It's perfect for busy weeknights when you don't have time to make dinner from scratch.
Pork chops with Andouille and pecan stuffing are a staple in my house.
They're juicy, flavorful, and the perfect hand-held dinner for evenings when you need something comforting but don't feel the need to cook.
This dish is equally as easy as it is delicious.
You can have this on the table in under 30 minutes!
This hearty stew is a great meal to warm your belly after a day of hard work.
The butternut squash and quinoa are cooked in a fragrant broth with Andouille sausage.
It's already so rich and delicious that you won't need any additional ingredients.
If you love your stew smoky, this recipe also includes smoked paprika for a bold finish.
If you love the sweet, savory corn and cheesy sausage combo, then you'll go nuts for this recipe.
The chowder is thick and creamy with a hint of spice from the Andouille sausage.
It's packed with veggies like potatoes, carrots, celery, and onions!
The classic combination of corn and sausage makes this soup an absolute winner.
This Andouille sausage fried rice is so good it's hard to believe that it's vegan.
The rich, meaty flavor of the Andouille sausage pairs perfectly with the rich flavor of mushrooms and sautéed onion.
It's best eaten on a cold night where you want something hearty but not too filling.
Serve this with some vegan butter sauce for dipping!
Vegan butter garlic sauce: mix all the ingredients in a bowl and then serve over your favorite fried rice.
I don't know about you, but I love a good old-fashioned green bean recipe.
For one thing, they're super easy to make and typically require less than 20 minutes of your time.
Plus, they're such a delicious side dish that anybody can whip up in no time flat.
This recipe uses green beans, but you could use any other kind of vegetable that you like.
If you want them extra green, add some chopped parsley to the mix for added flavor.
It won't be as pretty as the original recipe does it, but it will taste just as amazing.
Oh mama, this maque choux with andouille sausage is so good.
The sweet pumpkin, savory sausage, and earthy mushrooms will make your taste buds dance.
With some seasoning and a little bit of time, this dish comes together in no time.
Plus, the generous amount of butter ensures that everything is super soft.
The best part?
It's easy to make! Just whisk together all the ingredients in a pan and let it cook on low heat.
This recipe is the perfect way to enjoy your favorite sausage while still feeling good.
It's completely gluten-free, so it's also a great option for those with celiac disease.
The andouille sausage is cooked in a rich and savory tomato sauce infused with herbs, garlic, and paprika.
You can easily change up this dish by adding different veggies like sweet potatoes, carrots, or bell peppers.
It's also delicious served over rice or noodles for an easy meal.
Looking for a new way to cook rice?
This is the recipe for you!
Frozen cauliflower has become a trendy ingredient in cooking lately, so make sure you get it right.
Cauliflower rice is almost as chewy and tender than any rice.
Plus, since it's frozen, this dish cooks in the microwave and takes less than half an hour to make.
This is perfect if you have some leftover sausage casings or want to use up leftover ham.
It's also great for those times when you just don't have time to make your own rice.
The Andouille sausage adds extra flavor and depth of flavor that makes this dish irresistible!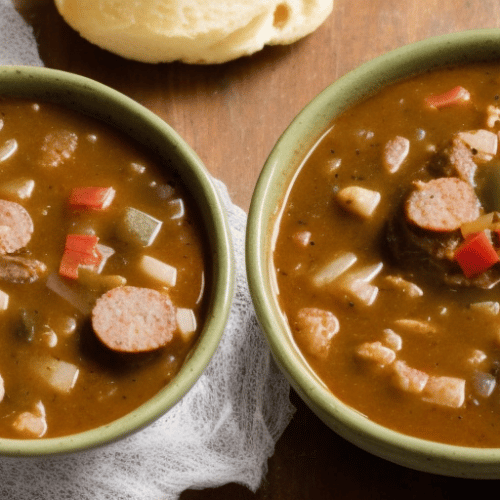 25 Best Andouille Sausage Recipes
Sausage gumbo is a traditional Creole dish made with chicken and sausage.
It's thick, rich, creamy, and has all the flavors of southern cuisine.
Ingredients
2

pounds

boneless skinless chicken breast

or thigh

2

quarts

water

to cook the chicken

1

pound

okra

1″ pieces, or frozen

½

cup

water

½

cup

unsalted butter

½

cup

all-purpose flour

½

cup

yellow onion

¼" dice

1 ½

cup

bell pepper

¼" dice, green and red

⅓

cup

celery

¼" dice

2

teaspoons

minced garlic

2

cups

diced canned tomatoes

12

ounces

andouille sausage

cooked, ½" slices

1

dried bay leaf

1

teaspoon

dried thyme

1

teaspoon

dried basil

1

teaspoon

cayenne pepper

1

teaspoon

kosher salt

½

teaspoon

black pepper

1

tablespoon

gumbo filé

Zatarain's
Instructions
Cook the Chicken: Place the chicken in a medium-sized pot and add 2 quarts of water to cover. Bring to a boil, then lower the heat and simmer for 20 to 25 minutes or until completely done.

The interior should be 160°F (71°C) or higher. Chicken broth should be strained and saved.

Take the cooked chicken from the pot and shred it. Once it has cooled, shred it into little pieces. Cover and leave out.

Cook the okra: Place the okra and 1/2 cup water in a medium pot. Boil, then turn down the heat and cover. Cook for 7 to 9 minutes, stirring periodically, until the vegetables are soft. Drain after transfer to a colander, then set aside.

Create the roux by combining the butter and flour in a sizable dutch oven or heavy-bottomed pot. Simmer for about 15 minutes, whisking regularly over medium heat, until a dark brown roux forms.

If necessary, turn up the heat if you don't notice a noticeable color change. Stir regularly for the final five minutes to prevent the roux from burning.

Add the celery, onion, bell peppers, and garlic to the pot and sauté the vegetables. About 8 to 10 minutes of sautéing should result in soft vegetables.

Sausage should be cooked before being added, along with tomatoes and boiled okra. Cook for 10 minutes while occasionally stirring.

Seasonings should be added, including salt, pepper, cayenne, basil, thyme, and basil.

Add 4 cups of the chicken broth that was set aside and simmer. Loosely cover the saucepan and simmer over medium-low heat, stirring now and again, for about 30 minutes, or until the gumbo thickens.

The chicken will need to simmer for an additional 15 minutes after being added.

Gumbo Filé should be added after the heat has been turned off. Reboiling after adding tends to make gumbo stringy; instead, taste it and add additional salt and pepper as necessary. If you like a less thick consistency, increase the amount of chicken broth.

Scoop the dish and serve it with steamed rice.
Video
Nutrition
Calories:
1765
kcal
Carbohydrates:
66
g
Protein:
140
g
Fat:
106
g
Saturated Fat:
47
g
Polyunsaturated Fat:
13
g
Monounsaturated Fat:
35
g
Trans Fat:
2
g
Cholesterol:
559
mg
Sodium:
3511
mg
Potassium:
3831
mg
Fiber:
15
g
Sugar:
18
g
Vitamin A:
7549
IU
Vitamin C:
228
mg
Calcium:
402
mg
Iron:
11
mg
---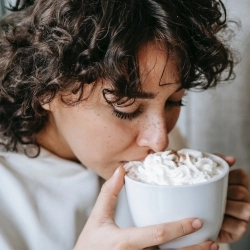 Latest posts by Grace Lambert
(see all)