Have you ever heard of Freddy's fry sauce?
Today is your lucky day; it is flavorful and is an exciting dip for french fries, burgers, and sandwiches.
Freddy's famous fry sauce has a tastier and tangy flavor than regular ketchup.
.This article will be your ultimate guide to making the best Freddy's fry sauce and more.
All you need is five minutes and four ingredients to make this sauce.
Fries have never tasted this good; you will enjoy a unique sweet and sour flavor.
What is Freddy's fry sauce?
Freddy's fry sauce combines ketchup and mayonnaise with a sweet and sour taste.
It's an ideal condiment for sandwiches, grilled vegetables, fries, coleslaw, grilled chicken, and vegetable salads.
Origin of Freddy's fry sauce
A restaurant owner in Utah, Don Carlos Edwards, made fry sauce popular in the 1940s.
Freddy's is a restaurant in Wichita, United States, known for its famous fry sauce, chicken, burgers, hot dogs, and fries.
Types of fry sauce
There are different types of fry sauce depending on the ingredients used; here are a few;.
●
Chipotle mayonnaise- combine a can of chipotle peppers in adobo sauce and mayonnaise; spicy and hot!
●Peanut sauce- blend some chicken broth with sriracha sauce, brown sugar, peanut butter, and soy sauce, making a healthy, thick, and filling sauce.
●
Sriracha honey glaze- combine honey with sriracha sauce.
●
Spicy ketchup- mix ketchup with sriracha sauce to make it hot and spicy with a far sweet taste.
●
Curry mayonnaise- combine mayonnaise with curry powder, mix well, then add a little sugar for a sweet and spicy sauce.
●
Salsa golf- this famous Argentinian sauce is similar to Freddy's sauce with a twist. It's a combination of ketchup, mayonnaise, and lemon juice.
●
Sriracha mayonnaise- mix mayonnaise with sriracha sauce and a little sugar. You can use this spicy-sweet sauce on any type of food.
●
Curry honey glaze- combine curry powder with honey.
●
Cilantro lime mayonnaise- this sauce is a simple mix of mayonnaise and lime juice. It's a creamy, tangy sauce; don't add much water to make it thick.
●
Freddy's fry sauce- simply mix mayonnaise and ketchup, then add pickle juice.
How to make Freddy's fry sauce
Freddy's fry sauce will not be complete without its seasoning.
Let's make the seasoning first before moving on to our sauce.
Here is a guide on how to make the seasoning.
Recipe for fry sauce seasoning
Ingredients
.
Instructions
.
1.
Put all the ingredients in a bowl and mix well.
2.
Keep the seasoning mixture in an airtight container at room temperature.
3.
You can keep the seasoning for up to six months and use it anytime to make a sauce.
Recipe for Freddy's fry sauce
Here is a guide on how to make the fry sauce;
Ingredients
Instructions
1.
Add all the ingredients to a bowl
2.
Mix them up until you have an even consistency.
3.
Serve your sauce and enjoy with
fried chicken
, burgers, or fries.
Tips
Here are a few tricks and tips you can use while making fry sauce;.
●
You can make Freddy jalapeno fry sauce by adding hot sauce and chopped jalapenos.
●
Try using white vinegar or lemon juice instead of pickle juice.
●
Switch up the ingredients; try garlic mayonnaise and hot ketchup and enjoy a different flavor.
●
You can make as much sauce as possible and save some for later.
●
Leave your sauce to rest for at least 30 minutes; it will taste even better.
Freddy's steakburger recipe
We have our Freddy's fry sauce ready; let's make a steakburger to complete this meal.
You will use the fry sauce we made to top our steakburger for this recipe.
Here is a guide on how to make Freddy's steakburger;
Ingredients
●
Scallions (thinly sliced)
Directions
.
1.
Turn on your grill to low heat.
2.
Put ground beef chunks in a bowl and separate with your hands.
3.
Add sliced scallions, salt, Freddy's fry seasoning,g, and black pepper, then combine well.
4.
Portion the beef into two parts, and roll them into round balls.
5.
Put your rolls in a pan over medium heat.
6.
Flatten the beef balls using a spatula to make a patty-like shape.
7.
Simmer the patty for 3 minutes on each side until you can smell meat.
8.
Remove from the heat once cooked and set it aside.
9.
Split your hamburger buns into two and evenly spread Freddy's fry sauce on each piece.
10.
Put one patty on the bun and top with American cheese.
11.
Place the other patty on top and cover with your bun.
13.
Top your burger with extra Freddy's fry sauce and enjoy.
How to store Freddy's fry sauce
Always use a clean spoon to scoop your fry sauce; a dirty spoon could contaminate it even when refrigerated.
You can refrigerate Freddy's fry sauce for more than a week in an airtight container.
Fry sauce tastes better when it's refrigerated and served later.
Tips on how to freeze and thaw fry sauce
●
Don't use glass to store your sauce in the freezer; it can break as the food inside freezes and expands. Use plastic containers, freezer bags, or Tupperware instead.
●
Divide your sauces into portions and pour them into freezer bags. Portioning the sauce will make reheating easier, and you will save space.
●
You can also pour the sauce into an ice cube tray and put it in the freezer. Once frozen, remove the cubes, put them in a plastic bag, and freeze for six months.
●
Alternatively, put the freezer bag or container with sauce in a bowl and run cold water over it until it thaws. Avoid using hot water to thaw your sauce.
Fry sauce recipe variations
You can try different ingredients on your fry sauce; here are a few suggestions;.
●
Try barbecue sauce instead of ketchup.
●
If you want a spicy sauce, add some sriracha, hot sauce, or cayenne pepper as desired.
●
You can add other seasonings like black pepper or garlic powder.
●
You can also add smoked paprika if you want a smokey taste.
Types of food you can serve with Freddy's fry sauce.
.
●
Chicken and burger sandwiches
●
Roasted asparagus or broccoli
Freddy's fry sauce nutritional facts
One serving of Freddy's fry sauce contains 140 calories, 2.5g saturated fat, 10mg cholesterol, 290mg sodium, and 4g carbohydrates.
Freddy's fry sauce has 89% fat content and 11% carbohydrates with no protein content..
Freddy fry sauce does not contain many calories, but its sodium and fat content are too high and unhealthy.
Limit the amount of fry sauce you consume in a meal or use healthier ingredients like sour cream instead of mayonnaise and tomato-based hummus in the place of ketchup.
Fry sauce interesting facts
●
Fast food joints and Turkish restaurants in France serve fry sauce alongside french fries and call it a "sauce cocktail."
.
●
Rot weiß, a common product in Germany sold in tubes like toothpaste, consists of mayonnaise and ketchup. The tube forms white and red strings when squeezed out, and restaurants serve it with fries.
.
●
In countries like Peru, Chile, Uruguay, Argentina, and Paraguay, salsa golf, also known as golf sauce, a similar condiment as fry sauce, is served with burgers, fries, and sandwiches. Golf sauce was invented by Luis Federico Lenoir, a restauranter in a golf club during the 1920s.
Frequently asked questions
What does Freddy's fry sauce taste like?
Freddy's sauce has a delicious tangy taste and creamy consistency.
It has a similar taste to ketchup mixed with hotdog mustard, but it's mostly sweet and sour..
What's the difference between Freddy's fry sauce and regular fry sauce?
Freddy fry sauce and thousand island dressing are the same except it has no vinegar.
Regular fry sauce has its own experience and flavors.
Conclusion
Freddy's fry sauce is easy and quick to make, and it's likely that you already have all the ingredients needed.
You can make the seasoning and use it on any sauce or meal anytime.
Make your fry sauce and refrigerate for later use or freeze it for six months.
This sweet and tangy taste goes along quite well with many dishes you will not regret.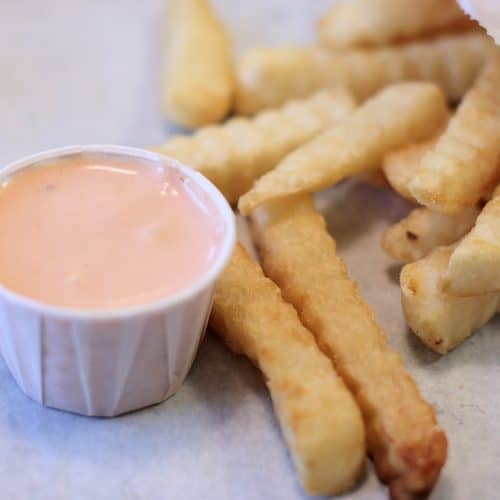 Freddy's fry sauce recipe
Freddy's famous fry sauce has a tastier and tangy flavor than regular ketchup.
Ingredients
Ketchup

Freddy's

seasoning

Pickle juice
Instructions
Add all the ingredients to a bowl

Mix them up until you have an even consistency.

Serve your sauce and enjoy with fried chicken, burgers, or fries.
Video
---