Check out my guide to the various Breville Toaster Oven models on the market today!
The BOV845BSS Smart Oven Pro from Breville is the best toaster oven you can buy for the price right now.
In this review, I'll briefly go over why I believe it to be the best value for your money.
My Verdict
| | |
| --- | --- |
| If the Smart Oven Air is the best toaster oven altogether, this is the best normal-sized toaster oven. I loved every second of it and I'm sure you will as well. Its cooking is best in class, settings versatile, customer service impeccable. I heartily recommend it. | |
Pros
Quality of cooking — it's best in class
Versatile — 10 modes with smart features and real hands-off cooking
Great package with several accessories
Breville's customer service is unmatched
Cons
Pricy
Gets hot when working
Here are some of my favorite features of the Breville Smart Oven Pro.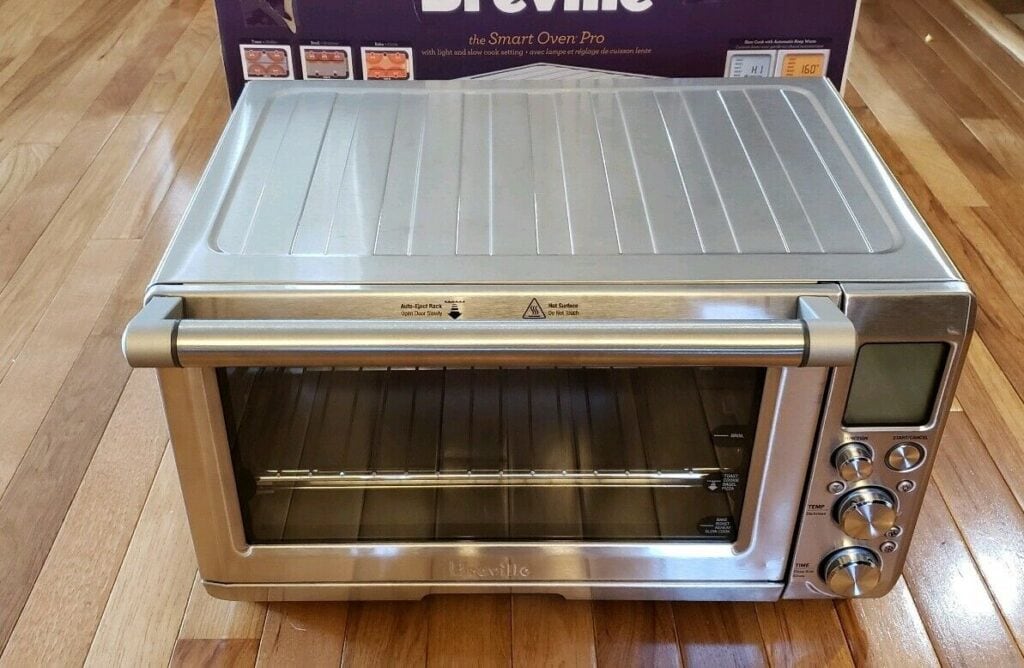 Amazing Performance
This oven is incredibly efficient and reliable.
Cooking is best in class – I would say it's only rivaled by its bigger brother the Smart Oven Air.
It is just the best every time.
I won't go over Breville's Element IQ again since I covered it already, but it's very convenient for hands-off cooking.
For example, once your food is done cooking your oven activates the "keep warm" function to keep your food warm for up to two hours.
With it, you can keep preparing food knowing that your food in the oven will be perfectly warm whenever you need it.
Easy to maintain
One of the worst parts of cooking food can be having to clean a dirty oven.
However, the BOV845BSS makes it easy for you.
With walls coated with non-sticky coating and removable crumb tray, cleaning is incredibly easy and quick.
The smooth outer surface is even easier to clean, all you need is a quick wipe with a damp cloth, and you're done.
You won't even need my toaster oven cleaning guide.
Great design
With a countertop oven like this one, you want it to perform well while looking good in your kitchen.
Luckily, the BOV845BSS doesn't disappoint in the looks department.
The BOV845BSS has a modern but simple design.
With its silver color scheme, simple dials and large screen, this oven is elegant and sleek without pulling too much attention.
This makes it fit perfectly in any kitchen design.
Very convenient
The Breville BOV845BSS makes your job easier in a lot of small ways.
For example, when the auto-shutoff feature lets you know your food is ready, you'll have no issue getting to your food thanks to the magnetic auto-eject rack that goes out halfway.
No products found.
The oven is very easy to interact with.
The dials and buttons have clear markings that make it very intuitive to navigate your way around your oven's features.
With them you can change between Fahrenheit and Celsius, turn on or off the inside light, change the temperature and set a cooking time, all with just a few taps and turns.
Once your food is cooking, the large display tells you everything you need to know, like the time left, the current temperature and the cooking preset.
We also loved the large glass window on the door that gives you a great view when checking up on your food.
Breville BOV845BSS Main Specs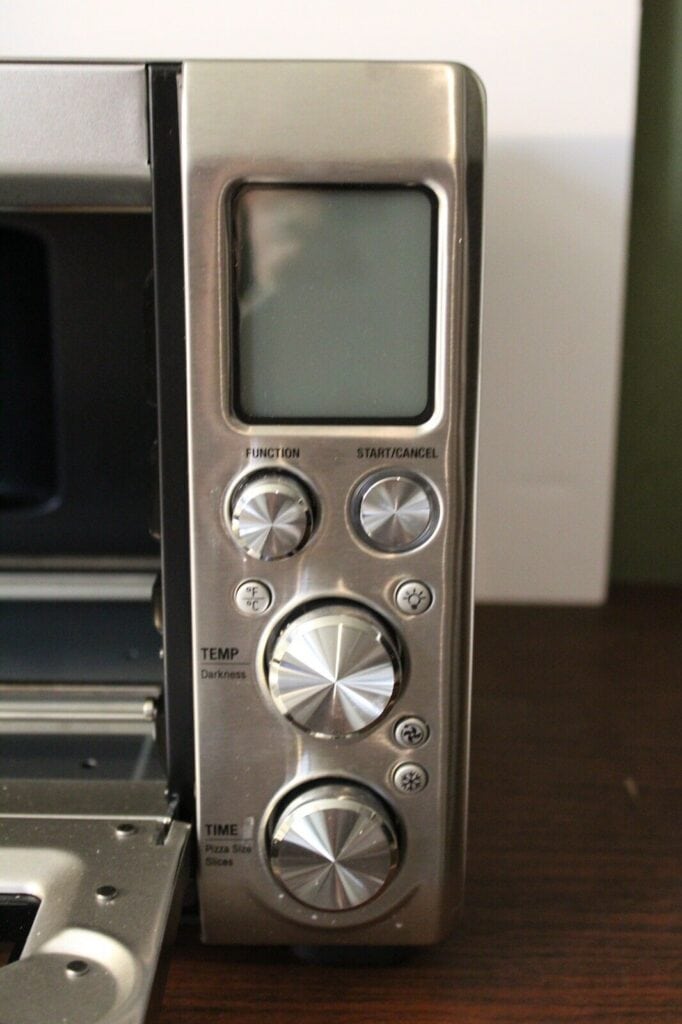 Here's a close look at the main features of the BOV845BSS:
Convection heating
The Breville Smart Oven Pro is equipped with powerful convection heating, which offers you great flexibility when cooking.
It circulates the air around to get a quick and even cooking experience and give you crispy crusts and warm insides.
You can also use the convection feature with multiple cooking functions, like Pizza, Shortbread Cookies, Bake, Reheat and Slow Cook.
The fan is a little noisy but you'll probably not notice it too much.
Use Element IQ to experiment and personalize the cooking functions to adjust according to your recipe and the amount of food you're heating, and your oven will remember your settings until you change them or you unplug it.
Temperature Range
The Breville BOV845BSS can reach 450 degrees Fahrenheit or 230 Celsius, so it easily adapts to most dishes.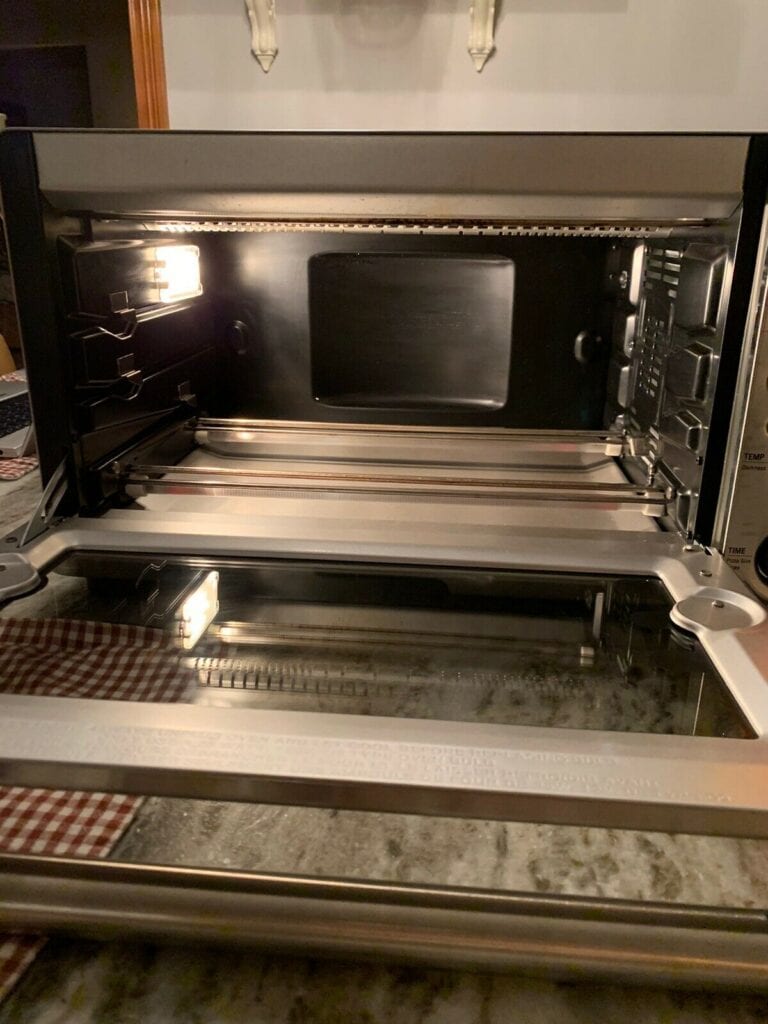 Dimensions
These are the Breville BOV845BSS Smart Oven Pro's measurements:
Exterior: 18.5″ wide by 15.75 by 11″ (47cm by 40cm by 28cm)
Interior: 13.25″ wide by 11.25″ by 5.25″ (33.5cm by 29cm by 12.5cm)
When installing it, you should also keep a distance of about four inches on both sides and six inches above the oven.
Other great features
The BOV845BSS comes with very handy pre-set cooking functions so you can avoid mistakes and start cooking in no time.
Parts are also easy to get and replace, just like with any other oven.
This adds value to your oven since you can keep repairing it when it doesn't work, so you can extend your oven's life cycle.
Besides the automatic "keep warm" function, the Breville Smart Oven Pro also has an automatic shut off feature to quickly turn off your oven in case of an emergency.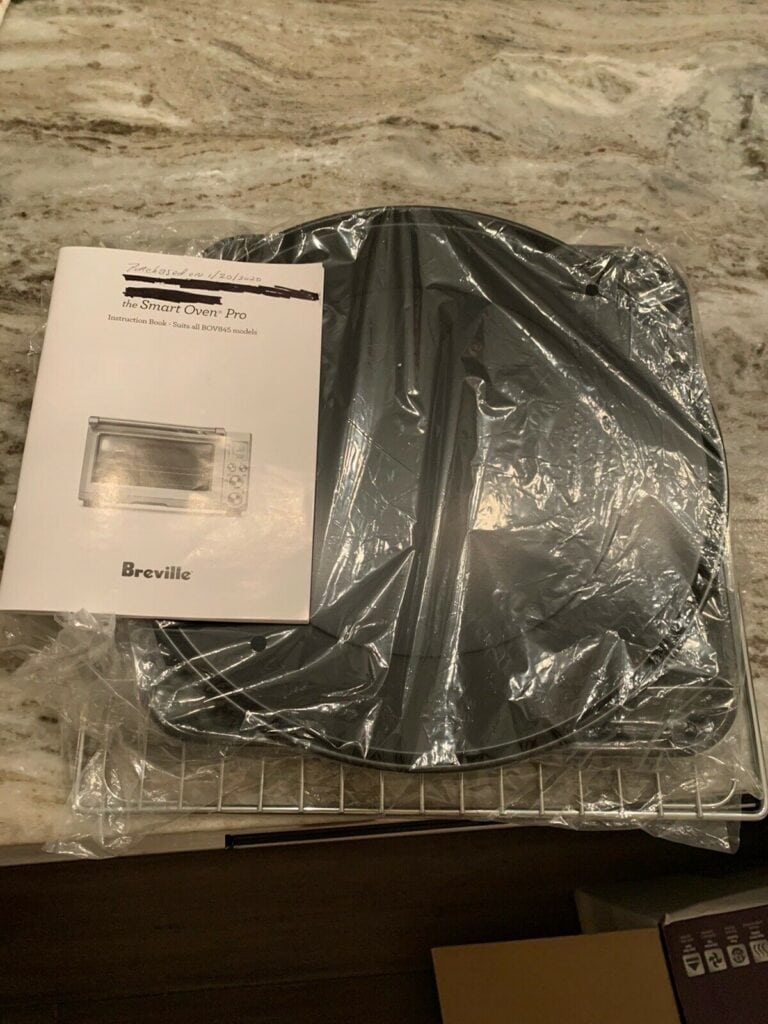 Breville Smart Oven Pro – Is It For You?
The BOV845BSS is an amazing oven that will be a perfect fit for most people.
It gives you a lot of great features at a surprisingly low price.
But, is it the one for you?
What I liked:
Best-in-class cooking: Breville never fails in this category. Plus, it has 10 preset functions and patented heating, cooking food up sometimes to 30% faster.
Breville's outstanding customer support. I've said it before and I'll say it again: Breville is for those of you buy-it-for-life folks.
Great capacity: You can fit up to 6 toast slices or a 13-inch pizza inside. It is not the behemoth that the Smart Oven Air is — it's just right.
Good accessories: The Smart Oven Pro comes with a baking pan, a 12" x 12" enamel broiling rack, and a 13-inch non-stick pizza pan.
Easy to use: Navigating through the options in the control panel is easy and simple.
Large glass window: For quick check-ups on your food.
Great design: Fits in most countertops.
Easy to clean: Non-stick interior walls and removable trays for easy cleaning.
What I didn't like:
Pricy: Breville do charge a premium on their appliances, though I think it's well deserved.
Hot exterior: When cooking you need to keep an eye on anything around your oven to prevent accidents.
Conclusion – Should You Get It?
The Breville brand comes with a history of good-looking, long-lasting products, and the BOV845BSS Smart Oven Pro is no exception.
This oven is at the top of most ovens, giving you a larger cooking area and longer-lasting components than the rest.
With amazing cooking times, smart and even heating and great little features, the Breville BOV845BSS is an amazing convection oven.
If you're in the market for one and you would prefer not to replace the wall oven altogether, you can't go wrong with it.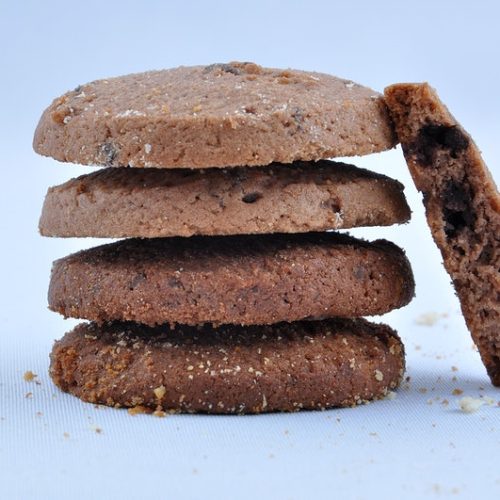 How to Make Perfect Panera-Style Shortbread Cookies
The shortbread cookie is a Scottish classic passed down from generation to generation.
Equipment
1 oven

1 Pan

1 Parchment paper
Ingredients
1

cup melted

butter

2

cups

cake flour

3/4

cup powdered

sugar

1/2

teaspoon

baking powder

1

tsp

vanilla
Instructions
Make the dough by mixing all ingredients, and knead gently until well combined.

Grease a 9×13 inch baking pan lightly and press the dough into the pan.

Put parchment paper over the entire surface of the dough in the baking pan.

Cut rectangle lines on the cookies with a knife to ensure they resemble authentic Panera shortbread cookies.

Pop them in the oven and bake at 325 F for 20 minutes.

After 15 minutes, observe a light color and no browning.

Remove the cookies from the oven, allow them to cool, cut them into squares, and serve.
Video
Nutrition
Calories:
824
kcal
Carbohydrates:
90
g
Protein:
8
g
Fat:
49
g
Saturated Fat:
31
g
Polyunsaturated Fat:
2
g
Monounsaturated Fat:
13
g
Trans Fat:
2
g
Cholesterol:
127
mg
Sodium:
435
mg
Potassium:
79
mg
Fiber:
2
g
Sugar:
45
g
Vitamin A:
1479
IU
Calcium:
54
mg
Iron:
1
mg
I hope this helps!
Love you all,
G.