Are you looking for the best Oster toaster oven in the market?
I've found two high-quality Oster toaster ovens that give excellent results, so you can choose the best-value model that best fits your family:
The Oster Large Convection Toaster Oven TSSTTVMNDG, a flagship of the company
The Oster Extra Large Convection Oven TSSTTVDGXL-SHP, a large oven that can easily replace your conventional one
These high-quality, stylish, easy-clean, stainless steel toaster ovens are the best products Oster has to offer.
But which toaster oven is the right option for you?
Let's find out.
Oster Toaster Ovens: Large and Extra-Large Countertop Ovens
Here's a look at both toaster ovens:
Oster Large Convection Toaster Oven
No products found.
As the Oster flagship model, the 6-Slice Oster TSSTTVMNDG has everything most people need in a high-quality countertop convection toaster oven.
The results of most customer ratings for this item are 5-star reviews.
It receives plenty of stars in reviews for its high-quality build and this item offers great value for money too.
And I understand why people rate this item so high.
Like other Oster products, this well-designed, stainless steel countertop oven is top-quality and does exactly what Oster say it will do!
This toaster oven has a slick, durable design, reasonably large size, intuitive navigation.
And it comes with the latest convection technology from Oster.
The oven is one of the best Oster makes, and one of the best toaster oven options in the market overall.
Pros
Larger capacity
Great convection mode
Toasts bread evenly
Convenient timer
Great at heating, cooking, toasting, and baking
Two oven racks
Great visibility
Internal light
Built to last, easy-clean, stainless steel
Reasonably affordable
1-year warranty from the manufacturer (Unites States)
Online customer service
Cons
Slow toasting
Not many baking options
Oster Extra Large Digital Countertop Convection Oven
No products found.
Are you looking for a large countertop oven that can do everything a regular-sized oven can do?
The Oster Extra Large Countertop Oven TSSTTVXLDG-001 is a great option.
This powerful Oster countertop toaster oven features a versatile design that fits just about anywhere.
It has multiple cooking options.
So this extra-large countertop oven from Oster is excellent if you want to cook a large volume of food, quickly.
Pros
Very large capacity for a countertop oven
Easy to clean
Simple digital controls
Two oven racks
Can definitely replace your regular oven
Multiple settings
1-year limited warranty from the manufacturer (Sunbeam Products, United States)
Cons
Needs a large counter space
Delicate front door
Very hot exterior when cooking
Large or Extra Large, Which Toaster Oven Is The Right For You?
To help you answer this question, here's a list of features comparing both toaster ovens from Oster.
So you know which one is the right fit for you:
Functions and Features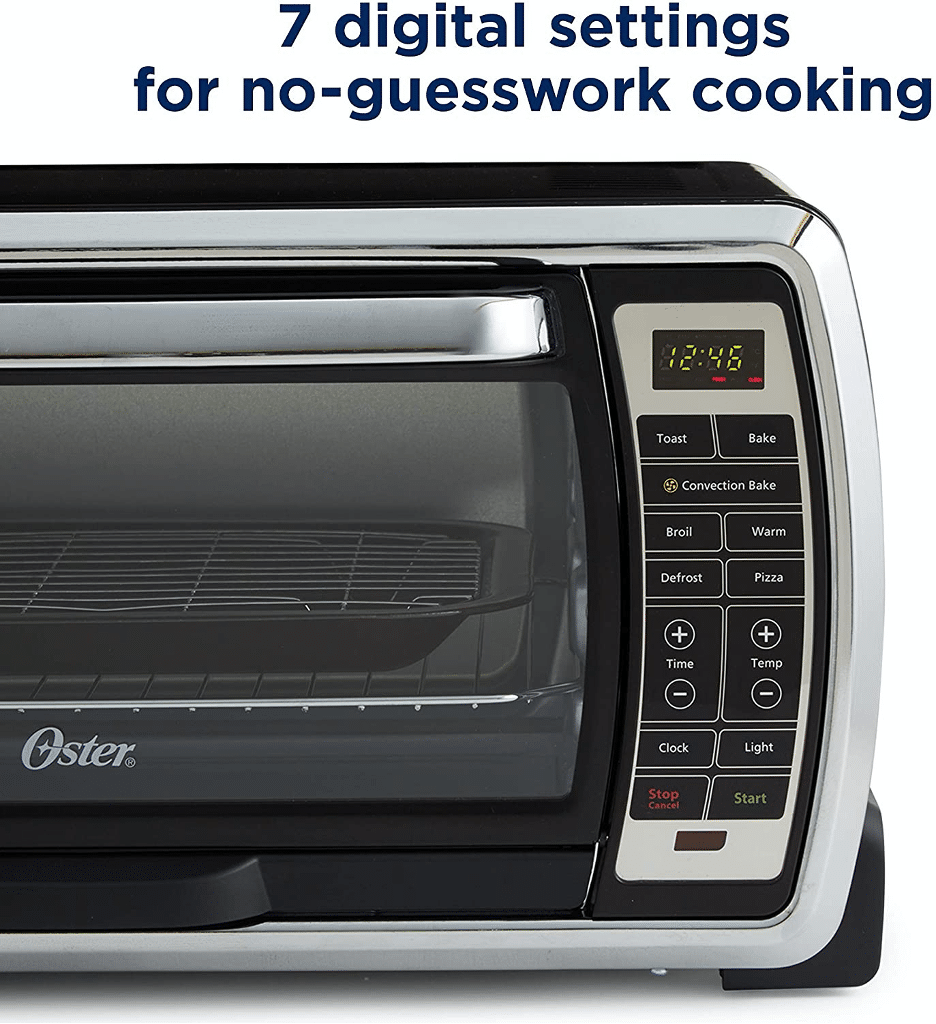 The Large Convection Toaster Oven from Oster has seven cooking settings that include convection bake, pizza, toast, broil, and warm.
You can easily access these functions through one-touch controls.
The navigation is very straightforward.
Simply select the option you want, adjust the time and temperature settings, and start the toaster oven.
Some people might think this Oster model lacks one of those fancy screens with multiple functions.
But, that just means you don't need to figure out navigation and menus since everything is right there at the front.
I find it simpler to use!
The Extra Large Oster Convection Countertop Oven also features all the buttons at the front, making the navigation experience very similar between these two.
The Extra Large Oster Convection Toaster Oven has the same functions as the Large one, with "Convection Bake" being replaced with "Turbo Convection".
That's because the Extra-Large Oven is faster and more powerful at cooking.
The cooking temperature ranges from 200 to 450 °F degrees.
Design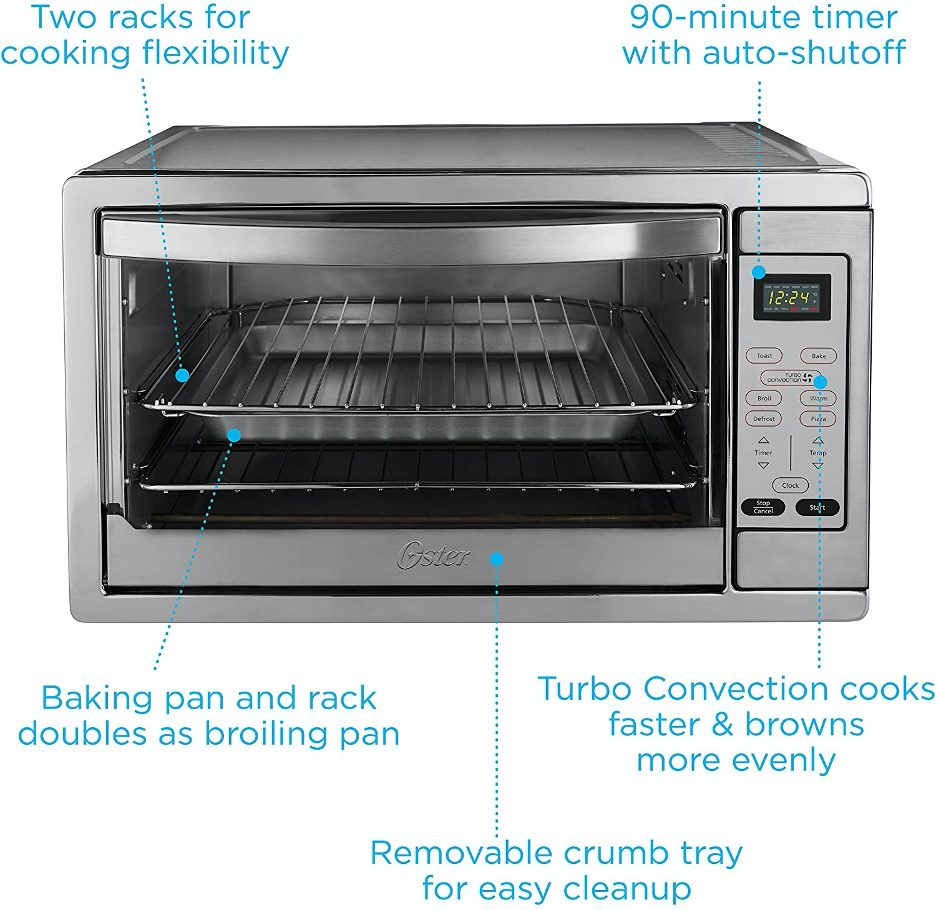 There's no question that these ovens are both super easy to use, and practical.
Oster's Large Oven features an interior oven light.
Combined with the large front see-through door, it's easy to check on your food.
The front is a combination of brushed stainless steel and black.
Its display and the bright red and green highlights give this toaster oven a slightly retro feel.
Oster's toaster oven also has removable cooking pans and a crumb tray, making it very easy to clean.
The Extra-Large Oster Oven is completely covered with stainless steel with chrome accents.
It looks a bit more modern than the Large one.
But its large glass door with handle is more fragile and prone to break.
It's just a large piece of glass.
This Oster oven doesn't feature an internal light, which I found odd, especially in this price range.
Both ovens have a 90-minute timer that automatically shuts down the oven, instead of just warning you the food's done.
Another feature I liked is the control panel design.
Neither of these Oster toaster models uses a knob design or push-in buttons.
So both control panels give you a nice flat surface that's very easy to clean.
Heating Capabilities
Oster's Large Oven employs convection technology.
Its range of temperatures is from 150 to 450 °F.
It comes with a heating element of 1300 watts.
The Extra Large Oster option is a bit more powerful.
It's ideal for people who do large volume oven cooking or baking.
And anyone with a large family might find the extra capacity useful.
It offers temperatures from 200 to 450 °F.
You can adjust the temperature by intervals of 25 °F to ensure moisture preservation while cooking.
Both toaster ovens are convection toaster ovens.
Oster convection toaster ovens are far better and faster than traditional high-value ovens.
You can save up to 50% on energy in comparison to a regular toaster oven.
Capacity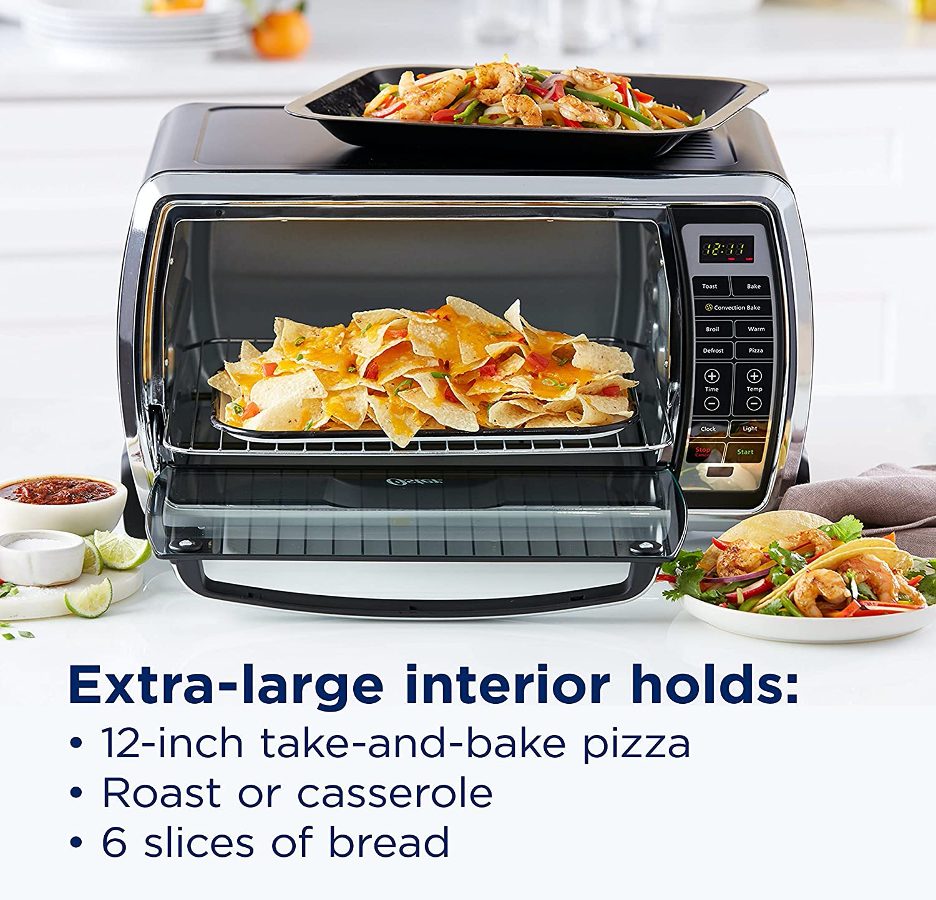 You can use the Large 6-Slice Convection Toaster Oven to toast 6 slices of bread or anything on the 12.5″-inch pizza pan.
The oven measurements are 19.72″ × 16.29″ × 11.33″, and it comes with a 31.5-inch power cord.
Although it may not replace your regular oven, it certainly has the space to cook quite a lot of food.
This makes it ideal for catering for large family gatherings or get-togethers with a lot of people.
The Extra Large Convection Oven measures an impressive 19.29″ × 21.65″ × 12.91″.
It can easily accommodate two large pizzas, a large chicken, a large roast, or up to 18 slices of bread.
That's big enough for most people!
With such a large space, this oven can easily replace your regular oven when cooking anything but a full turkey.
Accessories and Extra Features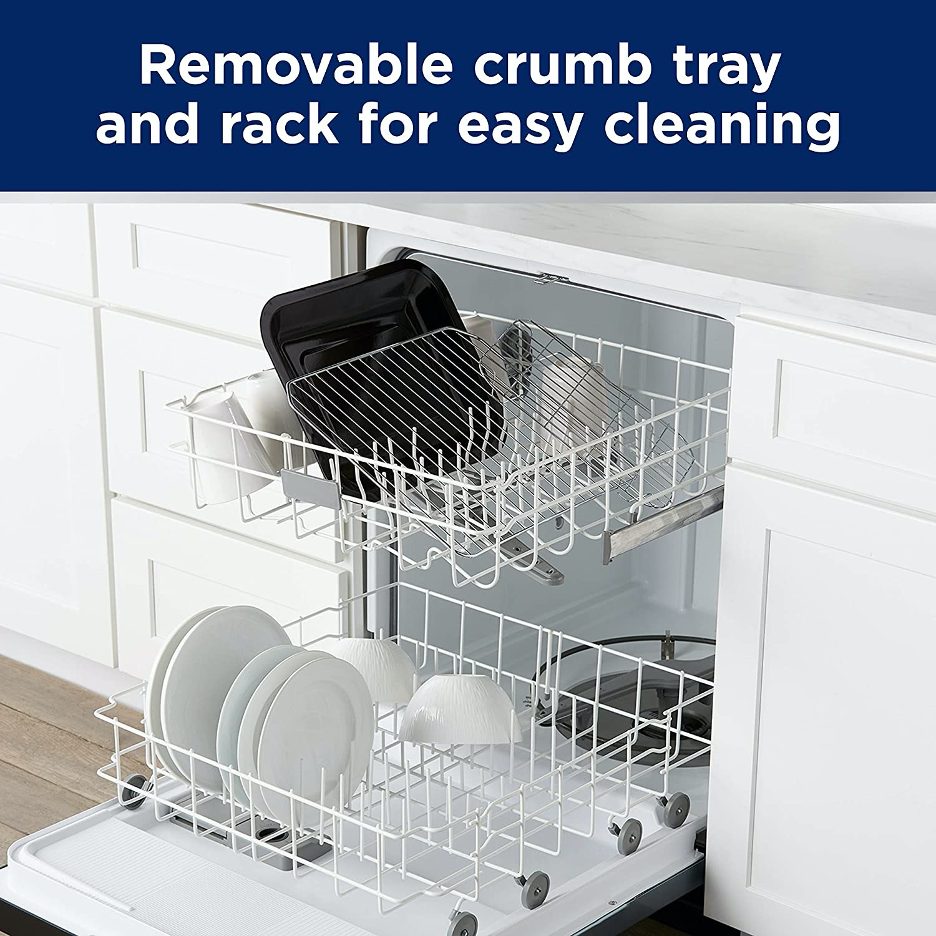 The Large Toaster Oven includes a very durable baking pan and removable crumb tray.
The Extra Large Digital Countertop Oven includes a baking pan, a pizza pan, and an integrated broil rack.
Which One Is The Best For You?
While both ovens are the best ones Oster has to offer, the best one for you will depend on your needs.
Are you happy with your regular-sized oven but want a backup?
The Large Oster Toaster Oven TSSTTVMNDG is a great option.
It can toast multiple slices of bread, heat, and cook most foods.
With a large interior, great convection capabilities, and timeless stainless steel design, this flagship model is one of the best products on the market.
If you want the same experience in a more powerful oven, the Oster Extra Large Digital Countertop Oven is the right one for you.
It can replace a conventional one.
At about $30 more, you still get good value for your money.
It gives you far more space to toast or cook more items and more powerful convection heating.
It just needs some extra counter space.
If you're like me, you want your kitchen products to make your life easier.
They need to be easy to use, efficient, and last a long time.
You won't be disappointed with either of these toaster ovens from Oster.
Overall, they deserve the 4-5-star reviews they get.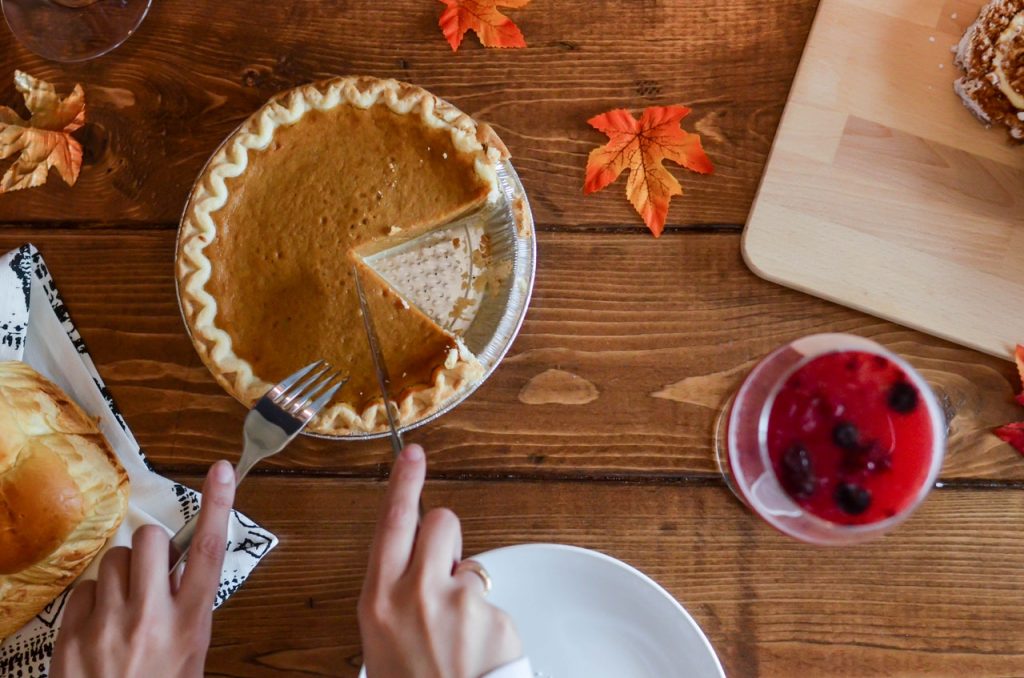 FAQs
I came across quite a few common question topics in customer reviews while investigating these two toaster ovens.
I've included some of them here, with answers.
Can You Bake With A Toaster Oven?
Like most people, you might wonder what more can be done in a toaster oven.
And what is the main difference with a traditional convection oven?
Well, the answer to this question is that the main difference between a traditional oven and a toaster oven is size.
A toaster oven is smaller, so if you value space in your kitchen, it's ideal.
It takes up considerably less space than a toaster and microwave oven.
Also, a conventional built-in convection oven is a high-value kitchen item.
But a toaster oven is very affordable if you don't need all the features of a regular oven.
Thanks to its operation, your toaster oven can cook the same recipes as in a traditional oven.
It can handle chicken, lasagna, cakes, or any other type of recipe.
Not just toast!
You get great versatility for its size, as it fits in any kitchen.
And if you want to experiment with some new delicious recipes, you'll find loads of YouTubers offering interesting video content, especially for toaster ovens.
Can You Use Foil In An Oster Toaster Oven?
Many of today's toaster ovens from top brands have a glass door and cool-touch handle.
They are very energy efficient and you can cook almost any food item in your oven without any worries.
In addition, you can put aluminum foil in the toaster oven so it will get much less dirty.
If you use the oven for baking, it keeps the crusts nice and flaky and edges crispy.
What Is The turbo Setting On An Oster Toaster Oven?
Oster's toaster oven comes with a Turbo setting.
What does it do?
The Turbo feature in Oster toaster ovens, and models from other premium brands, uses convection technology.
This makes sure that the hot air inside flows evenly.
It avoids any hot or cold spots, just like a full-size top-of-the-range convection oven.
Cooking with even heat distribution keeps meat nice and juicy.
How To Get The Most Out Of Your Toaster Oven
Have you been wondering if a toaster oven is worth having in your kitchen?
Well, this type of countertop oven has become extremely popular.
It's a fantastic and versatile kitchen appliance that will make your life in the kitchen easier and more convenient.
Many people don't realize just how versatile and useful a countertop oven is.
It's not only for making toast!
The countertop toaster oven models from Oster cook a wide variety of dishes and foods such as pizzas, toast, French fries, and more.
And you don't need to be a chef to get the sort of excellent results people pay for in a restaurant!
Did you know that you can even bake chocolate chip cookies with your countertop toaster oven?
A countertop toaster oven is faster and cheaper than one of the large conventional kitchen ovens many people have in their kitchens.
It takes up much less space and you will have your delicious foods or snacks ready in a few minutes.
Here are just a few things you can use your countertop toaster oven for.
Make the most of it!
Defrosting With Your Countertop Toaster Oven
Most of the current countertop toaster ovens come with a Defrost feature.
Select this option to defrost frozen foods.
All you need to do is put the frozen items on the tray/rack.
Then put it in the oven and using the Defrost feature and the oven will defrost your foods in a few moments.
Alternatively, you can use your countertop toaster oven to defrost items by selecting the lowest possible temperature setting.
Put the items in the oven for a few minutes, and they will defrost.
Don't walk away and forget about it!
Set the alarm or keep checking to make sure it only defrosts and doesn't start cooking.
How To Cook Pizza And Panini With Your Toaster Oven
Oster's convection technology cooks pizza and panini perfectly.
Thanks to the even distribution of hot air inside and adjustable rack positions, you get a better flavor than in a conventional oven.
The dough will be just right.
More like a pizza you get from a genuine Italian pizza restaurant in the old country!
And once you taste a delicious toasted panini, you might forget about making just plain toast in the future!
How To Cook Food In Your Toaster Oven
Oster's simple-to-use controls and convection heating make cooking with your toaster oven easy.
You can select the perfect temperature you need depending on each food item.
With temperatures ranging from 150/200 °F to 450 °F, you can cook almost anything.
Check the cooking instructions or recipe for the suggested temperature and cooking time.
Choose the setting, set the timer/alarm, and let your toaster oven do all the work.
With the timer, you will be able to program the oven the necessary time so that it cooks your everything to perfection.
Once it finishes, press the stop button, take the food out and enjoy it!
This is the perfect appliance for cooking all kinds of foods, including your favorite French fries, pizzas, and roasts.
You'll love the superb results you get!
How To Use Your Toaster Oven To Roast
Yes, you can do a lot more than just use the toast setting on these Oster products!
These toaster ovens are ideal for roasting meat and other foods.
You just need to select the roast mode and place the joint of meat, potatoes, vegetables, etc. on the tray in the oven.
You can leave the door a little open or take advantage of its air distribution so that the roast is just right.
It should be deliciously succulent and juicy when it's done.
Cook Without Oil Using Your Toaster Oven
Toaster ovens use air frying technology which will allow you to cook many different foods without oil.
Convection cooking circulates the air in the oven for consistent results.
So a toaster oven can bake, crisp, and brown your favorite fried foods without a single drop of oil.
Make your next movie or game a night an unforgettable one!
Try making super delicious air fried French fries, apple chips, or your favorite fried snacks.
The results you get with these two Oster products will amaze you.
And air frying is healthier too!
Because air frying is healthier, you can even treat yourself to more of your favorite fried dishes.
You don't need to worry about the calories in the oil anymore – there is none!
Use Your Toaster Oven To Keep Foods Warm
One of the main functions of the toaster oven is to keep cooked foods at the right temperature until you're ready to serve them.
To do this, select the Warm mode or keep the items in the oven on a low-temperature setting.
Love,
G.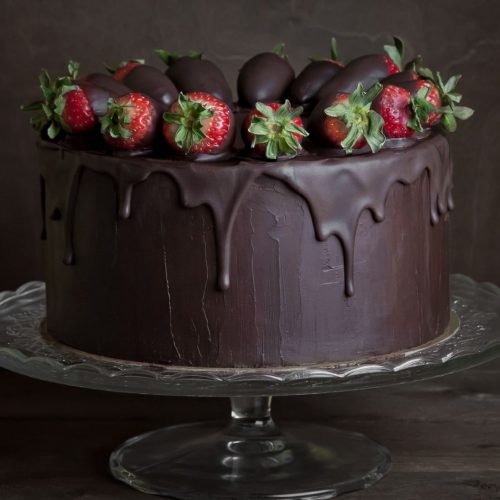 Cake Baked in a Toaster Oven
This cake is a very delicious using the toaster oven
Ingredients
For the cake:
1

cup

shortening

3

eggs

separated

1 ½

cup

sugar

1

cup

cold water

⅓

cup

tomato puree

1

teaspoon

vanilla extract

2 ½

cup

all purpose or cake flour

2

teaspoons

baking soda

½

cup

dry cocoa

1

teaspoon

salt

strawberries

for garnish

butter

for greasing pans
For the Frosting:
1 ½

cup

unsalted butter

6

cups

sugar

powdered

1

cup

fresh strawberries

finely chopped

1

teaspoon

vanilla extract
For the Chocolate Glaze:
1

cup

bittersweet chocolate

chopped

2

tablespoons

butter
Instructions
Preheat the oven to 350º F. Grease and flour two round pans.

Separate eggs in two medium size bowls. Beat egg whites until they are stiff. Blend egg yolks and add in shortening, sugar, water, tomato puree and vanilla extract. Combine well and then slowly add the egg whites.

In a separate bowl mix together dry ingredients – flour, baking soda, cocoa and salt.

Add the dry mix to the wet mix and stir until combined.

Divide batter and pour equally into greased pans.

Let the cake cool completely.

For strawberry frosting beat butter with mixer for a minute and add powdered sugar. Beat for around 5 minutes. Pour in strawberries and vanila extract and mix well.

In a small saucepan, combine the bittersweet chocolate and butter and cook over low heat until the chocolate is melted.

Frost the cake with chocolate buttercream and cover with melted chocolate. Top with some strawberries or berry of your choice!
Video
Notes
Who would have thought tomatoes and chocolate go together, but they do! Great book, great cake recipe!
Nutrition
Calories:
1417
kcal
Carbohydrates:
200
g
Protein:
4
g
Fat:
70
g
Saturated Fat:
34
g
Polyunsaturated Fat:
9
g
Monounsaturated Fat:
23
g
Trans Fat:
5
g
Cholesterol:
155
mg
Sodium:
605
mg
Potassium:
215
mg
Fiber:
2
g
Sugar:
196
g
Vitamin A:
1226
IU
Vitamin C:
1
mg
Calcium:
42
mg
Iron:
2
mg
---