These 4th of July side dishes are the perfect way to celebrate the holiday.
If you're having a party, these dishes will bring back fond memories!
I know that even after all these years, some of these recipes still bring a tear to my eye.
It's so nice to be able to share that with someone, and knowing that you were the first to try them!
From potato salads to coleslaw and pasta salads, you'll find something for every occasion.
These 4th of July side dishes are a great way to introduce your guests to your favorite dish.
They're also a great way to cut back on calories at the same time.
Of course, they're all delicious, but I especially love the corn salad, fritos corn salad, and watermelon salad.
So whether you're having an outdoor party or just want something different this 4th of July, this list has something for everyone.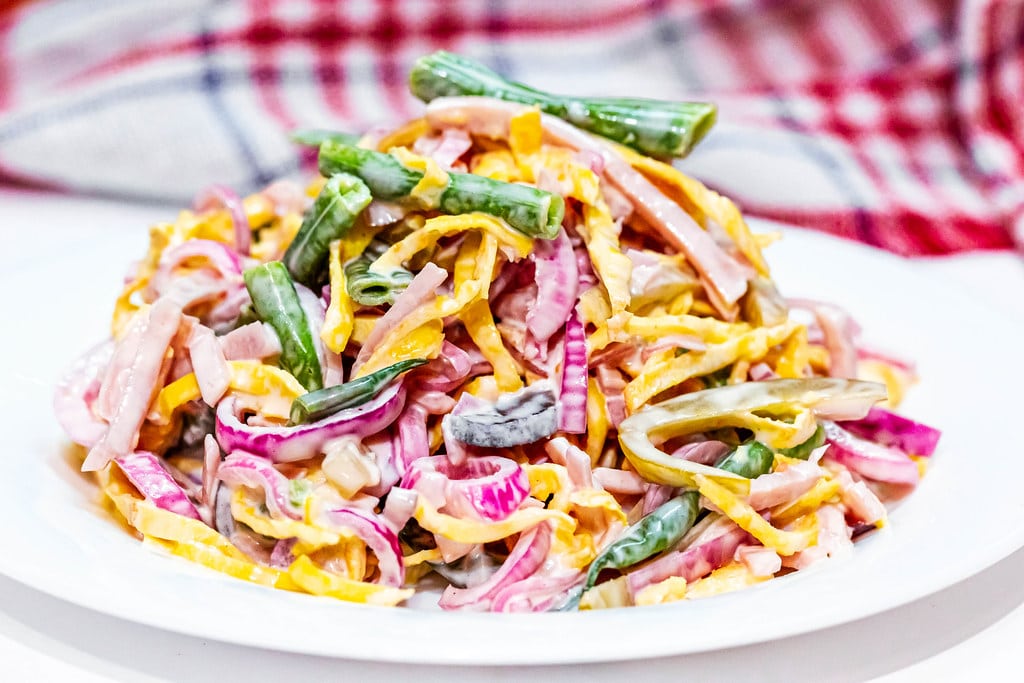 If you love cucumber and tomatoes, you'll fall in love with this salad.
The combination of crunchy cucumbers, juicy tomatoes, and creamy vinaigrette is divine.
It's a simple recipe that only takes 15 minutes to make.
However, you can add seasonal ingredients to make it even more delicious.
For example, try adding cranberries or herbs such as basil or parsley.
I like to serve it with grilled chicken because the flavors are so well-balanced.
This simple salad has the perfect balance of flavors that will knock your socks off.
It's a simple dish made even more satisfying by the addition of blue cheese dressing.
You can serve this warm with a side of crusty bread or enjoy it as is on its own.
Either way, it's a must-try!
This potato salad is a mouthwatering mix of creamy ranch dressing and crispy bacon.
The potatoes are lightly fried before being added to the mix.
It's then tossed in a zesty, tangy, crunchy dressing which balances out all the flavors.
And don't forget the croutons! Oh boy, they're so good with this salad!
Corn salad is a delicious side dish for everything from Mexican food to barbecue.
To be sure, you can make it with fresh corn kernels, but it's also fun to use Fritos corn chips.
Flavored with blue cheese and cheese sauce, this is the ideal summer side dish.
It's absolutely loaded with flavor, thanks to the blue cheese dressing.
Plus, it doesn't dry out your mouth like some other traditional salad recipes do.
There's nothing like a bright, refreshing salad to brighten up the mood.
And this strawberry caprese salad is one of my all-time favorites!
This recipe combines fresh strawberries, fresh mint, and creamy balsamic for a light and refreshing contrast.
It's also pretty impressive to look at.
The layers are made from lettuce, tender mozzarella balls, olive oil vinaigrette dressing, and fresh basil leaves.
This cool dish is a great way to incorporate some freshness, and it gives your eggs a lovely creamier texture.
It's a simple mix of Cheddar cheese, sour cream, and butter.
You can use it as a topping or on toast or rice.
But I like to drizzle it over scalloped potatoes.
It adds some pizzazz to an otherwise flat dish with no frills!
The key to making the best salad is in the construction of the bowl.
That's why this watermelon salad looks so good!
Watermelon, strawberries, and blueberries are tossed with blue cheese dressing for a bright, tangy contrast.
Give your summer salads a fresh new look by adding this simple green salad recipe.
It makes a great addition to any meal.
Corn salad may be one of my favorite salads, but I rarely make it at home.
Most of the time, I just throw everything in a bowl and call it good.
But this corn salad is what dreams are made of!
The sweet corn adds so much flavor to this simple salad while the mint leaves give it an extra kick.
All you'll need are canned chilies and your favorite sour cream dressing to achieve these delicious treats.
It's as easy as tossing everything together with some salt and pepper.
Trust me, you won't want to miss out on this dish when it comes around!
If you're looking for a light, refreshing, and very fresh salad that can be served as an appetizer or main course, this is the one for you.
It has blueberries, watermelon slices, and apple slices in addition to pine nuts.
It also tastes so much like the blueberry salad from above, but with the fruit flavors from watermelon.
This salad doesn't just taste good; it looks awesome too!
This pea salad has all the flavors you love about peas, but in a bowl.
It's creamy and delightfully tangy, with only a touch of sweetness from the onions.
You may have to add some sugar to balance out the bitterness of the peas, so don't be alarmed if your pea salad starts tasting bitter after just a few bites.
Some people like their salads super salty, while others prefer them mild.
The onion and pecans are what make this dish unique.
So, go ahead and add more sugar or salt if you want that extra kick.
This simple side dish can be made in less than 30 minutes, and it's perfect for vegetarians.
If you don't like garlic, you can use a garlic press instead.
Or if you want to add more cheese, try using a stronger cheese such as cheddar or Gouda.
You can't beat a fresh, light, and delicious salad when you're in the mood for something different.
And this recipe is one of those fave salads I always turn to when I want a quick healthy lunch or dinner option.
It's so easy to make, it just takes two minutes.
But trust me, it will wow your guests with its beautiful blueberries and watermelon flavor!
Crispy chickpeas, creamy avocado, crisp lettuce, and salty feta make for a delicious salad!
It's perfect for any occasion.
I know that's one of the main reasons I love this recipe so much.
The great thing about it is that you can adjust it to suit your mood.
I often cook this for lunch on a busy day and turn it into a light supper where I add some grilled chicken or fish.
Salad is such a versatile dish.
You can make it with pretty much any veggie and use whatever dressing you like.
This salad is loaded with red and yellow peppers, sweet corn, green beans, cherry tomatoes, onions, and more.
It's full of color and flavor!
It's also incredibly easy to make and has plenty of nutrition.
I love that you can add the dressing right to the salad without having to drain the vegetables first.
Coleslaw is a simple dish made with cabbage, carrots, and onions.
But this coleslaw recipe has a twist by adding fresh herbs.
It's tangy and super light, and it's pretty easy to make at home.
Just check out the printable recipe for the ingredients list.
You can serve it as is or add some extra protein with beef or chicken.
I like to use shredded turkey because it takes on the flavors of the veggies.
This festive fruit salad is the perfect way to end a meal or celebrate any occasion.
The watermelon and berries are balanced by basil and feta cheese, giving you a refreshing taste of summer.
This dish is so simple to make, yet it looks like a feast!
It's a terrific way to use up leftover fruit.
This cucumber tomato feta salad is the perfect summer side dish.
It's light, fresh, and has a fantastic flavor.
The zesty lemon juice and tangy feta add a bright contrast to the creamy tomatoes.
This salad can be served as an appetizer or a main course for any meal.
You won't believe how good it is until you try it!
I love baked beans and it's no surprise.
They're simply delicious, especially when you make them in a slow cooker.
All you need is the meat and water but no salt, sugar, or seasoning!
It's true that these don't get quite as thick as those cooked in a skillet.
But they still have a lovely consistency – like creamy beans with tender skin.
This delicious salad is salty, sour, and nutty.
Despite the ingredients, it's not overpowering in any way.
Instead, it combines all of those flavors in an unexpected way.
It has a crunchy texture from the pistachios and crunchy dill pickles.
Yet every sip brings that delightful creamy consistency everyone loves.
The cucumber adds a refreshing touch to balance out all the savory goodness.
It's also fresh-tasting so you won't feel like you're eating a bunch of iced tea!
Who doesn't love pasta salad?
It's one of those dishes that hits the spot every time.
This patriotic pasta salad is a great way to bring your American pride to a new level.
Featuring zesty Italian dressing, fresh tomatoes, and crunchy cucumbers, it's the perfect mix of tastes and textures.
The best part is this recipe can be whipped up in a flash!
Avocado corn tomato salad is the perfect side dish for any summer meal.
It's easy to make and great for hunger pangs.
The creamy cilantro-lime dressing makes it extra special.
It also features our favorite ingredients such as tortilla chips, avocados, corn, tomatoes, and lime juice.
You can serve it with a simple grilled cheese or use it as a sandwich spread!
This Caprese pasta salad is a perfect combination of sweet, tangy, and savory.
As the name suggests, it features cherry tomatoes and fresh mozzarella.
It's also topped with silky balsamic vinaigrette.
The fact that you can use this salad as a base for several different side salads makes it even more irresistible.
There's nothing quite like a big bowl of potato salad.
It's succulent, creamy, and loaded with veggies.
It's perfect for summer barbecues or even just as a side dish to your burgers.
But you can also use it as a low-carb appetizer for any occasion.
Just add grated potatoes to the salad ingredients before tossing them in the dressing.
Layer everything in an airtight container and store in the fridge until serving time.
I've been making potato salad for years.
I love the crunch and creaminess of it, but one thing always interests me: the red, white, and blue color.
So, when I saw this recipe on Pinterest and saw how easy it was to make, I knew it was a keeper!
The dressing is creamy with just a hint of tanginess from the lemon juice.
It also has some sweetening from the honey mustard and vinegar.
In addition to the potatoes and onions, you'll also toss in mandarin oranges, blueberries, parsley (for color), celery stalks (for crunch), jalapenos (for heat), red onion slices (to add more color), green cucumbers (to add more texture) – you get the point.
It's a beautiful side dish to roast beef or chicken.
For something really special, try serving it with homemade pickles!
Bright, fruity, and bursting with berries, this fruit salad is a celebration of summer.
It's the perfect palate cleanser before diving into a BBQ full of meat.
It has all those juicy fruits, some fresh herbs, and plenty of sugar.
It's sweet and tangy and one you'll want to eat again and again.
With only four ingredients – strawberry juice concentrate, watermelon pieces, blueberries, and peaches – you can have this ready in just 15 minutes!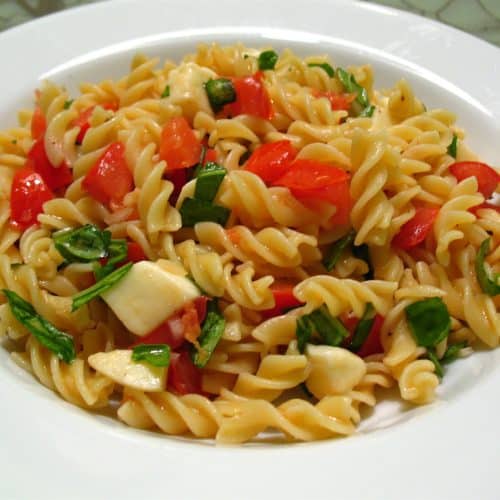 Caprese Pasta Salad
This Caprese pasta salad is a perfect combination of sweet, tangy, and savory.
Ingredients
1

pound

short pasta

16

ounces

mozzarella balls

3

cups

cherry tomatoes

½

cup

slivered fresh basil

⅓

cup

extra virgin olive oil

3

tablespoons

white balsamic vinegar

1

teaspoon

kosher salt

1

teaspoon

ground black pepper

1

garlic clove
Instructions
Boiling water should be added to a pot along with lots of kosher salt. Just till al dente, add the pasta and cook it. Drain in a strainer and quickly run cold water over the surface. Set apart for cooling.

Drain the mozzarella balls and split them in half while the pasta is cooking. Add the cherry tomatoes, which have been cut in half, and the mozzarella balls to a mixing bowl. Insert the cooled spaghetti and basil leaves.

Olive oil, white balsamic vinegar, garlic, kosher salt, and freshly ground black pepper should all be combined in a small bowl or lidded mason jar. Mix thoroughly, then pour over the spaghetti. Toss to coat and season to taste. After around 30 minutes, the salad is at its best.
Video
Nutrition
Calories:
1196
kcal
Carbohydrates:
122
g
Protein:
49
g
Fat:
59
g
Saturated Fat:
15
g
Polyunsaturated Fat:
3
g
Monounsaturated Fat:
18
g
Cholesterol:
54
mg
Sodium:
913
mg
Potassium:
705
mg
Fiber:
6
g
Sugar:
10
g
Vitamin A:
943
IU
Vitamin C:
35
mg
Calcium:
605
mg
Iron:
3
mg
---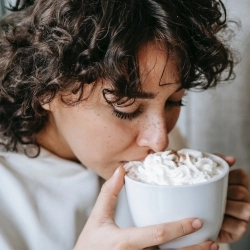 Latest posts by Grace Lambert
(see all)