Check out my guide to the various Breville Toaster Oven models on the market today!
Is the Breville BOV800XL your next toaster oven?
This new generation of convection ovens is great at doing practically anything your conventional oven can do, and more efficiently too.
But, with so many options, choosing the right one isn't always easy.
My Verdict
| | |
| --- | --- |
| This is the best large toaster oven if you don't care about air frying. It is big enough to fit a chicken inside, it's smart features are in a class of their own and it looks incredible. Plus, it is backed by Breville's outstanding customer service. | |
Pros
Quality of cooking is bar none
Big interior — you can fit a whole chicken inside
Presets and smart features — very easy to use
Cons
Expensive
No interior light
Getting the right oven for your counter can save you time and money.
Plus, they're usually so easy to use, you'll end up preferring heating things in the oven rather than in the microwave.
If you're looking for an appliance to reheat your food, once you get used to delicious, warm and crunchy food from a toaster oven, going back to the microwave is going to be hard.
Today, I am reviewing the Breville BOV800XL smart toaster oven.
It is my favorite Smart Oven Air's younger brother.
How easy is it to use?
Is it safe and long-lasting?
And, most importantly, is the BOV800XL really worth its high(er) price?
Let's find out.
Is the Breville Smart Toaster Oven Good?
There's a lot to like about the Breville BOV800XL. Here are some of my favorite features:
Great and Versatile Design
Being a Breville product, the BOV800XL follows their simple and elegant style. Coated with stainless steel and with elegant knobs and handles, it can fit practically anywhere.
Inside you'll find a spacious interior with ample room to cook. It also features an adjustable wire rack so you can make space for any dish. The interior walls are coated with non-stick material for easy cleaning.
However, the roomy interior doesn't make the oven any heavier. The oven only weighs 17 lbs (7.7 kgs) so it's not particularly hard to put away if you don't want to keep it on your counter.
Temperature Accuracy
Convection ovens like this one aren't really known for their temperature accuracy.
Whereas ovens like this may be off by up to 50˚ (looking at you Black&Decker), this Breville oven will heat up to practically the exact temperature you ask.
This allows you to cook, and even bake with the best result possible.
This is due in part to its smart features.
Amazing Performance
Convection ovens are usually faster to cook than conventional ones due to use of hot air. However, the BOV800XL is particularly quick and reliable thanks to Breville's patented Element IQ heating system, which I am a fan of.
In short, it detects the areas where heating is needed the most and heats up and cools off quicker than most other convection ovens.
You can even adjust power, time and temperature on its pre-set programs. And, if you do, the oven will remember the new settings for next time.
Note that it only works for up to two hours, so you'll have to reset the system if you're slow cooking something.
Very Safe
When looking for a convection oven for your counter, the last thing you want is for it to burn you if you happen to touch it, especially if you have kids!
That's why I loved how well insulated the oven is.
Because of how it distributes heat, the oven's metal surface doesn't seem to reach over 100 °F (38 °C), and the handle stays even cooler than that.
I also loved its magnetic rack that pulls out half-way automatically.
With it, you can easily access your food without touching the hot inner edges.
It only works when the rack is in the middle position, but having this feature is still a plus over other toaster ovens.
Breville BOV800XL Main Specs
Here's a close look at the main features of the Breville BOV800XL Toaster Oven:
Oven Size and Interior
Although the Smart Oven is spacious inside, it'll probably fit on your counter without any issues. Here are its measurements:
Exterior measurements: 18.5 by 16.25 by 11.25 inches (47 by 41 by 28.5 cm)
Interior measurements: 13.5 by 11.5 by 5 inches (35 by 29 by 12.5 cm)
As you can see, the interior space is very ample.
With it you can easily bake a cake and, since the back is curved, you can also perfectly fit a 13" pizza pan.
This model doesn't come with an interior light.
If you want one, you'll have the look at the slightly more expensive Smart Oven Air.
Controls and Navigation
The Breville BOV800XL has a few knobs and buttons to manipulate oven temperature and choose between pre-set options.
Navigation is fairly intuitive and simple, especially once you've personalized your cooking presets, which are:
Bagels
Cookies
Pizza
Reheating
Roasting
Defrosting
Warming
The design of the BOV800XL's controls is especially great, which is what you would expect from a higher-end toaster oven like this one.
The large LCD display is easy to read and shows you your current settings and the remaining cooking time.
The backlight also changes from blue to orange when the oven is cooking, so you can quickly see when it's on.
The display also changes when selecting among your pre-cooking options. If you're switching to toast bread, for example, the menu will change to allow you to select how many slices of bread you're cooking and the shade of your toast.
There are also three dedicated buttons to control the use of the convection fan, start or stop cooking and add a defrost cycle.
With these many options, using this oven is surprisingly easy.
Included Accessories
These accessories are included with the BOV800XL Smart Oven:
13-inch non-stick pizza pan
12-by-12-inch enamel baking pan
12-by-12-inch enamel broil rack
With them, you can start cooking right away, even if you're cooking pizza!
Warranty
The Breville BOV800XL comes with a full warranty for one year.
This is less than other ovens, but don't worry about it: the manufacturer goes out of their way to fix or replace it even outside of warranty.
If you're not convinced you can purchase an extended Amazon warranty for 2 or 3 years.
Breville BOV800XL – Should You Buy It?
The Breville BOV800XL is a great higher-end oven.
It offers you great control over what you're cooking and it looks great in every counter. Here's what it does best, and worst:
What I liked:
Consistent toast: Whereas multiple convection ovens burn the slices at the sides, this one is great at toasting every slice perfectly.
Great and spacious interior: You can roast a 4.5 lbs chicken or cook a 13" pizza.
Automatic shut off: The oven shuts down after two hours, making it safe and saving you money.
Easy to use: Despite having multiple control options, the LCD panel and the controls are very easy to use and understand.
Auto-rack eject: Allows you to safely access your food.
Safe: This toaster oven doesn't get hot when using.
What I didn't like:
Highly-priced: The BOV800XL is definitely priced above the average convection toaster oven.
No interior light: Despite its price, the oven doesn't have an interior light.
No replacement parts: Replacement parts are hard to come by. Like I said, I wouldn't worry about that though.
Difference Between the BOV800XL Smart Oven and BOV900XL Smart Oven Air
The Smart Oven is a bit cheaper and comes with less accessories. The Smart Oven Air is pricier but is capable of air frying, which I am a huge fan of, and comes with more accessories.
Conclusion – Should You Get It?
The BOV800XL Smart Oven is pricy. However, its price is somewhat justified by its amazing performance. With very accurate temperature settings and lots of personalization options, the BOV800XL gives full control to the user.
It also offers an amazing interior space while managing to be light enough to move and put away.
If you want a trustworthy, safe and powerful oven, and you don't mind paying extra for it, the Breville's BOV800XL Smart Oven is definitely the oven for you.
I hope you liked my review!
Cheers,
G.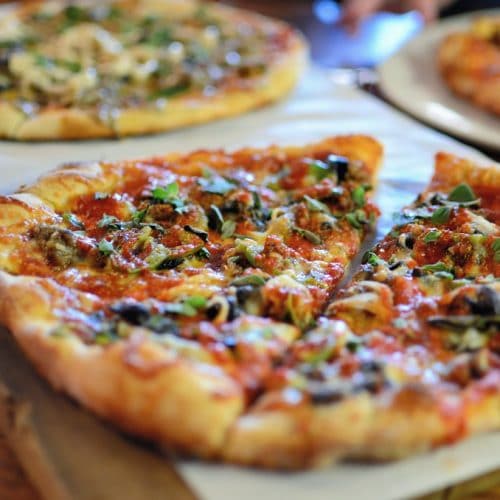 Victory Pig Pizza Recipe
This is an excellent recipe for those of you looking to try something new or those who want a delicious pizza that is sure to please
Ingredients
1

pound

pink roast

1

pineapple chunks

1

bacon

1/2

cup

BBQ sauce

1/4

cup

brown sugar

1

table spoon

1

apple cider vinegar

1

teaspoon

garlic powder

1/2

teaspoon

onion powder

1/4

teaspoon

black pepper
Instructions
Preheat the oven to 350 degrees. The first step is to preheat your oven to 350 degrees.

In a large pot, cook the pork roast until it is cooked through. Once the oven is preheated, you will need to cook the pork roast in a large pot. Cook the pork roast until it is cooked all the way through.

Remove the pork from the pot and shred it. Once the pork roast is cooked, please remove it from the pot and shred it using a fork or your hands.

In a small bowl, mix the pineapple chunks, BBQ sauce, brown sugar, apple cider vinegar, garlic powder, onion powder, and black pepper.

Layer the shredded pork, bacon, and pineapple mixture on the pizza dough. Now it's time to start layering the ingredients on the pizza dough. First, layer the shredded pork on the dough. Then, add the bacon and pineapple mixture.

Bake the pizza for 20-25 minutes or until the crust is golden brown. Once all ingredients are layered on the pizza, bake it for 20-25 minutes. The pizza is ready when the crust is golden brown and cooked through.
Video
Nutrition
Calories:
582
kcal
Carbohydrates:
58
g
Protein:
53
g
Fat:
14
g
Saturated Fat:
4
g
Polyunsaturated Fat:
2
g
Monounsaturated Fat:
6
g
Trans Fat:
1
g
Cholesterol:
150
mg
Sodium:
929
mg
Potassium:
1100
mg
Fiber:
1
g
Sugar:
51
g
Vitamin A:
166
IU
Vitamin C:
1
mg
Calcium:
63
mg
Iron:
2
mg
---