Looking for the best microwave you can get?
I've found the best four microwave options so you can choose the best one for your needs:
These microwaves are the best ones you can get in 2020.
You can click on each one to go directly to the review.
Let's get started.
Top Best Microwaves To Buy In 2020
Here are the reviews of the best microwaves you can buy in 2020:
Best Overall: Toshiba EM131A5C-BS Microwave Oven
No products found.
With great functionality, roomy interior, timeless design, and powerful capabilities, the Toshiba EM131A5C-BS Microwave Oven is the best overall microwave you can buy.
Here's why:
Functions and Features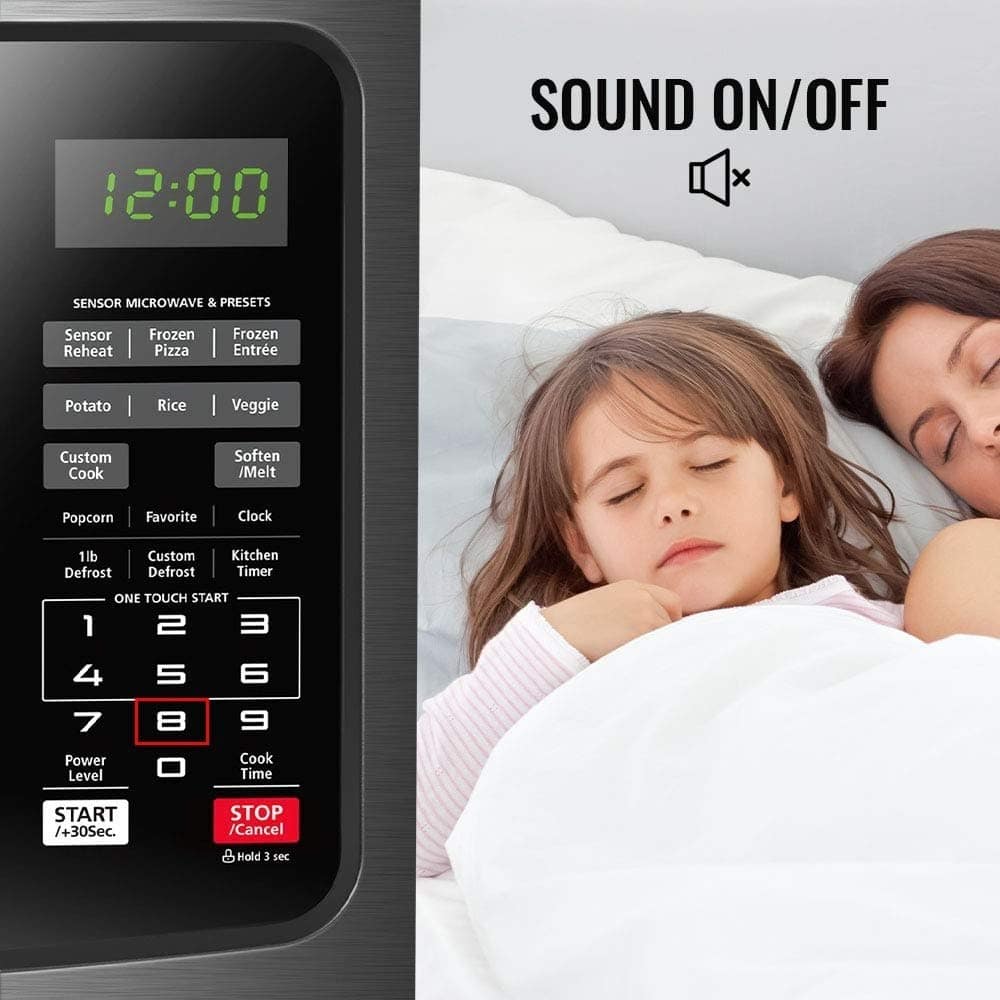 The EM131A5C-BS comes with multiple buttons dedicated to specific functions. You can find buttons dedicated to foods like Frozen Pizza, Potato, Rice, Veggie, Popcorn, and buttons dedicated to cooking options, like Custom Cook, Soften/Melt, and some defrosting options.
These options work remarkably well, popping popcorn without burning them, and defrosting according to the weight without cooking the meat or leaving the center frozen.
This Toshiba microwave also comes with an Energy-saving Eco Mode function, which minimizes up to 50% of its standby power, saving energy consumption.
My favorite feature is the "Mute" option. If you want to sneak in the kitchen to warm up a midnight snack without waking up the whole family, you can turn off the beeping by pressing the number 8 button for about 5 seconds.
It also includes a clock and kitchen timer, practically covering all your bases and giving you some extra functionality.
Design
I love timeless sleek designs when it comes to any appliance simply because it makes them look timeless, so I really liked the Toshiba EM131A5C-BS's design.
With a sleek, brushed steel body, and a monochrome color palette with only one splash of color in the shape of the "Stop" button, this microwave will fit right at home in practically any kitchen.
To make the design even better, the EM131A5C-BS features a door handle instead of the usual push button to open the microwave door. I believe the handle gives a better, more satisfying experience than a push button in any microwave.
The design also makes it easy to clean, with a smudge-resistant exterior and its interior with easy-to-remove turntable.
Overall, the EM131A5C-BS has a good-looking, functional, and sleek design.
Size and Capacity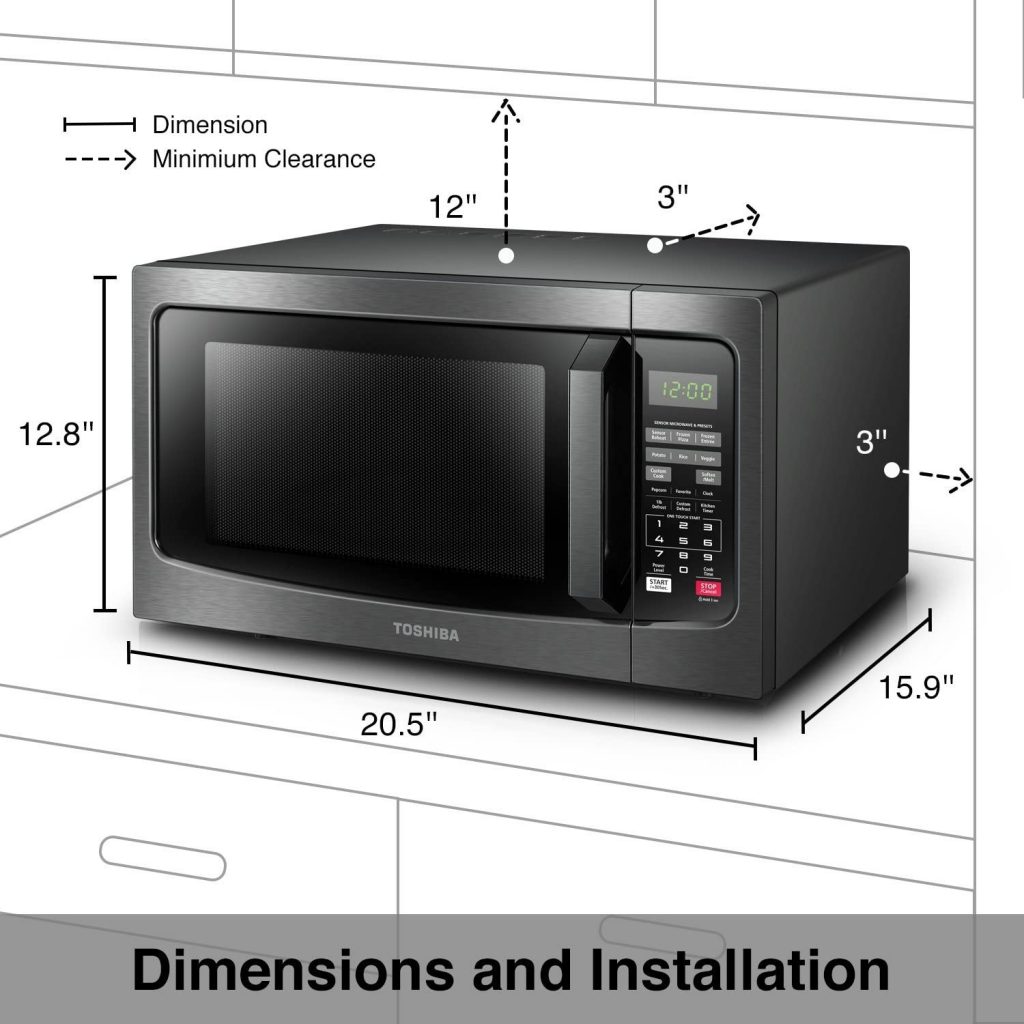 This Toshiba Microwave Oven is quite big, especially compared to slightly cheaper options out there. This may be an inconvenience if you're looking for a countertop microwave, since it does take up quite a bit of space, but it gives you far more versatility too.
With a large 1. 2 cubic feet capacity, your popcorn bag will never get stuck, not being able to turn and burning half of your popcorn while leaving the rest of the kernels unpopped. You can even fit a whole chicken in there if you need to.
And hey, if space is an issue, you can always throw it on top of your fridge to leave your counter space open.
Size: 20.5" by 17.1" by 12.8"
Performance
A roomy 1.2 cu ft. interior is always as good as its performance, and the Toshiba EM131A5C-BS certainly delivers on that.
This microwave works with inverter technology, which can cook food without spending a ton of energy.
With a power of 1100 watts, it's one of the most powerful options out there without costing too much.
This Toshiba microwave oven also has a built-in sensor that constantly detects the humidity level of your food while cooking and automatically adjusts time and temperature for better results when using the one-touch feature.
Pros and Cons
Here's where the Toshiba EM131A5C-BS shines, and where it doesn't:
Pros
One-touch controls
Door with comfortable handle
Powerful heating/li>
Versatility
Great design
Cons
Takes up a lot of space
Slightly aggressive preset options
Verdict
The Toshiba EM131A5C-BS is a great microwave oven that covers all your bases. With 1100 watts of power, useful features, great design, and roomy interior, the Toshiba EM131A5C-BS is a reliable microwave that does everything you need without breaking the bank.
Budget Pick: Toshiba EM925A5A-BS Microwave Oven
No products found.
This microwave oven is very similar to the last one, but with a few small differences that make it more affordable.
Here's what you can expect out of the Toshiba EM925A5A-BS:
Functions and Features
The Toshiba EM925A5A-BS comes with six pre-programmed settings for frozen vegetables, popcorn, pizza, potatoes, drinks, and dinner plate.
Like the last Toshiba option, you can also mute this microwave by pressing and holding the 8 button for about 5 seconds. You can also activate the Eco Mode to save electricity while on standby.
Design
The Toshiba EM925A5A-BS is very similar in looks to the Toshiba EM131A5C-BS. From the bruised stainless steel exterior, to its color palette, it looks just as good and timeless, for a bit less money.
Although less expensive, I loved the fact that Toshiba also kept the door handle in this budget flagship model, instead of the push button most cheap microwaves have.
Size and Capacity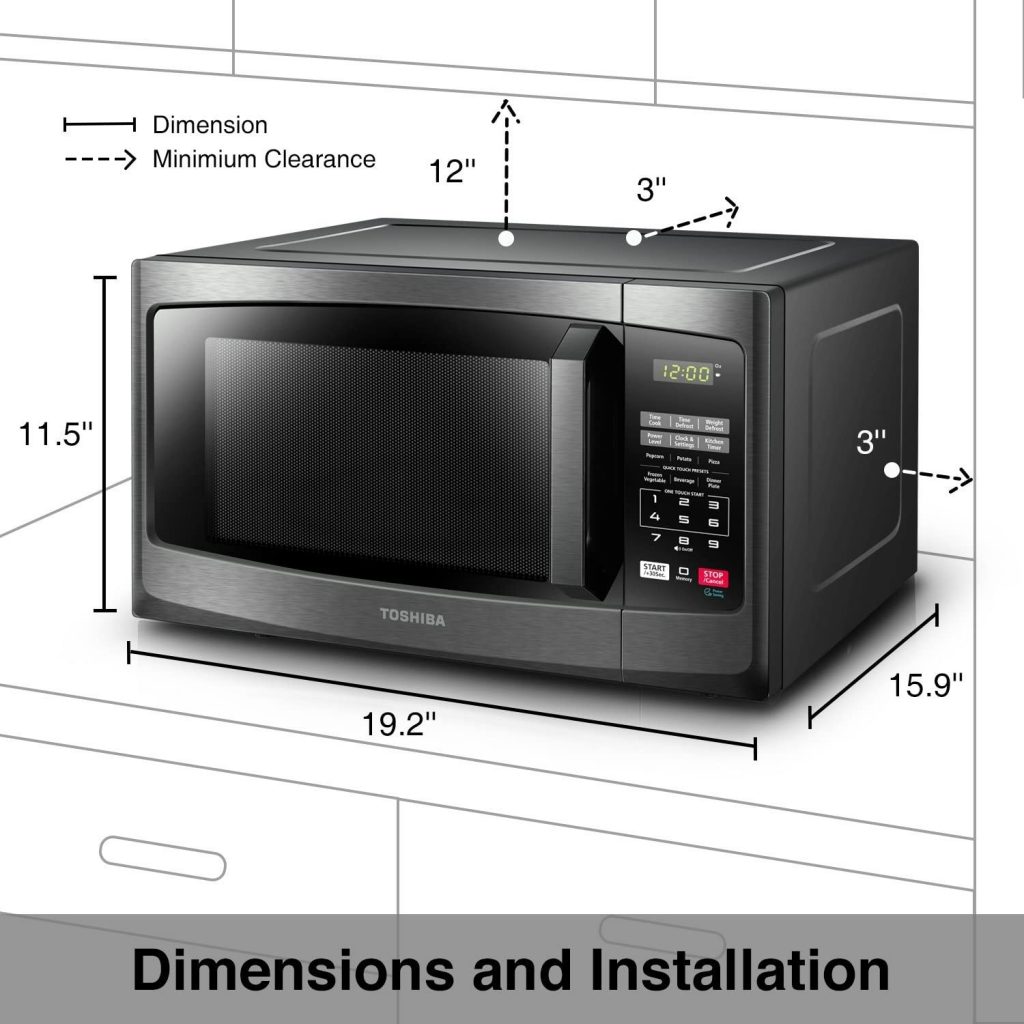 Unlike the last roomy microwave oven, the Toshiba EM925A5A-BS is more compact, making it perfect for places where you can't fit a larger oven, like dorms, offices, and kitchens with small counter space.
The 0.9 cubic feet interior is still big enough to manage a large popcorn bag with enough room, and it can fit large dinner plates too.
Size: 19.2" by 15.9" by 11.5"
Performance
Performance is where Toshiba cuts some corners to make this microwave more affordable. Instead of 1100, you get a 900 watts motor that, although less powerful, still manages to be powerful enough to properly warm-up and cook practically anything.
The EM925A5A-SS doesn't burn your popcorns, and it may even slightly overcook some of your meals with the current presets, making it more powerful than most other 900 watt microwaves out there.
Pros and Cons
Here's where the Toshiba EM925A5A-SS Microwave Oven shines, and where it doesn't:
Light and compact
Pros
Great value for its performance
Light and compact
Mute button
Sleek design
Powerful 900-watt motor
Cons
Slightly uneven heating
Lacking rubberized base to keep it from sliding
Takes a while to defrost your food
Verdict
The Toshiba EM925A5A-BS Microwave Oven is perfect for anyone looking for a flagship microwave that doesn't cost too much and that fits just about anywhere.
With multiple useful features, a powerful enough motor, and a compact design, the EM925A5A-SS will cook any food you want, even if it may need just a bit extra to get the job done.
Still, at 75% the price of my "Best Overall" pick, the EM925A5A-SS really provides a lot of value for very little money.
Most Powerful: Panasonic NN-SN686S Microwave Oven
No products found.
The Panasonic Microwave Oven NN-SN686S inverter technology is probably the best out there, making this oven incredibly powerful.
Here's everything you need to know before you buy it:
Functions and Features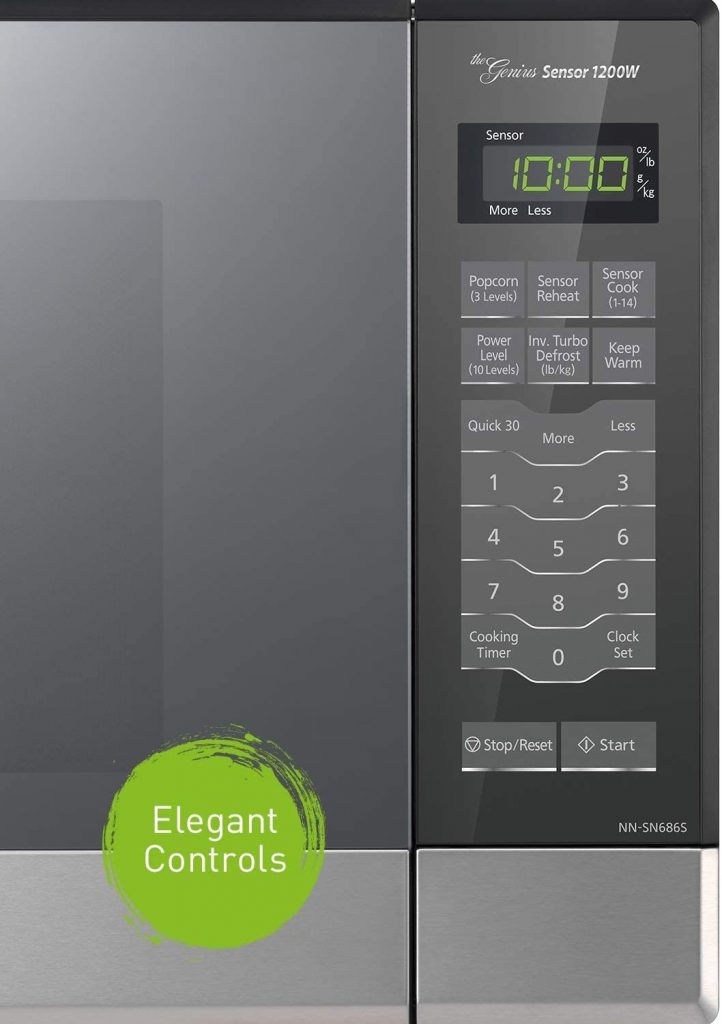 Panasonic has a patent on inverters: they are the only ones allowed to have an inverter for less than 100% power modes. Any other microwave you set to 50% power and it just cycles the microwaves on and off so that they are only on 50% of the time at full power. Panasonic you set it for 50% power and it's 50% power the whole time. This means real defrosting without cooking your food to death.
Other than that, the Panasonic Microwave Oven NN-SN686S has some of the most useful pre-set functions that'll make it incredibly easy to use.
With them, you can quickly choose cooking powers and times to fully take advantage of its inverter technology. You can expect its 14 preset items to be surprisingly accurate, making them perfect for people who actually want to use them, instead of just using the popcorn button and use the timer for everything else.
The NN-SN686S is also equipped with a sensor called Genius Sensor, which can adjust power and times in different kinds of food.
You can also use its patented Inverter Turbo Defrost Technology, which allows you to quickly defrost food by simply putting the weight of what you want to defrost and letting the microwave do the rest.
This microwave oven also comes with a "Keep Warm" feature, allowing your foods to be warm and ready when you need them.
Finally, the NN-SN686S also comes with a child lock, which I think is often overlooked, but a must-have if you have kids in the house.
Design
With a reflective, stainless steel body, the NN-SN686S will fit right in on any kitchen countertop. The number touch buttons give me a bit of a 90s vibe, but they're so minimalist that the oven will look good in any decade.
I loved that the logo isn't particularly prominent and doesn't pop out when you look at the microwave, despite it being front and center. The exterior, interior, and turntable are extremely easy to clean with a simple damp cloth.
Size and Capacity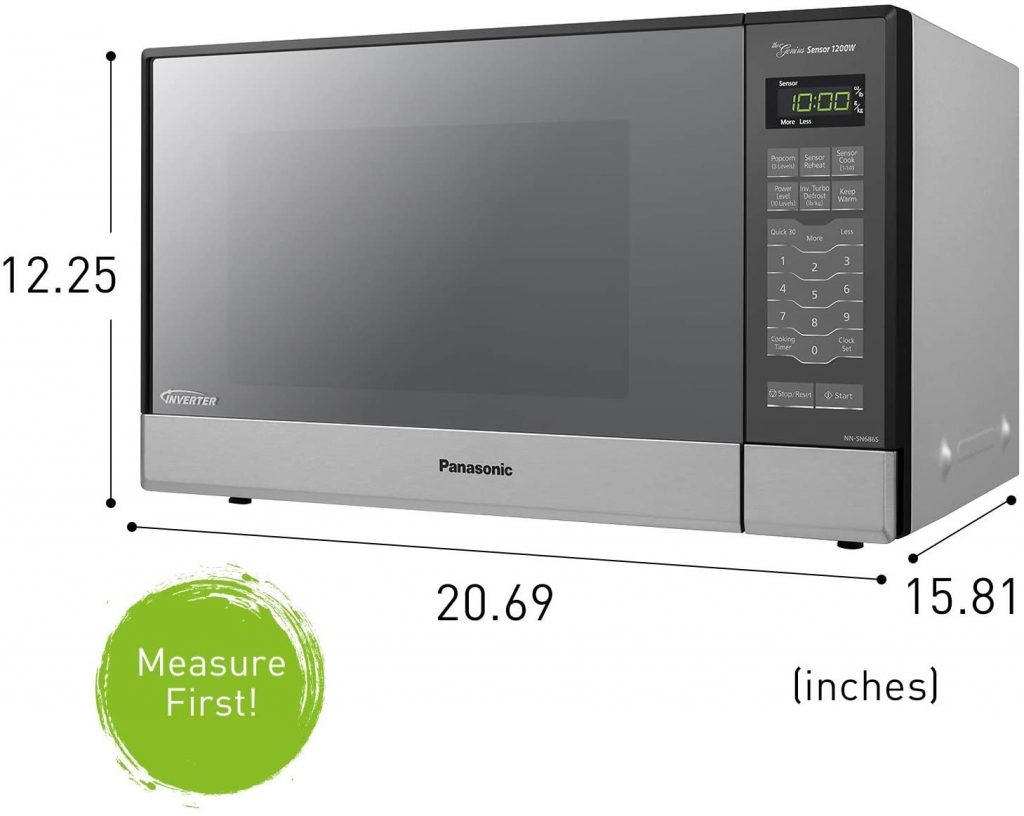 With the largest interior on the list, the Panasonic NN-SN686S features a large 1.2 cubic foot capacity. This makes it perfect for large families looking to warm up a lot of food as quickly as possible.
You don't need to cut up a large chicken to defrost, and your large popcorn bags fit with a lot of space around them.
The best part of its size is its space management, that makes the microwave oven look almost bigger on the inside.
The NN-SN686S comes with a large 13.4-inch turntable which is surprisingly light and thin, making it more manageable than smaller, heavier ones.
Size: 15.81" by 20.69" by 12.25"
Performance
The Panasonic Microwave Oven NN-SN686S' inverter technology and powerful motor easily make this the best performing microwave on the list.
Its Turbo Defrost works like a charm, making you immune to those times when you forget to take your food out of the freezer in the morning.
This microwave is so powerful that it even has three settings for popcorn. It takes a bit of fidgeting to find out which one is the best one for your brand and bag size, but, once you do, it will pop most of your kernels without burning your popcorn.
This oven also allows you to finetune heat and cooking time to perfection, making it perfect for cooking enthusiasts.
And, even if you're a beginner who doesn't know what they're doing, its preset functions are so useful, you can trust them to do the job for you.
Pros and Cons
Here's where the Panasonic Microwave Oven NN-SN686S shines, and where it doesn't.
Pros
Extremely roomy interior
Very even cooking experience
Highly-functioning preset buttons
Powerful defroster
Genius Sensor prevents overcooking
Keep Warm feature
Cons
Very small LCD screen
Expensive
Some users report software problems
Verdict
The Panasonic NN-SN686S is perfect for anyone looking for the best, most powerful countertop or built-in oven that still looks and handles as easily as any other microwave oven out there.
From food enthusiasts that look for a powerful experience to kitchen newbies looking for useful preset options, the Panasonic Microwave Oven NN-SN686S is a powerful oven option that will satisfy them all.
Best Design: Farberware Classic FMO11AHTBKN Microwave Oven
No products found.
The Classic FMO11AHTBKN Microwave Oven from Farberware is a gorgeous-looking oven for anyone who wants a colorful microwave oven that's just as powerful and versatile.
Here's everything you need to know before you buy it:
Functions and Features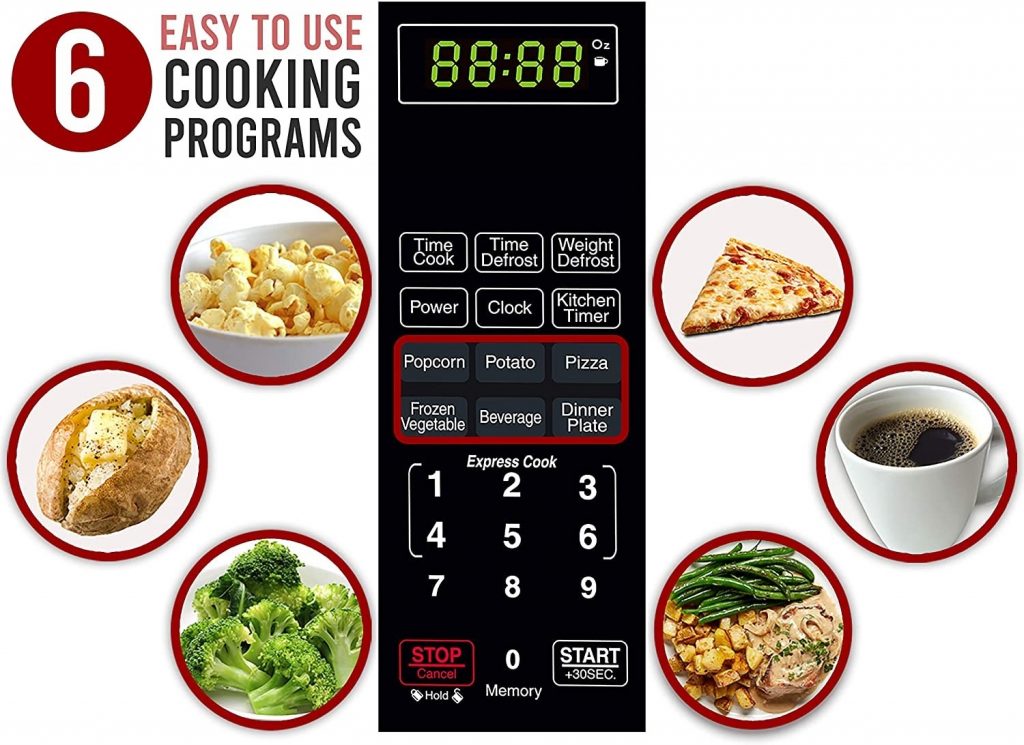 The FMO11AHTBKN comes with 6 Single-touch preset features for potato, popcorn, pizza, beverage, frozen vegetables and dinner plate.
You also have 1 through 6-minute Express Cooking quick start controls and the usual Add 30-Seconds button for when your dishes need just a bit more in there.
This microwave oven also offers multiple-staged cooking that gives you more control over your dishes, letting you defrost and cook your meals with one cycle. Its excellent memory function also remembers your cooking settings so you can set them and forget them.
Finally, you can activate its child lock by pressing and holding the "Stop" button for around 5 seconds.
Design
This microwave oven is a looker. The model I'm showing you is the deep metallic red model, but it also comes in black, black and brushed stainless steel, silver and white, and a beautiful black and copper.
The interior always comes in black, which I find is far tougher to stains and burn marks than the classic white.
I found the Farberware logo to be a bit too prominent, but I'm betting people will be looking at its design rather than at the logo.
Size and Capacity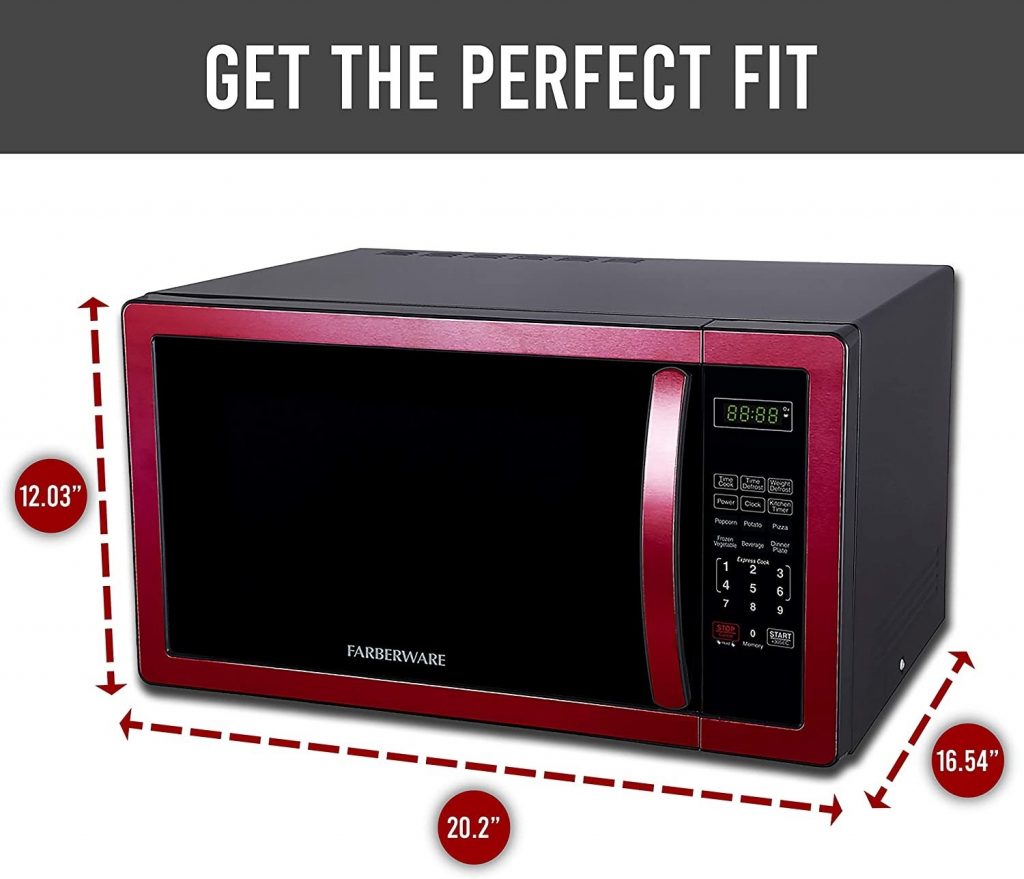 The FMO11AHTBKN comes with a spacious 1.1 cubic foot cooking capacity, making it as roomy as you may need it to be.
Popcorn bags don't get stuck and you can easily fit a 12" pizza on the solid turntable.
Although a bit on the larger side, this microwave is still compact enough to place on a countertop of anything but a small kitchen.
Size: 20.2" by 16.54" by 12"
Performance
This Farberware microwave comes with a powerful 1000 watt motor, which you can easily control with its 10 power levels to adjust the power from 10% to 100%.
The defrost by weight option is surprisingly reliable and accurate, although not nearly as powerful as the Panasonic option featured on the list.
You usually need less than a minute to heat up a pizza until the cheese is bubbling, and popcorns are almost never burnt, with most of the kernels popped.
Pros and Cons
Here's where the Farberware Classic FMO11AHTBKN shines, and where it doesn't:
Pros
Easy to use
Comes in various colors
Fits small counters
Spacious enough for most dishes
Cons
A bit louder than most microwaves
Non-replaceable light bulb
May not last as long as other options
Verdict
The Farberware Classic FMO11AHTBKN is perfect for anyone looking to add a pop of color in their kitchens with a powerful and spacious microwave for occasional use.
Its multi-task system and roomy interior make it perfect for anyone looking to prepare and warm up their foods from start to finish.
Which One Is The Best Microwave For You?
Here's my TL:DR:
Toshiba EM131A5C-BS Microwave: This oven is perfect for anyone looking for the absolute best value for the money, willing to get a powerful oven that doesn't cut corners.
Toshiba EM925A5A-BS Microwave: If you're on a budget but still want the best, this oven will give you a slightly less powerful experience in a compact oven at a fraction of the price.
Panasonic Microwave Oven NN-SN686S: If you're looking for the most powerful oven with an inverter, this is the oven for you.
Farberware Classic FMO11AHTBKN: For anyone looking for a splash of color, this oven looks extremely well without sacrificing functionality.
That's it!
Love,
G.