Pioneer, woman Brunswick stew, is a simple family dish that combines meat, veggies, and chicken stock with a barbeque twist.
This stew with southern origins is guaranteed to warm your stomachs on those winter nights.
The leftovers will have you drooling.
Although there are various versions, we show you the easiest Pioneer woman Brunswick stew recipe that brings its traditional taste.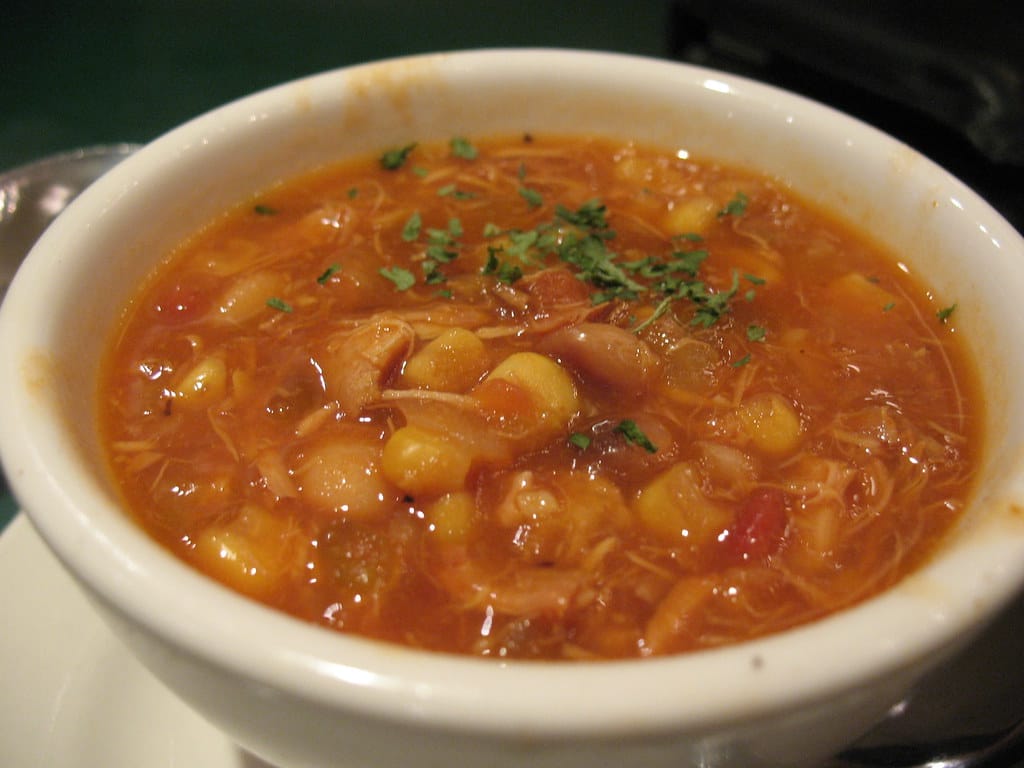 Historical Background
Originally, Pioneer woman Brunswick stew was made with wild gamey meats, particularly squirrels and rabbits, but currently, pork, chicken and beef are commonly used.
Although the ingredients and seasonings vary with the cook, all Brunswick stew chefs agree that lima beans, tomatoes, and corn are the basic items to bring out the traditional taste.
There are various versions, but the common ground for a perfect Brunswick stew is ensuring the meat is smoked for hours before cooking in the pot.
The origins of the Brunswick stew remain a hot debate.
Regardless of what you believe, the Pioneer woman Brunswick stew was created either in Georgia in 1898 or 1828 in Virginia, Brunswick County.
The Brunswick stew is a tomato- and barbeque sauce-based in Georgia, usually including roasted chicken and pork.
While in Virginia, the basic items are boiled chicken, potatoes, butter beans, corn, and tomatoes.
It's slow-cooked for hours and mostly served as a main dish with sourdough bread.
The fact that Georgians laugh about.
Our recipe combines the best of both worlds to make a perfect pioneer woman Brunswick stew.
How to make the Pioneer woman Brunswick stew recipe
The original version of the Pioneer woman Brunswick stew is meat in barbeque and ketchup sauce.
Traditionally, rabbits, opossums, and squirrels were frequently used in Pioneer woman Brunswick stew.
However, chicken and pork are the most common today.
Without losing the original Pioneer woman Brunswick stew, you can swap the beans, veggies, and spices.
Ingredients
●3 cups baked or roasted chicken, shredded
●3 cups cooked pulled pork, shredded
●2 cups baby lima beans, frozen
●2 cups corn kernels, frozen
●3 cups potatoes, diced
●4 cups chicken broth
●1 15 oz. can tomatoes, diced
●2 cups barbecue sauce
●3 tbsp. brown sugar, packed
●2 tbsp. Worcestershire sauce
●4 garlic cloves, minced
●2 tsp. black pepper, freshly ground
●1 tsp. cayenne pepper
●4 bay leaves
●1 16 oz. can early peas
●Unsalted butter/canola oil/olive oil
●Serving options
●Cornbread or biscuits
●Coleslaw
Instructions:
Making the sauce:
●Step 1: Melt butter in a saucepan over medium-low heat.
Then add guldens, mustard, white vinegar, and catsup.
Stir until the mixture is smooth.
●Step 2: Stir in minced garlic, black pepper, Worcestershire sauce, freshly squeezed lemon juice, and hot sauce.
Stir constantly until desired consistency.
●Step 3: Add dark brown sugar. Simmer on medium-high heat for about 10 minutes.
Set the sauce aside.
Making the stew:
●Step 4: Melt butter or olive oil in a large pot over low heat.
Then sauté onions and garlic for 7 minutes until fragrant.
●Step 5: Add potatoes, carrots, and chicken stock and bring to a boil.
Keep stirring until the potatoes are almost done.
●Step 6: Stir in the shredded chicken, pulled pork, bay leaves, crushed tomatoes, baby lima beans, corn kernels, and the prepared soup.
●Step 7: Reduce the heat and slow cook the mix for 2 hours.
●Step 8: Serve and enjoy
What to pair with Pioneer woman Brunswick stew
The Pioneer woman Brunswick stew is a complete dish and thus requires light sides such as:
Tossed salads – potato salads, carrots, and cucumber salads are a favorite.
Freshly baked bread – Sourdough bread, corn muffins, biscuits, and bread rolls are the most commons sides for Pioneer woman Brunswick stew.
Roasted veggies include roasted asparagus and carrots, butternut squash, or roasted mushrooms.
Recipe tips: Pioneer woman Brunswick stew
●Use fresh vegetables to bring out a colorful flavor for your Brunswick stew.
You can use celery, capsicum, and other flavorful items to maintain the stew's basic ingredients.
●Add the veggies together with meat.
This ensures they cook properly and enhances the taste.
●Mash up a few cooked potatoes and simmer over high heat for a few minutes longer for thicker Brunswick stew.
Alternatively, you can substitute cooked potatoes with canned ones, achieving thick results and flavors.
●Slow cook the Brunswick stew to get tender and thicker results.
Nutritional Facts: 1 Serving
●Calories from Fat 125
●Calories 287
●Total Fat 14g
●Saturated Fat 4.7g
●Trans Fat 0.2g
●Cholesterol 74mg
●Sodium 462mg
●Potassium 574mg
●Total Carbohydrates 17g
●Dietary Fiber 2.4g
●Sugars 9.6g
●Protein 24g
Storage tips:
Leftover Pioneer woman Brunswick stew
This is one of those stews that tastes even better days later.
You can either refrigerate or freeze depending on your needs and prepared portions.
Refrigerating – pack in an airtight container and place in the fridge.
Store for up to 4 days.
Freezing – Let the stew cool and place in an airtight container leaving about half an inch outer space.
Store for up to three months in the freezer.
Defrost overnight before reheating and serving.
Storing the ingredients
No one loves frequent visits to the store.
So, here are ways you can store the ingredients for preparing Pioneer woman Brunswick stew:
Fresh produce- this includes carrots and tomatoes for our recipe.
The best way to freeze veggies is to blanch them first, then slightly boil and dry them before storing.
Place in zip-top freezer bags and freeze for up to 3 months.
Meat – divide your meat into portions and double wrap with plastic wraps then into a zip-top freezer bag; this extends their shelf life and prevents freezer burns for up to two months.
How to thaw frozen pioneer woman Brunswick stew
The first method is to place Brunswick stew in a fridge for 36 hours before reheating in the microwave, oven, or skillet.
Secondly, use a warm bath.
Heat some water in a large pot until it becomes warm, not boiling.
Place a container with the frozen stew bags in the warm water bath.
The frozen items will defrost in about 2 hours.
How to reheat pioneer woman Brunswick stew
In the oven
Preheat the oven to 3500F.
Tightly wrap the leftovers with aluminum foil, place them in an oven-safe dish, and then place them in the preheated oven.
Reheat for 40 minutes, stirring occasionally halfway.
In the microwave
Put the Brunswick stew in a microwave-safe dish, cover with a lid, and place in the microwave for about 4 minutes.
Stirring every 1 minute to allow the stew to reheat evenly.
In a skillet
Place the leftover thawed in a large skillet over low heat.
Add some water or chicken broth to give your stew some moisture.
Heat for 20 minutes, stirring occasionally.
Avoid overcooking it.
Frequently asked questions (FAQs)
How do you cook Pioneer woman Brunswick stew with potatoes?
There are two ways to do this.
First, you can opt to use the potatoes as the main item; for that case, add both meat and potatoes together to blend well and result in a thicker flavorful Brunswick stew.
When using potatoes and other veggies, add together the meat and potatoes then the veggies later.
How do I thicken the Pioneer woman Brunswick stew?
Either use cream corn, okra, or mashed potatoes.
Okra and cream corn enhance a thick texture and twist the taste of the Pioneer woman Brunswick stew.
Additionally, you can simmer the mixture over high heat for a few extra minutes to evaporate the stew's water and retain a thicker texture.
How long does the Pioneer woman Brunswick stew take to cook?
Pioneer woman Brunswick stew takes about 3 hours in the slow cooker.
However, this depends on the quality of your ingredients.
Fresh items will take less time than frozen ingredients.
It also depends on your skills level.
What were the ingredients in the original Brunswick stew?
Pioneer, woman Brunswick stew, is a tomato-based stew that greatly varies depending on the cook.
However, the basic original ingredients included corn, okra, and a variety of lima beans.
Originally, game (rabbits and squirrel) meat was popularly used, but chicken or pork is common in recent times.
What's differentiates Brunswick stew from the normal beef stew?
Beef stew is a basic stew composed of beef, veggies, tomato sauce, and simple seasonings.
On the contrary, Brunswick stew has a spicy edge that originates from combining barbeque sauce and smoked pork, chicken, or beef.
Brunswick stew also combines more than one type of meat, while beef stews are one meat meal.
Can you cook the Brunswick stew in the oven?
Yes, you can.
However, you have first to cook it on the stovetop.
Cover and transfer the pioneer woman Brunswick stew to the oven and slow cook for 2 hours when it is ready for slow simmering.
Who wouldn't want a stew that tastes better as a leftover?
The pioneer woman Brunswick stew is simple to prepare; you can use leftover pulled pork or cooked beef.
Interestingly, the barbeque sauce and ketchup combine well with any veggies of your choice.
Thus, besides getting a rich flavor, you get the desired health benefits.
The stew is adjustable to large or small crowds, particularly in fall and winter.
Give it a try, and your loved one will enjoy it.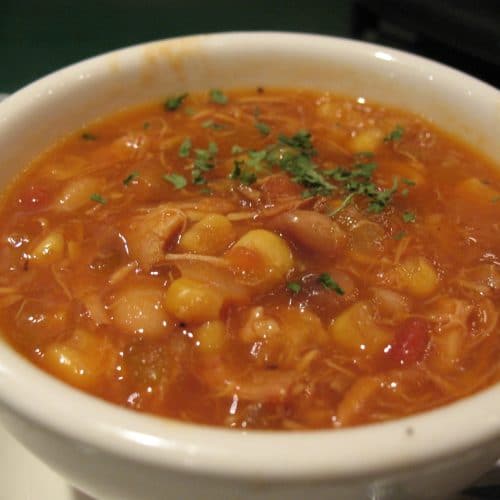 Pioneer woman Brunswick stew recipeː The smoky stew
Pioneer, woman Brunswick stew, is a simple family dish that combines meat, veggies, and chicken stock with a barbeque twist.
Ingredients
3

cups roasted

chicken

3

cups cooked pulled

pork

2

cups baby lima

beans

2

cups

corn kernels

3

cups

potatoes

4

cups broth

chicken

1 15

oz. can

tomatoes

2

cups

barbecue sauce

3

tbsp.

brown sugar

2

tbsp.

Worcestershire sauce

4

garlic cloves

2

tsp.

black pepper

1

tsp.

cayenne pepper

1 16

oz. can early

peas

Unsalted

butter

Cornbread

Coleslaw
Instructions
Melt butter in a saucepan over medium-low heat.

Then add guldens, mustard, white vinegar, and catsup.

Stir until the mixture is smooth.

Stir in minced garlic, black pepper, Worcestershire sauce, freshly squeezed lemon juice, and hot sauce.

Stir constantly until desired consistency.

Add dark brown sugar. Simmer on medium-high heat for about 10 minutes.

Set the sauce aside.

Melt butter or olive oil in a large pot over low heat.

Then sauté onions and garlic for 7 minutes until fragrant.

Add potatoes, carrots, and chicken stock and bring to a boil.

Keep stirring until the potatoes are almost done.

Stir in the shredded chicken, pulled pork, bay leaves, crushed tomatoes, baby lima beans, corn kernels, and the prepared soup.

Reduce the heat and slow cook the mix for 2 hours.

Serve and enjoy
Nutrition
Calories:
1596
kcal
Carbohydrates:
114
g
Protein:
100
g
Fat:
83
g
Saturated Fat:
26
g
Polyunsaturated Fat:
14
g
Monounsaturated Fat:
35
g
Trans Fat:
1
g
Cholesterol:
351
mg
Sodium:
1727
mg
Potassium:
2622
mg
Fiber:
14
g
Sugar:
63
g
Vitamin A:
2706
IU
Vitamin C:
99
mg
Calcium:
186
mg
Iron:
9
mg
---