These mouthwatering mexican chicken recipes are the perfect way to get your family in the mood for Mexican food!
From enchiladas and tacos to chowder and chili, you can't beat these hearty dishes.
They're so delicious, you won't even realize they're full of Mexican flavors.
If you like your food spicy, colorful, and full of flavor, then you've got to try these mexican chicken recipes.
With a few simple swaps, they become an easy weekend meal that anyone can enjoy.
So crack open a bottle of salsa and get ready to dive into some mouthwatering Entomatadas.
I dare you!
Shredded Mexican chicken is a surprisingly easy side dish.
Just toss some shredded chicken in a simple marinade, and it's ready to go.
The recipe calls for chili powder, cumin, oregano, salt, and pepper.
I know that doesn't sound like an elaborate list of spices, but it's enough to make the shredded chicken taste incredible.
In fact, you can even use dried or fresh herbs if you prefer.
I just like flavor with every bite.
Serve this shredded Mexican chicken with corn chips or tortilla strips for extra crunch and color.
This shredded chicken is a game-changer.
It's loaded with flavor and the perfect oil-free recipe for keto dieters.
The best part?
It's easy to make, too! Just toss everything in a slow cooker and let it do its magic.
You can customize this with your favorite taco seasoning or throw in whatever herbs you like best.
(I really love cilantro, so that's what I use.)
This recipe is the perfect solution to a busy weeknight.
If you're looking for something light and filling, this chicken dish will do the trick.
The sauce makes it creamy and flavorful, and it's packed with veggies like black beans, corn, and tomatoes.
Plus, there are plenty of spice options available.
I go bold with chipotle peppers in adobo sauce and jalapenos!
If you need something a bit more spicy, try adding some dried ancho chiles.
This crockpot Mexican chicken is such a satisfying meal.
It's full of flavor and a nice change from the usual.
The chicken is marinated in lime, spices, and cilantro with zesty sauce on top.
Pro tip: instead of adding pepper to the marinade, use jalapenos for added heat.
Serve it with rice and beans or some cornbread for a complete meal!
This is a fantastic dish for those who want something quick and easy.
Serve it with tortilla chips, salsa, avocado slices, or other fixings.
The chicken rice itself is ridiculously filling.
But the spices add a warmth that cuts through all of that.
And if you're looking for something to use up leftover rotisserie chicken, this is perfect!
If you're looking for a tasty dish to serve at your next potluck, give this Mexican chicken casserole a try.
It has all of the classic Mexican flavors, including mild spices and all of the fresh veggies.
The chicken is tender and moist, and the diced tomatoes are so juicy!
This recipe also has some great herbs and seasonings that add to every bite.
Serve it as an appetizer or with your main dish for a delicious meal.
If you're looking for a way to keep your family fed and hydrated, look no further than this Mexican chicken soup.
This cozy soup is loaded with tender beef, herby beans, tomatoes, corn, and spicy cilantro.
It's the perfect dish to warm up on a rainy day.
Serve it up with cornbread or crusty bread for dipping!
This one-pan Mexican chicken and rice will satisfy even the most demanding of tastes.
It's the ideal meal for busy weeknights when you don't have time to cook.
The dish features a potent combination of Southwest flavors that amp up your tastebuds.
Serve it with a side of white rice, and garnish it with some fresh cilantro and lime wedges.
Delish!
This Mexican chicken adobo is the perfect side for a meal.
It's easy to make and so tasty!
The chicken is seasoned with cumin, paprika, salt, and black pepper.
Then, it's wrapped in tortillas and baked.
It's pretty much the Spanish way of cooking meat.
The tortilla adds a nice crunch and allows the flavors to meld perfectly.
Serve this on tacos or as a sandwich filling with lots of cheese.
If you love enchiladas, then you'll fall in love with these amazing cream cheese chicken enchiladas!
I mean, how could you resist that?
It's covered in a thick, creamy sauce and topped with shredded chicken.
It's cheesy perfection.
You can make this dish ahead of time and freeze it for later.
Just pop it into the freezer and when your craving hits, just pull it out.
I don't know about you, but I love anything with a creamy and flavorful cheese sauce.
And this recipe is no exception!
You can make it in less than 30 minutes with just five ingredients: shredded chicken, cream cheese, cheddar cheese, cilantro, and lime juice.
The best part? This is a healthy and hearty dish perfect for any occasion.
It's ideal for busy weeknights when your family needs something quick and easy.
The best part about this dish is the queso!
I mean, come on – queso?
It's a little bit like stuffing.
And it definitely doesn't hurt that you can get tons of flavor from both ingredients.
Plus, you have all the fixings here – rice, chicken, beans, peppers – so you'll have plenty to pick at!
For something different and tasty, try adding some cornbread to add a bit of texture and a touch of sweetness.
This recipe is my go-to way to eat street corn.
I love how it's the perfect blend of sweet and crunchy, with a little bit of heat.
It's also super easy to make, taking just 15 minutes from start to finish.
And you can use store-bought tortillas if you want something more authentic.
Sometimes, all it takes is a few simple ingredients to get your kitchen cooking magic going.
This marinade for chicken is perfect for making quick and easy dinners.
All you'll need to do is mix everything together and let the chicken sit for a few hours before serving.
It's great on chicken wings, but you can use it in any meat that needs tenderizing.
Mexican chicken skillet is a healthy, delicious meal that's super easy to make.
It's the perfect dish for busy weeknights and busy cookouts.
The skinny version of Mexican chicken is topped with green onions, tomatoes, and cheese.
It's smoky, spicy, and loaded with flavor.
This recipe also calls for a whole wheat flour tortilla shell.
These are great when you need a filling, crunchy wrap to carry your meal over the finish line!
This recipe is a fun way to use up leftover chicken and beans.
It's a tasty, easy meal that gets better with addition of some avocado, cilantro, and lime.
The taste of this dish is as bright and flavorful as it looks.
It's a complete meal in itself!
If you want something more exciting than just chicken, add some Mexican rice or cornbread on the side to soak up all that deliciousness.
These empanadas have a filling of shredded chicken, refried beans, and Mexican rice.
However, they can be made with any kind of ground meat you prefer.
I like to use chorizo or turkey because it's easier and cheaper that way.
You can also try sausage if you prefer.
If you want them to be extra crispy, cook the dough in a hot skillet before adding the mixture inside.
Or, why not make some homemade tortillas?
Mix all the filling ingredients together and then wrap them in the dough for easy meal prepping.
It's the perfect way to kick off your day with a hearty meal.
This chicken, black bean and sweet potato skillet is the perfect blend of flavors.
The chicken is tender and flavorful while the vegetables are ultra-skinny.
The salsa adds a delicious component that pairs perfectly with each dish.
Best of all, this recipe only takes 20 minutes to make! So get ready for an explosion of flavor in your mouth!
Here's another recipe for chicken salad that'll have you coming back for more.
This Versace jewel has a mouthwatering mix of shredded chicken, avocado, tomato, red onion, and more.
You can make it even more Mexican by mixing in some black beans and taco sauce.
The dressing is simple but fantastic.
This rustic and savory salad is full of flavorful ingredients, including chicken breasts, corn, cilantro, and spices.
I love the addition of avocado slices for extra creaminess.
And if you want to kick things up a notch, go ahead and add some avocados to the mix!
Serve this with tortilla chips or fresh veggies for the perfect summer meal.
Enjoy!
This is just like my favorite taco nights with beef, but I've made it with chicken instead.
The trick to using ground chicken is to always use the smallest pieces possible.
That way, they cook up perfectly on the inside while leaving lots of meat on the outside.
Mexican stuffed peppers are the perfect appetizer for taco Tuesdays, or just because you have a craving.
They're hearty and filling, but they're also pretty light.
That way, even if you don't feel like eating dinner that night, these will be there waiting for you in the morning.
The jalapeños add a spicy kick that balances out the creamy filling nicely.
You can adjust the heat if you want something more mellow.
And I recommend serving this with black beans or guacamole.
These Mexican entomatadas are the perfect vegetarian or vegan lunch option.
The mixture of spices and salsa adds a delicious flavor that you'll love.
The chicken is tender and falling-apart juicy, and the cheese melts beautifully.
It's an ideal accompaniment to any meal.
Eggs, potatoes, peppers, cheese, onions – this is one breakfast burrito that'll make you feel like a kid again!
Try it with egg whites if you want something extra creamy and indulgent.
This recipe has thick and juicy chicken breast.
It's perfect for the creamiest eggs ever!
And you can use whatever veggies you have on hand: bell peppers or even green chiles would work well here.
Serve it with a side of fresh fruit or a big helping of chips to take the edge off.
That should do it!
If you're looking for a healthier chowder recipe, look no further than this Mexican chicken corn chowder.
It's packed with flavor and is sure to satisfy your tastebuds.
It's also great for summer BBQs or anytime of year.
With fresh veggies, chicken, corn, and beans, it has everything you could ask for when cooking with food!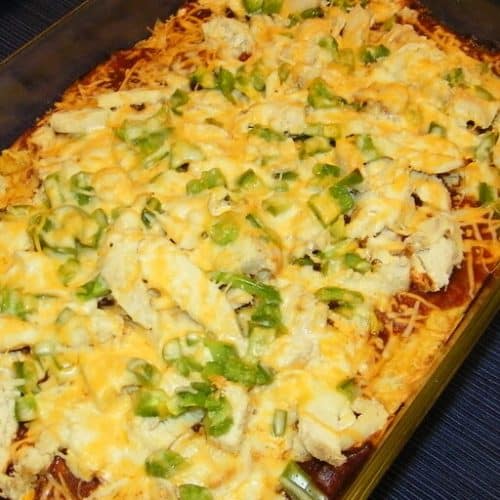 Mexican Chicken Casserole
If you're looking for a tasty dish to serve at your next potluck, give this Mexican chicken casserole a try.
Ingredients
3

cups

crushed tortilla chips

15

oz.

black beans

2

cups

chopped cooked chicken

1

teaspoon

ground cumin

21

oz.

cream chicken soup

10

oz.

Rotel tomatoes

2

cups

shredded jack cheese

2

cups

shredded medium cheddar cheese

1

tomato

1

bunch cilantro
Instructions
Grease a 13×9 casserole dish with nonstick cooking spray and preheat the oven to 350°F.

One cup of lightly crushed tortilla chips should be distributed evenly on the bottom of the baking dish.

On the smashed chips, spread out the diced chicken and black beans.

The cream of chicken soup should have 1 teaspoon of cumin added. REMOVE ALL WATER AND MILK FROM THE SOUP. Using a spatula, gently distribute the soup mixture over the chicken and beans, covering the entire surface. On top of the soup layer, add canned tomatoes.

On top of the tomato layer, evenly distribute the remaining crushed chips and cheese.

Bake the casserole for 25 to 30 minutes, or until it is hot, bubbling, and the cheese is completely melted.

Add chopped tomatoes and cilantro to the casserole's garnish.

Serve right away with a fresh jalapeo slice or two.
Video
Nutrition
Calories:
2520
kcal
Carbohydrates:
201
g
Protein:
129
g
Fat:
137
g
Saturated Fat:
56
g
Polyunsaturated Fat:
27
g
Monounsaturated Fat:
38
g
Trans Fat:
0.1
g
Cholesterol:
342
mg
Sodium:
4192
mg
Potassium:
2219
mg
Fiber:
30
g
Sugar:
9
g
Vitamin A:
4392
IU
Vitamin C:
28
mg
Calcium:
1971
mg
Iron:
14
mg
---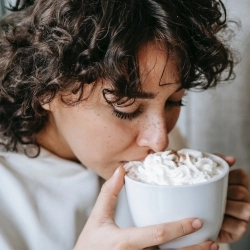 Latest posts by Grace Lambert
(see all)