These crispy chicken cutlet recipes are sure to satisfy your hunger.
From chicken parmesan to chicken katsu, there's something for everyone!
Chicken is a delicious meat that's fun to cook.
It also happens to be cheap as hell, which makes it an excellent choice for budget-friendly meals.
These chicken cutlet recipes are all simple to make and result in scrumptious results.
I guarantee you'll love these easy meals.
So, let's get cooking!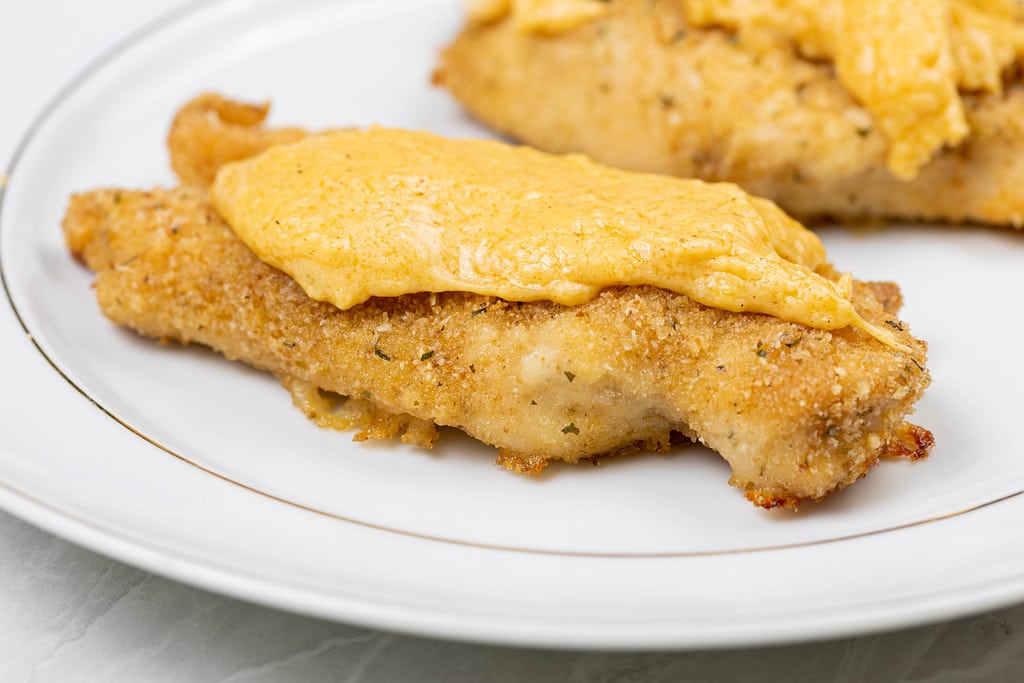 The best way to cook chicken cutlets is in the pan.
The crispy exterior will impart such a fabulous flavor and texture.
The secret to making these juicy, flaky, golden rounds of goodness is using a large cast-iron skillet.
That way, all the cuts are cooked evenly in one big batch.
You can use this recipe as an appetizer or even as a healthy side dish on your next dinner party.
If you love chicken parmesan, then you'll go gaga over this Italian twist on the classic dish.
The base is made with marinara, which is a more affordable version of cheese sauce.
It's not as rich but still soooo good! It also makes for a great shortcut to make ahead of time.
Serve this recipe with whole wheat spaghetti or penne noodles for an extra creamy meal.
Cup your bowl and get ready for an explosion of flavors in your taste buds!
Chicken Francese is a classic Italian dish that's made with fried chicken coated in breadcrumbs and deep-fried to a golden brown perfection.
The chicken is flavored with herbs and spices, which gives it such an outstanding flavor from the inside out.
As for the breading, it's crunchy on the outside and soft but crispy on the inside.
Yum!
This honey mustard chicken is a terrific way to utilize all of the juicy yummy goodness from your chicken.
It's sweet, savory, and full of mouth-watering flavors.
The chicken is so flavorful that you might mistake it for something on the grill.
And don't worry, it will be done in no time!
To make this dish even more mouth-watering, serve it with some roasted broccoli or Brussels sprouts.
Yum!
Chicken katsu is a Japanese dish made with fried chicken cutlets and breaded and deep-fried in a batter.
It's always served with miso soup or creamy garlic sauce.
The most popular ingredients that go into this dish are the breading, chicken, and the soy sauce.
So, if you want to make it authentic, you should use Japanese soy sauce.
But I think any good quality soy sauce will work well in this recipe!
This chicken is coated with a crunchy, cheesy crust and topped with fresh herbs.
It's an absolutely decadent and indulgent dish that you'll want to make again and again.
The chicken is seasoned with Italian spices, giving it a wonderful flavor that pairs so well with the herbs and cheese.
The breasts are then pan-fried for the most crispy texture.
Serve this dish topped with some roasted potatoes or sauteed veggies for added nutrients.
You can't go wrong with chicken cutlets, right?
If you're not a huge fan of the green-ish color they get when cooked, you might want to try this recipe.
The lemon and rosemary butter sauce is simple but so perfect.
I like to add some fresh parsley for a bit of a crunch, too.
Have you ever tried chicken and gravy?
It's simple, but it's one of those things that'll stick with you for a long time.
Do yourself a favor and make this slow cooker chicken and gravy recipe today!
I promise your taste buds will be begging for more.
If you're looking for a tasty dish that's healthy, easy to make and is packed with flavor, this lemon butter chicken scallopini is your go-to.
It has a combination of juicy chicken and garlicy scallops baked in a buttery lemon sauce.
The zing of lemon pairs so well with the rich and creamy flavors of the sauce.
And best of all, it only takes 20 minutes to make!
This chicken Milanese recipe is a fantastic example of how easy it is to pull together an amazing meal.
The combination of creamy, cheesy sauce and succulent chicken are two ingredients that work so well together.
It's a simple dish that you can make in just 30 minutes.
Serve it with rice or noodles for a complete meal from start to finish, and your family will love you forever!
This recipe is the perfect excuse to get your hands on some Cordon Bleu.
The chicken is tender and juicy, accompanied by a thick, creamy Parmesan sauce.
Perfectly seasoned with salt and pepper, it's one of the most flavorful dishes you can make in your kitchen.
And if you're lucky enough to have parmesan cheese at home, don't be afraid to go crazy!
These parmesan chicken cutlets are a fantastic way to enjoy a high-protein meal on busy weekdays.
The breading is the perfect complement to the juicy chicken.
And the Parmesan shavings add an extra dose of salty, cheesy goodness that'll make your tastebuds jump!
Serve with steamed veggies and roasted potatoes for an easy and healthy meal.
If you've been dreaming of getting your hands on a batch of homemade chicken curry, then you'll want to try this recipe!
It's creamy and dreamy.
The coconut milk adds richness and lifts up the tenderness of chicken.
Plus, it doesn't have any cholesterol or saturated fat.
Serve it with rice for a satisfying meal that's sure to please even the pickiest eaters.
They might look like chicken nuggets, but these are actually garlic butter chicken bites.
The panko breadcrumbs give them a crispy exterior and a buttery flavor, while the garlic butter sauce adds a wonderful umami taste to every bite.
And then there's the lemon asparagus.
It's not often that you see it in recipes, but it makes such an amazing contrast with the mild flavors of the chicken.
To make this dish even more mouthwatering, serve it with rice or noodles for a complete meal.
This chicken stew is the perfect dish to keep you warm and cozy on a cold night.
It's made with tender, juicy chicken thighs flavored with herbs, wine, and butter.
The result is a chicken stew that's rich, complex, and downright delicious.
Plus, it's easy to make ahead of time!
Another wonderful way to get your kids to eat is to serve them chicken piccata.
The rich, creamy sauce goes well with the tender chicken and fresh herbs.
You'll also use white wine vinegar in this recipe, which adds a bit of tanginess that makes this dish even more delicious.
Plus, it pairs beautifully with the capers.
Serve this amazing dish on its own or top it off with some garlic bread.
Yum!
If you're like me and love the tangy sweetness of honey, this baked panko chicken is for you.
The sauce has a perfect balance of sweet, spicy, and salty flavors.
And it's so easy to make.
Combine the ingredients until everything is coated in a light coating of breadcrumbs.
Then cook it in the oven until golden brown.
Top with some veggies and extra sauce if desired.
Katsu curry is a classic Japanese dish that's worlds away from the typical beef and rice.
It's so delicious, you won't believe it only takes a few minutes to make.
Serve katsu curry with rice or on its own for a complete meal.
You can also add some good ol' Japanese veggies for extra nutrients!
This chicken cutlet recipe is perfect for when you need something simple and delicious.
The chicken is tender and juicy, and the sun-dried tomatoes add a lovely, fresh flavor.
The creamy sauce coats everything in delightfully rich flavors.
Serve this on its own or with a salad.
Either way, it's sure to satisfy your tastebuds!
This skillet is a rich, creamy concoction that's perfect for any meal.
It's the ideal way to use up those fresh basil leaves.
The chicken and garlic are tender and flavorful, and the basil adds a beautiful depth of flavor.
Serve it with rice or quinoa for a complete meal.
Or, top it off with some crusty bread for an extra filling bite.
This burger takes the classic chicken katsu curry and adds a layer of creamy tandoori sauce covered in lettuce, tomato, and onion.
It's an easy burger recipe that is perfect for any occasion.
But you know me; I love it on burgers with red onions, fried onions, and cilantro.
This meal can be served up as a starter or main at your next BBQ.
Either way, it will go down a treat!
Let's get real here: chicken cutlets are one of the worst things you can cook.
They're dry, tasteless, and have no flavor.
But if you keep them simple and stick to a few key ingredients, this recipe will be a slam-dunk.
I like to mix up the seasoning when it comes to my chicken cutlets.
Use onion powder, garlic powder, salt, pepper, paprika, cumin, oregano – I think that describes all of them!
Once you have your seasoned chicken cutlet mixture ready (and marinating), just pat it out on the baking sheet before roasting.
This chicken piccata is a wonderful balance of sweetness and spice.
The chicken is juicy, tender, and perfectly seasoned.
Meanwhile, the artichokes are brimming with flavor and bright green color.
The capers lend a bit of crunchiness to this dish that balances out all the delicious flavors.
Serve it over a bed of mashed potatoes for an elegant dinner that will surely impress your guests!
This chicken sorrentino is a delicious, healthy meal that will fill you up and keep you full for hours.
It's full of juicy chicken, veggies, cheese, and meaty prosciutto.
The eggplant isn't overdone like so many eggplant recipes are.
It gets a bit crisp and tender with every bite.
Serve it over crusty bread with a drizzle of olive oil or balsamic vinegar to liven things up.
This recipe is another fantastic way to get the tastiest chicken cutlets ever!
The key ingredient here is ginger, which can make or break a dish.
It gives the chicken cutlets that balance of flavors you need in every bite.
To get the right amount of flavor, you'll add garlic, ginger, soy sauce, and sesame oil.
I like to keep these ingredients in separate containers so they don't mix together.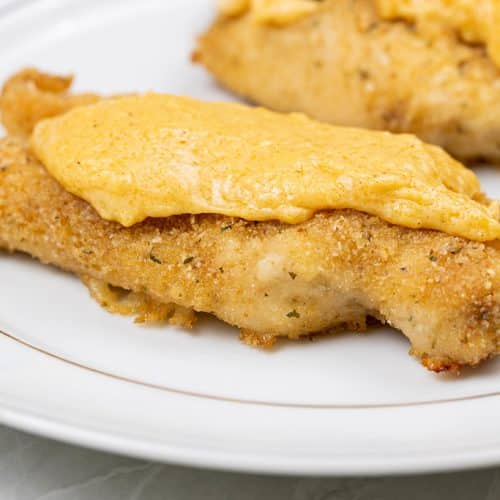 25 Delicious Chicken Cutlet Recipes
These crispy chicken cutlet recipes are sure to satisfy your hunger. From chicken parmesan to chicken katsu, there's something for everyone!
Instructions
Select your favorite recipe.

Organize all the required ingredients.

Prep a delicious shrimp dinner in 30 minutes.
---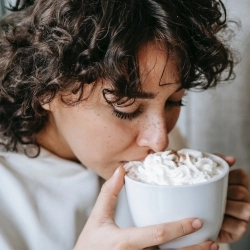 Latest posts by Grace Lambert
(see all)