Looking for the best chicken and shrimp recipes?
From paella to pasta to fried rice, these are some of the best ways to use both in your kitchen.
There are plenty of ways to combine chicken with shrimp.
And while they can be cooked in many different ways, I like to feature some of my favorite recipes from around the country.
From hearty Jambalaya to fresh pan-fried shrimp and shrimp stew, there's something for everyone on this list of chicken and shrimp recipes.
Let's dig in!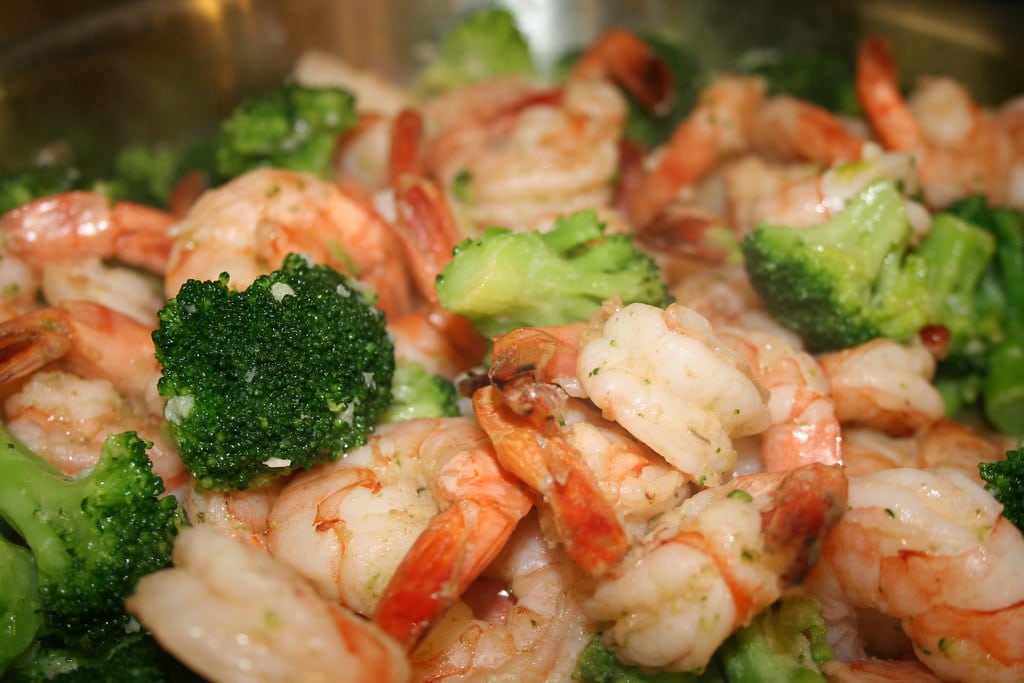 This chicken and shrimp paella is the perfect way to round out your meal from this list.
The chicken and shrimp are seared in a skillet until they're perfectly cooked.
Then, they're added to a thick tomato-based sauce that's ladled over rice.
This dish is full of so much deliciousness that it can easily feed a crowd!
If you're in the mood for something new and exciting, look no further.
This Cajun chicken and shrimp Alfredo is a game-changer.
It combines tender chicken thighs with succulent shrimp that gets coated in a creamy sauce.
It's like eating two different meals into one.
And it doesn't even need to be made from scratch.
You can have the same dish ready in just 30 minutes!
Not only that, but this dish is loaded with flavor! While it has plenty of spice, it's also loaded with garlic and lemon juice.
That makes it even more delicious than the original recipe by itself.
Looking for a special dish to serve your loved ones on their Christmas dinner?
This Cajun chicken, shrimp, and pasta is the one you should make.
This one-pot meal features tender chicken and succulent shrimp with a zesty Cajun seasoning.
It's insanely delicious!
The pasta sauce is creamy, garlicky, and full of flavor.
If you're looking to impress your family and friends this holiday season, try this recipe.
This chicken and shrimp gumbo is a simple dish but is packed with flavor.
It's rich, creamy, and features plenty of fresh veggies.
The combination of chicken, shrimp, and the roux makes this gumbo so tasty!
So if you want to eat healthier without giving up on the flavors your family loves, give it a try.
You can easily make this recipe ahead of time.
Just store it in an airtight container in the fridge for up to 3 days.
The Spanish paella is a rich, hearty dish made with rice and seafood.
To make it as authentic as possible, you'll add chicken and shrimp.
Coordinating flavors of tomato sauce, garlic, tortilla chips, pork or beef stock, squid ink pasta noodles, lemon zest, olive oil, and fresh herbs make this paella one of the most impressive meals.
It has a taste that brings Mediterranean flavors to your home!
Jack Daniel's chicken and shrimp is a dish that can only be found at The Rusty Rail.
The name alone makes you want to sample this extraordinary dish.
It features juicy chicken cutlets paired with tender shrimp and plenty of pan-fried goodness.
The only thing missing is a bit of Jack Daniel's drizzle on top.
I'm not big on chicken and pasta, but this dish is a total game changer.
It's the perfect balance of flavors with the crisp rice and tender chicken.
It also features the rich sauce that makes everything even better.
The creamy Fontina sauce is to die for, but add some shrimp to give it an extra pop of flavor!
This delicious, healthy chicken and shrimp stir fry is a heart-healthy alternative to takeout.
It's packed with veggies, pork and shrimp, plus some protein from the tofu.
And it only takes 20 minutes to make.
So you don't have to spend hours in the kitchen!
If you like your chicken and shrimp as tender as possible, this recipe will work for you.
The marinade is a mixture of garlic, lemon juice, parsley, paprika, Italian seasoning blend (which gives the chicken and shrimp its unique flavor).
You'll also add dried oregano and thyme.
These help to keep things more savory.
The olive paste in the mix is an added benefit.
It gives the dish a bit of an extra kick that I think blends well with all the other flavors.
Pad Thai is a classic Thai recipe, and you'll want to make it frequently.
The noodles are perfectly al dente, making this dish insanely easy to make.
This Pad Thai recipe features tender chicken and shrimp in a light, sweet sauce.
It's just as easy to replicate at home with store-bought ingredients!
Jambalaya is a popular dish in the south of France, and it's one that's all-American to boot!
It has all the classic flavors of rice and sausage, but with a seafood twist.
Andouille sausage pairs perfectly with pork chops for an extra protein boost.
The shrimp adds a delicate taste, while the chicken yields tender bites.
Of course, you could also make this vegetarian by using tofu or mushrooms instead of chicken and shrimp.
This easy one-pot chicken scampi recipe is a deliciously cozy addition to your everyday meals.
The light, zesty sauce perfectly compliments the tender shrimp and juicy chicken.
It only takes 15 minutes to create and feeds a crowd!
Serve over brown rice or quinoa for an extra comforting meal.
This recipe is the perfect way to satisfy your craving for a spicy, cheesy meal.
The combination of chicken, shrimp, and cheese makes a classic comfort food.
It's ideal for busy weeknights when you don't have time to cook but want something ready in just 20 minutes.
Serve this dish with some rice or noodles and enjoy every bite!
Garlic Butter Shrimp Recipe? This dish is so delectable!
Plus, it's one of the most easy recipes on this list.
It only takes five minutes from start to finish.
If you have some leftover chicken and shrimp that need a new makeover, give this recipe a shot.
You'll be amazed at how quickly the flavors come together.
This is a wonderfully filling and flavorful meal.
The potatoes are sprinkled with parmesan cheese to add that extra oomph.
It's also a breeze to prepare.
Just combine the ingredients in a bowl, pop it in the oven, and boom! Dinner is served.
Healthy and delicious, this meal will keep you full until dinner rolls around again.
This teriyaki pineapple bowl is the ultimate summer meal.
It's the perfect combination of sweet and sour.
The shrimp is cooked in an aromatic sauce with a little bit of spice.
It's paired with juicy chicken thighs, which are tender and smoky.
It can easily be made vegan by using cashews or adding tofu to the sauce.
Lasagna is one of my kids' favorite dinners, and I love to make it too.
It's tender, cheesy, and full of rich sauces.
But when you add shrimp and spinach to the mix? It takes on a whole new level of flavor.
You can even garnish it with basil if you want!
If you're looking for a flavorful, tasty meal without spending the entire night in the kitchen, this recipe is sure to please.
The chicken and shrimp are cooked in a corn tortilla with a savory seasoning and topped with cheese.
It's simple but absolutely delicious.
Serve it with some rice, salsa, or guacamole for an added boost of flavor.
I'm a big fan of fried rice and love it in a takeout container.
But make it at home and you won't believe how good it is.
This recipe is quick, easy, and delicious.
It's loaded with shrimp and chicken, making for a hearty meal that's perfect for lunch or dinner.
Serve over steaming hot rice before serving with the broccoli slaw on the side.
Yum!
This Chinese dumpling recipe is a great way to use up leftover chicken or shrimp.
Flavored with ginger, garlic, and soy sauce, these dumplings are bursting with flavor.
They're also gluten-free and make the ideal meal on a hot summer day.
Just how do you cook them?
Just pop them in the oven!
I can't get enough of this dish.
Since it contains bourbon, you know you'll be getting a kick-ass flavor with all the strong notes.
And to top it off, I add a sweet and tangy ketchup glaze which makes it even more satisfying.
This delightful dish is perfect for a summer barbecue or just for a light dinner.
And it's so easy to make, thanks to your new favorite pasta sauce!
The chicken and shrimp are cooked in the same pan and tossed with a creamy, garlicky sauce.
The key to a good marinara is to use the kind that has tomatoes and onions.
That way, you get those lovely flavors of red peppers, too.
I love my rice dishes, but sometimes I just want something a little lighter.
And when you're on a low-carb diet, there are a lot of satisfying pasta options out there.
This shrimp and chicken pancit canton is one of my favorites because it uses up leftover chicken breast and shrimp for an indulgent treat.
While this recipe calls for coconut milk, it's not necessary to reach that authentic Canton taste with this meal.
So if you want to keep things simple, try using either soy or almond milk instead.
If you're a fan of carbonara at Olive Garden, then you'll want to try this copycat recipe!
It has the same creamy sauce and rich flavors as the original, but everything is made with healthier ingredients.
Plus, it only takes 30 minutes to make.
That means you can get ready for your next date night in no time!
If you're craving something spicy and meaty, you can't beat this jerk chicken and shrimp pasta.
It packs a punch of flavor with just the right amount of heat.
The marinade is all about the spice, so you don't even need to worry about adding additional heat.
This dish makes cooking easy and delicious!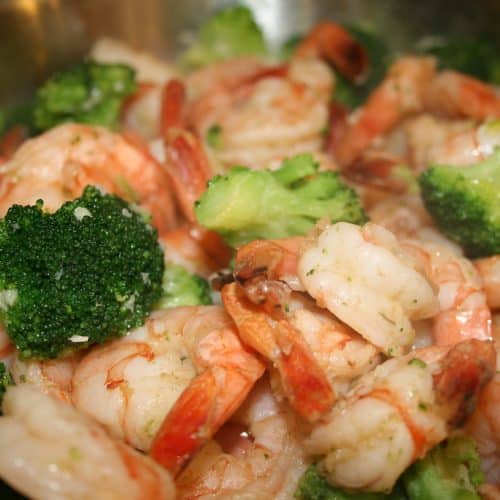 25 Simple Chicken And Shrimp Recipes
From paella to pasta to fried rice, these are some of the best ways to use both in your kitchen.
Instructions
Select your favorite recipe.

Organize all the required ingredients.

Prep a delicious shrimp dinner in 30 minutes.
---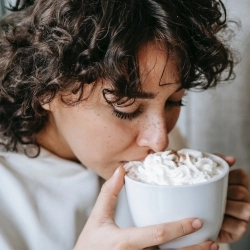 Latest posts by Grace Lambert
(see all)