If you're still not familiar with your toaster oven or you ever wonder what it can and cannot cook, I totally recommend trying the good old grilled cheese sandwich. Because of the even and consistent heat, the sandwich comes out delightfully brown and grilled in all the right places.
Now, the goal with having a toaster oven is unattended cooking. I know with some models that people have trouble having the lower part of the bread toaster properly – in this case I recommend just sitting down and noting the time that it needs to cook properly. You only need to do it once. Also, if the "Bake" setting does not work, try "Pizza" instead.
If for some reason you're not in the grilled cheese camp yet, then it's probably because of your choice of bread. The sticky white bread from seven-eleven just won't cut it flavor- and texture-wise, you need to go sourdough or multigrain.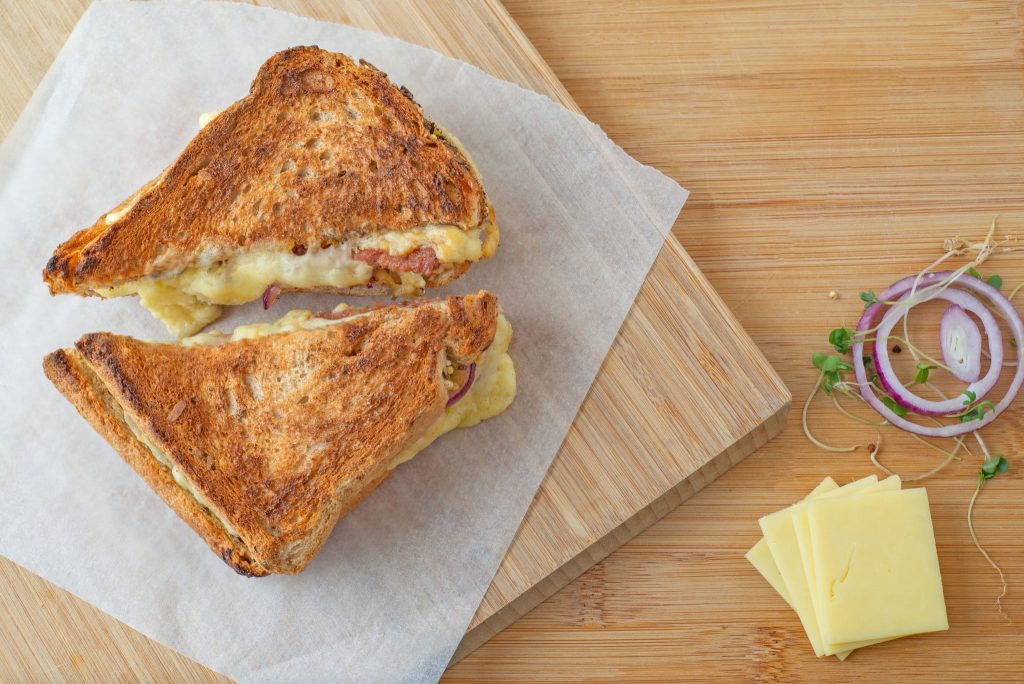 Which cheese is best for a grilled cheese sandwich?
In terms of the contents, I usually just go with sharp cheddar, but if you want to shake things up a bit, here's my top three favorites:
Havarti: melts great. Combine it with cheddar for a gooey-salty combination from heaven.
Muenster: rich texture, great taste and melts so well. Pro-tip: spread a little Dijon or course mustard on the inside of the bread.
Smoke gouda.
I know people who recommend adding bacon, broccoli or even sweet potatos — as weird as that sounds — but remember, if you're adding stuff to the cheese it's no longer a grilled cheese sandwich but a melt.
What kind of bread is best for a grilled cheese sandwich?
The bread you use for your grilled cheese sandwich is really up to you.
But, we recommend using something thick like sourdough or ciabatta.
This will help the cheese melt evenly and prevent the bread from getting too soggy.
But, if you're looking for something a little different, you can also try using rye bread, whole wheat bread, or pumpernickel bread.
Just make sure the bread is sliced thick not to get too soggy.
What are some other ways to make a grilled cheese sandwich?
If you're looking for ways to switch up your grilled cheese sandwich, here are a few ideas:
Add some greens: Add some spinach, arugula, or kale to your grilled cheese for a healthy twist.
Switch up the cheese: Try a different type of cheese in your grilled cheese sandwich. Cheddar, brie, and goat cheese are all great options.
Add some extras: Add some tomatoes, onions, or peppers to your grilled cheese for a tasty and filling meal.
Grilled cheese is a classic sandwich that's always a hit.
So, if you're looking for a simple and delicious way to make grilled cheese, read on for instructions on how to do it in a toaster oven.
With just a few ingredients and a little bit of time, you'll have a perfect grilled cheese for any occasion.
How do you know when grilled cheese is done?
You'll know your grilled cheese is done when the cheese is melted and bubbly and the bread is golden brown.
If you want, you can also stick a knife in the center of the sandwich to check and see if the cheese is melted all the way through.
Can you make grilled cheese in a toaster oven without butter?
Yes, you can make grilled cheese in a toaster oven without butter.
If you're looking for a healthier option, try olive oil or avocado oil instead.
Or, if you're not worried about calories, you can use mayonnaise.
Just make sure to spread it on the outside of the bread so that it doesn't make the bread too soggy.
How to Store Grilled Cheese using Toaster Oven
It would be awful to have a tasty, beautiful Grilled Cheese and not know how to store it.
Luckily, with a toaster oven, you can have both!
Here's how to store your grilled cheese in a toaster oven so it will still be delicious when you're ready to reheat and eat it.
First, make sure that your toaster oven is clean and dry. Any moisture will make the bread soggy and prevent the cheese from melting and bubbling.
Then, place your grilled cheese on a piece of aluminum foil. Make sure that the cheese is facing up to remain gooey and delicious.
Next, fold the edges of the aluminum foil around the sandwich to be covered entirely. This will help to keep the heat in, and the cheese melted.
Finally, place the foil-wrapped sandwich in the toaster oven and bake at 350 degrees Fahrenheit for about 10 minutes or until the cheese is melted and bubbly.
Thus, your Grilled Cheese will be stored and reheated in a toaster oven in the most delicious way possible!
Nutrition Facts of Grilled Cheese using Toaster Oven
Grilled Cheese using the Toaster Oven recipe is full of delicious goodness, with a little bit of naughty.
Here's why it's a lot better than the packet mix version.
Calories: 443
Fat: 28 grams
Saturated Fat: 16 grams
Cholesterol: 86 milligrams
Sodium: 710 milligrams
Carbohydrates: 30 grams
Fiber: 2 grams
Sugar: 5 grams
Protein: 17 grams
The calorie content in Grilled Cheese is high, but it is worth it.
The dish contains a good amount of protein and fiber, which will make you feel fuller for longer.
The saturated fat content is also high, so it's not the healthiest option if you're watching your waistline.
However, it is an excellent choice if you're looking for something indulgent.
So, is Grilled Cheese worth the calories? In our opinion, yes!
The dish is packed with flavor and will satisfy your cravings. Grilled Cheese is classic comfort food that is perfect for a wintery day.
The toasty bread, gooey cheese, and crispy bacon will make you feel right at home.
Plus, it's a lot easier to make than you might think. So, go ahead and give it a try!
What to Serve with Grilled Cheese using Toaster Oven
When cooking for one, it can be tough to come up with ideas for tasty and satisfying meals. But never fear!
The humble grilled cheese sandwich is here to save the day. And when made in a toaster oven, it's even more accessible than ever.
But what do you serve with your grilled cheese?
A soup or salad is always a good option, but we've got some other ideas for you, too. How about some roasted tomatoes or a side of bacon?
Or maybe you could go all out and make a full-on grilled cheese sandwich feast!
Tomato Soup
Grilled cheese and tomato soup are a classic combination for a reason.
The soup is the perfect complement to the cheesy, crispy sandwich.
Plus, it's easy to make in a toaster oven. Simply roast some tomatoes with a bit of garlic and olive oil, then blend them into a smooth soup.
Serve it with a grilled cheese sandwich on the side for a delicious and easy meal.
Roasted Bacon
Bacon is always a good choice when it comes to grilled cheese.
But why not take it up a notch by roasting it?
Roasted bacon is crispy, flavorful, and perfect for topping your grilled cheese sandwich.
To roast it, simply place strips of bacon on a baking sheet and bake at 400 degrees F for 15-20 minutes. Then, top your grilled cheese with a few slices and enjoy!
Grilled Cheese Sandwich Feast
If you're feeling ambitious, why not try making a full-fledged grilled cheese sandwich feast?
This meal includes all the classics: grilled cheese, roasted tomatoes, bacon, and soup. Start by roasting the tomatoes and bacon in the toaster oven.
Then, make your grilled cheese sandwiches. Serve everything on a platter and enjoy!
We know you'll love it no matter what you choose to serve with your grilled cheese sandwich.
So fire up your toaster
Ingredients
Two slices of sourdough or multigrain bread
Cheddar or your choice of cheese
Softened butter or light mayo (low cal but every bit as good)
Directions
Pre-heat your toaster oven to 425°F on the Bake setting.
Spread butter or light mayo on the outside of your bread.
Put your bread butter side down and spread cheese on it, then top with second slice butter side up.
Remove the preheated pan and put the bread in. Cook until brown (about 5 minutes).
Take it out carefully, flip with spatula and return it for another 3-4 minutes until the other side is brown as well.
Cool, cut and enjoy.
I've once again put together the recipe in a downloadable booklet for you. Hope you like it:
Can you Make Grilled Cheese in a Regular Toaster?
Yes. See my post about it here.
Love,
G.
PS. Check out my other recipes as well!
---