You might have heard of bachelor's grilled cheese prepared in a toaster. Or perhaps you've read a "life hack" about turning your toaster on the side to make a quick grilled cheese sandwich at work.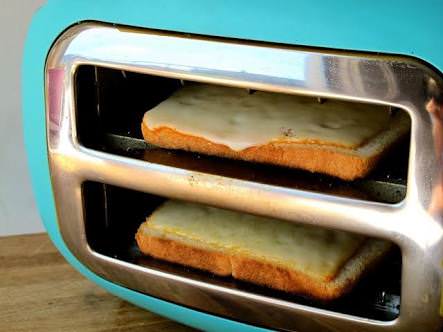 I'll get this right out of the way: please don't. There's a good chance you will ruin your toaster, your counter, or burn down the house.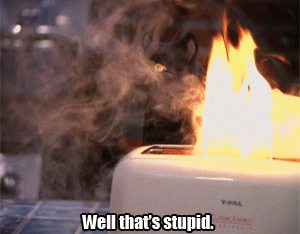 But What if I Really Want to?
To make a grilled cheese sandwich in a wide-slot toaster or on a panini press or grill, try reusable toaster bags. You can also make melts, or even re-heat a small portion of food or a pastry.
Non-Stick Reusable Toaster Bags (Set of 10) Various Sizes, Create Grilled Cheese Sandwiches in Toaster, Microwave Oven or Grill, Pizza Panini & Garlic Bread
Stephanie Lane TOASTER BAGS are great for creating toasted sandwiches or heat up pastries, pizza slices, chicken nuggets and more!
REUSABLE BAGS can be cleaned in warm soapy water or in the dishwasher. Each Toaster Bag can be used up to 50 times. That is 500 times for one set of 10!
CONVENIENCE - Set of 10 bags in various sizes (4-6.75" x 7.5") (3-7.2 x 6.25) (3-6.2 x 6.5")
QUICK - make grilled cheese sandwiches with these bags in minutes. 60 seconds to to warm individual slices of garlic bread, warming pizza and for toasting iced cinnamon or raisin bread.
Use in WIDE- SLOT Toaster, Microwave Oven, Oven, or on a Grill. Allows you to quickly heat up your favorite snack, pizza, grilled cheese sandwiches, chicken nuggets or sausages, etc
However, they toast comes out very dry.
Alternative Solutions
A viable alternative to making a grilled cheese sandwich would be to use a toaster and a microwave. The process is as follows:
Toast your bread to desired color and crispness.
Slice or grate your cheese.
Put your butter or light mayo on the toast, top with cheese, and microwave for 10-25 seconds. This will make the sandwich less dry.
Better than the ones they serve at office cafeterias, and better than nothing if you're in a hurry, but you will get much better results if you make a grilled cheese sandwich in a toaster oven. See my post about that, along with cheese recommendations and other tips.
Hope this helps!
G.
---