Right now it's blazing hot in the Mid-West, but it won't be long until it gets rainier and colder, so I thought I would try and answer a common question for people who need or want to stay indoors: what is a good indoor electric grill?
First, here's the list:
Two Problems of Indoor Grills
Whatever your reasoning for choosing an indoor grill (shout out to folks living in apartments!), choosing one is a challenge — for two reasons.
First: smoke. Obviously, you can't use propare or charcoal as fuel indoor, but there are great electric grills like the Weber Q1400 that are not suited for indoor use because of how much smoke they produce. You'll be amazed at how fast they will smoke up your home and set off fire alarms in the whole building. So, a good indoor grill needs to have a way to remove or contain smoke.
Second is, well, taste. Electric heating is very different from gas or coal and produces very different results with different kinds of meat. There is usually browning and almost no caramelization, and you won't get that "smokey" flavor and smell without using liquid smoke (which is no bueno). But if you're shooting for that grilling experience or throwing a burger party, you will get the craved grill marks, and overall the taste and experience are miles better than using a toaster oven or wall oven.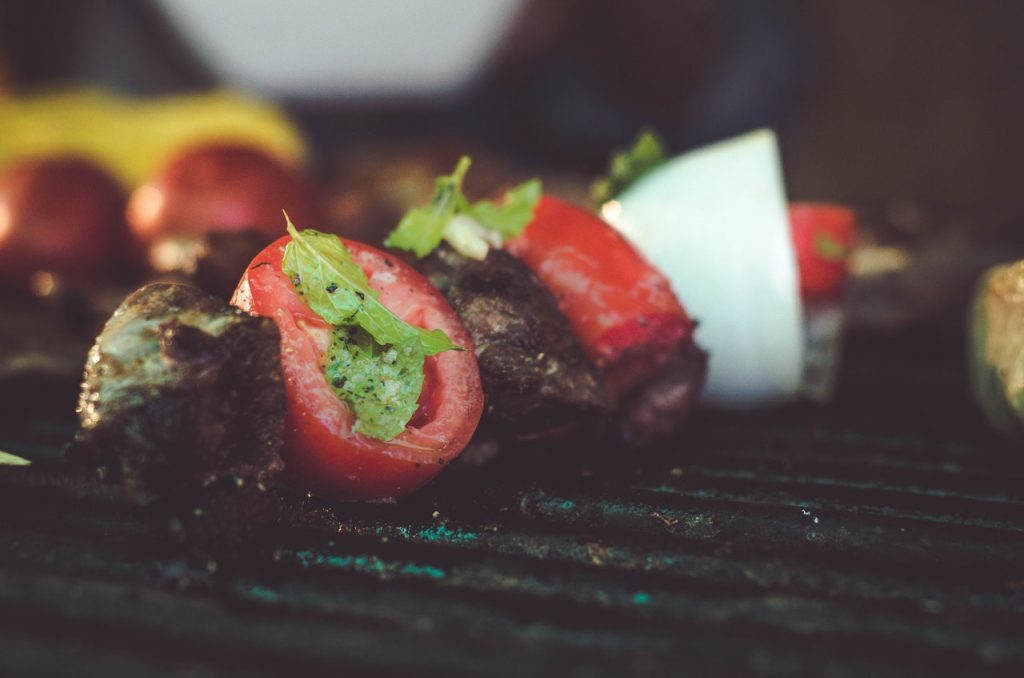 My Recommendation
There is little choice on the indoor grill market if you're looking for quality, so I've singled out four very different kinds of grills.
Based on your preferences, I recommend either:
The Best All-Round Choice: Ninja Foodi 5-in-1 Grill
Ninja AG301 Foodi 5-in-1 Indoor Electric Grill with Air Fry, Roast, Bake & Dehydrate - Programmable, Black/Silver
THE ORIGINAL NINJA FOODI GRILL: The grill that sears, sizzles, and air fry crisps. Indoor grill and air fryer.
CYCLONIC GRILLING TECHNOLOGY: Uses 500°F cyclonic air to perfectly cook or char grill your food to your desired doneness on the grill grate for delicious, char-grilled marks and flavors.
OUTDOOR GRILLING POWER ON YOUR COUNTERTOP: With the BTU cooking power of an outdoor grill, it brings outdoor grill flavors conveniently to your countertop any day of the year.
FORGET ABOUT DEFROSTING: Transform foods from frozen to perfectly char grilled in under 25 minutes.
UP TO 75% LESS FAT: Air fry crisp with up to 75% less fat than deep frying (tested against hand-cut, deep-fried French fries), using the included 4-qt crisper basket.
Yes, this is basically a slow cooker, but whereas a slow cooker is mediocre at everything and good at nothing in particular, the Ninja Foodi suprisingly is a very capable grill. It produces very little smoke, is also easy to clean: the cooking pot is non-stick and easy to clean, and all the accessories are dishwasher safe. Its biggest drawback is in the design department: it's bulky and not pretty. If you can live with that, you are getting the best you can get in terms of indoor grilling. It's also a very capable air fryer.
Pros
Fast (steak is done in 15 minutes)
Excellent at grilling
Versatile (can also air fry, bake and dehydrate)
Cons
Large (at 17 in x 14 in x 11 in)
Suprisingly small interior for and appliance of such size
Ugly (sorry)
The Budget Pick: George Foreman 15-Serving Indoor Grill
George Foreman, Silver, 12+ Servings Upto 15 Indoor/Outdoor Electric Grill, GGR50B, REGULAR
George Tough Nonstick Coating - There's a lot to love about this nonstick coating; it's durable, easy to clean, and removes the need for butter and oil
Indoor or Outdoor Removable Stand - Don't let the weather keep you from the glory of grilling; the easy-to-remove stand takes you from patio to countertop in no time
Adjustable Temperature Control - The temperature probe lets you choose from five heat settings to get the best results on any kind of food
Apartment-Approved - Your landlord will love this grill just as much as you do because the fully electric system gives you high-quality grilling with no charcoal, no propane, and no flare-ups
Included components: Use And Care Manuals
Compared to other grills, a George Foreman is very hot and fast. It's great for chicken breasts and other kinds of white meat, Grilled patty melt is good choice for breakfast, it can easily dry out and make a good steak for dinner or party. Keeping that in mind, this grill does its job very well, and looks like a proper grill. You can remove the stand or keep it when grilling on the balcony.
Pros
Very fast (steak needs 12 minutes)
Great value at modest price point
Sleek design, nicely sized
Cons
Again, it's fast (be careful not to dry out your meat)
Harder to clean
Cord is suprisingly short (just use an extension cord)
The Even Cheaper Pick: Hamilton Beach Electric Indoor Searing Grill
Sale
Hamilton Beach Electric Indoor Searing Grill with Adjustable Temperature Control to 450F, Removable Nonstick Grate, 118 sq. in. Surface Serves 6, Stainless Steel
Locks in juices and flavors:Adjustable temperature control ranges from 200° to Sear at 450 degrees to grill at lower heat for optimal grilling results
Enjoy grilling all year long: This indoor grill with hood has a high searing heat that locks in juices and flavors, and lid closes to give you signature grill marks; Serves up to 6 with 118 square...
Easy to clean: Indoor grill hood, plate, and extra-large drip tray are all removable and dishwasher safe
Less mess: Extra-large drip tray catches juices so they don't spill on your counter and it's dishwasher safe for easy cleaning
Power and preheat lights: Eliminate guesswork while using your electric grill
Do not be fooled: while it may look like a glorified panini press, this actually a pretty solid grill. It can cook very well and it really sears the meat. It's less powerful than the others here but it's very capable and doesn't take much counter space. You can also use it in an RV. This one produces more smoke than others though.
Pros
Accurate temperature control with dial
Pretty good results
Small
Cons
Less powerful than other grills
Small (yes, it works both ways)
Smoky
The Hibachi: Techwood Raclette Grill
Raclette Table Grill, Techwood Electric Indoor Grill Korean BBQ Grill, Removable 2-in-1 Non-Stick Grill Plate, 1500W Fast Heating with 8 Cheese Melt Pans, Ideal for Parties and Family Fun (Black)
[🍗LARGE COOKING SURFACE] - The ideal electric raclette grill comes with a large Non-Stick grilling plate 19 x 9 inch, making it great for parties and family fun with delicious food. With 1500 watts...
[🍗2 in 1 REVERSIBLE GRILL PLATE] - The electric grill provides uniform heat and comes with a grooved and flat surface for versatile cooking options. The grooved side allows you grill desired food...
[🍗ADJUSTABLE TEMPERATURE] - The raclette table grill is equipped with an adjustable thermostat and visible indicator lights. It allows you create a myriad of delicious raclette recipes such as...
[🍗HEALTHY COOKING AND EASY CLEANUP] - The raclette indoor grill has 8 individual grill pans for raclette cheese, cooking sides and sauces. It is also suitable for keeping food warm. Non-stick...
[🍗GET YOURS NOW, RISK-FREE] - Techwood offer a outstanding 30-day hassle-free return policy & 18-month warranty. We assure you that no other indoor grill beats our products' high-caliber quality &...
This one is a little quirky: have you ever thought of hosting a Korean BBQ party at your house? I haven't, but you can do that with this grill. I don't usually recommend off-brand appliances but I felt this one deserves a mention because of the idea. It's a capable and easy to clean grill, as well. And it sounds fun.
Pros
Fits a lot of stuff at the same time
Easy to clean
Grills nicely
Cons
Generic brand. Warranty is probably out of question
Limited use case
This is it. Like always, I hope I was helpful today, if not — let me know via email or on social media.
Thanks for reading folks!
Love,
G.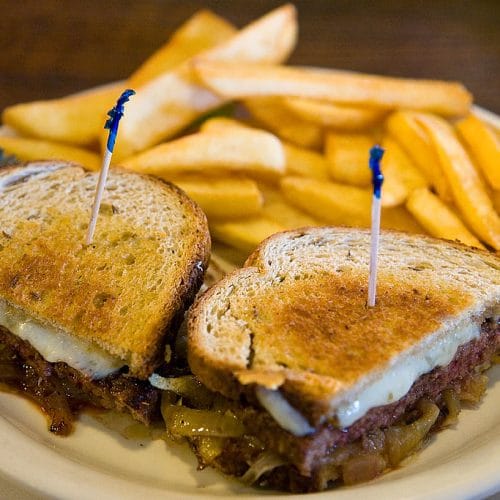 Grilled patty melt
A patty melt sandwich contains melted swiss cheese and ground beef topped with caramelized onions.
Ingredients
Large

Onion

Kosher

Salt

Cognac

ground pepper

Unsalted

Butter

Sliced

sandwich bread

Slice s

Swiss cheese

Avocado Oil

granulated Onion powder

Garlic

ground beef
Instructions
Heat your grill, one side on low heat and the other on medium heat.

Melt butter over low heat with a cast-iron pan, add onions, salt, and pepper.

Continuously toss the onions while switching between low and medium heat for about thirty minutes until caramelized.

Spritz brandy or cognac on the pan to unglaze for 45 seconds and put the onions in a bowl, then wipe your pan.

In a large bowl, add garlic powder, onion powder, and the ground beef, season with salt and pepper, then thoroughly mix with your hands.

Divide the mixture into small balls, use a spatula to press until it's thick and flat, then place on parchment paper.

Coat the patties with a splash of avocado oil.

Rub some oil on the grill rack, place your patty burgers on medium heat, cook for about two minutes on each side, and then remove and put on a plate.

Slice your bread and spread with butter.

On one slice of buttered bread, add two slices of cheese, a burger patty, caramelized onions, another patty, a slice of cheese, more onions, and another slice of cheese in that order.

Lastly, put the other piece of bread on top.

Place a cast-iron pan over medium heat and put your sandwich on the grill.

Let the buttered side of the bread face down and cook each side for two minutes until golden brown.

Once cooked, remove the patty sandwiches, cut them into two, and serve with pickles or any other side dish of your liking.
Video