In this post, I list various kinds of food that begin with the letter J.
See the whole food dictionary!
Jabuticaba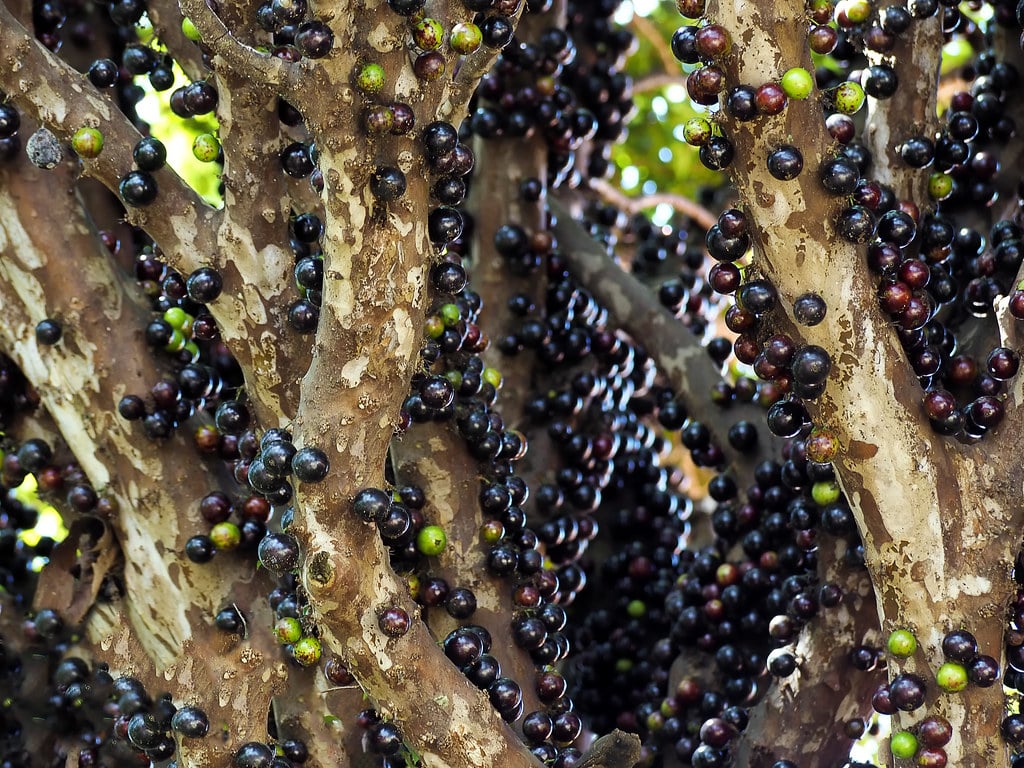 Fruit of the Brazilian grape tree.
This is a tropical and subtropical fruit that grows directly on the trunk.
With its round shape and thin purple-black skin, it is very similar to a large grape.
The pulp is pink or white and tastes sweet.
Jabuticaba is consumed raw or used to produce jams, liqueurs, and wines.
Jackfruit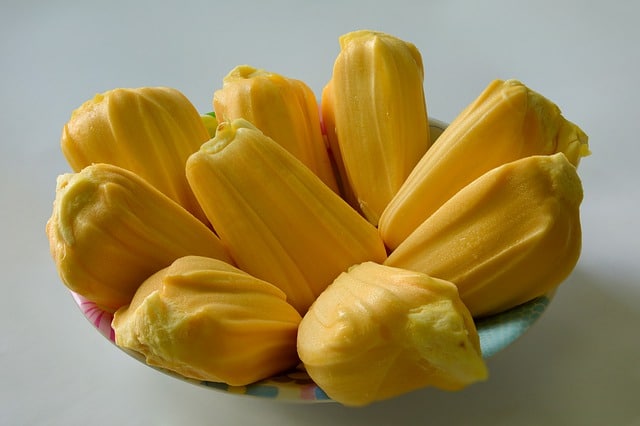 Tropical fruit of the jack tree, native to Malaysia and India.
It is a member of the family Moraceae, known as the fig family.
The oval-shaped fruit consists of numerous individual flowers that grow on a thick stem.
It is green when unripe and yellow to brown when matures, which typically occurs during the rainy season (July-August).
Jackfruit is considered the largest fruit in the world, capable of reaching 120 pounds (55 kg) in weight and 35 inches (90 cm) in length.
Jalapeño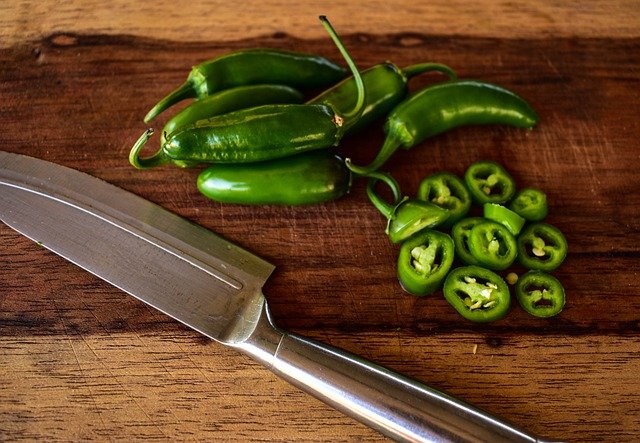 A type of chili pepper, strong-flavored with a heat level that varies from mild to very hot, with 3,500 to over 10, 000 Scoville heat units.
Jalapeños are medium-sized green peppers, native to Mexico.
They are harvested mainly while still unripe, although sometimes they are left to ripe completely when they become yellow, orange, or red.
They are used in Mexican cuisine stuffed with cheese or meat, pickled or dried.
Jalebi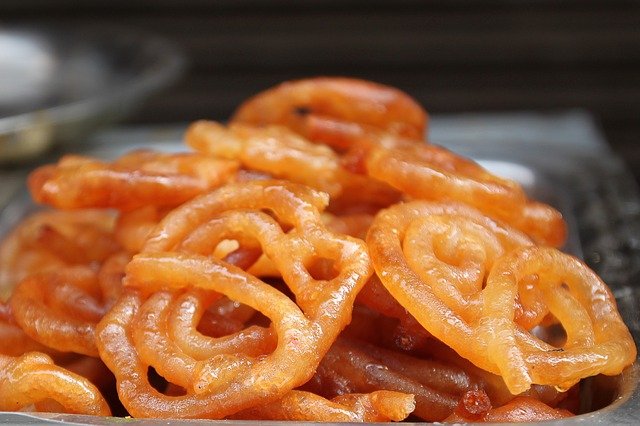 Popular Indian sweet snack, made of batter poured in circular movements into the hot oil and deep-fried.
It can also be shaped like a small pretzel.
The jalebi batter is made from an Indian white flour named maida flour, which is flavored with saffron or rose water.
Once fried, it is dipped in sugar syrup and served warm or cooled.
It is similar to imarti, but should not be confused with it.
Jam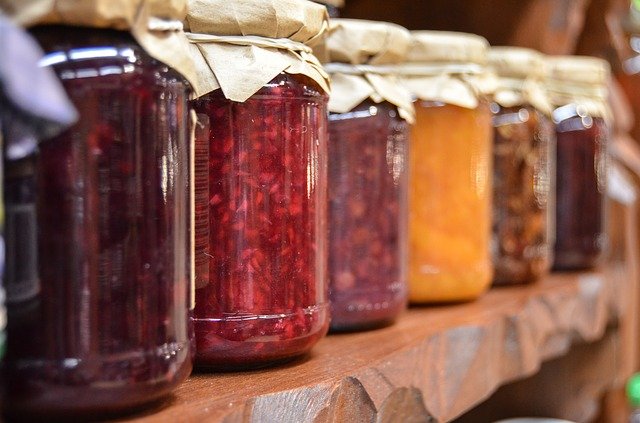 Thick spread made of fruit and sugar, very sweet and rich in flavor.
It is made from chopped fruits cooked with water and sugar.
To thicken the mixture, sometimes pectin is added, while types of fruit like apples, plums, or cranberries use their natural pectin instead.
Some others, including strawberries, cherries, and apricots, require either pectin or some of the higher pectin fruits to be added so that jam can achieve the right consistency.
Jams are stored in jars and consumed spread on bread.
They can be used as a filling for sweet pastries and other baked desserts.
Jambalaya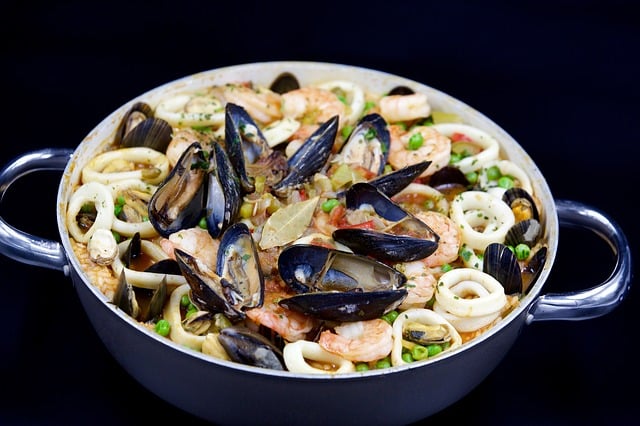 This is a Creole specialty composed of meat and rice as basic ingredients, mixed with a variety of vegetables, including tomatoes, onions, celery, and peppers.
It usually includes sausage combined with beef, chicken, pork, ham, or seafood.
The mixture is seasoned and cooked in a broth until the rice is done.
It resembles Spanish paella and other traditional rice dishes of Mediterranean and West African cuisine.
Jamón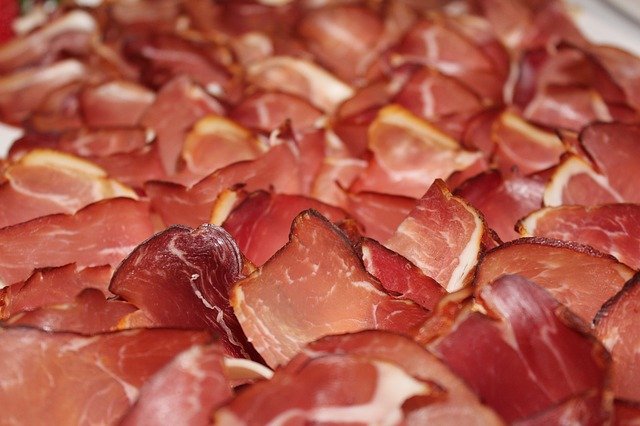 Jamón ("ham" in Spanish) is Spanish dry-cured ham.
It is cured for up to two years, resulting in a complex, rich and intense flavor.
Jamón comes in two varieties.
The first one is called jamón serrano which is applied to all types of dry-cured hams in Spain produced from white breeds of pig.
This is the most sold and consumed type of ham in Spain.
The second one is jamón ibérico, which includes ham produced by black Iberian pigs.
Dry-cured Spanish hams are traditionally cut into very thin slices and served as an appetizer or used as a sandwich filling.
Jambon-Beurre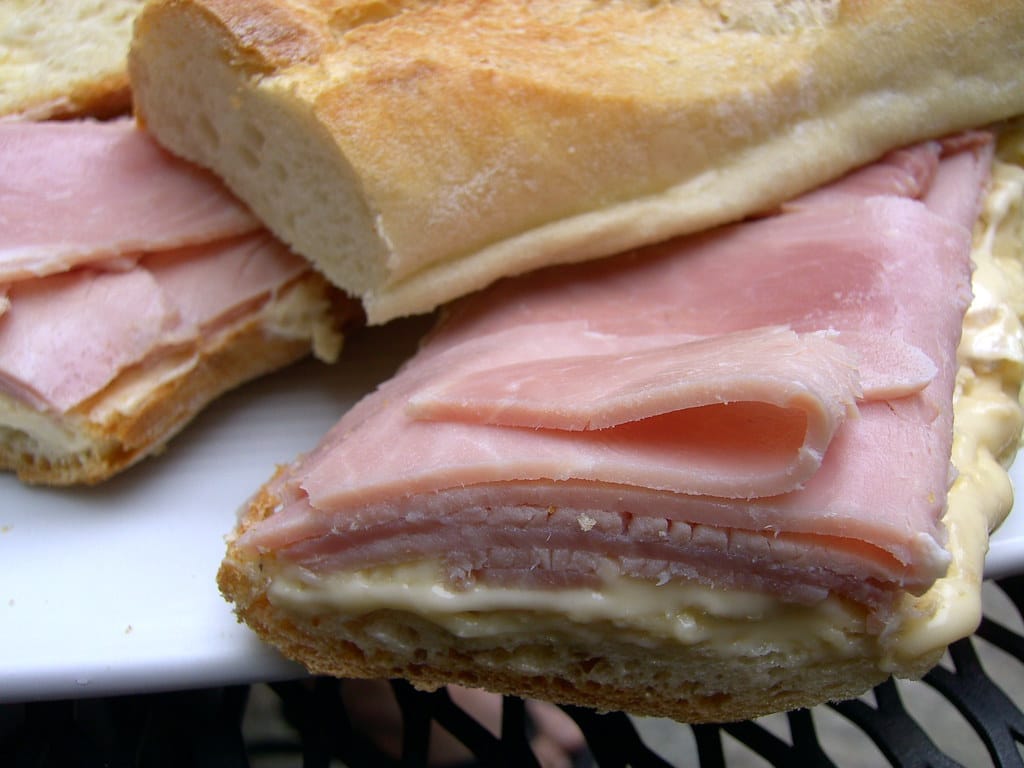 A classic French sandwich made of sliced baguette generously spread with butter and filled with slices of high-quality ham.
Jambon-beurre (''ham-butter'') sandwich is very popular in France.
It is one of France's favorite snacks.
Jambon de Bayonne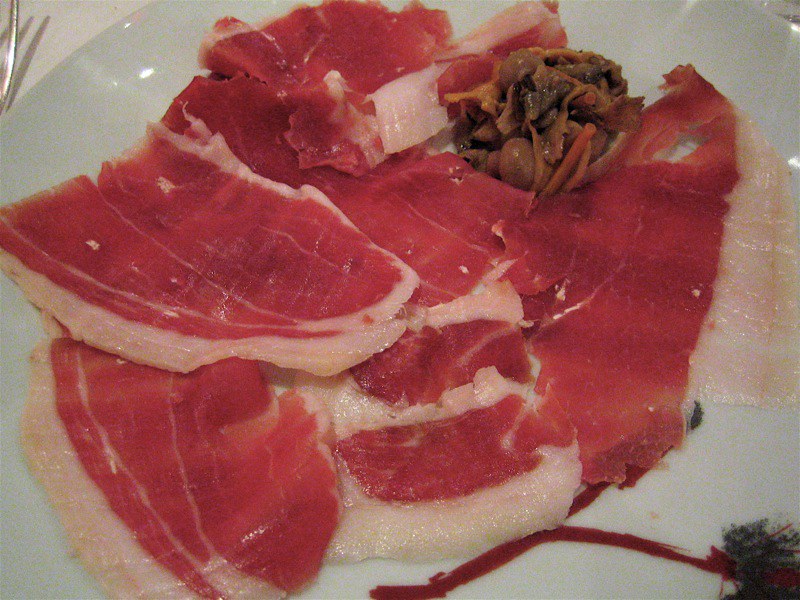 Jambon de Bayonne or Bayonne ham is a high-quality French cured ham.
It is both salty and sweet with a slightly chewy texture.
Pigs used for producing this ham are top quality and naturally fed without using any steroids or antibiotics.
Meat is cured in cool and dry storage rooms under strictly controlled conditions for about seven months to a year.
This ham is cut very thinly and served on meat platters or cheeseboards.
Japanese Cheesecake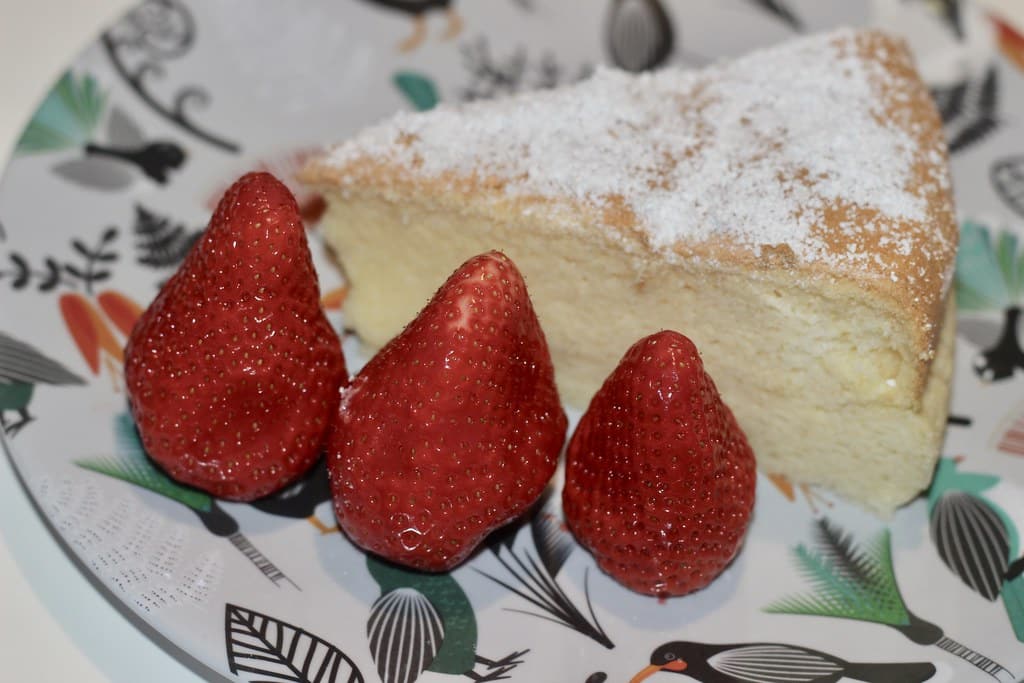 Japanese cheesecake, also known as Japanese cotton or souffle cheesecake, is a type of light and spongy cheesecake, originally made in Japan at the end of the 20th century.
It is different in both texture and taste than other varieties of this famous baked dessert.
The Japanese cheesecake is more fluffy and jiggly compared to the classic New York cheesecake.
This consistency is reached by slowly incorporating meringue egg whites into the cheese mixture.
Also, it contains less sugar and cheese, resulting in fewer calories and a less sweet taste.
This type of cheesecake can be served both warm and cool, dusted with powdered sugar, or topped with fresh fruit.
Japanese Plum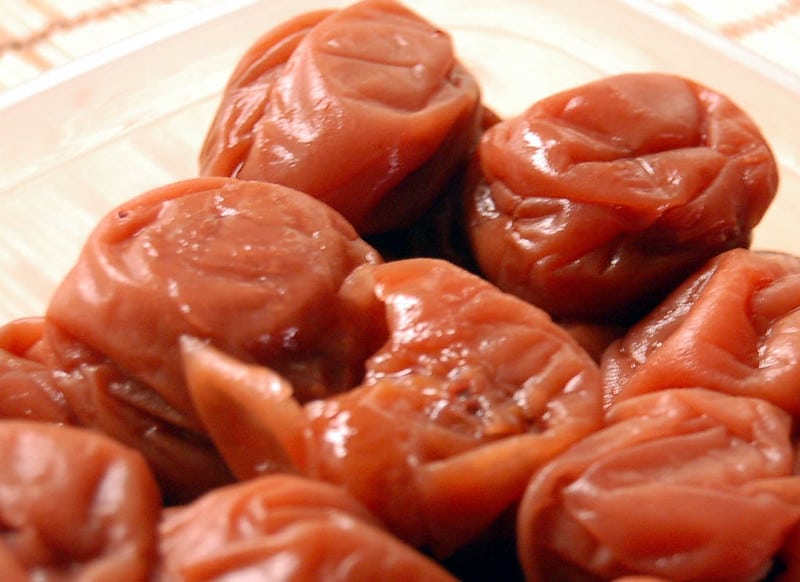 Small semi-tropical fruit, native to China.
It is also cultivated in other Asian countries, Australia and in the United States.
It is a pink-yellow drupe, that can be consumed raw when fully ripe.
In Japanese and Chinese cuisine it is used for jellies and liqueurs.
Jasmine Rice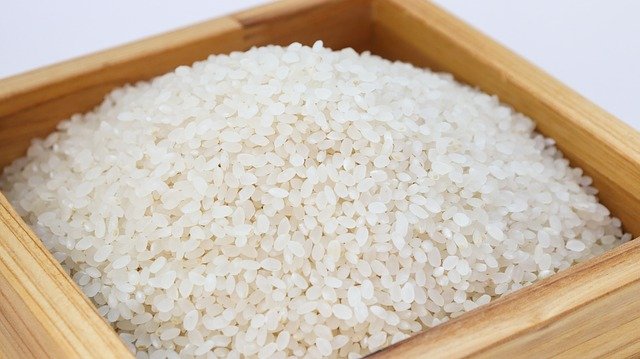 A type of long-grain rice from Thailand.
This is aromatic Asian rice, which releases a sweet and delicate aroma while cooking.
It is cultivated in other Southeastern Asian countries as well, where it is processed as white and brown rice.
It is best used in soups and stir-fried, because of its very soft and sticky texture.
Jelly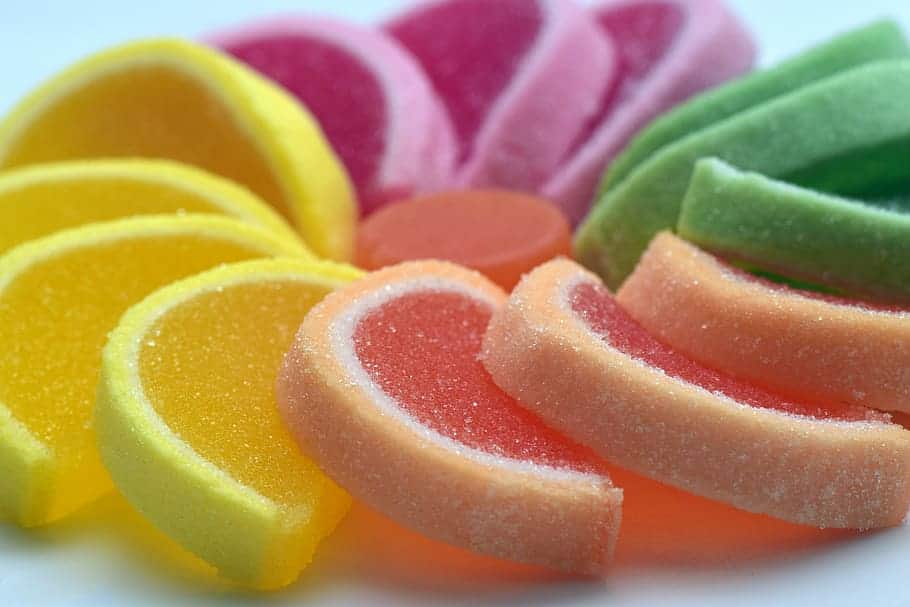 The clear mixture of fruit and sugar, similar to jam.
Unlike jam which is made using the entire fruit, jelly is made from fruit juice only.
That is why jelly is more clear and not as chunky as jam.
Jelly has a smooth, semisolid texture.
Fruits that are higher in pectin content (apples, plums, quinces, blackberries) are rather used to prepare jelly because they are cooked more quickly and don't require pectin to become thick and compact.
A popular use for this spread is in a peanut butter and jelly sandwich, one of the most favorite American breakfast meals.
This type of fruit preserve shares its name with a gelatin dessert, which is made using similar ingredients and has the same consistency.
Jello
Jello or jelly is a dessert made with gelatin dissolved in a hot, flavored mixture until the mixture becomes thick and compact.
Fruit juice, whole fruits, or fruits cut in pieces can be used with the addition of sugar or other sweeteners.
Artificial flavorings or food coloring can also be added.
The fruit mixture is combined with gelatin, poured in large decorative molds or individual cups, and refrigerated.
The gelatin used for preparing jelly can be replaced with agar, a gelling agent especially used in Asian cuisine, which is a vegetarian gelatin substitute.
The mold containing chilled jello is flipped over prior to serving to release the jello on a plate.
Jellybeans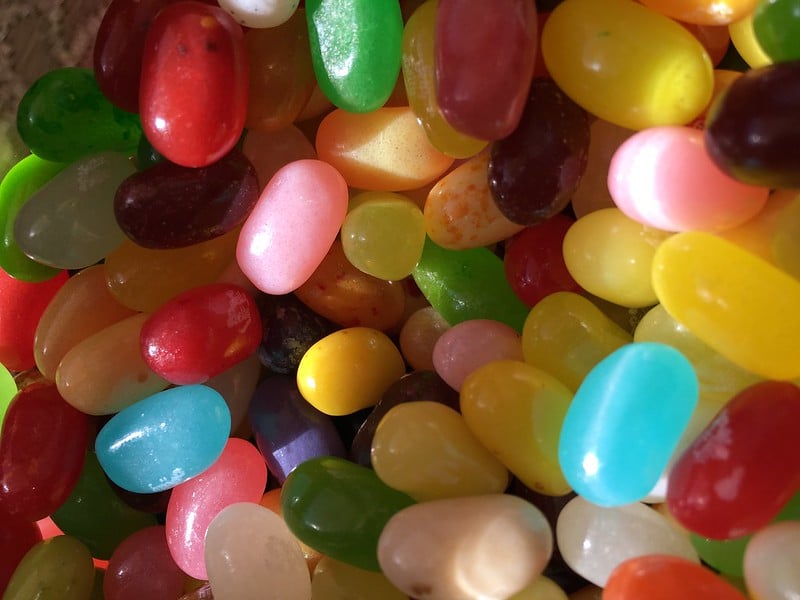 A type of sugar candy shaped like a small bean.
Jellybeans are produced from liquid sugar mixed with gelatine, starch or pectin, and shaped in special molds.
They have a chewy center and a solid, but soft candy shell.
These small, colorful candies are available in dozens of flavors, ranging from sour or sweet fruit to salty popcorn flavor.
Typically, both the candy center and its shell have the same color and flavor.
They are sold in individual flavors or packages with mixed flavors.
Jerky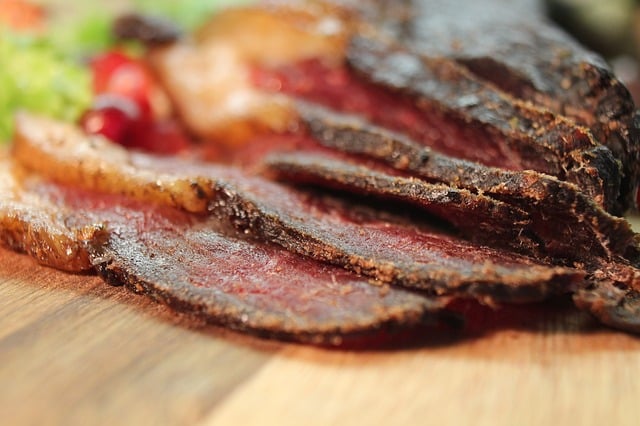 Long strips of dried, salted meat.
Commercially produced jerky can additionally be marinated or smoked.
It has s chewy consistency and a salty, or sometimes sweet flavor if sweeteners such as brown sugar are included in the marinade.
It can be dried naturally or using the oven.
The most common meat used for jerky is beef.
Pork, turkey, and lamb jerky are also popular varieties of this popular snack.
Jerusalem Artichoke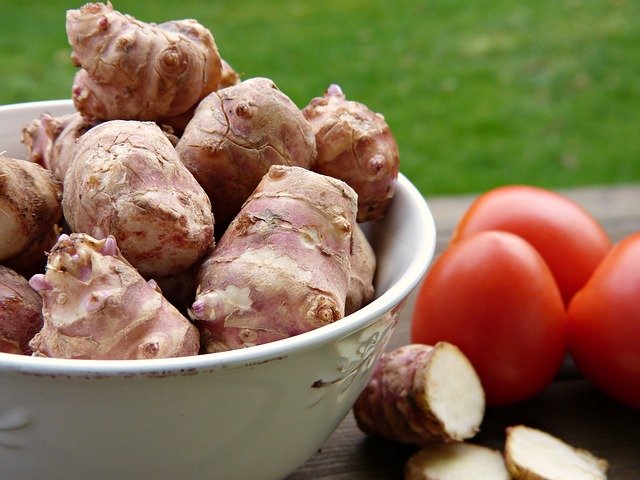 The tuber of a plant classified as Helianthus tuberosus within the sunflower genus.
It has very firm flesh with a sweet, nutty aroma, similar in appearance to ginger.
This plant was originally cultivated by Native Americans as food and folk remedy.
It is used as a vegetable, fresh in salads, or cooked in soups.
Johnnycake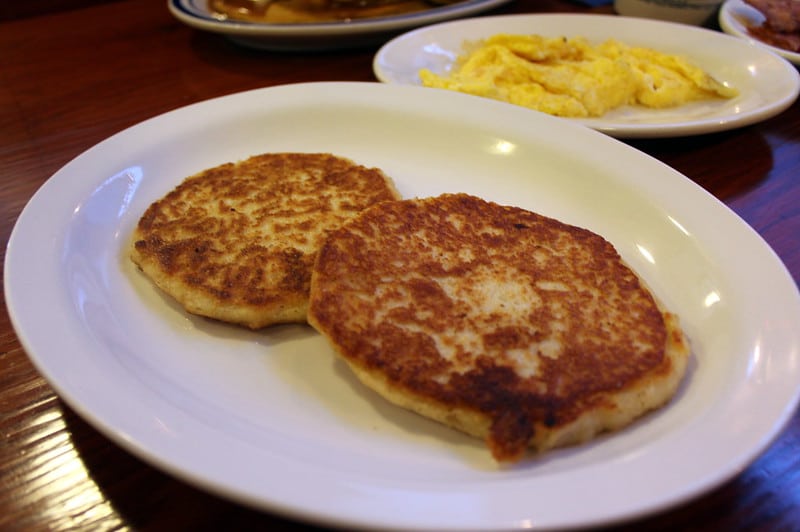 American flatbread, traditionally made of cornmeal, water, and salt.
It can be found in the cuisines of the United States, Canada, Colombia, and some Caribbean countries.
This once known American staple food found its way to Australian cuisine, where it is made using wheat flour instead.
Jonathan Apple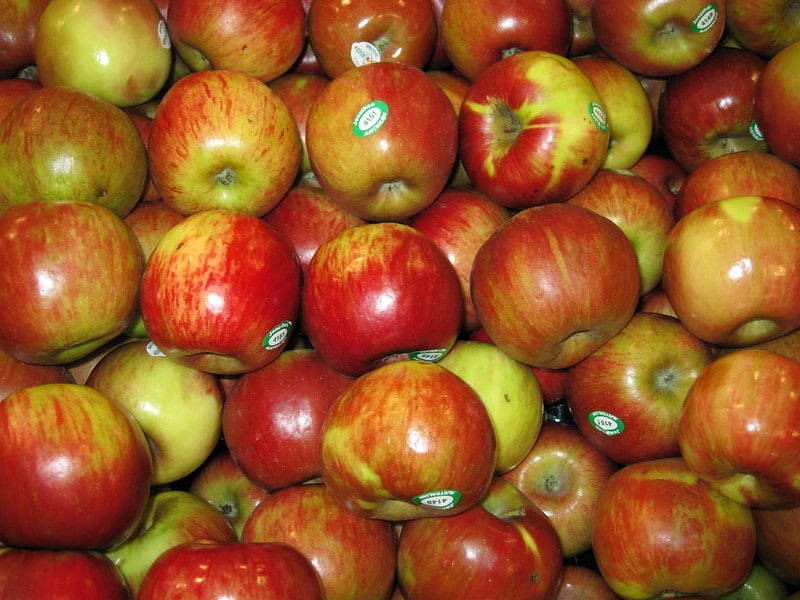 Jonathan is a variety of apples with sweet and slightly tart flavors.
It is medium-sized, covered with smooth red skin with cream-colored juicy flesh.
It can be consumed raw or cooked into a puree as it breaks down easily under heat.
Jonathan apples are rich in vitamin A, C, and both insoluble and soluble fiber.
Jordan Almond
Jordan almond is a type of dragée.
It is a sweet confectionery made of almond coated with sugar.
Sugar shells can be made in a variety of colors.
Almond combined with this coating makes a perfect blend of bitter, nutty, and sweet flavors.
Modern varieties replace the almond with pistachio, peanut, or chocolate.
In many counties around the world, Jordan almonds have a deep symbolic meaning.
They are a part of traditional weddings, where they are used as decoration, especially in a form of candy flowers, or packed in small boxes as wedding favors.
Jujube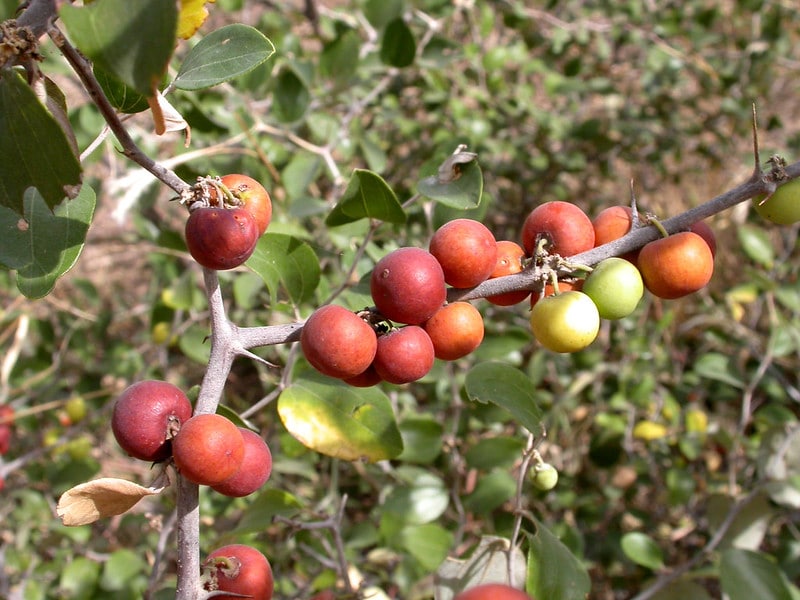 Jujube, also known as red date, is a fruit of the deciduous tree of the buckthorn family.
These plants are native to China and grown in tropical and subtropical areas worldwide.
The fruit is a green to purple, oval-shaped drupe, resembling a small date.
Jujube is eaten raw, dried, or used to produce wine, tea syrup, juice, and vinegar.
Jujube fruit was originally used in a popular confectionery called jujube candy.
Julienne
Chicken and Mushroom Julienne is where the French cuisine meets Russian cuisine.
Despite the name, Julienne is an Eastern European dish, which is made by sautéing a small amount of flour in a hot, dry skillet until it is golden brown and adding clarified butter.
Mushrooms Julienne is traditionally made with just sour cream and cheese over the top.
Traditionally, this dish is served as an appetizer.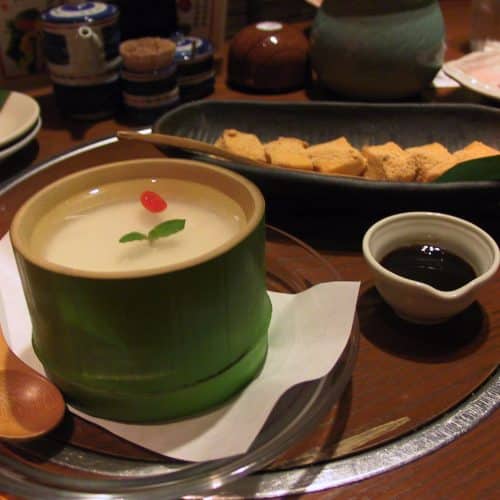 Almond Jello
This Almond Jello recipe will bring you back to your lovely childhood.
Ingredients
Gelatin (powdered or fresh)
1

tablespoon

gelatin

powdered

4

ounces

gelatin

fresh
Cold water
2

tbsp

water

cold for powdered gelatin

1

bowl

water

cold for fresh gelatin
Other ingredients
1/2

cup

granulated sugar

4

tsp

pure almond extract

1/2

cup

whole milk

cold
Instructions
You can prepare Almond Jello using either powdered gelatin or fresh gelatin.
Powdered gelatine
When preparing with powdered gelatin, mix the powder with 2 tablespoons of cold water.

Let sit for five minutes before adding the rest of the ingredients.
Fresh gelatine
For fresh gelatin, soak 4 ounces of gelatin in a bowl of cold water for 5 minutes.

Add the remaining ingredients and stir well.

Pour into molds and refrigerate until set.
Video
Nutrition
Calories:
227
kcal
Carbohydrates:
27
g
Protein:
27
g
Fat:
1
g
Saturated Fat:
1
g
Polyunsaturated Fat:
0.04
g
Monounsaturated Fat:
0.2
g
Cholesterol:
4
mg
Sodium:
72
mg
Potassium:
57
mg
Sugar:
27
g
Vitamin A:
49
IU
Calcium:
55
mg
Iron:
0.4
mg
---