In this post, I list various kinds of food that begin with the letter U.
See the whole food dictionary!
Ube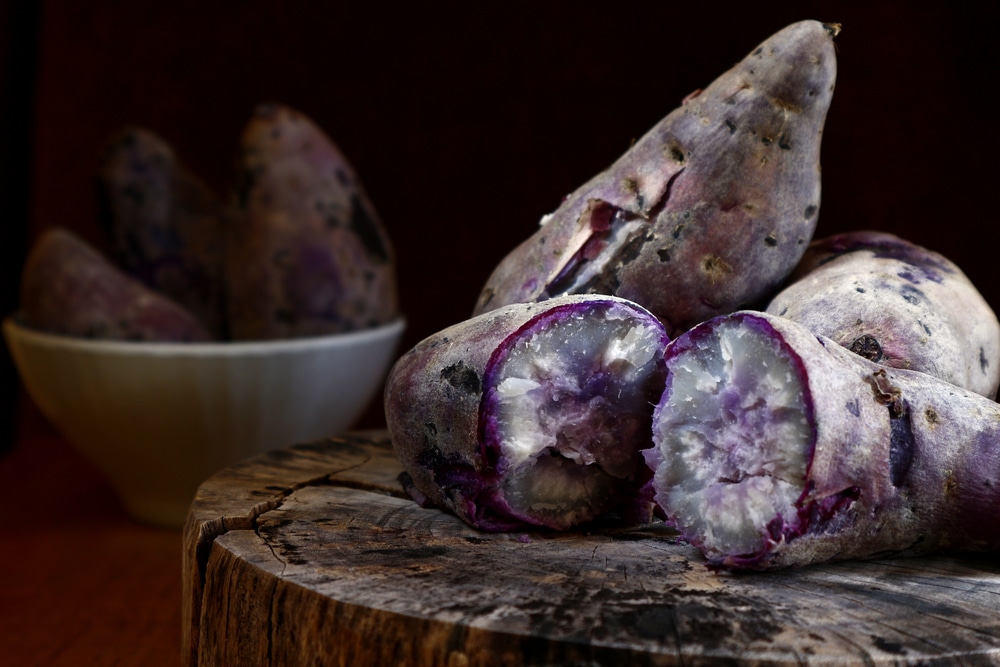 Ube is a purple yam native to the tropical areas of Asia.
This is a light purple or violet-colored tuber, also known as the water yam.
Ube has a mild, nutty flavor, resembling other types of sweet potato.
It can be found in traditional Philippine sweet pastries and desserts.
Udo
Edible shoots of the plant Aralia cordatam, similar in appearance to asparagus.
This plant is cultivated in Japan, China, and Korea where it is also known as spikenard, Japanese spikenard, and herbal aralia.
This vegetable can be consumed raw or boiled.
It has a fragrant aroma and taste.
Udon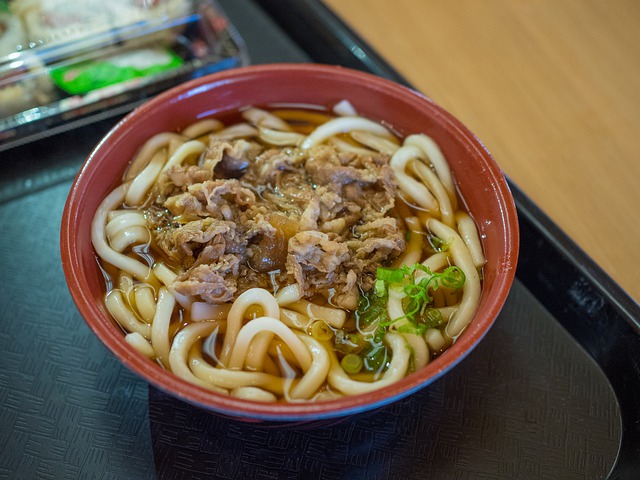 A thick Japanese noodle made from wheat flour.
They can be sold fresh and dried and boiled in water.
Udon noodles and served in traditional Japanese soups and broths.
Ugali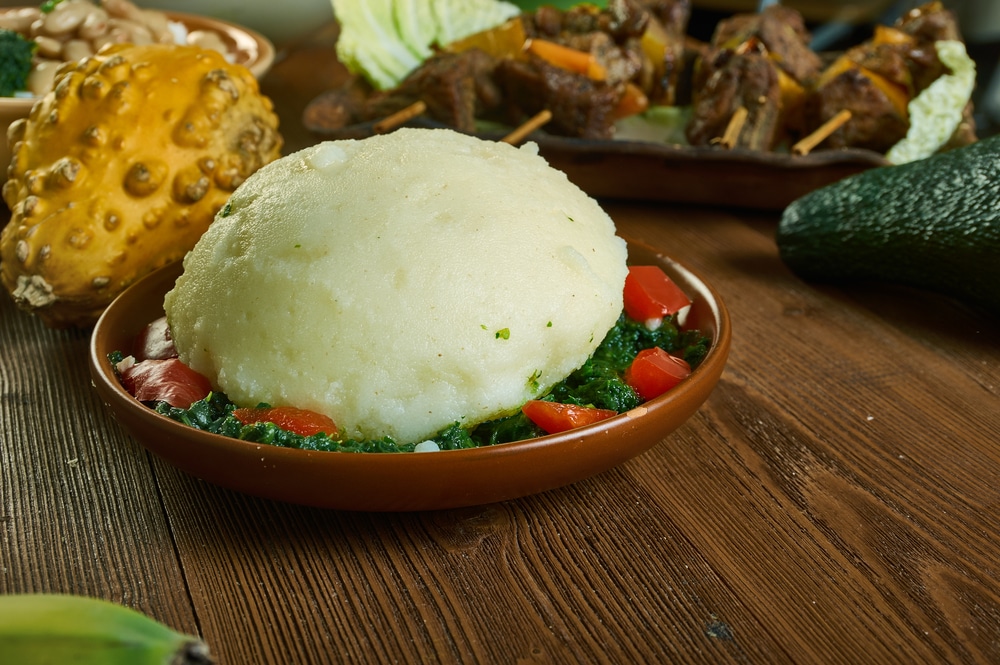 African porridge made of maize flour, or sometimes millet or sorghum flour.
The flour is boiled in milk or water.
This dish can be also found under various other names, including nshima, obusuma, phutu, sadza, Kwon, and ugali bogobe pap.
Ugali is eaten as a side dish to meat and vegetables or in stews and chilies.
Ugni
A group of fruits of the myrtle family Myrtaceae, native to South America.
These are red or purple berries grown in four varieties: Ugni candollei, Ugni molinae, Ugni myricoides, and Ugni selkirkii.
They are cultivated across Central and South America and used to produce jams, jellies, and desserts.
Ugli fruit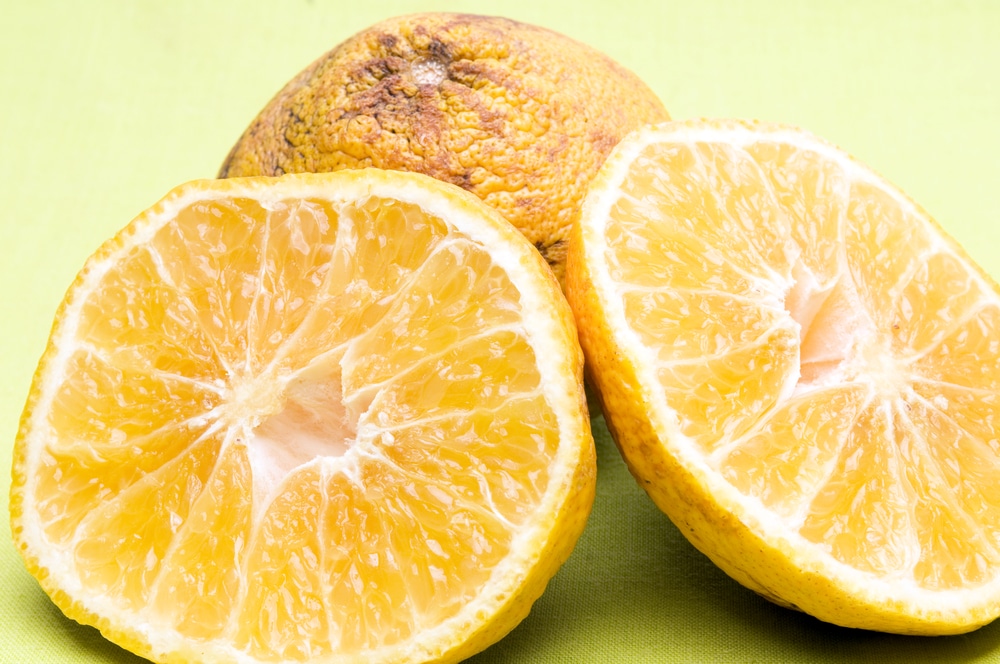 Ugli fruit, also known as Jamaican tangelo, is a citrus fruit native to Jamaica.
This is a natural hybrid of grapefruit and tangerine or orange.
Its name is a variation of the word "ugly", referring to the unpleasant appearance of this fruit.
Its wrinkled yellow rind is covering a juicy orange pulp that tastes sweet and slightly tart, but it is not as bitter as the grapefruit.
Ulluco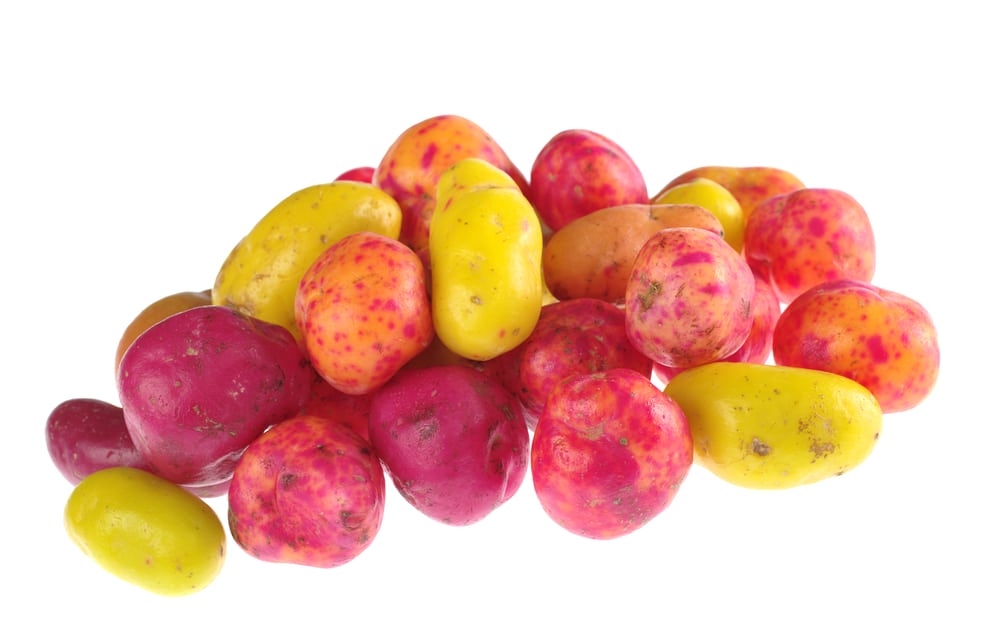 This is a tuber of the Ullucus tuberosus, a staple crop in the Andean region of South America.
Ulluco can be round or elongated, covered in smooth skin that can be yellow, purple, or pink.
The flesh is starchy and firm, similar to a potato.
Uluco is consumed similar to a potato – in salads, stews, fried, or baked.
Umble Pie
Umble pie's name derives from French ''nomble'' meaning 'deer's innards'.
This is a pie filled with minced deer's entrails, including heats, lungs, and liver.
It can be made of other meats as well.
This dish is also known as Humble pie and it was a popular specialty during Medieval times.
Umbricelli Pasta
A type of pasta originally produced in the Umbria region of Italy.
It is similar to spaghetti, but it is thicker.
It is made from durum wheat flour and water.
This pasta has a chewy consistency and it is usually served with thick tomato, mushroom, or cream sauce.
Umbu fruit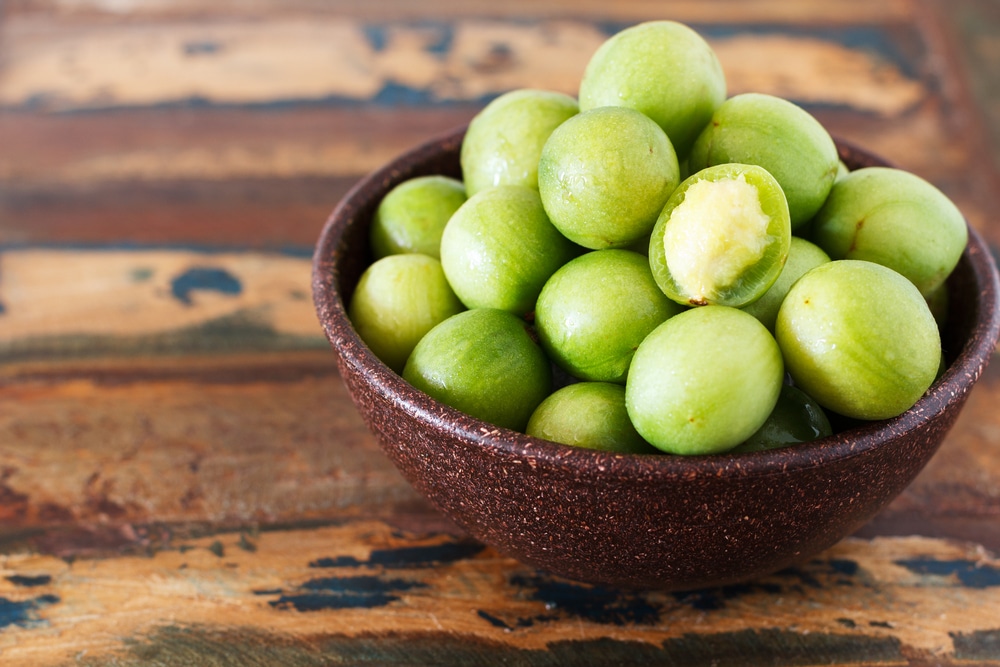 Round light yellow or red fruit is known as the Brazil plum or botanically as Spondias tuberose.
This is a plant from northeast Brazil with small, tender, and juicy fruits.
The taste of Mumbai is sweet and a bit tart.
It is consumed fresh or in jams, drinks, and desserts.
It is a great source of vitamin C.
Umbuzada
A non-alcoholic drink made of Brazilia number fruit.
Umbuzada combines fresh number pulp, milk, and sugar.
The mixture is shortly cooked in boiling water and served warm or cool.
The drink has a sweet-sour taste.
Ume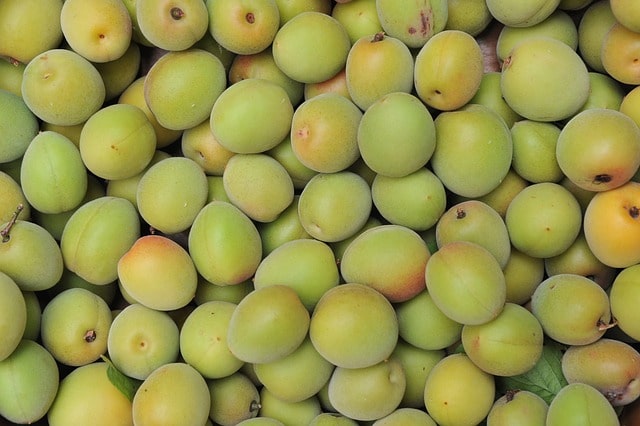 Ume is a Japanese fruit known as the Japanese or Chinese plum.
This is a species of Prunus mume, grown in East and Southeast Asia.
The fruit is usually consumed in pickled, dried, or in sauces and alcoholic or non-alcoholic beverages.
Its fragrant white flowers are known by the name plum blossom.
Umeboshi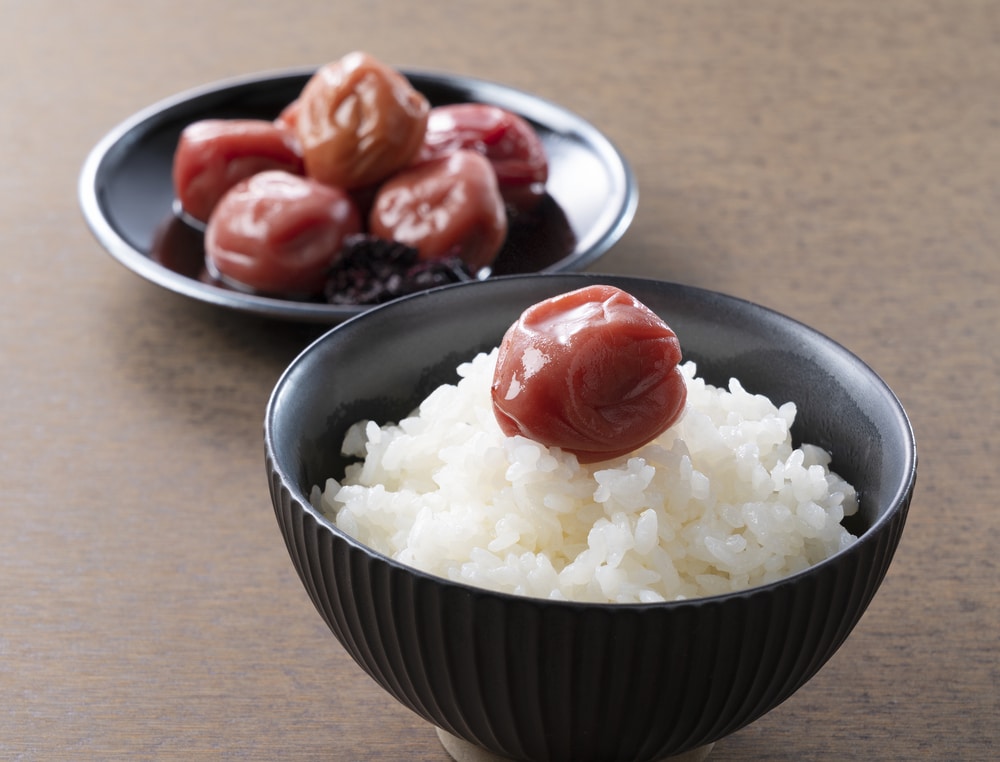 Umeboshi is pickled ume fruit.
This is a traditional Japanese specialty made through a process of drying ume fruits by mixing them with salt that extracts its juice, and after some time leaving them to naturally dry in the sun.
The resulting product is very salty and sour.
It is served as a side dish with rice or eaten as a snack.
Unagi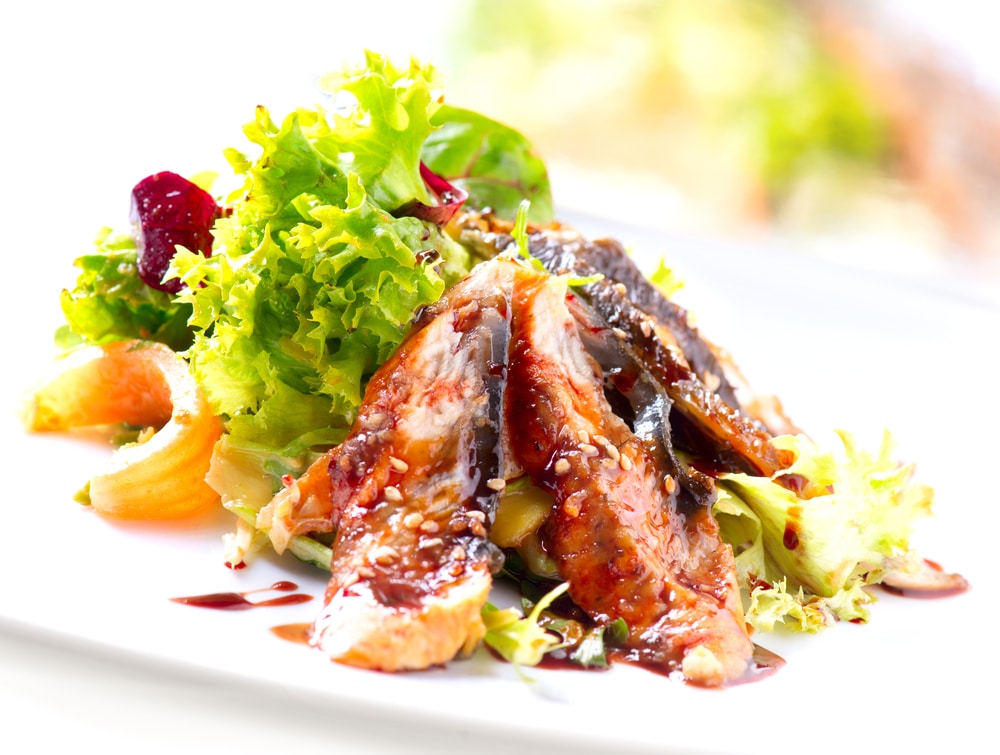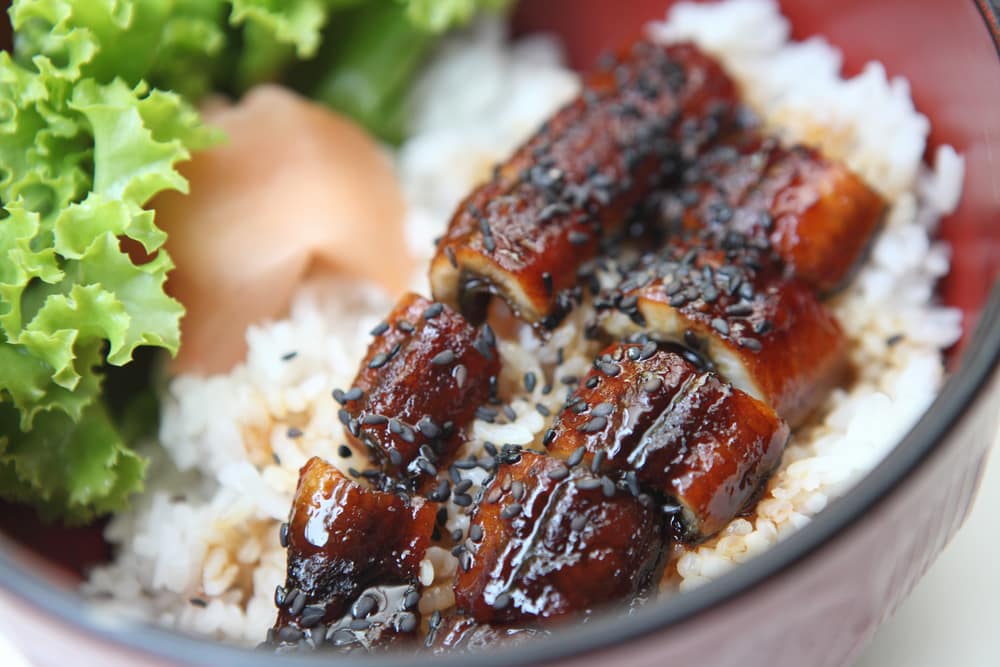 Japanese freshwater eel, used in various traditional Japanese meals, including sushi, unadon (unagi with steamed rice), or donburi (unagi mixed with vegetables and served over rice).
Unagi is very nutritious.
It is an excellent source of vitamin A and calcium.
It has a tender and fluffy consistency and a sweet, fishy flavor.
Undi
Indian steamed and seasoned rice dumplings.
These savory dumplings can be cooked in coconut milk or steamed in water, ground into a paste, and formed into small balls.
They are a traditional breakfast meal, popular in the Indian region of Konkan.
Under is usually served with coconut chutney.
Uni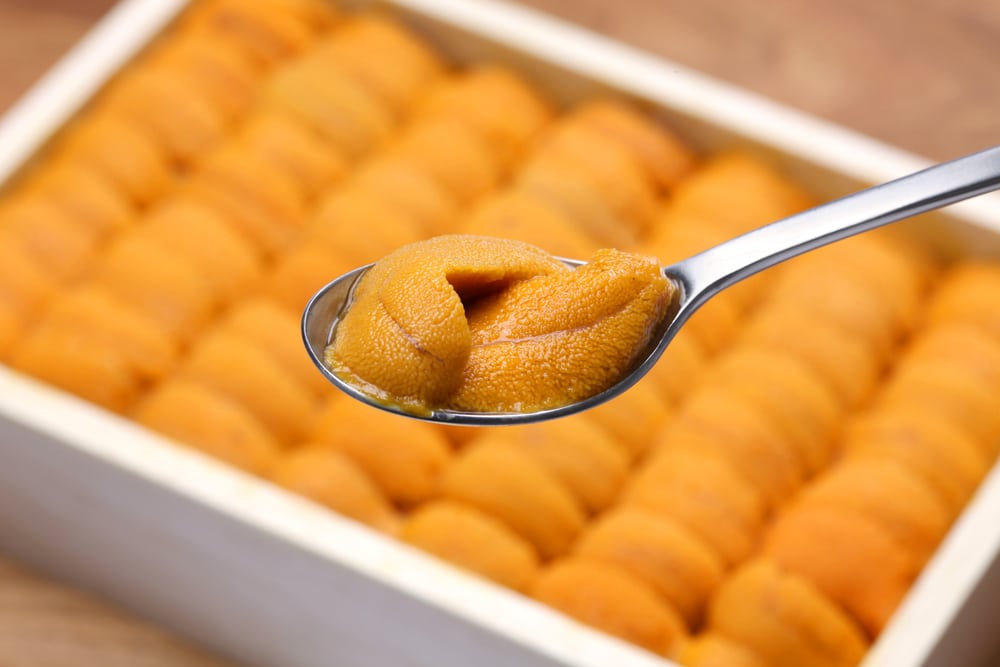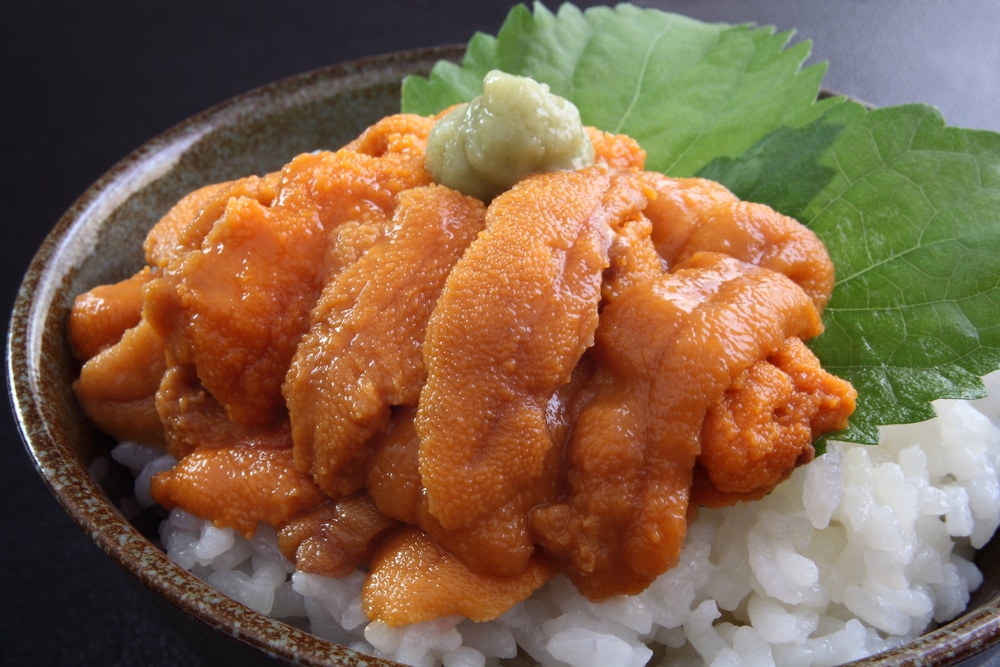 Japanese sea urchin.
The edible part is the roe, which has a rich, buttery flavor and a thick, creamy consistency.
It is considered a delicacy, served raw in sushi and sashimi, or topped over rice and pasta.
Upma
A South Indian breakfast dish made of semolina or rice flour cooked into a porridge.
This porridge is usually seasoned with traditional spices and can be mixed with vegetables like lentils, carrots, and onion.
Upma is also a part of Sri Lankan cuisine.
Upside-down Cake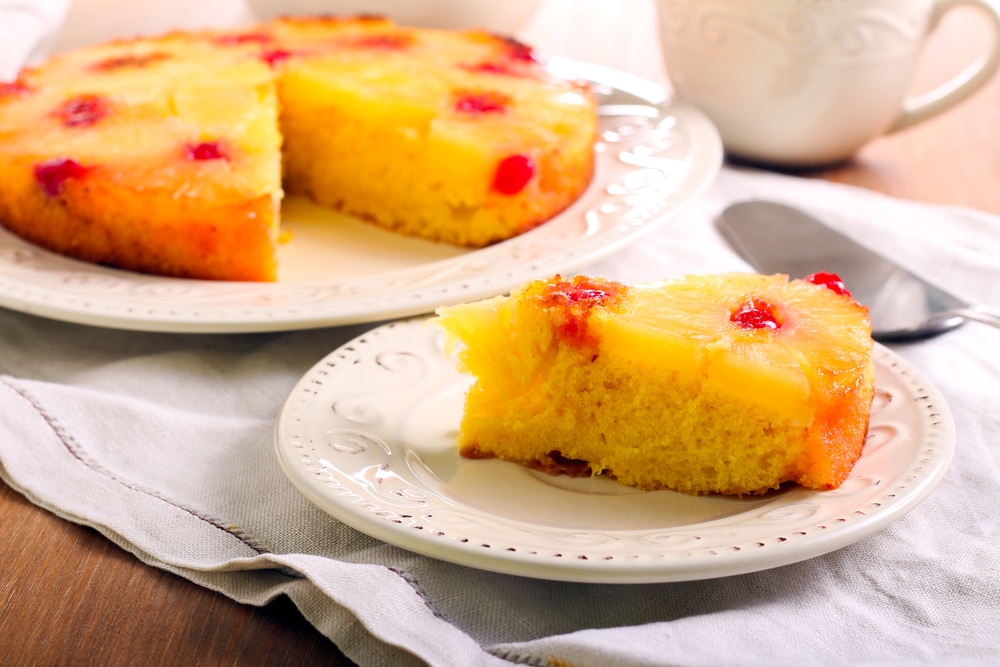 A cake baked with a layer of fruit placed at the bottom of the pan with the batter poured over.
When baked, the cake is turned upside down and served.
The most popular version is Pineapple upside-down cake with maraschino cherries, but other fruits can be used as well – apples, pears, peaches, and apricots among others.
Usually, a thick layer of caramel sauce is poured into the pan before placing the fruit.
Urad Bean
Type of black bean, native to South Asia.
It is also cultivated in other tropical regions, including the Caribbean, Africa, and other South Asian countries.
Urad is known by many other names: black matte bean, minapa Pappu, or mungo bean.
It is a popular ingredient in Indian meals – boiled, fried, or deep-fried.
It contains a high amount of protein, calcium, potassium, and B vitamins.
Urdă Cheese
Urdă is a type of soft white cheese made of sheep, cows, or goat's milk whey.
It can be made from the whey of any type of cheese.
This is a traditional cheese produced in Eastern Europe and the Balkans.
It is especially popular in Romania, Hungary, Moldova, Serbia, and North Macedonia.
It has a crumbly texture and a mild, neutral flavor.
Uthappam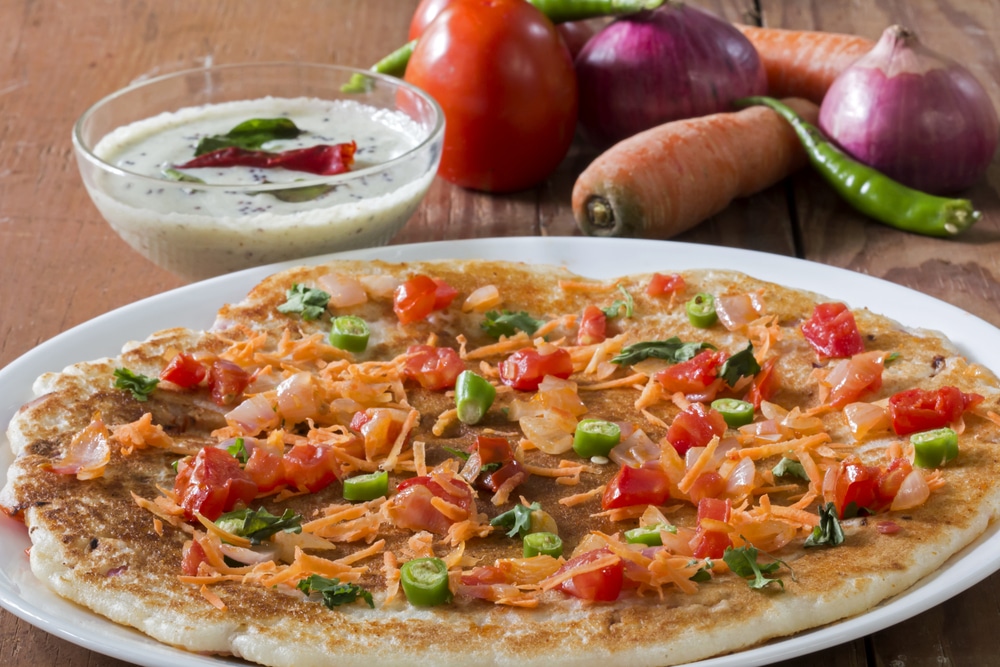 Thick Indian pancake made of urad beans and rice.
The batter is poured into a pan and fried on both sides.
It is a type of dosa, South Indian thin pancake, but it is thicker, softer, and it includes toppings.
Peppers, onions, coconut, carrots, tomatoes, and coriander are the most common topping options.
Uthappam is served with coconut chutney or with a traditional Indian stew.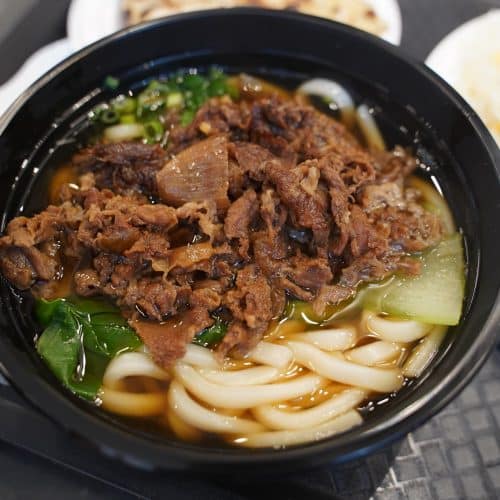 Beef Udon
Craving a steamy bowl of hot noodle soup? This heartwarming Beef Udon is my go-to Japanese comfort dish.
Equipment
1 large pot

1 frying pan

Serving Bowls
Ingredients
For the Udon Broth from Scratch
2½

cups

dashi

Japanese soup stock

1½

Tbsp

soy sauce

1

Tbsp

mirin

1

tsp

sugar

⅛

tsp

kosher salt

Diamond Crystal; use half for table salt
For the Udon Noodle Soup
1

Tbsp

neutral-flavored oil

vegetable, rice bran, canola, etc.

½

Tokyo negi

naga negi; long green onion

6-8

oz

beef

thinly sliced chuck or rib eye (or slice your own meat)

1

Tbsp

soy sauce

2

tsp

sugar

180

g

udon noodles

dry
For the Toppings
4

stems mitsuba

Japanese parsley

1

green onion

/scallion

4

slices

fish cakes

optional

shichimi togarashi

Japanese seven spice (for a spicy kick)
Instructions
Collect all of the ingredients. Boil a large pot of water for the udon noodles. Once it's boiling, reduce the heat to low until you're ready to cook the noodles.
How to Make Udon Broth
Add the measured water and a dashi packet to a medium saucepan. Over medium heat, bring it to a boil.

Simmer for about 2-3 minutes. Then, squeeze the liquid from the dashi packet and throw it away.

Combine the soy sauce, mirin, sugar, and salt in a mixing bowl. Remove the pot from the heat and cover it with a lid (don't let the soup evaporate).
Preparing the Ingredients
Cut the white part of the Tokyo negi into 12-inch (1.3 cm) slices diagonally. Place aside.

Thinly slice the mitsuba leaves and tender stems

Cut the green onion into thin slices. Transfer the green onion slices and mitsuba to a small plate/bowl for later use as a garnish for the soup.

Cut the narutomaki (fish cake) into four thin slices diagonally. Using a sharp knife, cut the thinly sliced shabu shabu beef in half, about 112 to 2 inches (3.8-5 cm) wide.
To Prepare the Beef
Melt the butter in a frying pan over medium heat. When the oil and negi are hot, add them.

Add the meat and cook until it's no longer pink when the negi is golden brown and tender.

Combine the sugar and soy sauce in a mixing bowl.

Cook until the meat is well coated with the seasoning. Take the pan off the heat.
To prepare the Udon Noodles
Cook the udon noodles according to package directions in boiling water. To reheat frozen udon noodles, boil for 1 minute from frozen. To remove excess starch, drain thoroughly and quickly rinse with water.
To serve
Divide the well-drained udon noodles among individual serving bowls and ladle the hot broth over them.

Place the stir-fried beef, narutomaki, green onions, and mitsuba on top. If you like it spicy, top with shichimi togarashi. Enjoy!
Video
Nutrition
Calories:
626
kcal
Carbohydrates:
73
g
Protein:
37
g
Fat:
21
g
Saturated Fat:
7
g
Polyunsaturated Fat:
1
g
Monounsaturated Fat:
8
g
Trans Fat:
1
g
Cholesterol:
60
mg
Sodium:
3575
mg
Potassium:
556
mg
Fiber:
5
g
Sugar:
17
g
Vitamin A:
72
IU
Vitamin C:
1
mg
Calcium:
116
mg
Iron:
3
mg
---