These easy potluck ideas will help you make the most of your monthly dinner gathering!
Whether you're hosting a BBQ, a lunchtime potluck, or dinner party, these recipes are just what you need.
Potlucks are an awesome excuse to get together with friends and family.
The food is shared, and everyone gets to try something new and exciting.
But what do you serve?
I know it can be hard to find time to cook during the week.
That's exactly why I love these recipes!
They're easy and budget-friendly, so everyone can enjoy them.
Here are my top three picks.
If you want something sweet, savory, or both, try one of these potluck ideas.
They're scrumptious and ideal for any occasion.
There's nothing like sharing a meal with friends and family on a cold winter night.
Let the fun begin!
Let's dig in!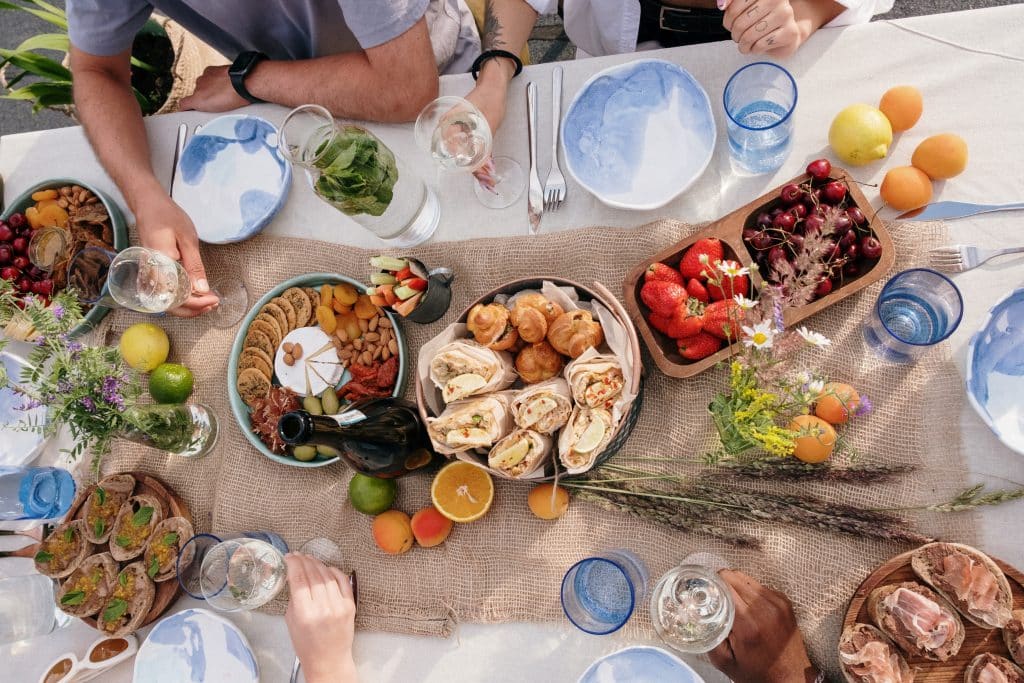 Macaroni salad is one of my favorite condiments.
Even though it's healthy, it's also super tasty.
Milk, eggs, and cheese just aren't the same when you don't add nuts or bacon.
Luckily, this recipe has all of the classic ingredients you love in a bowl – tomato soup mix, mayonnaise, mustard, celery salt, and more.
It has a light dressing that contrasts nicely with the creamy noodles and crunchy veggies.
This salad is perfect for summer BBQs or post-workout refueling!
The best taco dip is made with lots of ingredients, and this one has a bunch.
It's made with shredded chicken, cheese, and salsa.
That combo makes it a very Tex-Mex kind of dip indeed!
I think you could use any salsa in this recipe, but I love the zesty flavor that pepper provides.
I also like to add some black beans for extra nutrition.
Best of all, this can be ready in just 30 minutes!
This layered taco salad is like a meal in a bowl.
Every bite is loaded with crisp lettuce, crunchy salsa, and tender tortilla strips.
It's made even more delectable with red onions, pickled jalapenos, and a sweet and tangy dressing.
If you're looking to spice up your tacos this summer, this recipe is the perfect place to start.
Plus, it would make a terrific appetizer for any backyard BBQ!
If you love sausage, you'll adore these balls.
It's like a meaty little snack in a ball!
Sausage balls are a crowd-pleaser for breakfast or lunch.
They're salty, savory, and just the right amount of crunchy.
They're made with ground turkey sausage and then stuffed into pita pockets or rolled out into long cylinders.
Seasoned with garlic powder, paprika, onion powder, cayenne pepper, Italian seasoning (or your own favorite seasonings), and cheddar cheese.
They go on top of tomato sauce to make the perfect low-carb appetizer.
Three-chip English toffee is a classic in the UK, with its thick and chewy texture and sweet flavor.
This version is even more decadent, thanks to the use of white chocolate.
You'll love how this one changes from the traditional recipe with each batch you make.
Each time, it's sweeter and less fudgy.
It's perfect for adding to your afternoon tea or any other sweet treat.
And because it's so rich, it's totally tasty at any hour of the day!
Fruit salad is a guaranteed crowd-pleaser.
Think juicy fruit, fresh fruit, and a zippy dressing.
It's a great way to dress up your lunch box, and it's always a big hit with kids and adults alike.
Plus, you can make this in advance for summer picnics or BBQs!
If you're passionate about the beer and cheese pairing, this is the dip for you.
It's not just a simple dip with two flavors, but two ingredients that complement each other.
This beer cheese dip is a highly succulent mix of sharp cheddar and gruyere cheeses with a rich dark beer.
The combination of these two foods creates such an amazing flavor combination.
Yum!
BBQ chicken sliders are the ultimate in protein-packed goodness.
There's a ton of juicy, smoky goodness in every bite.
The sauce is made from three types of BBQ sauce – honey mustard, garlic, and bbq.
On top of that, you'll add green onions and fresh cilantro to the mix.
It all adds so much flavor and crunch!
These sliders are served on flour tortillas with some sweet barbecue glaze to boot.
(Options here include no glaze or a spicy honey mustard glaze.)
Baked potatoes are a fantastic side dish, but they're not the most exciting to make.
Luckily, this recipe is here to save the day.
Packed with bacon, chili powder, and cheddar cheese, it's a dish that you definitely won't want to miss.
With just five ingredients and 15 minutes of prep time, you have one of my new favorite potato dip recipes!
Do you find yourself craving the sweet, moist banana bread of your youth?
If so, give this recipe a try!
You'll love the deep, rich flavor of bananas in every bite.
Plus, it's so easy to make.
This banana bread is perfect for breakfast on your own or as a take-along with friends and family.
It's also great for special occasions or when you have guests over.
It makes the perfect dessert or snack!
If you've ever made fruit kebabs, you know they are pretty messy.
And when the fruit is too ripe and mushy, it's pure chaos.
Luckily, these skewers have some built-in protection!
You'll add a layer of white chocolate mousse to the bottom of each skewer.
Then place everything else on top.
The result is incredibly fresh and delicious.
These are perfect for adding to your next dessert platter or serving as a side dish alongside your main meal.
This Hawaiian cheese bread is perfect for your next brunch party or fancy dinner.
A savory and cheesy combination, it's a delicious alternative to the typical mac and cheese.
A simple butter-based crust pairs perfectly with warm and fluffy white bread.
So if you're looking for a treat that will leave you drooling, this is the recipe for you.
The best part?
This dish only takes about 25 minutes to prepare.
So grab your favorite beverage, because it's going to be a good time!
Chicken Waldorf salad is a classic medley of chicken, apples, walnuts, brie cheese, and crunchy pecans.
It's sweet, creamy, and full of flavor.
And it helps that it's also weight watchers friendly!
Plus, it looks so pretty on the plate.
From the green apples to the pecans to the dressing to the chopped nuts – every bit of this salad makes it look gorgeous.
Here's another pinwheel recipe for you!
It's so much easier to make than a regular taco and it sure does look spectacular.
The dough is just as easy to work with, though.
Just mix the dry ingredients (flour, sugar, baking powder), then add your softened butter and mix until smooth.
Next, roll out the dough into a circle and dip into beaten egg.
Place it on top of your tortillas or use skewers or toothpicks to secure it in place.
Bake until golden brown and enjoy!
If you love a good fudge, this is the recipe for you.
It's thick, creamy, and has just the right amount of cookie dough.
It also has some chocolate chips that add a nice crunch.
This would be great with a scoop of ice cream or maybe even some caramel sauce on top.
Either way, it'll be super yummy!
These caramels are wonderful.
They're not only sweet and buttery, but they're also crunchy on the outside and chewy inside.
The addition of sea salt makes them even better.
But if you're looking for a taste that isn't too salty, try using honey instead.
It just might work better for you.
Death by chocolate brownies is a dessert that has been celebrated in pop culture for years.
But why?
Because they're so ridiculously delicious!
The brownie base is moist and ooey-gooey.
It also has a dark chocolatey flavor thanks to the cocoa powder.
The frosting is rich, buttery, and full of vanilla.
Once it's mixed together, this recipe gets an extra kick of decadence by adding chopped nuts and crushed candy bars to the top.
I like to make these for my kids as part of their Halloween costumes!
This Greek pasta salad is a must-try!
This pasta salad has it all: veggies, cheese, and spices.
For the dressing, you'll need Greek yogurt, red wine vinegar, olive oil, salt and pepper.
The perfect combination of flavors that make this salad so good.
I think this dish tastes best served with some crusty baguette slices on the side!
Amish sugar cookies are fairly simple to make, but they're so good, you'll want to eat them by the spoonful.
If you love sweetness and rich flavors, these cookies are for you.
They also have a slight tanginess that makes them uniquely addictive.
The combination of light butter and sweet sugar creates a dreamy cookie that is so satisfying on its own.
I know I've already mentioned it, but this potato salad is genius.
Not only do you get a mouthwatering mix of sweet potatoes and bacon, but the addition of creamy mayo means your potatoes are getting a boost in protein as well.
It's also super easy to make and doesn't require much effort from you.
All it takes is 5 minutes or so on day 1, then cook the rest in the slow cooker until tender.
Top with cheese and crispy bacon, and enjoy!
As a self-proclaimed seafood lover, I'm always on the hunt for new ways to bring out that delicious flavor in my food.
And what better way to get them into your mouth than this seafood version of corn and crab eggs?
They still have all the classic flavors from a good old-fashioned Deviled Eggs recipe, but they also add some extra (and messy) goodness.
The Old Bay adds an additional layer of zesty flavor that you can't really get any other place else.
If you want something a little more special and less greasy, try this seafood Deviled Eggs recipe instead!
This buffalo chicken dip is so good, you'll want to lick the bowl clean.
It's a wonderfully creamy dip with a hint of spice that's really good for your tastebuds.
The best part is that it only takes 10 minutes to make.
So if you need an appetizer or snack, whip this up.
You'll love this caramelized onion dip, because it has everything you could ask for in a dip: flavor, texture, and convenience.
Throw in some cheeses and veggies, and you'll have a crowd-pleasing appetizer that can be made in under 30 minutes.
If you need to make the recipe ahead of time, just cook the onions on low heat until they're crispy.
Then let cool completely before mixing everything together.
The result is a cheesy dip that everybody will love.
It's also delicious as a spread on crackers or breadsticks!
Serve your caramelized onion dip with your favorite chips or vegetables for an extra crunchy bite.
I know you've probably seen fruit punch made with a bowl of ice and lemonade, but have you ever tried the original recipe?
If not, I highly recommend that you do.
It's got a pop of tartness from pomegranate juice, which is super refreshing.
And for the record, this recipe calls for fresh blueberries!
They're so much more flavorful that frozen.
All you need is to cut them up into chunks and let them cook in the glass until they thaw.
It's really easy to make this with canned pineapple chunks or canned mango slices.
Just don't overdo it with sugar as your kids will get very full and won't want another glass!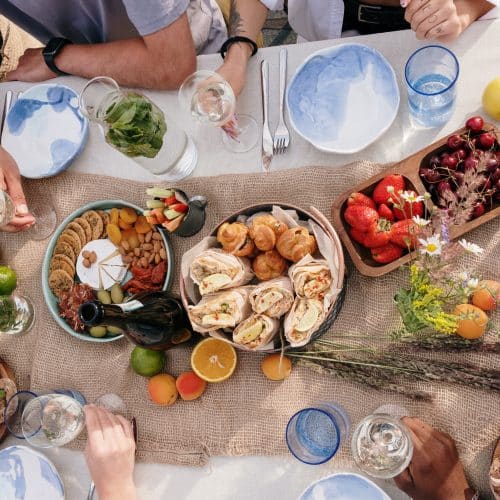 Best Potluck Ideas
Make a perfect potluck dinner with these wonderful recipes!
Instructions
Select your favorite recipe.

Organize all the required ingredients.

Prep a delicious potluck dinner in 45 minutes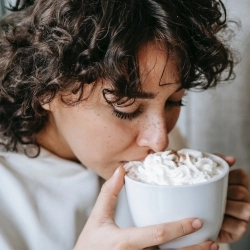 Latest posts by Grace Lambert
(see all)