If you think pesto is only good for pizza, think again.
I have a list of delicious pesto recipes that are just as versatile.
Pesto is delicious, but it doesn't work unless it's made with quality ingredients.
That means using pesto that isn't just cream and basil, but is also infused with various flavors for even more deliciousness.
There are endless possibilities when making pesto.
You can add herbs and other flavors to make it even more delicious.
You can even toss it with pasta and chicken to make a hearty meal.
So if you want something that's both savory and healthy, try one of these pesto recipes!
This cream cheese and pesto pasta is a fantastic dish for those of you who are on the hunt for something easy to make.
All you'll need is parmesan, garlic, basil, and cream cheese.
That's it!
With such a simple recipe in mind, I bet this creamy pesto pasta will be your new favorite.
The key to getting the most out of pesto is to be patient.
I know that you're impatient and want this on the table in under 30 minutes, but you won't get there with a single spoonful.
This recipe takes 30 minutes to make! It's made with just eight ingredients and is flavored with basil, garlic, pine nuts, Parmesan cheese, and more.
It tastes like heaven mixed with pesto.
Use it on chicken parmesan or use it as a dip for veggies or chips.
This 8-ingredient dish is quick and easy to make, so you can always have it on the table in no time.
The basil pesto adds a lovely peppery flavor that pairs well with the sweetness of mozzarella cheese.
Plus, it's so much more elegant than plain ol' pesto!
Serve this over your favorite pasta and enjoy a hearty meal.
These roasted potatoes are the ultimate comfort food.
Roasted potatoes take on a nice crunch that's perfect for dipping in this fiery parmesan pesto.
Squeeze some lemon over the top and then serve with an extra dollop of mayo or sour cream.
You can even use store-bought parmesan if you want to be on time!
I've always been a huge fan of chicken pesto.
It has the perfect ratio of ingredients and tastes amazing!
This sandwich is very similar to pesto chicken sandwiches, but with more basil.
The key difference is in the cheese.
You'll use parmesan for this one instead of mozzarella, which may not sound like a big deal, but it will make all the difference.
The only thing I don't like about it is that you're not able to add as much pesto even though you can with mozzarella.
Pesto pasta with grilled chicken is a tasty, healthy meal the whole family will love.
The pesto sauce is creamy, garlicky, and full of fresh basil.
It's also packed with tomatoes, garlic, and Parmesan cheese for a rich taste that's even better when paired with chicken.
Serve this dish as an appetizer or light meal.
It'll go down easy!
If you love grilled cheese as much as I do, you'll love this recipe.
It's the perfect way to start your day.
The mozzarella is crispy, juicy, and oozing with seasoning.
The bread is soft and buttery while maintaining a crisp exterior.
The best part?
This grilled cheese sandwich is better than any you ever had in a restaurant!
Here's another excellent pasta dish that'll have your tastebuds dancing.
It takes only 30 minutes to make, and it's so simple that you can even make it with a crowd.
The chicken is pan-seared in olive oil and the sun-dried tomatoes are cooked in a hot pan until they release their juices.
Then, you toss them with pesto, parmesan, oregano, and garlic.
Oh, and plenty of Parmesan cheese.
Top it off with parsley or basil leaves for garnish if you like.
This chicken dish is the perfect side to a hearty summer meal.
It's packed with protein and will keep you full all day.
When it comes to pesto, one of my favorite things is to use fresh Arugula.
You can find it in most supermarkets and Italian restaurants; just don't worry if you can't find it!
It has an incredible amount of flavor and isn't too rich.
It works great as a dip or spread for your favorite warm bread.
This taste-bud tingler is a light, creamy pesto baked salmon.
It's got bright, zesty flavors with a hint of sweetness from the lime juice.
Just look at all that deliciousness!
I like to serve it with some sauteed spinach and crusty bread for dipping.
It'll be hard to resist.
Do you love pesto?
Does your kitchen already smell like it?
Then you will absolutely adore this creamy chicken and cream pasta.
Pesto is a wonderful addition to pastas and rice dishes.
It gives the whole dish a rich, savory flavor and makes it taste even more amazing!
When paired with juicy chicken, fresh herbs, and a few veggies, this pasta dish is sure to please even the pickiest eaters.
This creamy pesto chicken pasta with spinach is to die for.
All you'll need to make it is some cream of celery soup, pesto, chicken breasts, and fresh spinach.
It's a simple dish that requires no effort on your part.
And yes, it tastes as good as it looks!
Top it with cheese or crumbled bacon for extra flavor and texture.
Then dig in!
It's hard to beat a traditional pasta dish when the weather is warm and you need something quick and easy.
But this grilled chicken and asparagus pesto pasta will keep you cool in the summer heat!
You'll love how well this recipe balances protein with veggies.
Plus, it has a tasty pesto sauce that tastes like a bowl of comfort food.
Plus, it's so easy to make.
Just toss half the ingredients in oiled pans, season with salt and pepper, then let them cook until tender.
This salmon pesto pasta is a delicious way to use up leftover ingredients.
Each bite contains the flavors of hearty pasta and fresh, tender salmon.
It's a simple dish that tastes like you spent hours in the kitchen making it.
Serve this with a serving of roasted vegetables for an extra special dinner experience!
These pesto cheese bombs are a delightful winter dessert that is sure to please.
You'll end up with three balls of cheesy goodness, each filled with fresh basil, pine nuts, and Parmesan cheese.
You can make these with store-bought or homemade pesto.
Either way, they're a must-try!
I have to admit that this recipe is a little different from most.
This pasta dish almost tastes like something you'd find in a fancy restaurant.
The gnocchi are tossed with creamy pesto, fresh herbs, and plenty of cheese for the perfect dinner or lunch side.
Serve it as an appetizer with some roasted veggies and you'll be guaranteed to have lots of people coming back for seconds!
Looking for a healthy, plant-based meal that doesn't skimp on flavor?
Then this recipe is the answer to your prayers.
The cauliflower and pesto are delicious alone or served over a bed of pasta.
But I recommend pairing it with homemade pesto.
You can grab some from the store, but trust me, you won't be able to tell the difference.
Serve it with some grilled chicken for a complete meal!
Pesto is one of my favorite pasta sauces.
It's light, fresh, and oh-so tasty.
And this recipe adds in roasted tomatoes and pine nuts for a delightful crunch that'll keep you coming back for more.
The key to making this pesto perfect is to make sure that everything gets mixed thoroughly.
For example, don't just dump the ingredients into a bowl as you pour over the sauce.
Be gentle!
Who doesn't love a quick and easy sandwich?
This one is best paired with a slice of rustic bread.
It's loaded with your usual condiments, but it also features pesto sauce.
The combination of flavors creates the perfect balance of creamy, earthy, and spicy.
You can even enjoy this sandwich as is or add some extra ingredients to make it your own.
The turkey breast adds juicy flesh that makes for an authentic taste.
When serving this sandwich, try not to gobble up all the deliciousness!
These grilled pesto potatoes are incredibly easy to make and are packed with flavor.
You'll be mesmerized by the amazing contrast of earthy and sweet flavors in every bite.
They're perfect for guests or a simple, no-fuss meal.
But they're also great for when you just want something good to eat!
If you're looking for a quick and easy meal, this chicken pesto stuffed sweet potatoes will be your new favorite.
The filling makes the sweet potatoes super tender, while the pesto provides an extra pop of flavor.
Plus, it's so easy to throw together!
You can use any kind of chicken you like – white, dark meat works well if you prefer.
Just make sure the meat is cooked thoroughly before stuffing it into the potato.
I like to call this creamy pesto shrimp pasta because that's exactly what it is.
It's healthy, easy, and really tasty.
Plus, you can make it in under 30 minutes.
Made with cheddar cheese, pesto sauce, and veggies, this dish has so much flavor.
It takes only 15 minutes to make plus an hour or two in the oven.
The best part?
It's guilt-free!
This chicken lasagna is all you need to make a creamy, flavorful dish with a hint of spice.
The pesto sauce adds an extra layer of flavor while the creamy cheese sauce makes it even more indulgent.
It's like the ultimate comfort food, and everyone will love it!
Here's another fantastic pesto pasta recipe that will leave you feeling full and satisfied.
It takes only 10 minutes to prepare and requires minimal prep work.
All you need is a handful of ingredients, including avocado, garlic, basil, nutritional yeast, and lemon juice.
Once the pasta is cooked through and ready to serve, add the avocado pesto into the bowl along with some fresh parsley.
If you're on the hunt for a new way to spice up your pasta, this recipe is worth checking out.
It uses pesto and parmesan cheese to elevate the standard black bean sauce.
This dish is full of earthy flavors that pair perfectly with the brussels sprouts and bacon.
Plus, it's keto-friendly, making it ideal for busy weeknights or when you need something hearty for dinner in a flash.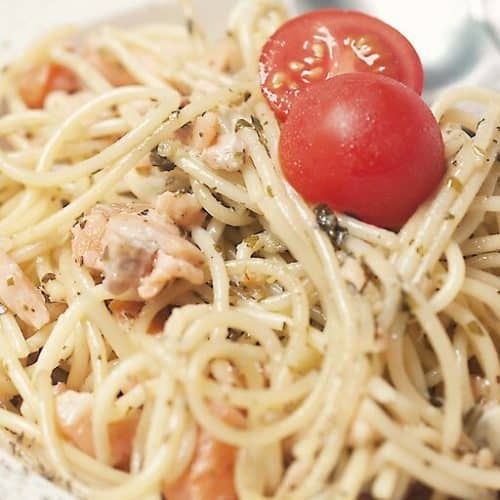 25 Best Recipes With Pesto
I have a list of delicious pesto recipes that are just as versatile. Pesto is delicious, but it doesn't work unless it's made with quality ingredients.
Instructions
Select your favorite recipe.

Organize all the required ingredients.

Prep a delicious shrimp dinner in 30 minutes.
---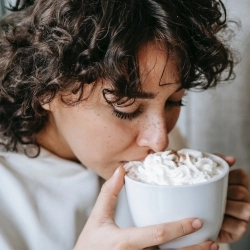 Latest posts by Grace Lambert
(see all)