Alcohol and energy are the two things you need for a party and that's why the Las Vegas bomb is the best party drink there is.
Crown Royal whiskey and peach schnapps go with an energy drink, usually Red Bull, to give you a blast of alcohol and energy.
On top of that, a little cranberry juice takes a bit of the edge off.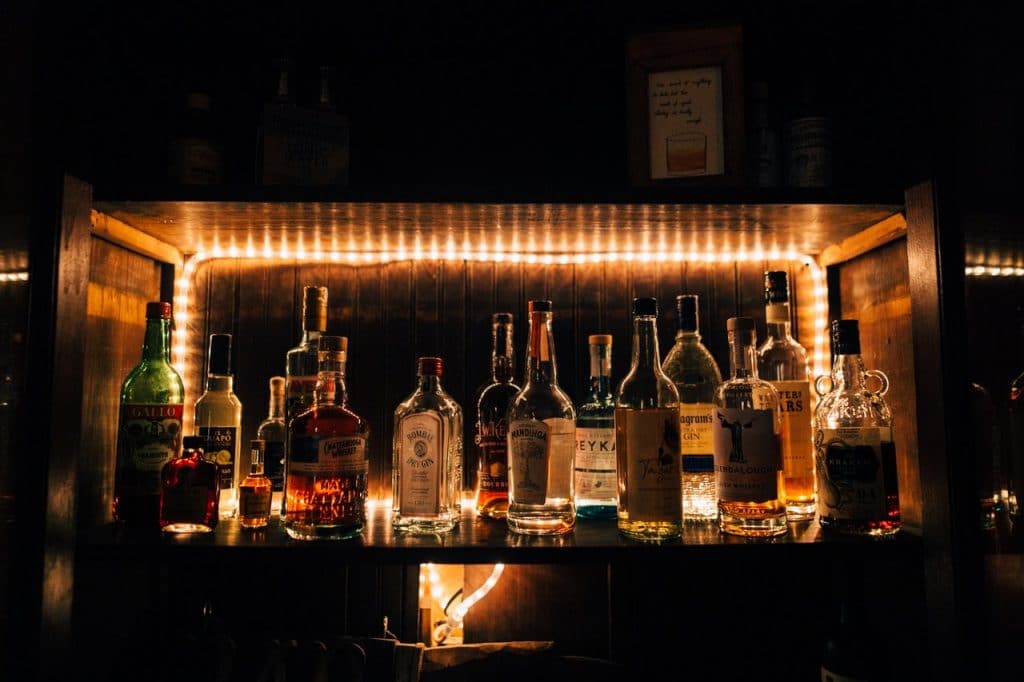 Next time you're having a party, get a bunch of Vegas bombs ready first thing and start things off in style.
Vegas bombs are called bombs because you drop the shot of alcohol into the energy drink like a depth charge, just before you drink it.
Be careful not to drop too many bombs, though, because they're stronger than you think and you might find that people start dropping themselves and their stuff all over your house as well.
This article will tell you how to make classic Vegas bombs and also gives you an alternative recipe to try as well.
Classic Vegas Bomb Shot Recipe
A classic Vegas bomb should be refreshing, but should also pack a good punch at the same time.
Here's what you need to make just one of them…
Ingredients
1 shot of Crown Royal whiskey (1 and 1/4 ounces)
A splash of peach schnapps (1/4 ounces)
1/4 cup of cranberry juice (2 ounces)
1 can of Red Bull (or another energy drink)
A shot glass
A tall glass
And here's how you make it…
Instructions
You have to make a Vegas bomb, just before you serve it.
So you can't prepare a Vegas bomb ahead of time.
That said, you can get everything ready beforehand, and then when it's time you just have to pour your Red Bull and ice into a glass and drop the shot.
Dropping shots into glasses and downing them is fun.
First, get your Vegas bomb shots ready
The first thing you need to do is get your shots ready.
To do this, you'll need a cocktail shaker or a mixer of some kind.
Aim to prepare as much as you think you'll need for your whole evening.
There's one shot per drink, so multiply our ingredients by the number of Vegas bombs you plan on making.
Mix your Crown Royal whiskey, peach schnapps, and cranberry juice together in your mixer
Give it all a good shake
Done
You should store your Vegas bomb shot mixture in a sealed container in the fridge until it's time to have your Vegas bombs.
You should also be sure to put your Red Bull, or whatever other energy drink you're using, in the fridge ahead of time as well.
The Vegas bomb is best served cold and so it's important to keep everything in the fridge.
Next, make your Vegas bombs
This is the fun part…
Pour your Vegas bomb shot mixture into shot glasses
Pour your Red Bull into your tall glasses. Leave enough room to fit the shot glasses in there as well
Drop the shot glasses into the tall glasses and serve them
Vegas bomb drinks are made to be drunk in one go, so go ahead and chug it down in one.
That's about all there is to it.
You should find that a Vegas bomb doesn't taste too strong, gives you a boost of energy, and leaves you feeling refreshed.
Just remember not to have too much fun.
Royal flush shot recipe
A nice alternative party drink to the Vegas bomb drink is the royal flush shot.
These are more like cocktails.
They aren't a shot glass bomb recipe, they don't have any Red Bull and they aren't designed for chugging in one.
However, they do have a lot of the same ingredients and are a really good alternative to the Vegas bomb.
They're particularly good if you like cocktail drink recipes with Malibu or other types of coconut rum.
While these are more mellow in that you're not supposed to chug them in one, watch out because they're still pretty strong.
Royal flush ingredients
The ingredients are the same as for the Vegas bomb shot recipe, except that you take away the Red Bull and add Malibu or another coconut rum.
Here's what you need to make one royal flush shot…
1 shot of Crown Royal (1 and 1/4 ounces)
1 shot of peach schnapps (1 and 1/4 ounces)
1 shot of Malibu, or any other coconut rum (1 and 1/4 ounces)
3 ounces of Cranberry juice
Ice cubes
Royal flush instructions
Making a royal flush shot is pretty easy.
To do this, you'll need a cocktail shaker or another mixer.
You can use a pint glass as a mixer for one of these if you seal the top of it with something and don't shake too hard.
Mix all of your ingredients in your shaker
Give everything a shake
Done
Serve a royal flush in the same tall glass that you would serve a Vegas bomb drink in.
Be sure to put a few ice cubes in there first.
Remember to take your time with a royal flush.
They're stronger than a Vegas bomb shot and it's a good idea to go slowly.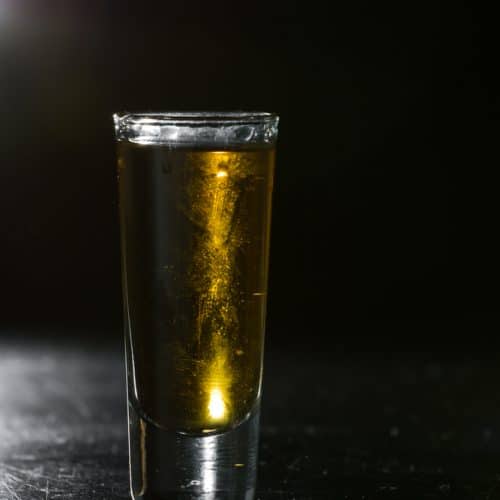 Vegas Bomb
Ingredients
1

shot

Crown Royal whiskey

1 and 1/4 ounces

A splash of peach schnapps

1/4 ounces

1/4

cup

cranberry juice

2 ounces

1

can

Red Bull

or another energy drink

A shot glass

A tall glass
Instructions
Mix your Crown Royal whiskey, peach schnapps, and cranberry juice together in your mixer

Pour your Vegas bomb shot mixture into shot glasses

Pour your Red Bull into your tall glasses. Leave enough room to fit the shot glasses in there as well

Drop the shot glasses into the tall glasses and serve them
Video
Nutrition
Calories:
140
kcal
Carbohydrates:
8
g
Protein:
1
g
Fat:
1
g
Saturated Fat:
1
g
Sodium:
1
mg
Potassium:
49
mg
Fiber:
1
g
Sugar:
8
g
Vitamin A:
28
IU
Vitamin C:
6
mg
Calcium:
5
mg
Iron:
1
mg
---