Looking for the best nugget ice maker on the market?
Nugget ice is a rare but delicious kind of ice.
Usually known as "that chewy ice you get at Sonic", nugget ice simply improves your drinking experience.
It cools down your beverage more quickly, dilutes your drink less, and it's very satisfying to bite into.
In this article, I'll go through the best nugget ice machines, and I'll let you know if nugget ice actually lives up to the hype.
Let's get started.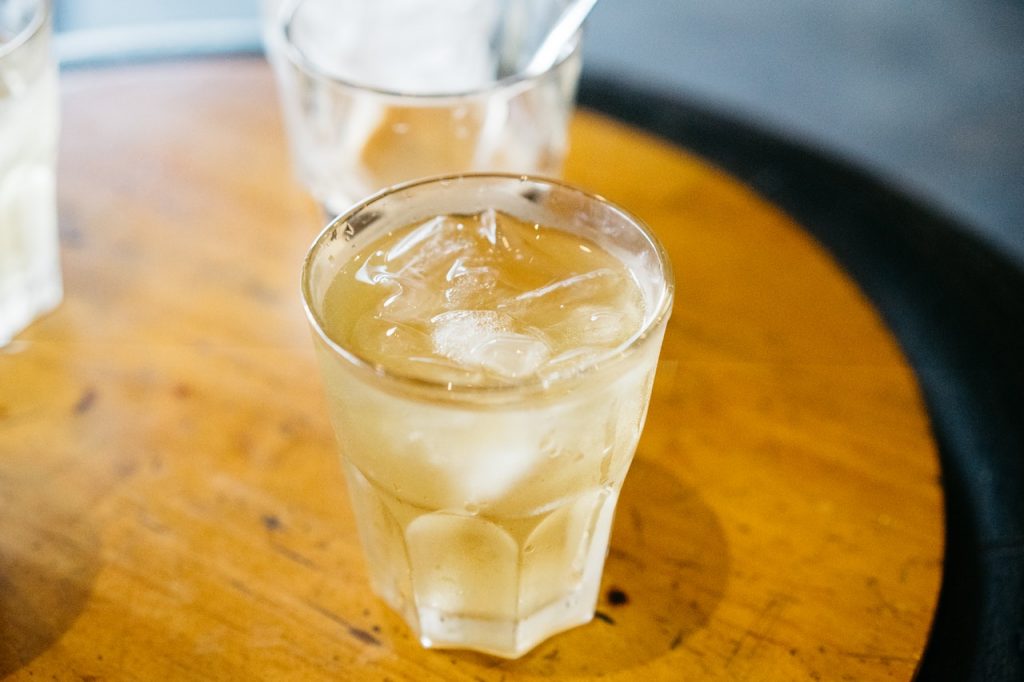 What are nugget ice makers?
Nugget ice, which is also known as pellet ice, Sonic ice, or even "The Good" ice, is considered superior by many for a few reasons:
The texture: Nugget ice is made to be lighter and airier, which makes the experience of biting them almost like biting ice cream.
The long-lasting ice time: Nugget ice lasts longer than crushed ice, preventing your drink to get watered down as quickly.
The quick cooldown: Being smaller, nugget ice cools off your drink far faster than normal ice.
The versatility: Since it's nice to chew on and lasts for so long, you can use pellet ice not just for sodas and lemonades, but as an extra texture and icy ingredient to cocktails and frappes.
As you can see, nugget ice is quite different from the ice you get from your fridge.
Nugget ice makers vs. Sonic ice makers
Nugget ice is the same as Sonic ice.
However, since "Sonic" is a trademark, "Nugget" and "Pellet" are the terms companies use for this type of ice.
This kind of ice should not be confused with crushed ice.
Although crushed ice is also used to chill drinks quickly, the making process is completely different.
Crushed ice comes with large ice cubes that have been crushed into smaller ice flakes and pieces.
Nugget ice machines work very differently.
In them, ice is made by layering ice flakes and freezing them together.
Through this process, the nuggets develop tiny pockets of air.
This creates a unique soft texture that makes for more chewable ice.
NewAir Sonic Ice Maker Review: Best Overall
Sonic Speed Countertop Crunchy Ice Pellet Machine
Makes "Nugget ice" is smaller than a sugar cube

Less than 12mins to make ice - Fastest on the market

Ultra insulated interior, keeps your ice fresh for longer

Self cleaning function
Here's why NewAir is my pick for the best nugget ice maker:
Functions and Features
One of my favorite features of the NewAir Sonic Ice Maker is that you can get your first batch almost immediately.
Since this is the fastest ice maker on the market, whereas other nugget ice machines make you wait for 20 minutes, the NewAir surprised me by getting the first batch ready in just 5 minutes.
That's thanks to the high-power cooling process that NewAir packed in their ice maker, which makes it more efficient and faster than practically any other nugget ice maker.
You also get a simple self-cleaning function, and water recycle to get any unused ice ready to be frozen again.
The ice maker also turns off automatically once the ice maker is full, so you don't have to worry about leaving it on for too long.
Design
The design of the NewAir ice maker is pretty straightforward.
You get a compact and efficient design, easy to clean and easy to use.
At the front, you only get two red lights and one power button.
There aren't any dials or any other buttons, you can either turn it on or turn it off.
One light tells you when the ice maker is full, and the other when the water has run out.
It's that simple.
On top of the ice maker, you also get a small see-through panel on the lid to let you know how much ice is left.
However, this no-frills design isn't due to a lack of quality.
The plastic that houses your water and ice is BPA-free, and the walls are extra thick, helping the ice stay frozen for a surprisingly long time.
The machine is built to last, and will probably be one of your favorite kitchen appliances for years to come.
Size and Capacity
This ice maker is quite compact, making it perfect if you want a small countertop nugget ice maker.
You can fit up to 2 liters in the water tank, and keep 4.8 lbs of ice in the insulated ice area.
Size: 16.5" by 10.6" by 16.3"
Production Capacity
Making ice usually takes a long time, even when using a dedicated ice maker.
That's why the NewAir surprised me with its quick turnaround time, getting you the first few pellets within 5 minutes.
However, if you want to host a party, you still need to wait for a while longer.
The general consensus is that you'll get about 20 ounces of ice, which is about five drinks worth of it.
If you want to fill up the ice compartment, which can store 4.8 lbs of ice, you'll have to leave it running for about 3.5 hours, give or take.
This is extremely fast when it comes to ice making, about twice the speed of the other best nugget ice makers.
The nugget ice is also of high quality, giving you the chewy sensation you're looking for.
Pros and cons:
Here's where the NewAir nugget ice maker shines, and where it doesn't:
Pros:
Extremely quick ice production
BPA-free plastic
Very effective ice bin insulation
High-quality materials
Compact enough to be a good countertop nugget ice maker
Self-cleaning feature
Cons:
The ice maker can be quite noisy while operating
Fairly heavy
Expensive
Doesn't keep running and will shut off automatically after it's full
GE Opal Nugget Ice Maker Review – Highest Quality
Portable Ice Maker with Bluetooth Connectivity
Opal shaped nugget ice

Produces 24 pounds of ice per day

Smart technology schedule and monitor ice maker via Bluetooth

No ice clumping or leaks
If you have the extra cash, you may want to go for the Opal Nugget Ice Maker by General Electronics.
Here's why:
Functions and Features
The most notable feature of the Opal ice maker is clearly its built-in Bluetooth connectivity.
With it, you can connect the Opal to your phone or tablet and control it, letting you program its ice creation, start or stop it, and even control the brightness of the LED light.
That being said, the app doesn't do much more, like letting you know when the water tank is empty.
Then again, it's an ice machine that you can control with your phone, so I wasn't expecting much app power control to begin with.
When melted, like with other nugget ice makers, the water will just be recycled to make more ice.
Plus, although it doesn't include a water hookup option, you can get 3X more ice by attaching the Opal side tank to get it going for a while.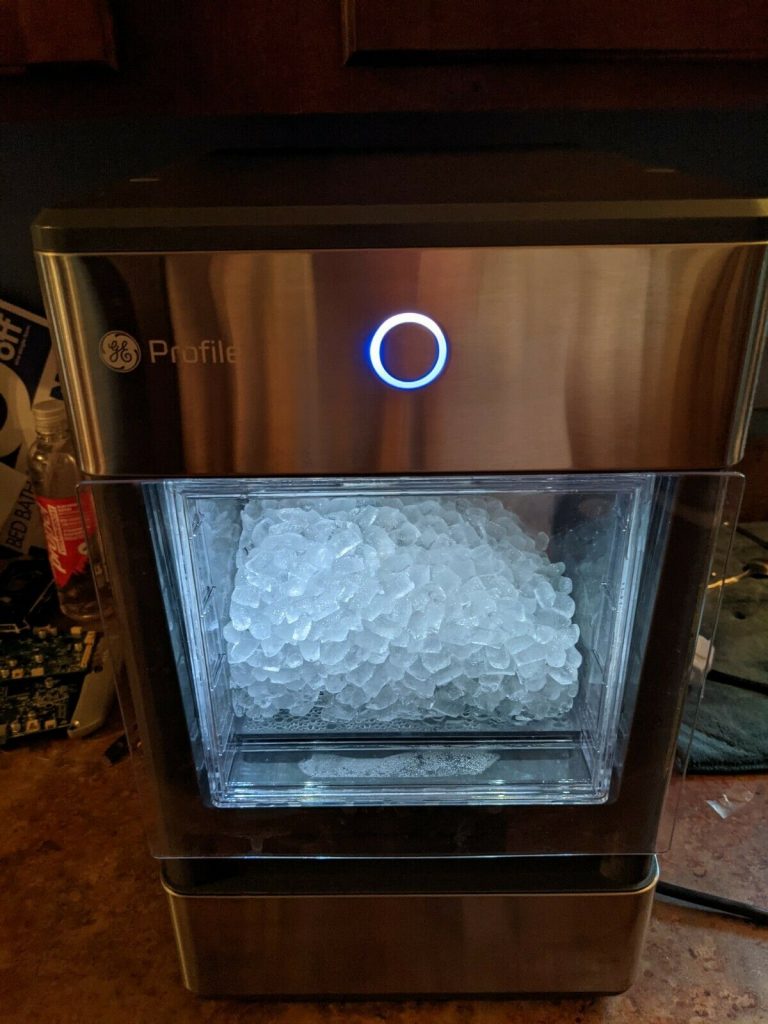 Design
The design of this model is quite nice to look at.
It's made out of stainless steel exterior, with a frontal see-through tray that easily pulls out to make sure you're getting all the ice, instead of having to use an ice scoop to retrieve it.
You can also let the ice bin hang down to get quick access, or even remove it completely, replacing it with a different container to quickly retrieve your ice nuggets.
The Opal is operated through just one circular button surrounded by an LED light that glows different colors to let you know the current status.
Size and Capacity
The Opal is a bit larger than your typical kitchen appliances, with a tray that has a capacity of 3 pounds, but it's still compact enough to have as a countertop ice maker.
That's probably where you'll want to keep it since, at 44 pounds, you probably won't want to keep taking it in and out if you're using it often.
Size: 17.25" x 10.5" x 15.5"
Production Capacity
The Opal Nugget Ice Maker may not be as fast as the one from NewAir, but it still produces ice fast enough.
You can expect about one pound of ice (or 14 ounces) per hour, with the first batch being done after 20 minutes.
You can expect the three-pound capacity tray to be filled in about three hours.
The Opal isn't as noisy as other options, but it's still making weird noises, and GE even lets you know in advance that "unfamiliar" noises are to be expected.
Nugget ices with the Opal are just as good as the ones made by the NewAir, and, yes, the ones at Sonic.
Pros and cons:
Here's where the Opal Nugget Ice Maker shines, and where it doesn't:
Pros:
Great nugget ice quality
Bluetooth connectivity
Great-looking design
Removable ice tray
Easily-attached extra water tray
Cons:
Fairly expensive
Reportedly makes weird noises
You may want to buy the extended warranty
If you want everything that the Opal does, but want more out of your ice maker, you'll probably like the 2.0 version, which also comes with a detachable side tank.
The Opal 2.0 gets you:
SmartHQ app compatibility
WiFi connectivity
Quieter operation
Extra-large side tank
Built-in automatic refill function
Intuitive touch controls
Larger capacity
NewAir vs. Opal, which one is better?
So, which one should you choose?
Operation experience
Although the Opal nugget ice maker makes weirder noises, the NewAir is a noisier ice machine in general.
They both produce good ice with the kind of quality you're looking for.
That being said, retrieving the ice is easier with the Opal, with its removable tray, whereas the NewAir forces you to scoop it out.
Neither ice maker has a water hookup option, a water filter, a refrigeration system, or a large reservoir capacity, opting instead to be home countertop ice makers for parties and to show off with friends.
Design
The design of both is fairly minimal.
The NewAir looks like a steel box, whereas the Opal definitely wins in the looks department.
However, I still feel that the overall quality of the design is better in the NewAir, with the quality of the Opal lacking.
Ice Production
Although both produce great-quality ice, the NewAir definitely wins in ice production capacity.
It's by far the faster out of the two, being able to produce double the amount of ice than the Opal nugget ice maker.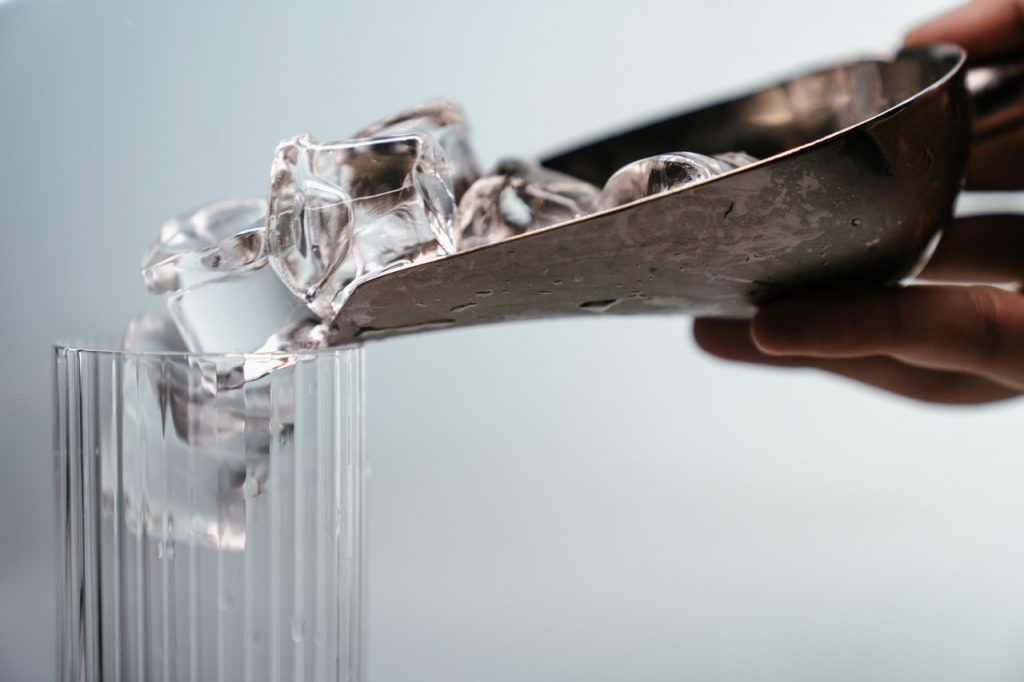 Which One Should You Get?
The best ice maker for you will likely depend on your personal needs.
Choose the NewAir Nugget Ice Machine if all you want is a high-quality, lightning-fast, and reliable ice maker, all in a simple and durable stainless steel exterior, and great insulating plastic.
Choose the Opal Nugget Ice Maker if you want a great-looking ice maker with a removable tray that you can control with your phone.
The choice is yours!
Love,
G.
---