I never thought I'd review these, but these turn out to be pretty hot now!
And I can personally attest to the fact that seeing your toast brown bit by bit is a very meditative experience.
Now, do you need a toaster with clear walls?
Probably not.
But if you want one, which one do would you get?
Let's find out.
I looked at the toasters available today and decided to review only two.
I wanted to include more here but I can't do so in good faith.
They are either not dependable enough, or not backed by a warranty, or just plain bad.
So here goes: the Dash glass toaster versus the Magimix glass toaster.
What is the same?
Like with compact toasters, these two toasters are the same in their basics.
In terms of modes, you get the usual Defrost (add extra couple of seconds to defrost frozen bread), Reheat (warm your bread without browning it) and Bagel (one side is toasted, the other is warmed up) on both.
And in terms of shade settings, you get the same 7 settings.
The slots are wide enough to fit in bagels, toast, waffles or a split croissant.
What is different about glass toasters?
Here is where it gets interesting.
Glass toasters have two walls that are made of tempered glass (they are pretty safe shatter-wise, so no worries).
To keep your fingers safe, and also for insulation, they have two glass panels on each wall — one on the inside and one on the outside.
The inner one ejects through the bottom for cleanup, although after several months of daily use there seems to be almost no need to clean it.
No products found.
It looks wonderful, but it also has another benefit: you will know the shade before you burn your toast.
Just check it through the window.
Both the Dash and Magimix have glass walls, and they are both very capable toasters.
There are a couple of quirks that set them aside, but ultimately it all comes down to preference and your willingness to spend extra on the premium model.
No products found.
The Dash looks great on the counter and toasting is quick and reliable.
There is just one problem: it throws toast!
So much so that some people even recommend tying a small piece of wood or cork to the lever so that when the Dash is finished, it stops a bit lower than at the top, preventing it from shooting at you.
If you can live with that, it's a great toaster for the price point, though not as reliable as some of my recommendations of non-see-through options.
Pros
Retro looks
Easy controls
Great color options
Cons
Mediocre warranty
The toast will come flying!
No products found.
This is the option for those that want the extra oomph.
Toasting is great: it has four (quartz) heating elements, two at the top and two at the bottom.
It is very sturdy and well-built, and it looks terrific on the counter, plus it comes with a three-year warranty.
Oh, and it does not try to sling anything at you.
Pros
Very well built
Toasting is great
Better warranty
Your Choice!
You might be asking yourself: why would I compare toasters with such price discrepancy?
First, if you're already here, you probably value the look and how it will fit on the counter more than looking for the quickest toaster or the best crunch on your toast.
So price is also a smaller consideration.
Second, I always try to give options — no two people are the same, after all.
So I hope I was helpful.
It's your choice now – do you get the price-efficient underdog or the classy premium option?
I hope you have a terrific experience with your toaster either way.
Thanks,
G.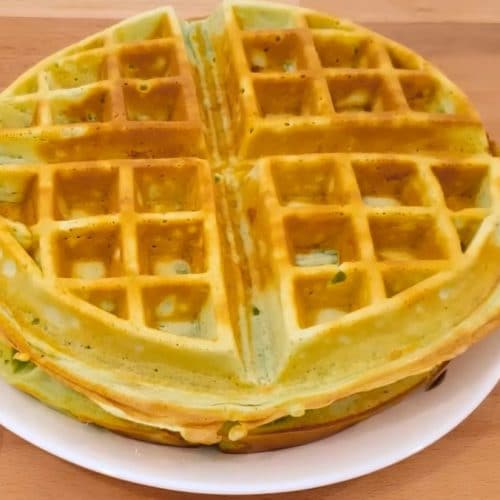 The Best Hungry Jack Waffle Recipe
If you're looking for a delicious and easy way to make waffles at home, look no further than this Hungry Jack waffle recipe
Ingredients
1

Hungry Jack mix

1

Milk

1

Water

1

Eggs

1

butter

1

cheese

1

sausage

8

eggs

1

Salt

1

Pepper

1

Syrup
Instructions
Start by heating your waffle iron to the required temperature. If you don't have a waffle iron, use a pancake griddle or even a frying pan. Alternatively, use a toaster oven if it has a waffle setting.

While the waffle iron is heating up, mix the Hungry Jack mix, milk, water, and eggs in a large bowl. Whisk until the batter is smooth with no lumps; but, if using a Belgium waffle mix, don't add the oil to the batter.

If using a Belgium waffle mix, preheat the oven to 425 degrees F. Next, coat the waffle iron with non-stick cooking spray. Pour in half of the batter, spread it evenly over the surface of the iron, and cook for about 2-3 minutes or until golden brown.

Carefully remove the waffle from the iron and place it on a plate. Repeat the steps until the batter is used up. However, if using a Belgium waffle mix, bake in the oven for about 12 minutes or until golden brown. When ready, serve with your favorite toppings.
Video
Nutrition
Calories:
421
kcal
Carbohydrates:
2
g
Protein:
32
g
Fat:
31
g
Saturated Fat:
10
g
Polyunsaturated Fat:
5
g
Monounsaturated Fat:
12
g
Trans Fat:
1
g
Cholesterol:
769
mg
Sodium:
559
mg
Potassium:
387
mg
Fiber:
1
g
Sugar:
1
g
Vitamin A:
1122
IU
Vitamin C:
1
mg
Calcium:
122
mg
Iron:
4
mg
---