.
Cake has become a way of expressing our happiness, we include cake on every small and big occasion.
And today I have brought a recipe for one such delicious cake, sponge cake.
We can make sponge cake in a very easy way in the microwave, at most it will take 15 to 20 minutes.
The method of making sponge cake is very easy and it gets ready quickly, it hardly takes us 5 minutes to prepare its batter and 10 minutes to make it complete..
I did it in the microwave because it makes it quick, but don't worry if you do not have a microwave, then you can still make this cake very easily, which I will tell you further..
How To Make A Sponge Cake?
.
To make a sponge cake, we first have to prepare its batter and to prepare it we will take some ingredients which we get very easily in the market..
Things you'll need (Ingredients)
.
Step-by-Step Instructions
.
2.
Mix butter, sugar, eggs, and milk well.
3.
Beat well for 5 minutes.
4.
Add flour and baking powder.
6.
Blend again and pour the mixture into a large microwave-safe bowl.
7.
Bake in 600W microwave for 60 seconds.
8.
Cool, cut into wedges, and serve.
.
(Tips: Take special care that the cake batter is semi-liquid, this will give a good consistency to your cake. If there is too much liquid in the batter, it will not allow the cake to fluff up.).
Serving:
.
We can serve this sponge cake in many ways, like as a dessert or as an evening snack, we can also give it to children in their lunch..
How to make Sponge cake more delicious?
.
If you want to make it even tastier, then you can also add chocolate powder to its batter, and if you want, you can also add some dry fruits like cashews, raisins, etc.
This will make your cake more delicious..
Nutritional facts about Sponge Cake
.
This cake contains:.
●
Total Carbohydrate 30.7 g
.Which is good for health, And if you add some chocolates to it so it will be,.
●
Total Carbohydrate 36.09g
.
Health benefits of having sponge cake
.
We just saw what are the ingredients required to make a sponge cake and make it, now we will talk about what are the benefits of eating sponge cake.
Many of us do not know that there are many benefits of sponge cake, you know that sponge cake is a healthy dish but it has many other benefits like:.
Low-calorie Desert
.
Research has shown that the number of calories found in one slice of sponge cake is equal to 187 calories, which meets only 9 percent of the recommended daily caloric intake.
Of the 187 calories of a single icing sponge cake, the components are 77 percent carbohydrates, 13 percent fat, and 10 percent protein..
Good source of Energy
.
Every day our body needs a constant supply of energy, which is mainly met by the consumption of carbohydrates.
77 percent of the carbohydrate content in sponge cake is contributed by the flour component.
Carbohydrates typically contain glucose, which is the main source of energy for the brain and nervous system, as well as muscle tissue.
The fat content in the sponge cake also adds to the energy fuel..
High Antioxidant
.
Many food researchers have attempted to make sponge cakes with alternative types of flours that may provide added health benefits, including wheat flours, wheat-chickpea flours, mugwort powder, tiger nut flour, and breadfruit flour..
Decrease Sugar Level
.
These efforts to hone creativity produce health benefits.
Wheatgrass powder itself has many health credentials, but it is mostly high in quantity and variable antioxidants, including phenolics, flavonoids, and lutein.
All of these functions fight free radicals to prevent cellular damage in our bodies, therefore preventing diseases such as cancer and other chronic inflammatory diseases..
Improve Digestion
.
If you put in the healthy ones such as whole-wheat powder or chickpeas flour (or both of them combined), it may satisfy your appetite and even lower your blood sugar level while at it.
That is quite hard to believe, especially the fact that we are talking about eating a cake here.
If you are not a fan of whole wheat, then perhaps a healthier alternative would be chickpeas flour.
It is not a rare ingredient to add to a sponge cake mix, and it certainly would not disappoint your taste.
Chickpea flour contains starch and is characterized by slow-burning carbohydrates, which means that it does not spike up your blood glucose immediately after eating.
Thus, you won't believe that there are more health benefits of Sponge Cake..
A comforter for sadness
.
The sweetness of cake does not only add sweetness to the taste, but also to moods.
Science has proclaimed that the sugary content from processed sugars used in baked goods induces an increased release of endorphins in our brain, which are the chemical substances that boost our mood and are the reason behind the feeling of being 'high'.
Other than the glucose ingredient, the fat content also contributes to happiness..
There was another research conducted in Belgium that compared the administration of saline drip and fatty drip to test people's reactions to negative images, and as you may have expected, the fatty drip resulted in people being less influenced by those images.
A great way to lessen negative thoughts.
Another source of sweet delicacy that may spark happiness is chocolate..
(NOTE: As you have taken in the health benefits of Sponge Cake, you might as well be aware of the health risks.
It is important to keep in mind that starch contains a significant amount of natural sugar that we have mentioned previously, namely glucose.
People with diabetes, or have risk factors for diabetes, have to maintain strict levels of glucose in their blood..
If you consider attempting to use alternative flours which have been suggested above, you may as well bear in mind that some people may experience digestive discomfort when eating whole wheat or high starch content.
Thereby may cause bloating and experiencing loads of gas in their stomach.).
Conclusion
.
The sponge is a very easy recipe, this cake has many health benefits as I mentioned above, this cake is liked by everyone from children to elders.
If I talk personally, my family members like this cake very much, this cake is often made in our house, and it is also easy for me to make it because it does not take much time to make.
We can make it in a very easy way..
Frequently Asked Questions
.
Can we make this cake without a microwave?
.
Of course, you can make a sponge without a microwave, all you need is a pressure cooker.
This is a desi way to make a cake without a microwave..
Is this cake good for Diabetes patients?
.
If you have a diabetic patient at home then you can use sugar-free sugar available in the market and if not then you can also use jaggery powder in your cake..
Can I make sponge cake without Eggs?
.
Yes, you can.
Cook your sponge cake without eggs in a preheated oven at 170 degrees for 35 minutes..
What temperature is best for sponge cake?
.
For denser cakes like flourless chocolate cake, carrot cake, and red velvet cake, an instant-read thermometer inserted into the middle of the cake should measure 200-205°F.
For lighter cakes like angel food cake or sponge cake, the thermometer should measure 205-210°F.
[
Note
: avoiding the bottom pan]
.
Is there any secret to making Sponge Cake Delicious?
.
Here are some tips that will help you create The Best Sponge Cake ever to prepare all your ingredients.
Keep the ingredients at room temperature, mix it up, and don't rush!
Don't over-mix, keep milk close, use real ingredients as best as you can, and Use greaseproof paper.
How to make the sponge cake light and fluffy?
.
Add a leavening agent, like cream the butter and sugar, fold Ingredients together – don't mix.
Fill the cake pan properly, avoid the batter setting too quickly and kindly check the Oven Temperature..
[
Note:
There are several reasons why your cake is not fluffy and light, Room temperature butter, don't over-cream butter is capable of holding air and the creaming process is when butter traps that air.
While baking, that trapped air expands and produces a fluffy cake.
No properly creamed butter – no air = no fluffiness.].
(Extra tips : If you are baking the cake at a higher temperature, higher temperatures will give your bake a more golden, crisper crust to the sponge or pastry and a lower temperature will result in a fluffier, less golden sponge.
With some cakes, you want a golden crust and with other cakes you want them to be gently cooked and fluffy.)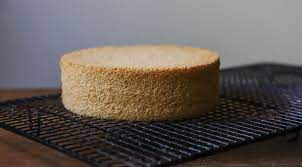 How to Make a Sponge cake in an easy way
Cake has become a way of expressing our happiness, we include cake on every small and big occasion.
Ingredients
1/2

cup

Butter

1/2

cup

sugar

1

cup

Flour

1

tsp

Baking powder

2

Eggs

4

tbsp

Milk

1

tsp

Vanilla
Instructions
Sift flour and baking powder together and keep aside.

Mix butter, sugar, eggs, and milk well.

Beat well for 5 minutes.

Add flour and baking powder.

Mix and add essence.

Blend again and pour the mixture into a large microwave-safe bowl.

Bake in 600W microwave for 60 seconds.

Cool, cut into wedges, and serve.
Nutrition
Calories:
366
kcal
Carbohydrates:
40
g
Protein:
5
g
Fat:
21
g
Saturated Fat:
12
g
Polyunsaturated Fat:
1
g
Monounsaturated Fat:
6
g
Trans Fat:
1
g
Cholesterol:
116
mg
Sodium:
261
mg
Potassium:
76
mg
Fiber:
1
g
Sugar:
21
g
Vitamin A:
682
IU
Calcium:
81
mg
Iron:
2
mg
---
.