If you've made a big batch of chicken salad and you've got some left over you might be wondering whether or not you can freeze it.
The short answer is yes. You can freeze chicken salad but it's a bad idea.
It won't do you any harm, but salad and dressings tend to do badly in a freezer. While the chicken will remain intact, dressings are likely to separate and salad is likely to turn mushy or even slimy.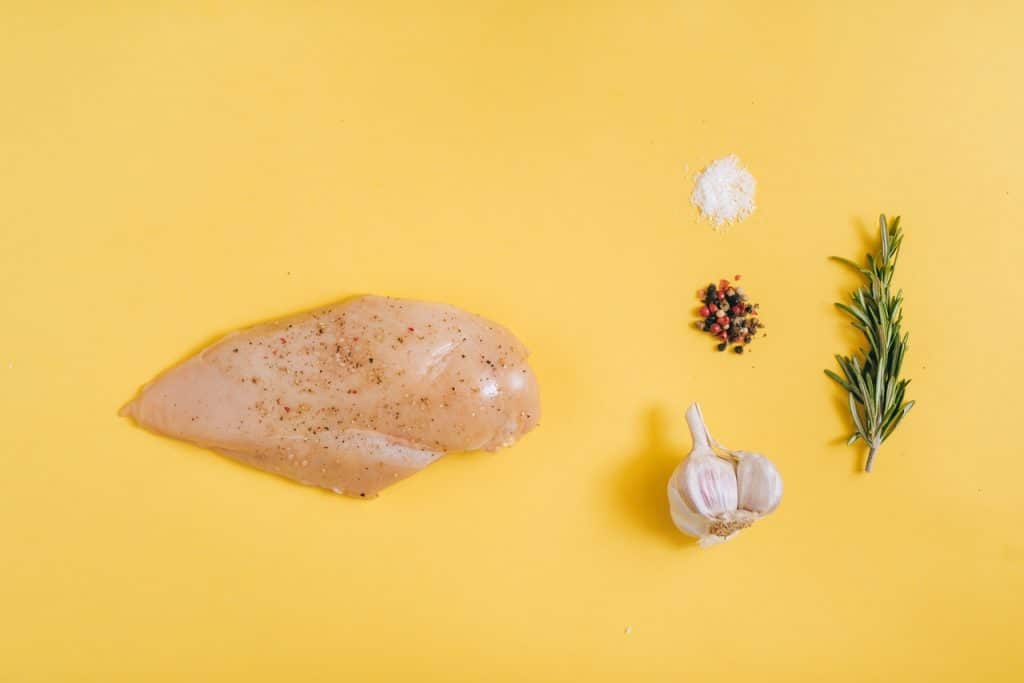 Chicken Salad without Mayonnaise
Can you freeze chicken salad that doesn't contain mayo?
Mayonnaise and a lot of other salad dressings tend to suffer in the freezer. If you have made a plain chicken salad with no dressing then the only thing which will suffer will be the salad.
Unfortunately, salad does not do well in a freezer. This is particularly true with lettuce based salads as they suffer the most from being frozen. Lettuce based salads are common in chicken salad and so most chicken salads cannot be frozen.
On top of this, other chicken salad style salads such as celery, cucumber and tomatoes tend to do badly in the freezer as well.
What happens in a freezer?
So what actually happens to these things in a freezer?
What happens to salad in a freezer?
Most salads lose their crunchiness in a freezer and turn mushy or slimy.
The crunch in most crunchy salads is caused by water pressure within the cells which make up the plant. The water is contained within these cells at a high enough pressure to push out against the cell walls and to make them hard and crunchy. When a salad plant is frozen, the water expands and breaks these cell walls. When it is then thawed, the structure is lost and the salad loses its crunchiness.
What salad can you freeze?
The short answer is that you can freeze salads that you're not actually planning on using in a salad. You can freeze salad that you intend to use in a soup or a stew or any dish where it does not matter if it's slimy or mushy.
What happens to chicken in a freezer?
Can you freeze chicken….
Cooked chicken is generally safe to freeze. Be careful if it has been left at room temperature for an extended period of time as bacteria may have developed, making it unsafe. Cooked chicken lasts between three months and six months in a freezer.
At ambient temperature cooked chicken usually only lasts about 2 hours before it's best to discard it.
Should I do it?
Our recommendation: Often, the result of freezing a chicken salad is a mushy and slimy mess. Although it's perfectly safe, we don't really recommend that you should freeze chicken salad with the salad.
If you don't mind the loss of texture then you can freeze chicken salad and eat it. Be careful if you plan to serve this to other people though as they probably won't like it.
What should I do instead?
The best thing to do is to separate out the chicken from the salad, put it in a freezer bag or a sealed container and freeze it. You can thaw it out again later when you're next serving fresh salad.
Alternatively, rather than trying to freeze chicken to be used later you can keep your chicken salad in the fridge and eat it over the next few days. In a sealed container, chicken salad should last between 3 and 5 days in the fridge.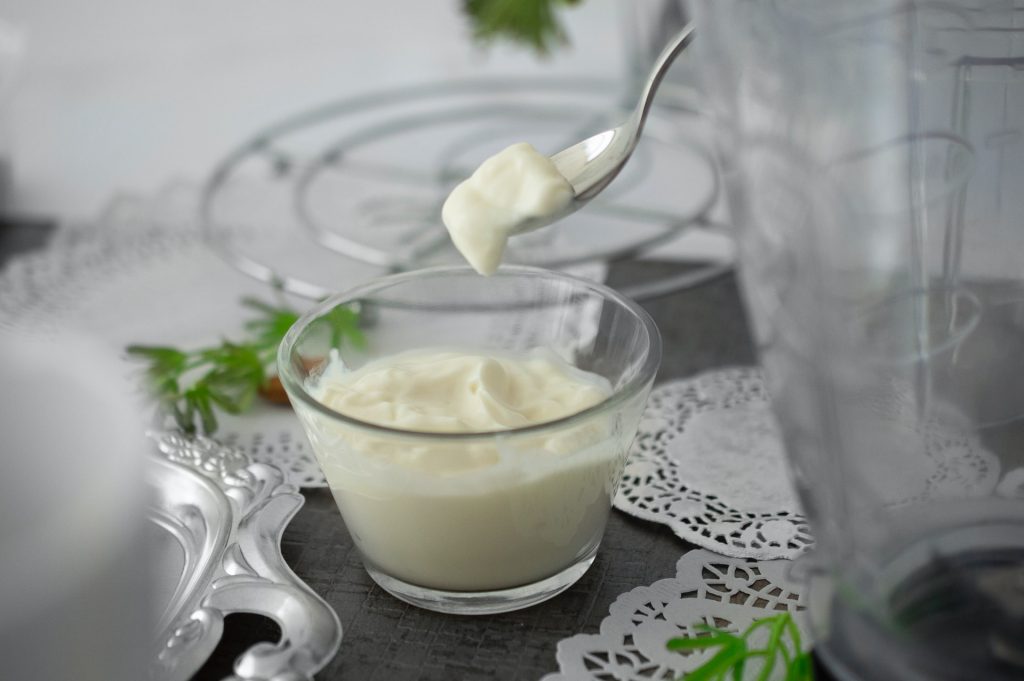 Chicken Salad with Mayonnaise
Can you freeze chicken salad that does contain mayo?
Mayonnaise is a common salad dressing for chicken salad. Unfortunately mayonnaise doesn't freeze very well. On top of that, as we've already said, most types of salad don't freeze well either.
What happens in a freezer?
We already know what happens to salad in a freezer. So here we'll just explain what happens to mayonnaise in a freezer.
What happens to mayonnaise when freezing chicken salad?
Mayonnaise contains both fat and water. When it's frozen these two ingredients tend to separate. The result is that you get both watery and thicker fat containing parts of the mayonnaise forming. The watery sections will run off and you will be left with the fat containing parts.
The result is that the mayonnaise loses its texture and the flavor can be affected as well.
What dressings can you freeze?
Most salad dressings do badly in the freezer. Some vinaigrette dressings don't do too badly. While the oil and the vinegar will separate out after thawing if you are able to mix them up then the effect won't be too bad.
Should I do it?
Generally, you should try to avoid freezing chicken salad which contains mayonnaise. However, if you really don't want to throw it away then you can. It won't do you any harm to eat it, it's just that a lot of the flavor will be lost and the texture will suffer a lot as well.
What should I do instead?
The best thing to do is the same as with chicken salad without mayonnaise. Separate the chicken from the other ingredients, put it in a freezer bag or sealed container and keep it in the freezer for later or use it in a different recipe.
While the mayo on the chicken will suffer in the freezer, when you mix the chicken into a new dish at a later date the effect of this will be lost and it will be as good as fresh chicken.
Preparing Chicken Salad Ahead of Time
If you want to prepare a chicken salad a long time in advance, usually the best thing to do is cook and prepare chicken and freeze that. On the day that it comes to making the salad, you can thaw the chicken and add it to freshly prepared salad with a fresh dressing.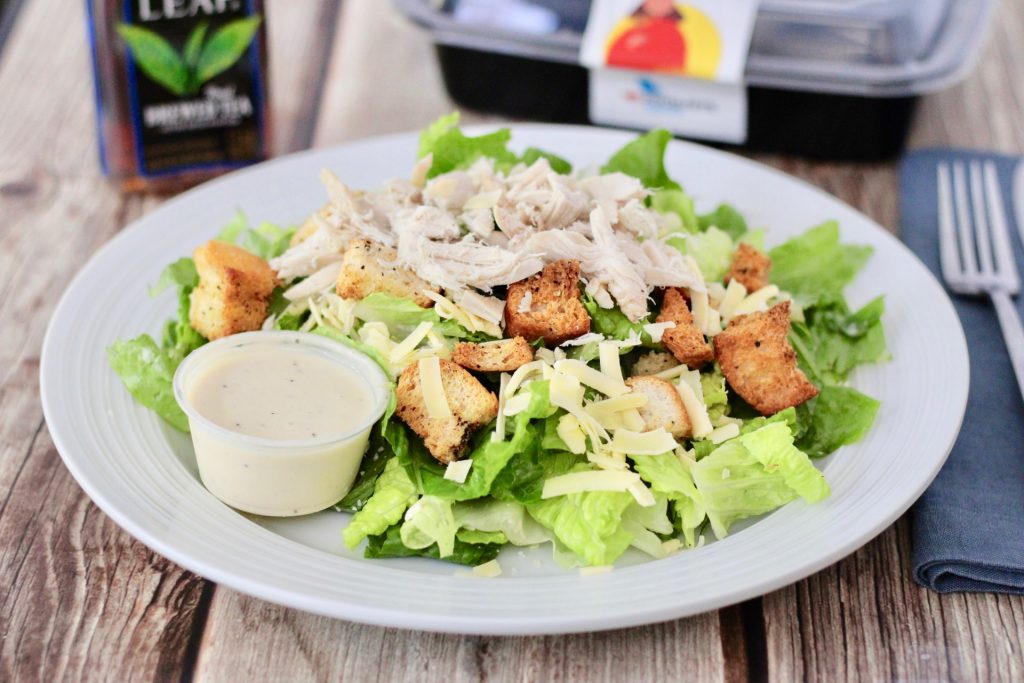 How to Thaw Chicken Salad
If you do decide to freeze chicken salad then you should make sure that you're careful when you're thawing it out. The best thing to do is to take as long as possible and to disturb it as little as possible.
This is can be done at room temperature, but is best done in the fridge.
Leave your chicken in it's container on the side or in the fridge and allow as much air as possible to get to it. Avoid shaking or disturbing it while it's thawing.
In the fridge the ideal time to leave it is about 8 hours.
At room temperature the ideal time is about 5 hours.
Serving thawed chicken salad
The safe way to serve thawed chicken salad is to quickly transfer it onto a fresh dish once it's thawed and to present it quickly. Avoid disturbing it to leave as much of the original flavor and texture as possible.
One good idea that you may like is to use fresh mayo or a fresh salad dressing.
Thawing chicken by itself
You do not have to be so careful when thawing chicken by itself. It's fairly easy. The best way is still in the fridge, rather than at room temperature. Once again, the ideal amount of time to leave it to thaw is about 8 hours.
How Long can you Keep Chicken Salad in the Fridge?
Mayo and salad will both last a long time in a fridge, but chicken doesn't last too long. The longest you should really keep chicken salad in a fridge is 3 to 5 days. Make sure you keep it in a sealed container to keep it as fresh as possible.
How long will it last at room temperature?
Chicken does not last long at room temperature. The longest you should really leave chicken at room temperature before discarding it is around 2 hours.
How to Tell if Your Chicken Salad has Gone bad?
Chicken can be one of the worst things to eat if it has gone bad. It's best to check it before you eat it to make sure nothing is wrong.
The things to do are:
Look at it
If you can see any of the following things in the chicken, the salad or the dressing then it's best to discard your chicken salad:
A brownish grey color
Sliminess appearing on the surface
Obvious signs of mould
Smell it
If there is a strong, unpleasant odour then this is a sign that your chicken salad has gone bad. If you notice anything like this then it's best to discard it.
I hope that this article has satisfactorily answered your can you freeze chicken salad question.
Chicken salad is a great dish for a variety of occasions. Sadly, after a lot of dinners or barbecues there is chicken salad left over. Normally, the best thing to do is to keep it in the fridge and to eat it over the next few days.
Unfortunately, freezing chicken salad is normally a bad idea. Salad and dressings are generally bad things to freeze. If you're able to freeze chicken separately from the salad, then try to do this. If you do end up freezing chicken salad, then be careful about how you thaw it out and present it before eating it.
---