I don't usually review appliances from Chinese brands, but there's a lot of interest in this particular air fryer, so here goes: why I don't recommend the GoWISE Air Fryer.
Check out other air fryers (or air fryer and toaster oven combo).
Try This Instead
Air Fry, Air Roast, Reheat, Dehydrate

Wide temperature range: 105 degree to 400 degrees

Ceramic-coated non-stick basket

Fit 2 pounds of french fries

Dishwasher safe parts
Ease of Use: Not Bad
The settings are easy to set up and manage. There's also an option to manually adjust cooking temperature in 10° increments – this allows better temperature control than some other air fryers. After placing the fry basket with the ingredients inside the appliance, you can cycle through the programs using the "Menu" icon and adjust the temperature and time by pressing the "up" or "down" buttons.
The non-stick coating is there, so the clean-up is fine.
Removable parts of the air fryer are dishwasher safe, but as with other multi-cooker baskets the coating can (and will if you're not careful) start peeling off, so it's better to hand wash it. To do that, take the basket and pan out and clean them with water and some soap. The inside of the fryer can be cleaned with a damp cloth or sponge.
Cooking Settings: Fine
I am reviewing a second-generation GoWISE air fryer with pizza added to the list of cooking programs. There are now eight presets: Fries/Chips, Pork, Chicken, Steak, Shrimp, Cake, Fish, and Pizza.
What I love about multicookers is that they are hands-off – you press a button, you wait, it does its thing. Since this is an air fryer, it cooks food by circulating hot air around it. Your food will be healthier without the added calories and contain less fat as the air fryer requires little to no oil to prepare meals. Chicken and french fries come out tender and juicy on the inside and golden and crispy on the outside, just like they would be in a deep fryer, but without the excess grease.
Design: Tasteless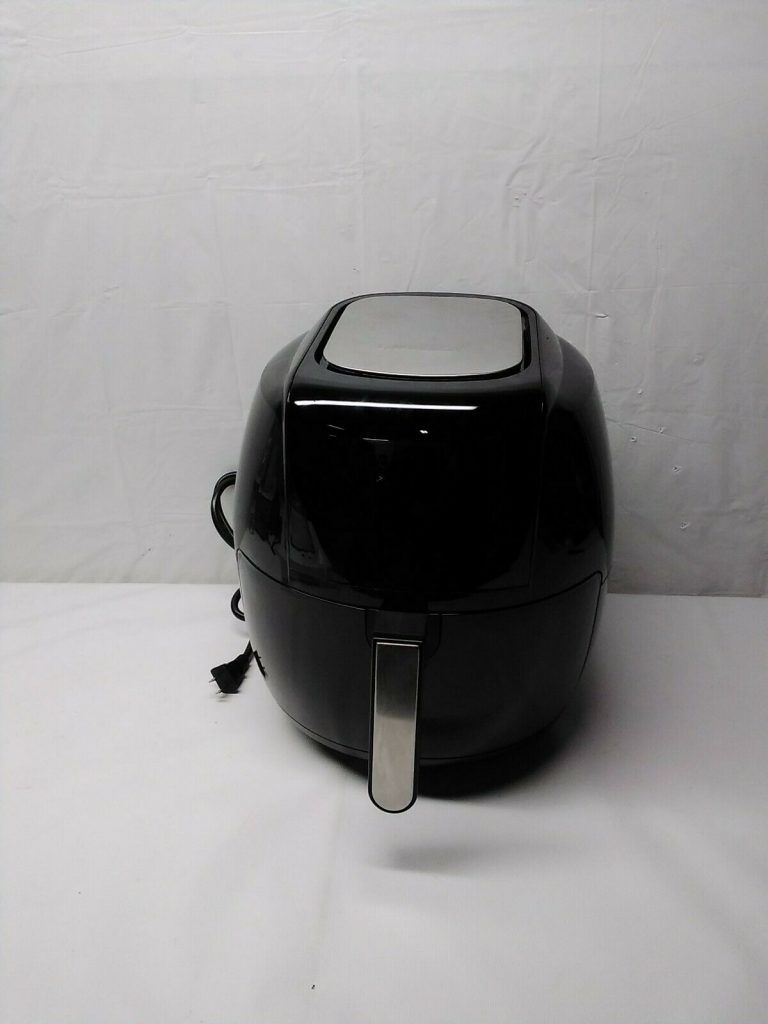 You might say that the air fryer looks futuristic, but what you're really getting is another example of weird fusion Chinese design. It's not utilitarian-ugly like Panasonic products, but the uncanny we-are-trying-to-look-cool ugly.
That said, there is a non-stick PFOA free pan (seems to be FDA certified), a basket with a release button handle cup for detachment, and a cool-touch handle so you can flip or shake the ingredients midway through cooking – except some people have reported that the outer pan can release unexpectedly, spraying grease everywhere.
GoWISE 8-in-1 Digital Air Fryer Main Specs
Here are the main features of the GoWISE air fryer.
Size and Capacity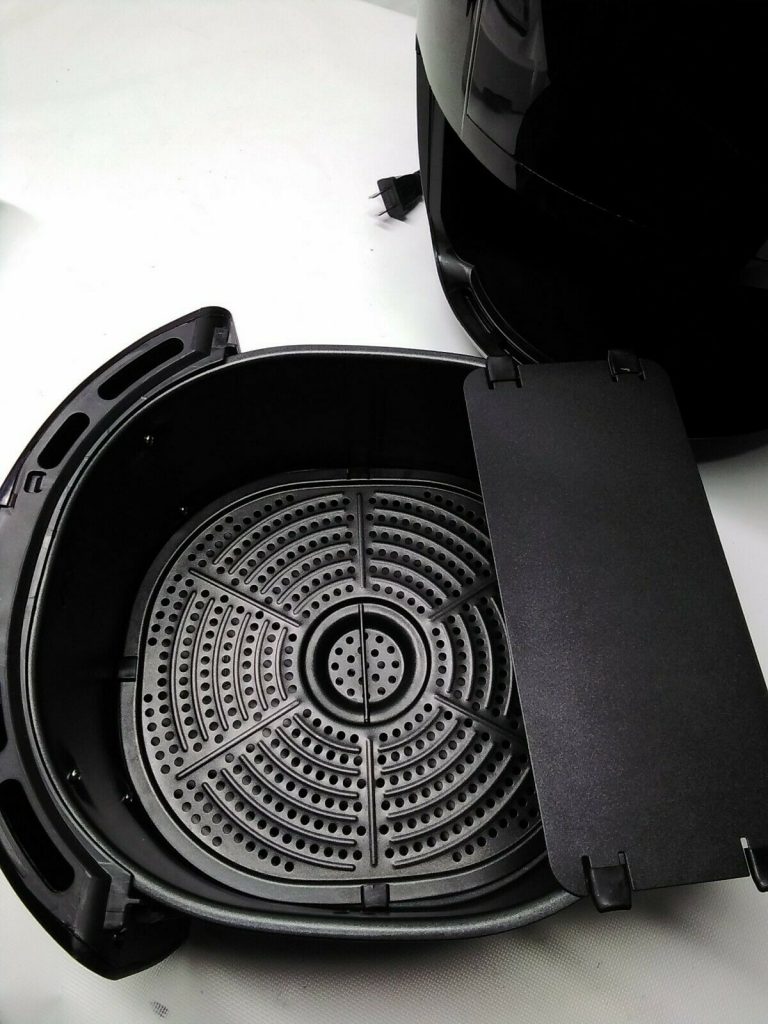 With its capacity of 5.8 quarts, the air fryer is great for a family of 4 and large enough for you to prepare a whole meal or a cake.
The measurements of the GoWISE 8-in-1 Digital Air Fryer are 13.5 x 12.5 x 11.5 inches. This makes it a great choice for a small or medium-sized kitchen as it takes less space than a mid-sized microwave. Its large basket can fit up to 1.5 lbs. of French fries or other veggies, about 10 pieces of chicken wings, or a 7″ round cake.
Functionality and Features
The heating element is located on the top of the air fryer with the hot air inlet that heats the food from above. There's also a convection fan (GoWISE USA calls it "rapid air circulation technology", but it's actually Chinese for convection).
It is pretty powerful ensuring fast and even cooking, and you can cook the food without burning it, despite the high temperature. Temperature ranges from 180°F to 400°F which makes it suitable for frying, grilling, baking, or roasting.
The cooking timer can be set to 30 minutes tops. It could be a downside if you are looking to cook food longer than that, but luckily many recipes don't require more time.
You can use the Start/Stop button to change time, temperature, or even switch to another program in the middle of cooking. There's also a built-in alarm that can be set to 5, 10, or 15 minutes and will alert you when it's time to check the food, flip or shake it, which is convenient.
Accessories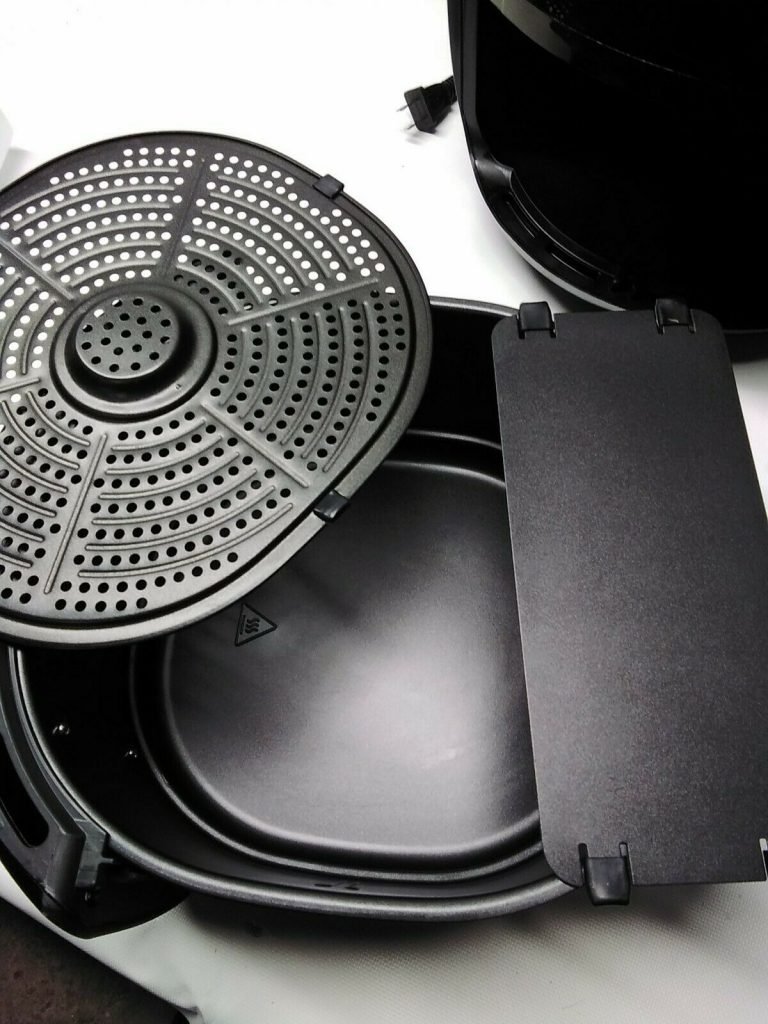 GoWISE Air Fryer comes with a fry basket, a pot, and a basket divider that can be used for cooking two different meals at once. Other accessories are not included but can be purchased separately.
The air fryer also includes a mediocre recipe book with 50 different recipe ideas.
Warranty
Now, this is my biggest beef with Chinese-American brands. As opposed to established first-world brands, they are a newcomer to the market with primarily Chinese employees, signature tasteless design, and riddled with quality control issues. But what's more important is they purposefully limit the warranty to one year (this is crazy short) and try to weasel out of replacements or repairs when they can.
Just read this example: when someone tried to complain about the unexpected basket release, support told them that even though their warranty is supposed to be one year, the basket, pan and handle are only covered the first 30 days! And they even told the person to buy a replacement one themselves.
No wonder their About Us page says that their mission is to "offer products that help make your life easier and maybe even healthier".
Their company's headquarters – GoWISE USA – is just a warehouse. Their mother company – Ming's Mark – operates other brands like Green Long Life, Green Value LED, Stylish Camping, American Outland (don't let the name fool you) that get a lot of flak at retailers for their quality control and warranty support.
GoWISE 8-in-1 Digital Air Fryer – Should You Buy It?
The GoWISE Air Fryer wants to replace your oven and deep fryer and provide you with a low-fat meal but without losing the taste you are used to. Except when it sprays grease all over you.
Here's where the GoWISE Air Fryer shines, and where it doesn't:
Pros:
Cheap: you can't beat this thing in terms of value-per-dollar.
Versatile: this is a pretty capable air fryer that lets you cook a lot of things – not just french fries – with no supervision.
Fast: with 1700W of power, air frying, and convection, this thing is fast and powerful.
Built-in alarm function: a helpful feature that reminds you when it's time to toss or flip the food so it would be cooked evenly.
Start/Stop button allows you to change the settings in the middle of the cooking if you're forgetful.
Cons:
Hazardous: this thing is FDA-certified, but there are so many reported quality control issues I wouldn't ever let it be near my kitchen. If you do get one just be careful.
Warranty issues: the company offers a very limited 1-year warranty and tries to escape liability by limiting parts of the device to as short as 30 days.
Non-stick coating can peel off: use parchment paper or foil and hand wash with a non-abrasive cloth to prevent this from happening. This is common for multicookers, though.
Limited accessories: you need to buy everything separately.
Conclusion – Is It For You?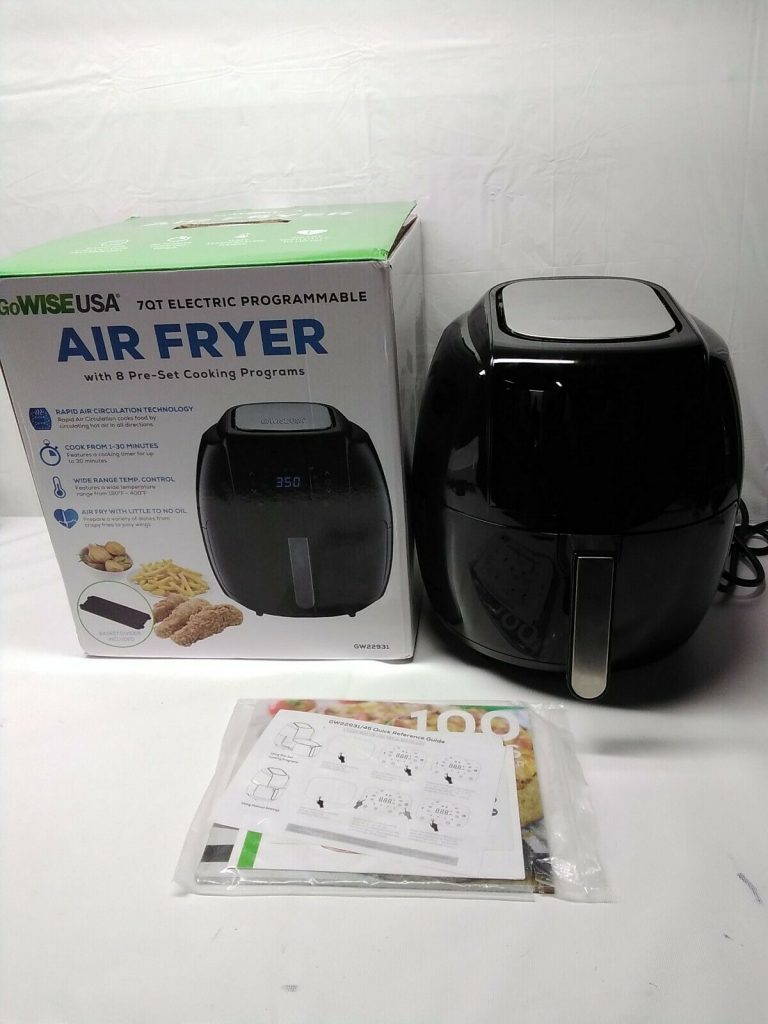 I haven't encountered any issues with this device personally, but there are a lot of those reported by disgruntled buyers on Amazon, Target, etc. I strive to be ethical in my recommendations, and so can't recommend this air fryer in good conscience given the issues above.
If you're considering air fryers, I recommend the Cuisinart. It has reliability, quality, and warranty – something GoWISE does not. If you don't like Cuisinart for any reason or can't afford it, then you can't beat GoWISE money-wise. While it's ugly and potentially dangerous, it is fast, powerful, and versatile. If I were you though, I'd still splurge some more for something a little bit more familiar and with a better track record – like the Ninja Foodi Air Fryer.