One of "Oprah's favorite things" is a toaster oven/air fryer combo, and I spent many hours reviewing the Cuisinart TOA-60 and its digital counterpart Cuisinart TOA-65.
Since they are almost identical, I have reviewed the base model Cuisinart TOA-60 and included a list of differences between TOA-60 and TOA-65 at the end for your convenience.
Read below to choose which one you need.
Cuisinart TOA-60
Air Fryer + Convection Toaster Oven by Cuisinart, 7-1 Oven with Bake, Grill, Broil & Warm Options, Stainless Steel, TOA-60
Oprah's favorite toaster oven is a great toaster oven and a good enough air fryer. As always with Cuisinart, the looks are top shelf, and it will serve you well. If you can forego the air frying, you might want to consider
other alternatives
.
Pros
Design is great — I would buy it just for the retro vibes
As far as cooking goes, it's solid, and the heating elements are quick to heat-up and heat delivery is consistent and even
Versatility — not just an air fryer, it has other extra modes you don't always get
Cons
Airfryer toaster results are mediocre
Timer is inaccurate
I was skeptical about the endorsement at first.
It promises great toast, a professional baking experience, and since it's an air fryer, a healthier way to prepare all your favorite fried goodies.
But how well does it deliver on these promises?
Is the Air Fryer good at frying?
What can you do with it?
Let's find out.
Main Pros
To start, these are my Cuisinart Air Fryer's favorite features:
Quick and quiet
If you want an effective airfryer toaster oven, you want one that performs well under time pressure.
This high-quality model is great at it.
The toaster oven's heating elements heat up quickly and it cooks faster than your conventional oven.
In fact, like with most top counter toaster ovens, first-timers may want to reduce both heat level and time to prevent any burnt foods.
If you use the air fryer, you'll also enjoy quick preheating times and a lightning-fast cooking experience.
And, although this convection toaster oven does have a fan, the motor is so quiet you'll barely hear it.
It's perfect because you can chat with your guests in the kitchen while cooking.
Also, with its low-noise and interior light inside the oven, you won't wake anyone up when you're cooking up a midnight snack.
Great built-in features
Cuisinart's Air Fryer Toaster Oven makes it easy to toast and air fry.
You can choose specific options to air fry specific foods, like wings, snacks, veggies, and, of course, French fries.
The toaster oven/fryer also has built-in options for reheating, air fry, convection bake, roasting, convection broil, and cooking pizza.
All with excellent results!
Besides conventional toasting and the air fry function, you can use the adjustable thermostat and low-temperature settings for braising and slow-cooking dishes.
And, unlike most other air fryer toaster ovens out there, you can also use it for dehydrating.
This high-quality, full-size toaster oven/fryer has some great little features as well.
It includes a safety door that immediately shuts down the toaster oven when opening it and a timer to switch on the toaster oven.
Easy To Clean
The stainless steel exterior is easy to clean.
You can wipe it down with a damp cloth once it cools off.
The simplicity of the outer design makes the cleaning process very easy.
No crooks and crannies to collect dust!
The stainless steel baking pan and air frying basket are easy to clean.
It also has an easy-to-clean crumb tray that slides out for washing.
Or you can just shake the crumbs right off.
Great Design
The beautiful silver exterior and the classic, almost minimalist design makes it perfect for the countertop of any kitchen.
The door features a large window to keep an eye on any food item without interrupting the cooking process.
And its size helps it fit anywhere.
Main Specs
Here's a close look at the main features of the Cuisinart TOA-60 Toaster Oven:
Toaster Oven/Fryer Size
The Air Fryer has a surprisingly large interior space (0.6 cubic foot capacity). You can fit up to 3lbs of chicken wings, or even a 12" pizza. Of course, you can also toast 6 slices of bread.
It measures 14″ (W) x 15.8″ (L) x 14″(H) (35 cm by 40 cm by 35 cm) and weighs 21 pounds (9.5 kg) so it can be hard to move around.
Dials And Navigation
This full-size toaster oven is fairly easy to navigate. All you need to do is to set up these four different dials:
On/timer dial: The "On" dial also doubles as a 60-minute timer and shuts off the toaster oven once the time runs out.
Temperature dial: You can select temperatures from 250 to 450 degrees Fahrenheit (121 to 232 Celsius).
Function dial: You can use it with the different built-in cooking options or manually adjust it to air fry, convection broil/bake, or toast.
Toast shade selector: Similar to the first dial, this dial simplifies the whole process of toasting bread. All you need to do is to set the toast shade selector to your preferred toast shade and it'll turn off automatically when done.
Included Accessories
The unit comes with a stainless steel oven rack, baking pan, and an air frying basket.
None of these are dishwasher safe, so they must be hand-washed.
Cuisinart TOA-60 – Should You Buy It?
This full-size Toaster Oven is a great toaster oven that can air fry, convection broil/bake, and more.
Here's where it shines, and where it doesn't:
What I liked:
Versatile: It has many options, from toasting bread to baking pizza to frying wings and fries. This toaster oven gives you more functionality than most other toasters and air fryers. It even includes oven rack baking.
Great design: The gorgeous stainless steel exterior and the simple and elegant design will look great in any kitchen for years to come.
Good toaster oven performance: The air fryer toaster oven is fast, efficient, and heats up pretty evenly for consistent toast shade.
Standard size: You can use the same accessories as in other toaster ovens, a plus when purchasing them or using the ones you have.
Easy to use – You'll either be using three dials to air fry, convection bake/broil, or the one for toasting. No complex navigation or weird digital screens.
Easy to clean – Nobody likes cleaning up, so the quicker, the better! And this easy-clean stainless steel Cuisinart toaster makes it quick and easy.
Interior light – Makes checking on an item inside the oven while cooking easy.
Three-year warranty: Although many toaster ovens or air fryers offer one year, Cuisinart has always prioritized quality in its kitchen products range. That's why, although it's not surprising to see the three-year warranty, it's reassuring.
What I didn't like:
Not the best air fryer: Some users reported that they couldn't properly air fry things like donuts or a full fried chicken. The frying seems to be uneven, especially when loading it up to the top.
Inaccurate timer: The 60-minute timer is mechanical, not digital. The mechanism doesn't seem to be precise. So you need to check on each food item to make sure the timer isn't running too long. Also, the timer has 10-minute intervals with nothing in between.
Conclusion – Should You Get It?
Don't get me wrong – the Cuisinart-60 Air Fryer/Toaster Oven is a great kitchen workhorse.
It gives you lots of cooking options, a large enough cooking area, and quick cooking times.
However, the air fryer seems to be slightly lacking.
It's certainly not as good as the big ol' Breville Smart Oven Air — although it's still great for a dual-function air fryer toaster oven.
This Air Fryer/Toaster Oven is perfect if you want a great toaster and convection oven you can occasionally use for air frying.
It's perfect for people that are more hands-on with their cooking and for those looking for a large oven at a small price.
See on Amazon
Cuisinart TOA-65
Sale
Cuisinart Air Fryer Toaster Oven, Digital Display, Digital 1800 Watt, Adjustable Temperature and Controls, Stainless Steel, TOA-65,Silver
ENDLESS FUNCTIONS: This premium 1800 watt toaster oven and AirFryer, is equipped with premium functions including, AirFry, bake, broil, toast, bagel, pizza, roast, dehydrate, proof, low, dual cook,...
CAPACITY: Large enough to airfry up to 3-pounds, toast 6 bagel halves, roast a 4-pound chicken, or bake a 12-inch pizza – .6-cubic feet interior with large viewing window and interior light
SUPERIOR OPERATION: Equipped with a low temperature setting to slow cook, braise and more. Plus, dedicated functions for dehydrating and proofing. Fan and heater deliver high-velocity, high-heat...
INCLUDES: An oven light, oven rack, dishwasher safe baking pan, AirFry basket and has a nonstick easy-clean interior to make cleanup simple
LIMITED 3-YEAR WARRANTY: Refer to user manual for troubleshooting steps and questions surrounding warranty policies
The Cuisinart Toaster Oven-65 is essentially the same air fryer and toaster oven as the Cuisinart Toaster Oven-60, with a few notable differences:
The controls are digital: with Cuisinart-65, you get buttons and an LCD instead of knobs. The digital controls break less than conventional knobs, but the knobs on the Cuisinart-60 make it easier to use.
The Cuisinart-65 is a bit bigger (17 x 21.7 x 15.8 inches vs (H) x 15.5 (L) x 16 (W) x 14 inches) and heavier (28.5 lbs vs 21 lbs), although the interior space is the same.
The Cuisinart-65 has more options than the Cuisinart-60. The additional options are Pizza, Bagel, Reheating, Roasting, Dehydrating, Proofing, and low-temperature options Slow Cook and Braise.
Do you prefer a more modern look or need more controls? If you don't mind the size and weight of the Cuisinart-65, this is the one you should get.
See on Amazon
I hope this helps!
Love,
G.
Are You Ready To Savor The Good Life?
Air Frying is Healthier
If you want to savor the good life, but still enjoy your favorite fried foods and snacks, you need to try air frying.
It's the healthier way to prepare delicious French fries, fried chicken, and other fried items.
Here are some common questions people have about air frying:
Can An Oil-Free Fryer Improve Your Diet?
Oil-free fryers cook using hot air and offer several benefits for diet and health.
An air fryer is a healthier way to cook rather than frying an item in oil.
But it depends on the seasoning, food items, flavors, and details of the recipe you use when preparing an item in an air fryer.
It is true that oil-free fryers reduce the fat content of the food you consume by up to 70%.
They also maintain all the nutrients by cooking things in their own juice.
Using an air fryer avoids the need for oil when you want to prepare some French fries or a breaded chicken.
It's much healthier to fry with air than oil.
The best idea is to put a tablespoon, a maximum of two, depending on the portions.
This will avoid sticking and help add that crunchy texture that you are looking for and to improve the flavor.
Reduce fat intake is the biggest healthy advantage of preparing any food item in an air fryer.
This is great for people trying to maintain their ideal weight and peak health.
There's another fantastic advantage of oil-free fryers when preparing food.
The way it cooks helps you to make any dish special.
Because it maintains all the nutrient content of the food and the flavor of what you are preparing.
So the nutritional content of your meals is healthier and tastier!
How Does An Air Fryer Fry Without Oil?
It uses a blast of hot air to cook.
It is the new fashion to prepare any recipe at home.
So if you want to make French fries, steak, ribs, or chicken wings, you will not need excess oil to prepare them.
By cooking with your air fryer you reduce the oil in all dishes.
The air fryer is responsible for separating from 70% to 75% of the bad fat content typical fried food has.
Incredible but true!
So, yes, you can improve your diet and health by using an air fryer to prepare your food.
A diet with a low fat content doesn't mean you need to sacrifice taste!
What Else Can You Air Fry?
How about trying to bake/broil salmon, vegetables, dried fruit, or even a cake?
All these and more recipes you can prepare with your air fryer.
And there are many more popular air fryer recipes with full details online at cuisinart.com you can try.
So, are they good? Can you cook without oil? And are they easy to use?
Air fryers have been very successful since they came on the market.
They have also had very good reviews from people who have prepared different dishes with them and used them daily in their kitchen.
They can do so much more than simply toast slices of bread!
The advantage of an air fryer is that you only need a small teaspoon of oil (or no oil) to prepare your favorite dishes.
You will be surprised with the flavor that any type of food item that you prepare with the air fryer maintains.
They are straightforward to use, and you can eat any healthy recipe that you ever imagined.
With an air fryer in your kitchen, you get the best flavor.
Can You Cook French Fries In An Air Fryer?
Yes, it's the perfect example.
Do you love to eat fast-food but after eating it you feel guilty for having eaten all that oil and extra calories?
With an air fryer, you can prepare fries with natural potatoes and any other natural dish in your home kitchen.
Just add a tablespoon of oil to get that crunch and flavor that we love so much in fried food.
With the pizza pan/air fryer basket combo, you can enjoy your favorite fast-food menu item.
Much healthier than getting it from a fast food outlet!
What Are The Advantages Of A Hot Air Oven?
An air fryer oven is specially designed to make your food crunchy and heat food for a long time.
And it is the best for precision heating of any type of dish or recipe.
An air frying oven is a normal air fryer but it has some differences.
There are some advantages and disadvantages that may interest you.
Some main differences are that the air fry oven has different dimensions and different power ratings.
Power: It has more power and can heat up to higher temperatures.
Cooking time: The cooking time in air ovens is longer, and they are more resistant to prolonged heat.
The capacity is greater: Normally an air fryer is multipurpose and the air fry/toaster oven is also. It comes with different attachments that allow you to make different dishes.
Larger size: Depending on the size of your air fryer oven, you can put large food items in it. For example, a whole chicken to roast, or some ribs to grill, or even some donuts for a dessert.
Easy to clean: Each internal item of the air oven such as the air fryer basket can be put into your dishwasher. The parts of the air fryer oven have non-stick surfaces so that food does not stick easily. And they are easy to remove for cleaning. You can use a damp cloth or sponge with soap and that's it.
How Versatile Is An Air Fryer Toaster Oven?
In this type of oven, there several levels to separate different foods.
For example, you can put an individual pizza on the baking pan, and fries in the air fry basket.
You can bake, broil, warm toast, and air fry.
Do you need inspiration for recipe ideas for holiday meals, special occasions, or specific cuisines such as Mexican, Asian, Italian?
Visit cuisinart.com for lots of super delicious ideas!
Browse their recipe content designed specifically for the Air Fryer range.
What Accessories Does An Air Fryer/Toaster Oven Come With?
Some air fryer ovens have the advantage of being able to use extra accessories to cook a greater variety of foods.
These include special needles and skewers for roasting, frying baskets, and trays for cakes and desserts.
The air fryer oven accessories are already included in most packages before shipping/delivery so that you have all the equipment you need.
You can unbox and cook any dish or recipe you want to prepare.
Air Fryer Oven Measurements
The measurements of air fryer ovens are larger than an ordinary air fryer.
They work like a conventional convection kitchen oven.
The item measurements vary depending on the brand and model of the air fryer oven.
They have space to put racks that allow you to have different levels to prepare a variety of foods.
What Do Other Reviews Say?
Customer Review Results On Air Fryer/Toaster Ovens
Do you prefer to make food for the whole family such as cuts of meat, roast chicken, French fries, or even special desserts? Then an air fry/toaster oven is the kitchen appliance for you. With the adjustable thermostat, you can bake, broil, warm toast, and a lot more.
Do you like to use your oven for cooking but sometimes you don't take up much space? Or the food is not cooked as you would like? An air oven will make your life easier with its different functions and precision when cooking.
One common item among all customer review comments is that it is very easy to use and clean an oil-free fryer oven.
The food is perfect, whether you use convection bake, convection broil, or air fry. And you do not have to worry about leaving it on since the air ovens have a timer and it turns off when each food item is finished.
Have you ever used an air fryer?
Have you tried any dish or dessert made with an air fryer/convection toaster oven?
What was your experience?
What are your favorite air fried items to cook?
Love,
G.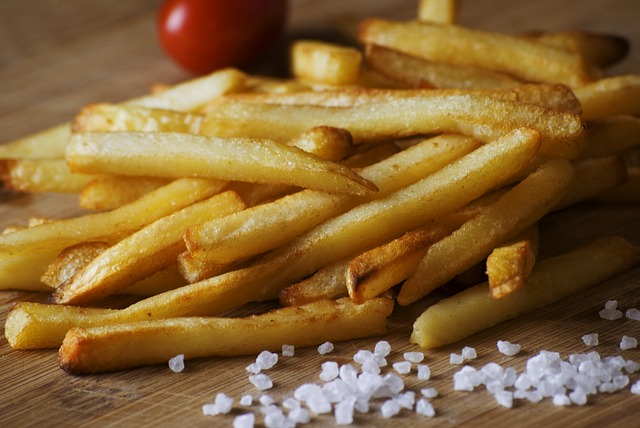 Gourmia Air Fryer French fries
French fries are a fast food consisting of deep-fried potato strips typically served with ketchup.
Ingredients
2

Potatoes

1

ts

Oil

1

ts

salt

1

ts

pepper
Instructions
Cut the potatoes into thin strips, about 1/4 inch thick.

Heat the oil in the air fryer to 350 degrees F.

Add the potatoes to the air fryer and season with salt and pepper.

Fry for 15 minutes, or until the potatoes are crispy and golden brown.

Serve with your favorite dipping sauce.
Nutrition
Calories:
185
kcal
Carbohydrates:
38
g
Protein:
4
g
Fat:
2
g
Saturated Fat:
1
g
Polyunsaturated Fat:
1
g
Monounsaturated Fat:
1
g
Trans Fat:
1
g
Sodium:
1176
mg
Potassium:
904
mg
Fiber:
5
g
Sugar:
2
g
Vitamin A:
7
IU
Vitamin C:
42
mg
Calcium:
28
mg
Iron:
2
mg