Dijon is a classic French Mustard that's used as an ingredient to cook within a lot of recipes.
It's also used for salad dressings, marinades, rubs, and by itself as a condiment.
It's known for its tangy, sharp, spicy, and strong flavor.
If you've run out of Dijon mustard when you need it or if you just don't like it then you'll be looking for something else that you can use instead.
This article will give you all of the best Dijon mustard substitutes.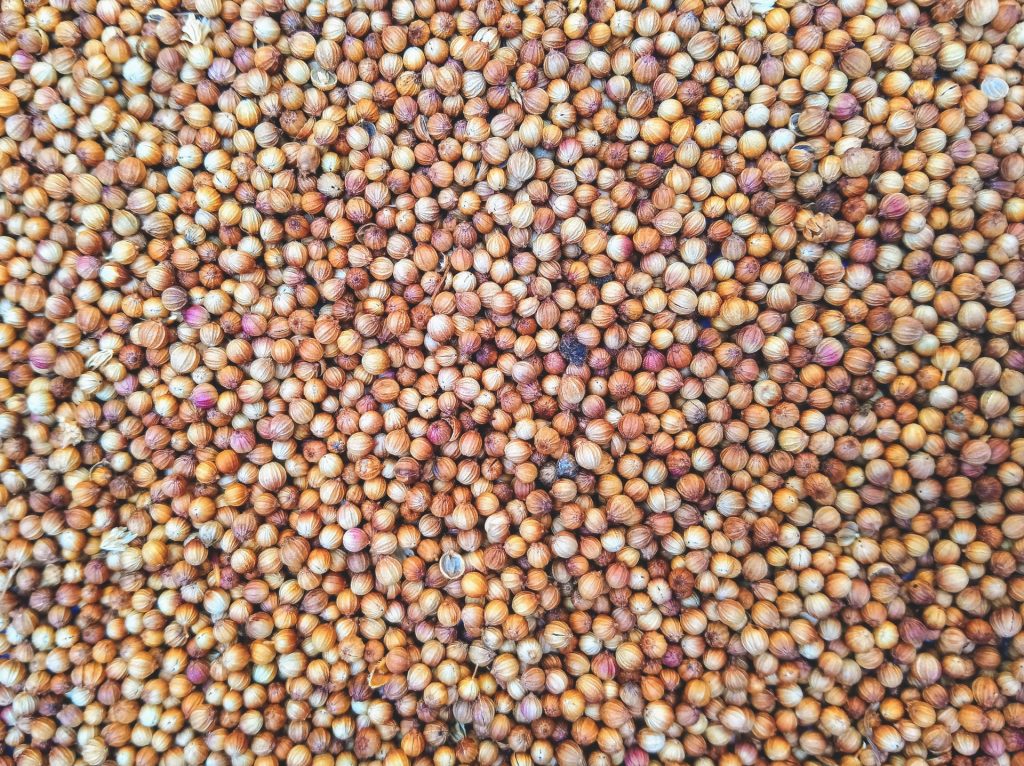 Substitutes that are similar
If you like Dijon mustard or your recipe calls for its distinctive flavor, then you'll be after something similar.
Here are all the substitutes that are the closest match for flavor.
Note: With all of these substitutes you can often get an even closer match by mixing them with either some vinegar or some mayonnaise. The distinctive level of tanginess of Dijon mustard is often the reason that it's used. Adding a bit of vinegar will increase the tang. Adding mayo will reduce the tang.
American yellow mustard
American yellow mustard is probably the closest match to Dijon mustard for flavor and it's also something that a lot of people have in their kitchen.
It's not quite as tangy and spicy as Dijon mustard and it's usually sweeter, but it makes a good swap.
The other good thing about it is that you can just swap it in at like-for-like ratios.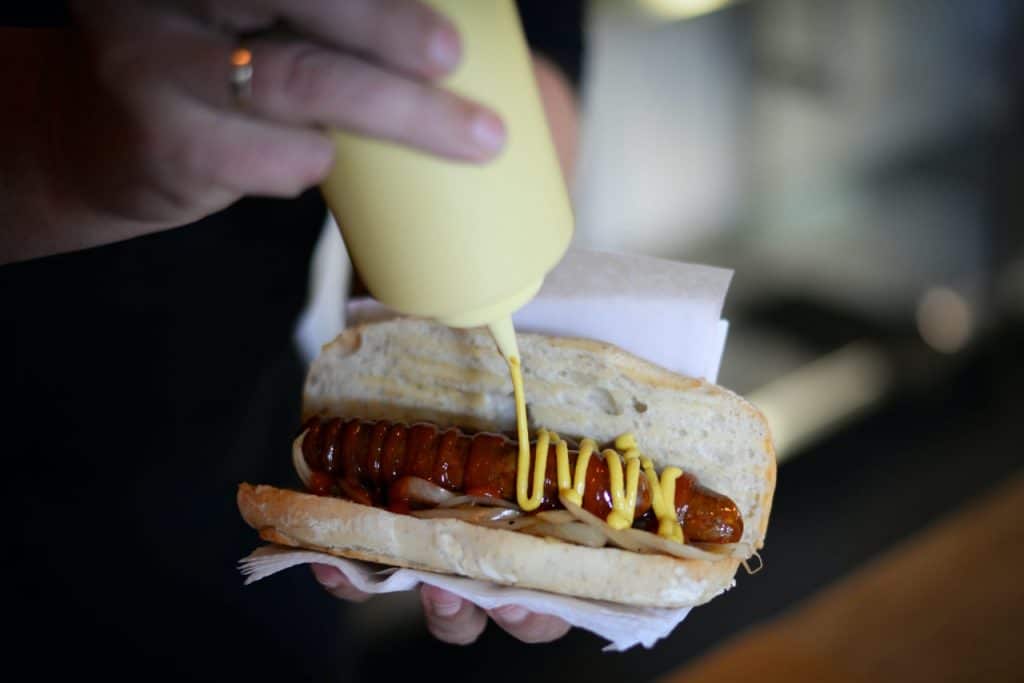 Spicy brown mustard
Spicy brown mustard is another substitute that isn't too far away in terms of taste.
It does particularly well when it's being swapped in when Dijon mustard is being used for a salad dressing.
Spicy brown mustard has whole mustard seeds in it and so the texture is different.
It does match the vinegary flavor fairly well.
This is because the mustard seeds are soaked in vinegar before they are turned into spicy brown mustard.
One suggestion is to mix spicy brown mustard with mayonnaise.
The mayonnaise tends to reduce the tanginess a bit and changes the texture, making it a closer match to Dijon mustard.
Whole grain mustard
Whole grain mustard is quite similar to spicy brown mustard in terms of texture as it's also made with whole mustard seeds.
It's not too far off when it comes to flavor as well when you compare it to Dijon mustard.
It's generally less full of flavor than Dijon and you may want to add some extra ingredients to give it a more distinctive flavor to make it a good substitute to use in your recipes.
German mustard
German mustard is another type of wholegrain mustard that makes a good Dijon mustard substitute.
It's made in the same way, using ground, dry brown mustard seeds.
It's spicy hot and tangy in taste, made with vinegar, and is a great sauce by itself or used to cook with other ingredients.
Stoneground mustard
Yet another wholegrain mustard, stone ground mustard is made with dry brown mustard seeds.
It's not quite as tangy as our other wholegrain mustards, but it's still a good alternative to Dijon.
You can try adding wine to give it a little extra tanginess.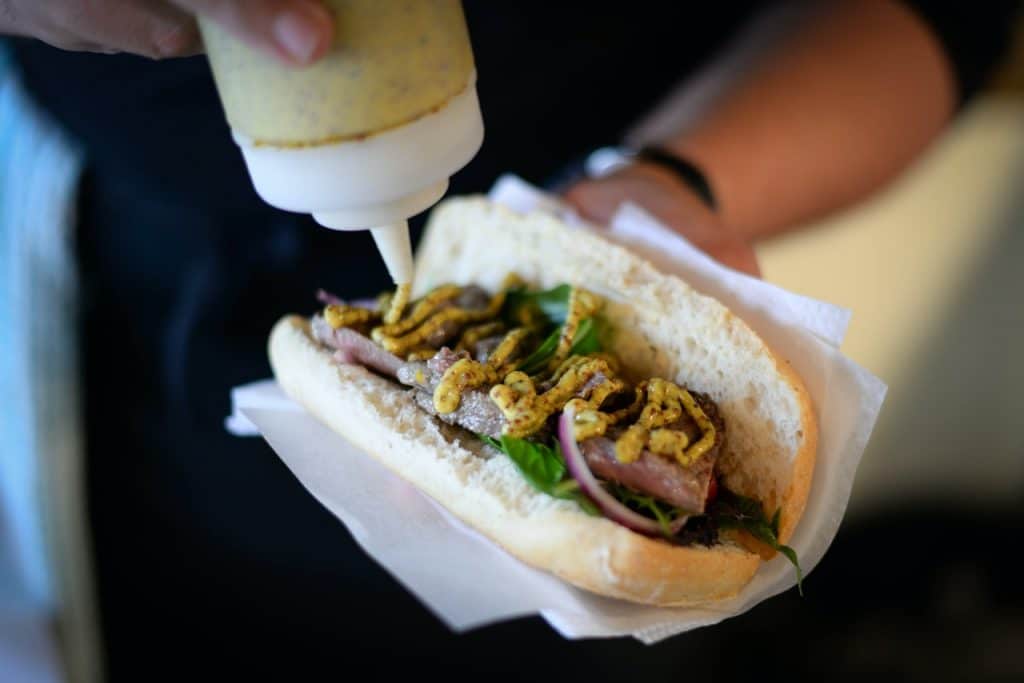 Honey mustard
Many people use honey mustard as a substitute for Dijon mustard.
It's quite a bit more sweet and milder than Dijon mustard but you can swap it in.
Mixing it with a little vinegar will help to match the flavor more closely.
Just like with spicy brown mustard, honey mustard is a great substitute for a salad dressing.
It will change the salad a bit, but it works really well.
English mustard
English mustard is less complex than Dijon and has quite a kick.
English mustard is quite spicy and can be closer compared to Wasabi in terms of the strength of the spiciness.
It adds a lot mustardiness, though, and if you're careful how much you put in then you can use it as a substitute.
This is better as a substitute ingredient in a dish with a lot of other ingredients.
To help English mustard spread further and to reduce the strength of the flavor, you may want to add a little water.
This will make it a bit milder and will help it to mix in with other ingredients or spread further if you need to rub or marinade food like meats.
Make your own Dijon mustard
It's not too difficult to make your own homemade Dijon mustard substitute.
Here's what you use to make it:
Water
Dry mustard powder (or another type of mustard)
White wine vinegar
Mayonnaise
Sugar
Possibly garlic powder and salt
Two big dollops of dry mustard powder and mayo go first.
Then add 2 teaspoons of white wine vinegar to make it tangy and a pinch of sugar to make it sweet.
Add a dash of water and mix it together.
You might want to add a pinch of salt and garlic powder as well to aid the flavor a bit.
If you don't have dry mustard powder, but you do have another type of mustard available then you can use that instead.
If you do this, though, make sure you adjust the other ingredients accordingly.
The best thing to do is to mix them in according to taste.
Keep mixing up your homemade Dijon mustard as you add the ingredients and see how it tastes.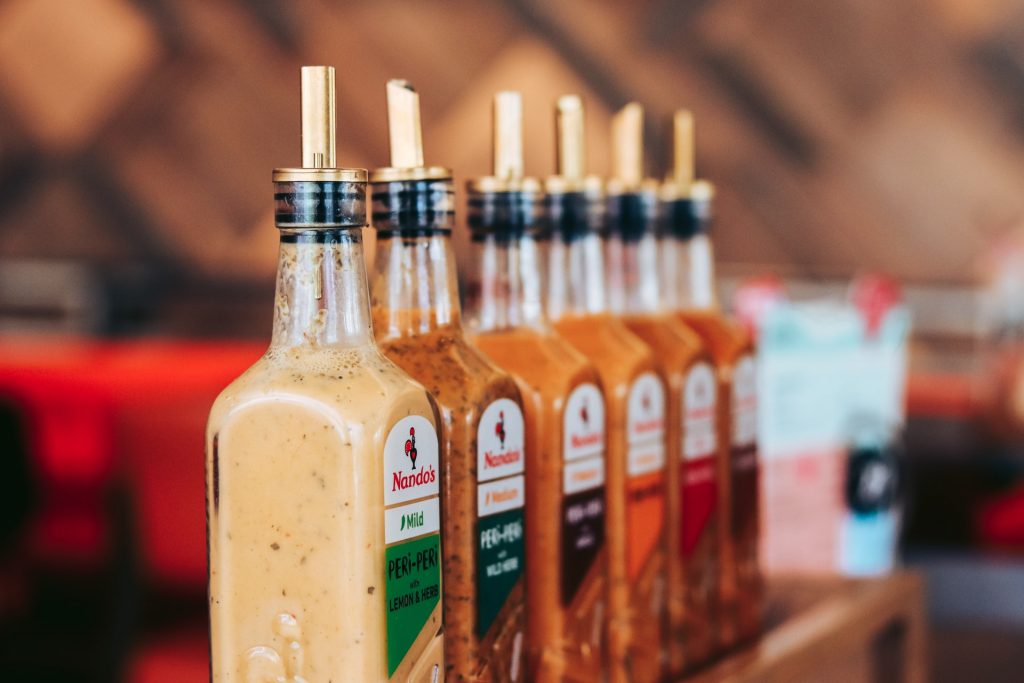 Substitutes that are a bit different
Here are some other types of sauce, which are quite different from Dijon in terms of taste and how they're made.
However, they do make a good Dijon mustard substitute by themselves or in lots of recipes.
just be prepared for something a bit different.
Horseradish
Horseradish is probably a bit more pungent than Dijon mustard, it looks more like cream and it has a unique taste.
However, many people use it as a Dijon mustard substitute because it has tanginess and spiciness.
Horseradish is normally used as a condiment, but sometimes is used as an ingredient in cooking recipes and fills a similar culinary role to Dijon mustard.
Wasabi
Wasabi is obviously a totally different color to Dijon and it's quite different in taste, but it can be used as a substitute.
Wasabi is much stronger than Dijon and it's easy to overdo it.
Just add a pinch to give recipes a similar spiciness.
You may want to mix it with some mayo to take a bit of the spice away and to give it a texture more like cream.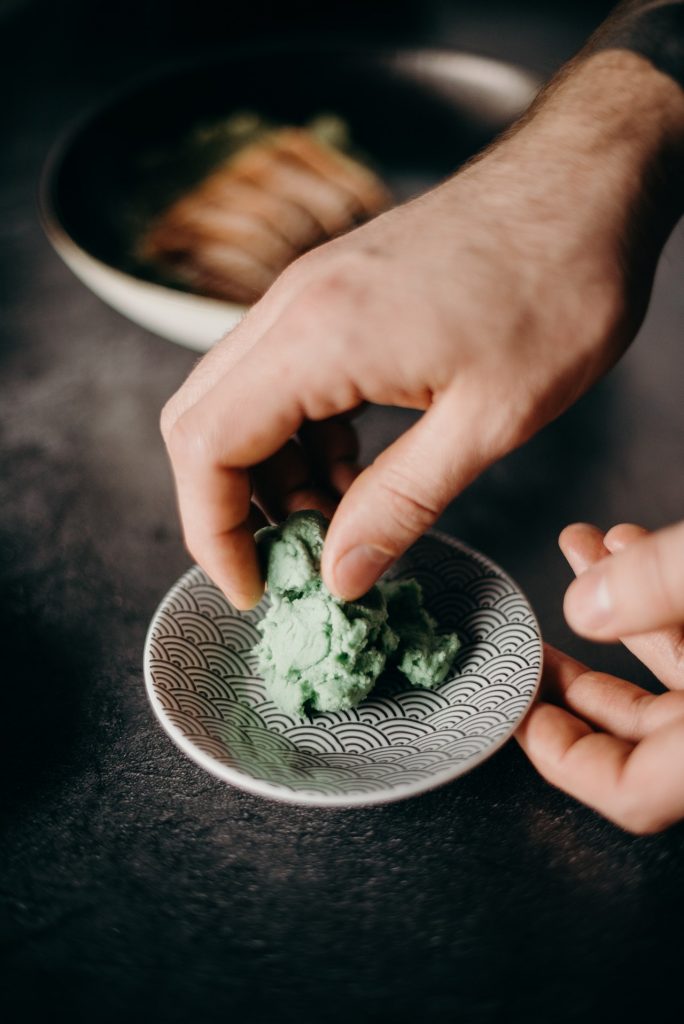 Mayonnaise
This is a great substitute for people who don't like the tanginess and spiciness of Dijon mustard.
This is a good idea when you just want something totally different.
Mayo's a classic and everyone knows how it works.
If you want to make your mayo similar to Dijon mustard then add another type of mustard to it and mix them together.
If you don't have any other mustard, then you can add some white wine vinegar to give it a bit of sharpness and tanginess similar to what you get in Dijon mustard.
Worcestershire sauce
If you've got some Worcestershire sauce, then you can use this to imitate the tanginess of Dijon mustard.
It's made with spices and vinegar, much like Dijon mustard but there's no mustard or creaminess involved.
Worcestershire sauce is a totally different type of sauce and you'll only need a small amount.
Egg yolk
Egg yolks can only really be used to imitate the color and the texture of Dijon mustard.
A lot of people use them as a Dijon mustard substitute though.
If you want to give your dish a bit of tanginess, then add in some white wine vinegar.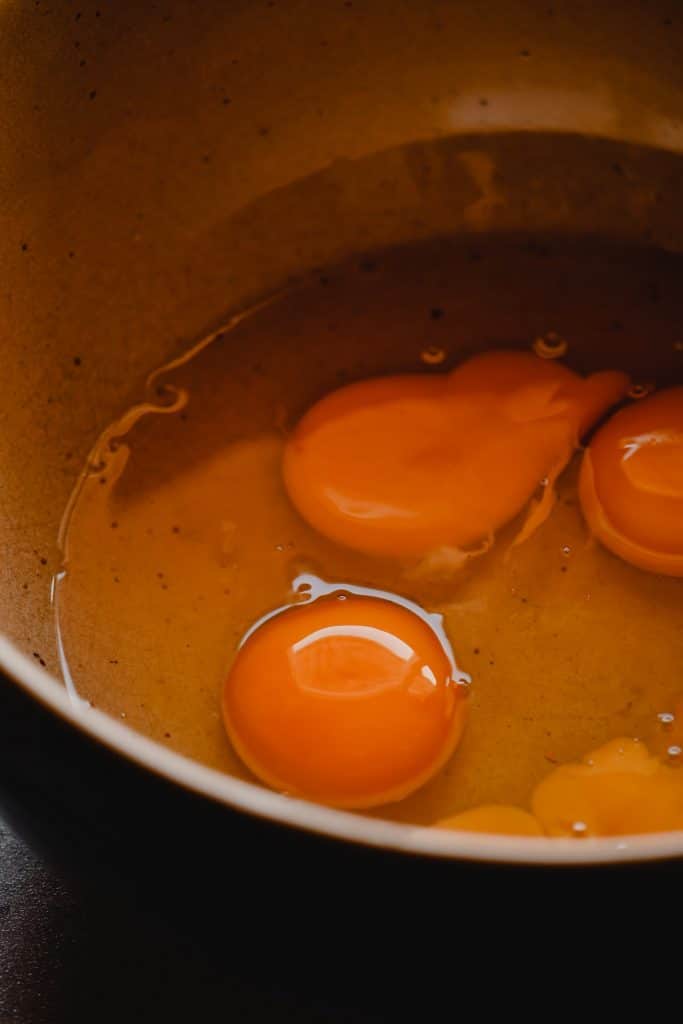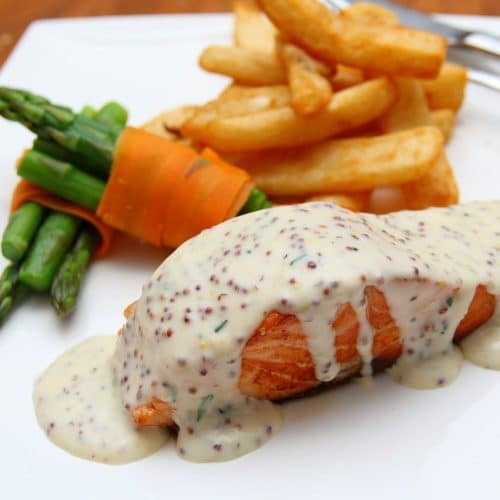 How to Make Dijon Mustard
Allow the Dijon mustard to sit at room temperature for two hours before using for a richer flavor. When ready, place the mustard in a glass or plastic container in the refrigerator. It can last up to six months.
Equipment
1 Sieve or fine mesh strainer
Ingredients
8

tablespoons

brown mustard seeds

7

ounces

distilled white vinegar

divided

4

ounces

white wine

1

tablespoon

granulated sugar

1 1/2

tablespoons

kosher salt

preferably Diamond Crystal (see recipe note)
Instructions
soaking and chilling mustard seeds

Pour 5 1/2 ounces of the distilled white vinegar over the mustard seeds in a little plastic or glass bowl (do not use metal).

For 12 to 24 hours, cover and place in the refrigerator. The mustard seeds can become softer and plumper after soaking, which will facilitate their breakdown during the blending process.

Mustard seeds should be strained.

To remove any vinegar, sift the mustard seeds through a strainer. It will be too harsh to drink.

the mustard seeds are blended:

Blend the mustard seeds once they have been drained. White wine, sugar, salt, and the remaining 1 1/2 ounces of distilled white vinegar should also be added to the mixer. 20 seconds of low-speed blending, then slowly
Video
Notes
White wine is required in this recipe. I advise Chablis or chardonnay.
Compared to regular kosher salt, Diamond Crystal has bigger grains. If Diamond brand salt is not available, use 2 1/4 tablespoons of the salt you already have and taste in Step 4 after 24 hours. If the mustard tastes bland, add more salt until you are satisfied.
Nutrition
Calories:
18
kcal
Carbohydrates:
1
g
Protein:
0.3
g
Fat:
0.4
g
Saturated Fat:
0.02
g
Polyunsaturated Fat:
0.1
g
Monounsaturated Fat:
0.3
g
Sodium:
748
mg
Potassium:
15
mg
Fiber:
0.1
g
Sugar:
1
g
Vitamin A:
0.4
IU
Vitamin C:
0.1
mg
Calcium:
5
mg
Iron:
0.1
mg
---