Check out my guide to the various Breville Toaster Oven models on the market today!
This is the medium option from the Breville lineup. Here are my favourite features from the BOV650XL.
Breville Element iQ System

Smart algorithms steer power to where it's needed

8 Cooking Functions

Small capacity - 4 slices of toast, bagels, cookies, tuna melts, 6 cup muffin tray and 11 inch pizza

LCD Display

Non Stick Cavity
Ease Of Use
This smart toaster oven is fairly easy to use. With a touch-sensitive LCD display, you can easily access the pre-programmed options of the toaster oven. These include a Toast setting and seven other pre-set programs: Bagel, Bake, Roast, Broil, Pizza, Cookies and Reheat.
These settings are easy and customisable. Once you set up your custom settings, this smart oven will keep them for the future. That means your toaster oven will always remember how you like your toast!
It's also easy to clean: with nonstick coating, cleaning is as simple as wiping the walls down with a damp cloth.
Great Design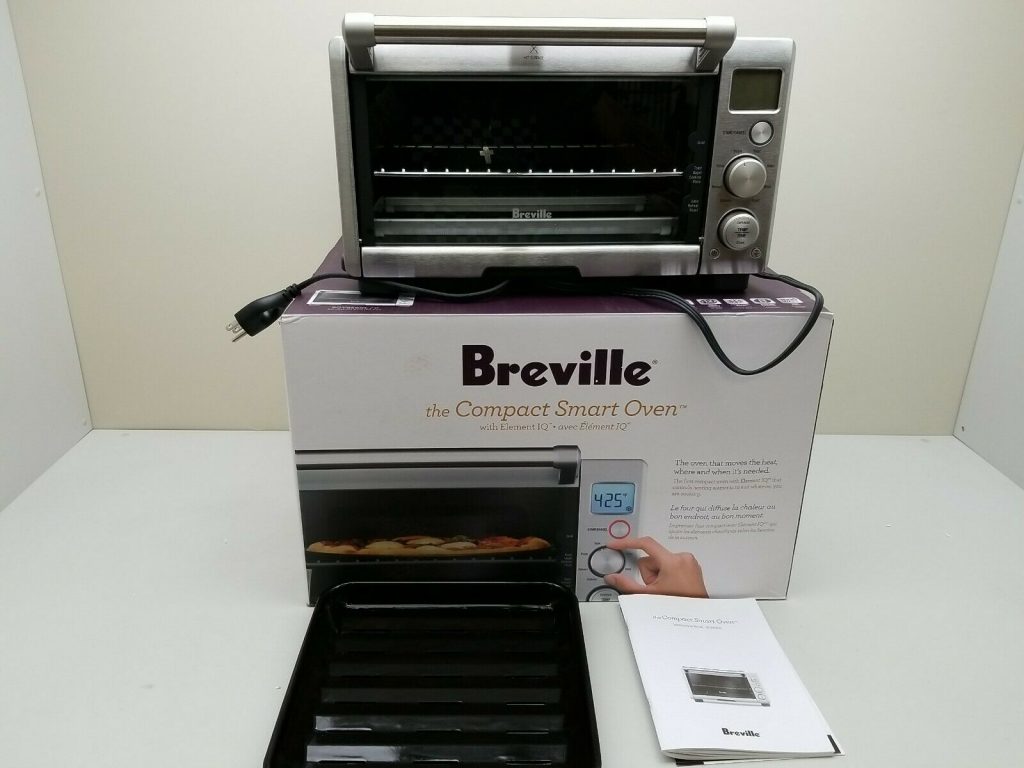 Like its sister toaster ovens, the BOV650XL has that industrial and professional look to them that just screams sophisticated. The dials and knobs share that style, and the toaster oven is also equipped with an integrated oven light that turns on automatically as soon as your food is done cooking. You can use it to easily check up on your food through the massive front window.
Automatic Shutoff
Once you're done cooking, your toaster oven will automatically turn off. You can only set up the toaster oven to cook for up to two hours. There's no option to keep it on and, although this isn't great for a slow roast, it is great for safety.
Since there's no "always-on" option for this machine, you can always make sure that the oven isn't cooking for too long and that it'll turn off automatically, even if you forget about it.
Breville BOV650XL Main Specs
Here are the main features of the Breville BOV650XL Smart Oven:
Size and Capacity
The Breville BOV650XL is usually referred to as the smaller version of Breville's larger model, the BOV800XL. In the whole lineup, it's the midrange option.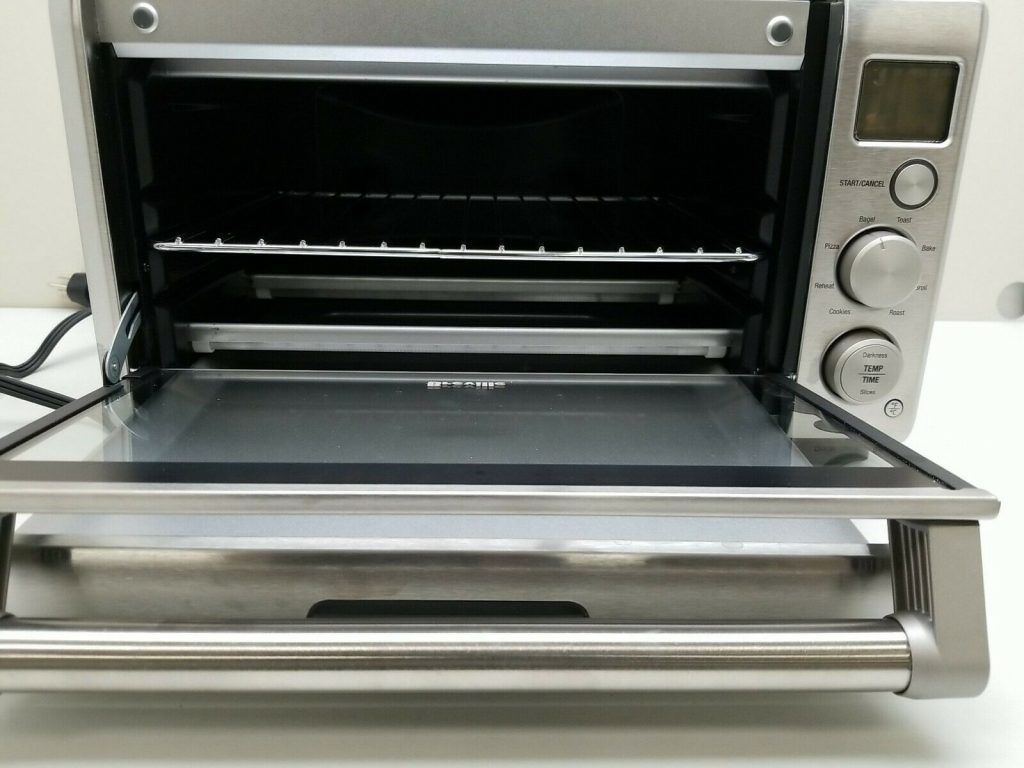 The BOV650XL measures 10.25" (26 cm) x 16.5" (42 cm) x 15.5" (39.5 cm) outside. Its indoor measurements are 12" (30 cm) x 12" (30 cm) x 5" (12 cm).
This makes it a fairly good compromise between not taking too much space on your countertop while being able to cook quite a lot of food.
With its 0.6 cubic foot interior and great depth, it can cook more food than meets the eye. You can toast up to four slices of toast and even a 12" pizza thanks to its concave oven space. You can also easily fit a square 10" baking pan.
Functionality and Heating Methods
The Breville BOV650XL oven has Breville's patented Element IQ. The Element IQ is great for cooking. With it, the oven can adjust its 4 quartz heating elements automatically, distributing heat where your food needs it the most. That way, you can cook food evenly and quickly.
However, even with the Element IQ, you need to know this isn't a convection oven. That ends up being the biggest drawback of this particular oven. A convection oven uses an in-built fan to properly spread the heat and cook quickly.
This oven will only have the Element IQ to manage the heat so, if you're looking to do more cooking and baking than toasting and reheating, you may need to find a convection oven instead.
Also, like many other toaster ovens like this one, the Breville BOV650XL's exterior gets pretty hot while using it.
This is a particular drawback if your kids have easy access to it or if you need to store it away after using it, since you'll have to wait for a while until it cools down.
Accessories and Extra Features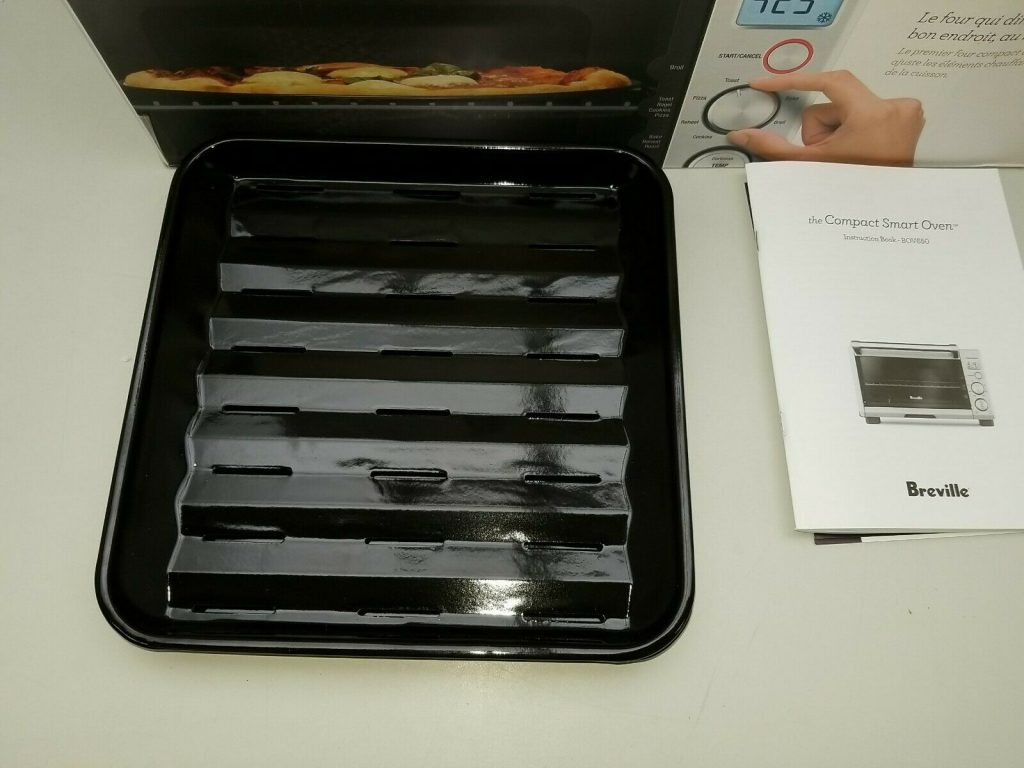 The BOV650XL comes with a 10" square broil rack and baking pan. You can adjust the rack in three positions. That way you can use the top rack when broiling, the middle one for pizzas, toasts and cookies and the bottom one for roasting, baking and reheating.
This model does not come with auto-eject, so you'll need to pull out the tray by hand.
Breville BOV650XL – Should You Buy It?
The Breville BOV650XL is a great toaster oven if you're using it to replace both your microwave and your toaster and want some added baking and cooking features. With its compact design, you can fit it anywhere.
Here's where the BOV650XL shines, and where it doesn't:
What I liked:
Great cooking experience: With a very accurate temperature and an even distribution of heat, this oven gives outstanding cooking results all the time.
Great pre-set functions: With seven customizable settings, it's easy to get your oven going.
Automatic shut-off: Preventing waste of energy and hazard potential.
Great design: Its sleek design is long-lasting and fits in every kitchen.
Compact, yet functional: A perfectly sized oven to occupy as little of your countertop while giving you as much oven space as possible.
What I didn't like:
Not too large: This compact oven can only toast up to four bread slices.
Hot exterior: Since the exterior gets quite hot while using it, you not only have to be extra careful, but you may end up using more energy to both cook and keep your kitchen cool.
No dishwasher-safe accessories: You'll have to hand wash the included accessories.
No convection feature: No in-built fan means more time cooking and removes some of the value that you get out of your investment.
No auto-eject rack: You'll need to get your oven mitts ready to take your food out.
Conclusion – Is It For You?
While this toaster oven has its strengths, like the Element IQ feature and the compact-yet-spacious size, it also has a few drawbacks. Without convection and an auto-eject rack, you may end up asking yourself if it's really worth its relatively high price, especially when you can find those features in similarly-priced ovens.
However, the unparalleled cooking and toasting experience does add up some value to the oven.
If you want more out of your oven, however, check out its cousin the Breville BOV800XL that has convection and more room.