Looking for the best rice cooker in the market?
Table could not be displayed.
Aroma Housewares has three choices:
The ARC-150SB, an affordable, large rice cooker, perfect for larger families or weekly meal preps.
The ARC-1120SBL, a multi-cooker with the SmartCarb feature.
And the ARC-5000, a rice cooker with multiple cooking options.
These top-of-the-line digital rice cookers can cook way more than just rice and can be programmed to cook your meals when you need it to and make them as tasty as they can be.
So, which rice cooker is the right option for you?
Let's find out.
Aroma Housewares ARC-150SB vs Aroma ARC 5000SB vs ARC-1120SBL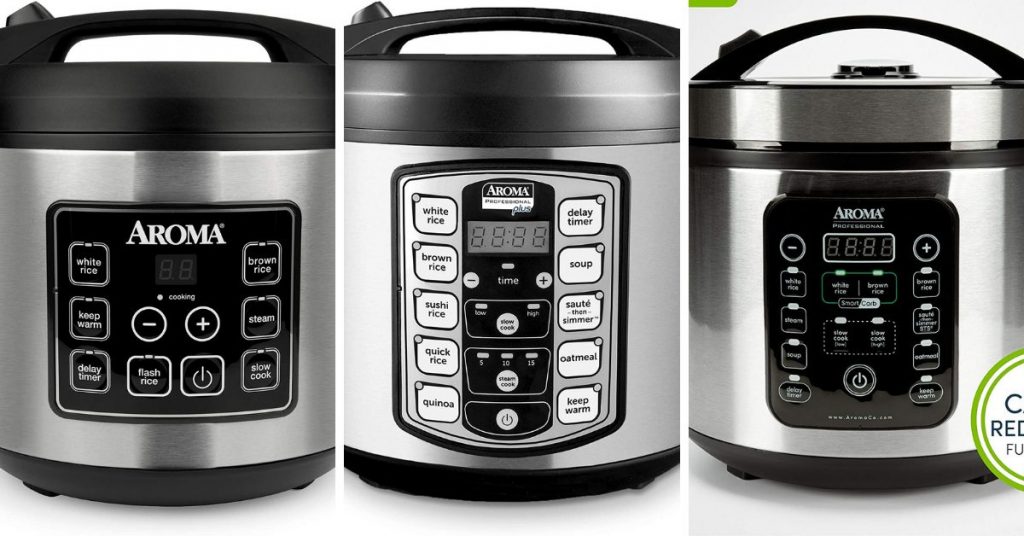 These rice cookers are not as similar as they may look at first glance. Here are them compared feature by feature:
Functions and Features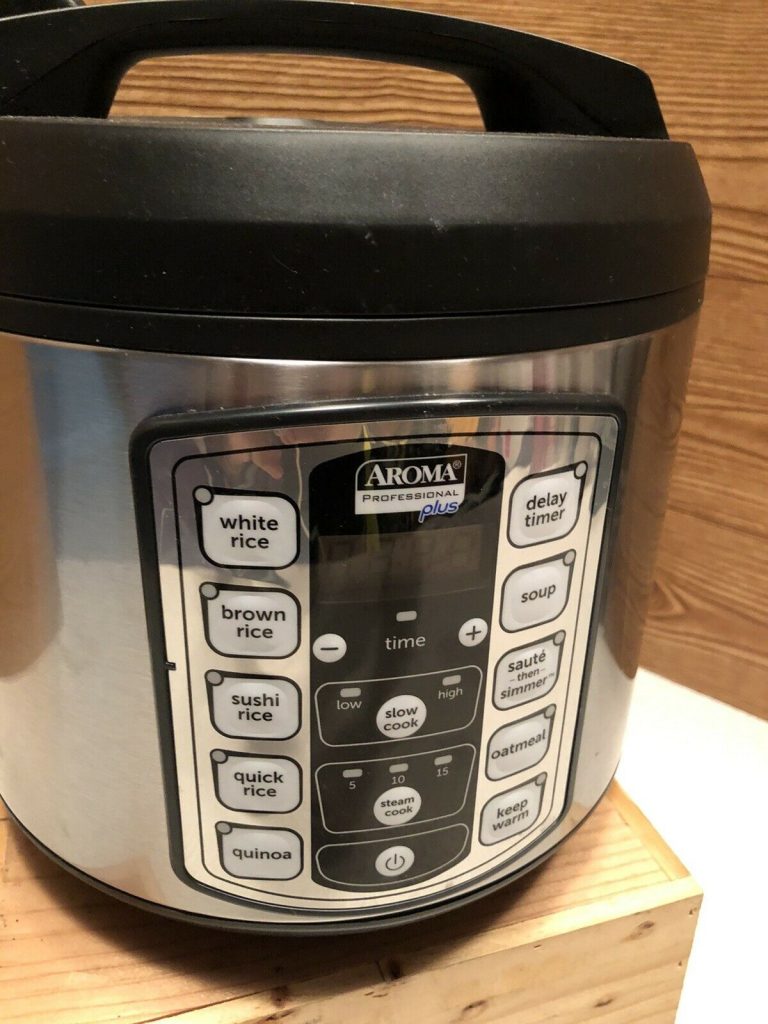 All three rice cookers have many features that can guarantee almost anyone can cook perfect rice and other meals.
I loved that these are two separate functions since, as you may know, brown rice takes significantly longer to prepare, and many rice cookers don't acknowledge this in their cooking functions. With the Aroma rice cookers, all you need is to press a button.
With their built-in steamer, you can easily cook your fish, meat, or veggies along with the rice, preparing you the perfect dish in just one appliance.
The main difference comes with the options you'll get:
Aroma Housewares ARC-150SB
No products found.
Very simple 12 cooking options that include a Sauté then Simmer function, which allows you to reach a higher temperature to sauté (or brown) your food. Once your rice cooker has reached the sauté temperature, it'll stay like that until you add liquid to slow-cook the food.
This rice cooker also comes with a steam tray to prepare steamed veggies, fish, egg rolls, and much more.
This option does not have Sauté-Then-Simmer Technology (STS).
Aroma Housewares ARC-5000
No products found.
The ARC-1120SBL can do everything the ARC-150SB can and more. Besides the same functions, the ARC-5000 also has options for sushi rice, quick rice, quinoa, soup, sauté-then-simmer, and oatmeal.
These options, combined with the option to delay the timer for up to 15 hours, means you can cook far more different foods at the same time by just pressing a few buttons. Where in the ARC-150SB you can make rice and fish at the same time, the ARC-500 allows you to also steam dumplings while making soup.
With more options come far more combinations and less thinking time.
Aroma Housewares ARC-1120SBL
No products found.
The ARC-1120SBL comes with 10 programmable functions, which include smart rice, sauté-then-simmer, soup, oatmeal, and keep warm.
However, it comes with a very unique and advanced function: SmartCarb.
With SmartCarb, you can reduce carbs by 30% through its unique inner pot, which filters out the starchy, carb-filled liquid, as your rice is cooking.
This makes the ARC-1120SBL the most advanced option for anyone looking for healthier ways of cooking rice.
Design
These rice cookers have multiple one-touch operations, allowing you to set it and forget it. There's no fidgeting and looking for options in complex menus. Instead, they are designed for you to select and press your desired feature.
These rice cookers are made out of aluminum with a nonstick coating, which is extremely easy to clean. They're all dishwasher safe, making cleaning even simpler.
However, none of them come with a detachable lid, and I found this makes them a bit tricky to clean.
The only difference in design is with the ARC-1120SBL, which, as I mentioned, comes with a two-pot system to help reduce carbs.
Capacity
These three options are large rice cookers that can handle up to 20 cups of rice while steaming meat or veggies. They can all perfectly adapt to larger families, even if you want to prep your family's weekly meals with one tool.
However, they'll only run when cooking a minimum of 4 cups of rice, so none of these are great for a small dinner for one or two people.
ARC-150SB dimensions: 10.8 x 11.2 x 10.8 inches
ARC-5000 dimensions: 11.18 x 10.79 x 11.38 inches
ARC-1120SBL dimensions: 11.50 x 11.25 x 11.00 inches
Accessories and Extra Features
Besides the digital rice cooker, both the ARC-150SB and the ARC-5000 come with a measuring cup, a steam tray and a serving spatula in the box, which are great extras that I don't often find with other similar kitchen gadgets at this price range.
The ARC-1120SBL comes with all those accessories plus a storage lid.
Price and Value
The ARC-150SB, being the basic option, is the cheapest of the three. However, if you're willing to spend a bit more, you can get the ARC-5000, the professional version, with a lot more features and settings for not much more money.
Finally, the ARC-1120SBL Smart Carb version is the priciest of them all for its carb-removing capabilities.
Basic vs Professional vs Smart Carb: Final Verdict
As we've seen all three rice cookers are very similar. They're all roughly the same size, with the same capacity, and even a very similar design.
The difference comes to their features, and, of course, their price.
Aroma Rice Cooker Basic – Best Budget Option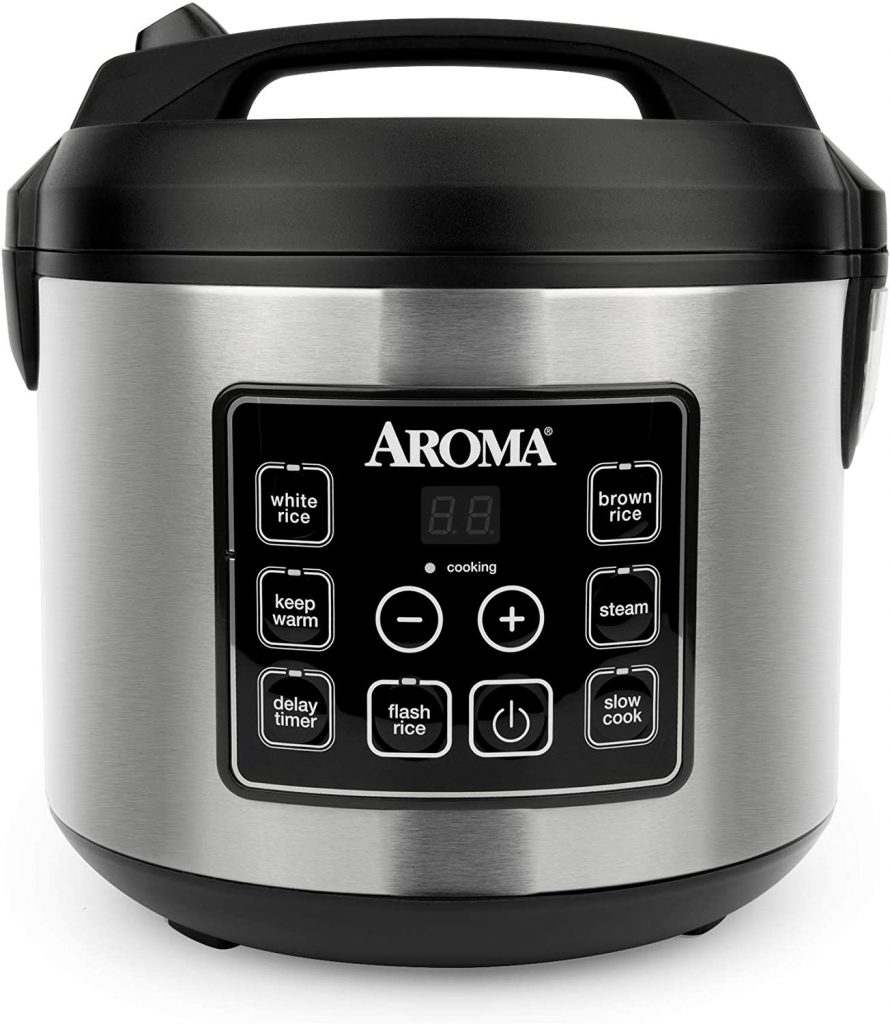 I was surprised to see the value this digital rice cooker packs for its price.
If you're on a limited budget looking for a large digital rice cooker with different options for brown and white rice, the ARC-150SB is well worth your money.
Aroma Rice Cooker Professional – Best Feature-Full Option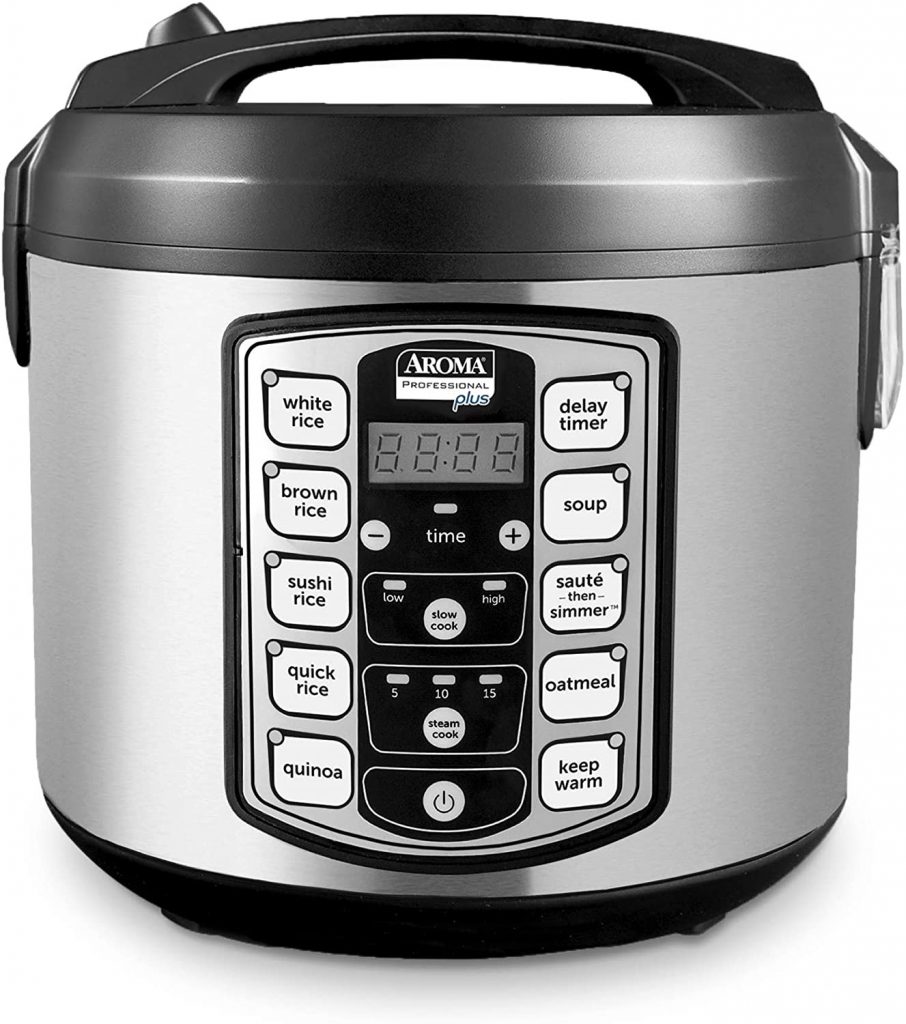 If you can spend just a bit more, the ARC-5000 is well worth its price, especially if you're looking for more than just a rice cooker.
For less than $10 extra, you'll get all the features in the basic options, plus many more, including special options for oatmeal, Split Pea soup, and quinoa, plus Sauté-Then-Simmer Technology.
Aroma Rice Cooker Smart Carb – Best For Healthy Rice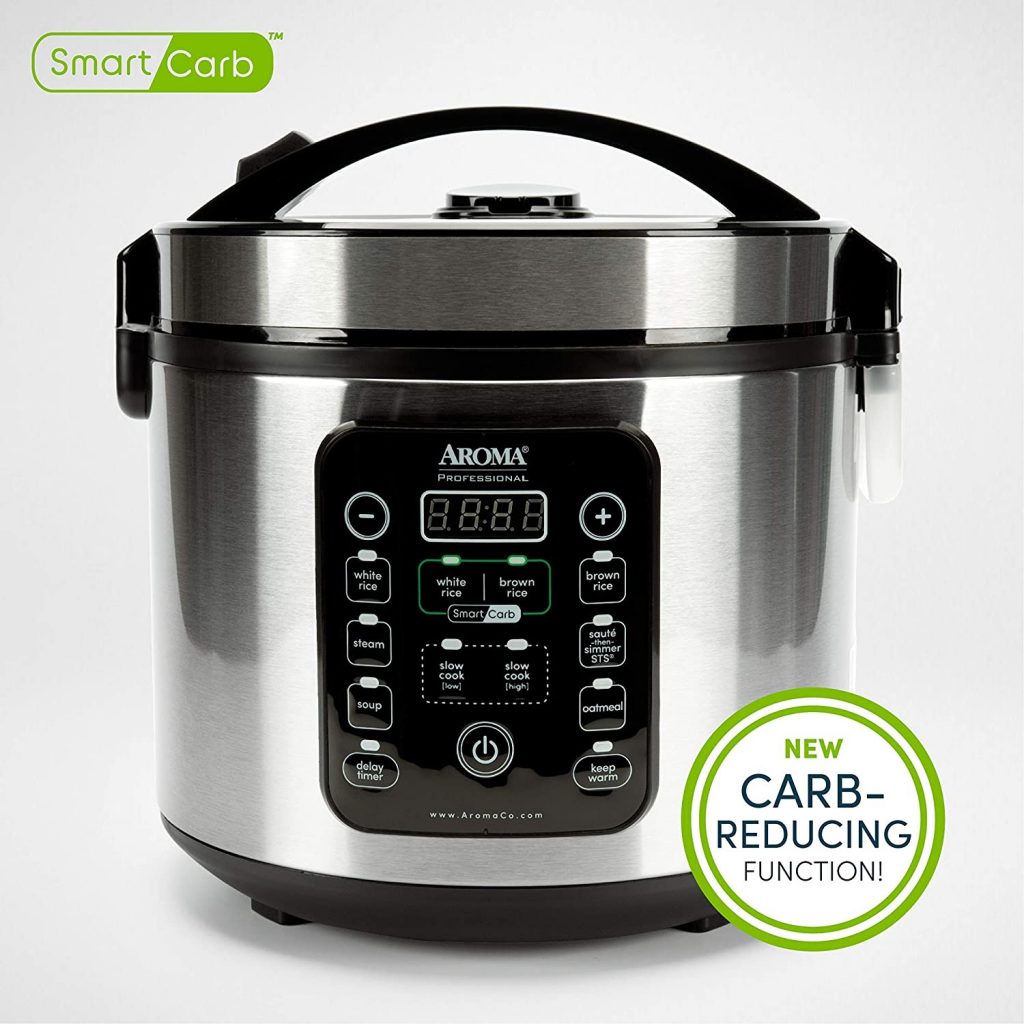 Although far more expensive than the rest, the ARC-1120SBL is a perfect fit for you if you eat a lot of rice and want to cut down calories.
With its patented SmartCarb technology, you can cut down 30% of your carbs from rice, which is a great way of cutting calories without cutting food.
That being said, if you're not too worried about carbs, or if you want to use it for far more than just rice, the ARC-5000 will be cheaper and have more features than the ARC-1120SBL.
Extra: Aroma Rice Cooker Instruction Manuals
I often see people look for these, so here are the instruction manuals for the Aroma rice cookers:
This is it! Hope this helps!
Love,
G.
---