I'm obsessed with Korean food, and this soup is the best way to make it more delicious.
I'm a big fan of spicy tofu soup, but there are so many other incredible dishes Koreans have to offer!
In fact, I think Korean cuisine is one of the most fascinating in the world.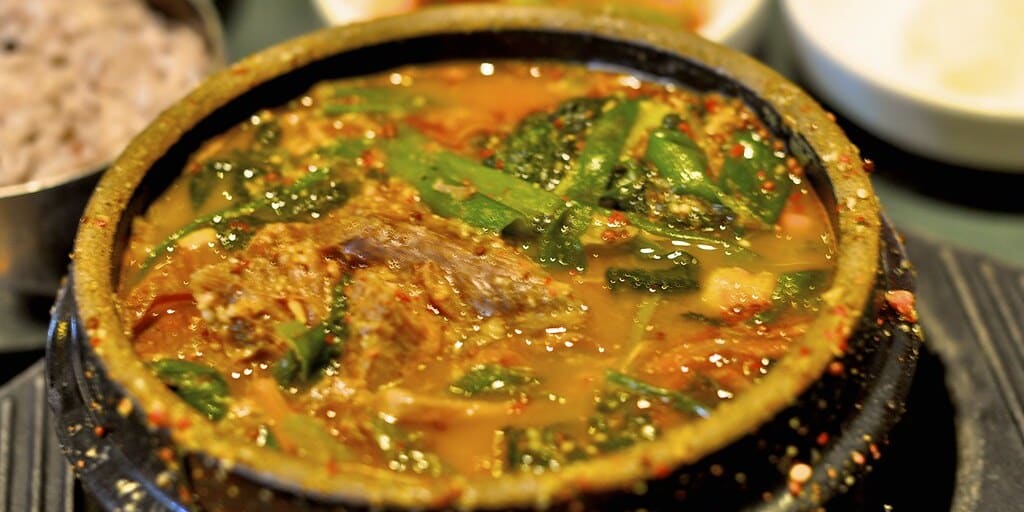 There are all sorts of different dishes that feature everything from seafood and meat to vegetables and fruits.
So if you're looking for something special to make your tastebuds happy, give these amazing Korean soup recipes a try!
I'm pretty sure I've had this soup at least twice, probably more.
That's how good it is!
It has a rich, spicy flavor that will leave you licking your fingers.
The tofu is lovely and chewy, with the added sweetness of gochugaru (Korean red chili flakes).
You can serve it with a side of steamed white rice or gochujang (Korean chili paste), but it's really delicious served on its own.
This recipe is the perfect way to start your day because it's hearty, filling, and vegan-friendly.
The soup is made using chicken stock and dak gomtang sauce.
It's also brimming with protein and flavor.
While you can use any type of protein for this soup – ground beef or turkey would be great!
This Korean soybean paste stew is absolutely delicious.
It's made with a blend of ingredients, but the placebos are all here: garlic, ginger, sesame oil, and soy sauce.
The food processor makes it quick and easy to make while the stovetop version takes about 5 minutes to cook.
If you crave stews that aren't too heavy, this one will be your new favorite.
Korean kimchi soup is the perfect dish for a bowl of comfort food.
A blend of vegetables and spices, it's full of flavor!
This recipe is vegan-friendly using tofu or seitan as the base.
The best part about this soup is that it can be easily customized to your liking.
Just adjust the ingredients to your liking.
Top with sesame seeds for more crunchiness, or add chopped scallions for extra flavor.
If you are looking for a hearty and flavorful meal, look no further than this delicious chicken stew.
It's made with chicken thighs, carrots, onions, and other vegetables.
The chicken broth gives it an earthy flavor that I love, while the rice and potatoes make it filling and hearty.
You can serve it on its own as a complete meal or enjoy it with some simple sides like grilled kebabs.
When I was in Korea, they made this soup with potatoes, carrots, and onions.
It was a bit sweeter than the chunky Irish version.
But you can make it very similar by replacing some of the veggies with corn and parsnips.
The broth is creamy and savory, so it's pretty tasty even without the veggies.
If you want to add something for texture though, try adding chopped bean sprouts or any other crunchy veggie (like bell peppers or cucumbers).
If you're looking to try something new, this soup is exactly what you need.
It has a thick, creamy consistency and is packed with protein.
Plus, it's sure to fill your belly.
This stew is ideal for chilly nights when you want to feel warm and cozy.
You'll love how the soybean paste flavors the broth with smoky notes.
It's so good!
I know it sounds strange, but the perfect spicy beef soup is actually made with a combination of star anise and cinnamon.
The spices will bring out the umami flavors in juicy cuts of beef.
This Korean soup is so flavorful that it even tastes good when you add extra ingredients like sauce or jjim (soybean paste).
It's best served piping hot!
In Korea, duk guk is often served as a light lunch or appetizer when guests are arriving.
It's easy to make, and it's loaded with goodness.
The rice cake base is made with glutinous rice flour, and the soup is flavored with sesame oil and garlic powder.
However you choose to serve it, this recipe will surely satisfy your palate.
Here's another stew that'll give your tastebuds a good workout.
It's insanely spicy and full of flavor.
This sizzling stew is cooked in a cauldron of fragrant ingredients and coated in an egg-soy sauce.
The result is one helluva spice bomb!
Any soup lover will appreciate this unique Korean dessert.
Made from rice flour, coconut milk, and plenty of spices, it's a hearty bowl of delight.
That said, there are so many ways to customize this dish!
You can add more veggies for a vegetable-packed meal or make it vegetarian by swapping out the meat for tofu.
Or maybe you want just one spoonful of sweetened condensed milk?
That's how I usually serve them.
If you're a fan of comfort food, this Korean oxtail soup is the way to go.
Made with oxtails and a rich broth, it's hearty enough for lunch but light enough to enjoy as dessert.
Creamy barley gives it that bit of extra sweetness while fresh ginger rounds out the savory flavors.
The best part?
This recipe is easy to make, so you can make more than one!
If you're not a fan of seafood, this dish is for you.
It's an excellent alternative to chow mein or pad thai.
The noodles are delightful and so easy to make.
You can even cook your own if you prefer.
While it doesn't have the same texture as one made with fresh veggies, it has the same taste!
This soup is light, tangy, and absolutely delicious.
If you want something warm and comforting on a cold day, give this recipe a try!
Chicken noodle soup is one of the most comforting meals in Korean cuisine.
It's warm and full of hearty goodness.
It's also incredibly easy to make at home.
The only thing you have to do is chop everything up and throw it in a pot.
You can get really creative with the sauce, but that's down to you!
This recipe uses a coconut milk-based broth, so it has a delicious tropical flavor.
This kimchi stew is a ton of delicious flavors with a little bit of spice to keep it interesting.
It has plenty of veggies, tofu, and even some leftover beef!
The broth is cooked in chicken stock with ginger, garlic, soy sauce, and chili flakes.
It's a simple dish that doesn't skimp on the flavor.
Kongnamul guk is a one-pot, Korean-style bean sprout soup that's perfect for any chilly day.
Although there are several recipes out there for this dish, I find the best way to make it is by using all fresh ingredients and steaming them before blending.
Then use an immersion blender to whizz it all up.
You can also add pork belly or other meats into the pot if you like.
Korean beef short ribs are typically cooked in a red wine broth but they're also cooked in this soup.
The broth has a rich, umami flavor that pairs perfectly with the sweet and sour taste of the flank steak.
Add some julienned cucumber, radishes, and scallions for garnish and enjoy!
This Korean soup is ultra-creamy and packed with flavor.
It's made with a base of chicken broth, plus eggs, vegetables, shallots, and chives.
Then there are also ground pork and bean sprouts.
The broth also contains umami-rich soy sauce, so you can expect the best taste right in the bowl!
If you're unfamiliar with Spam, you might be wondering what this potato and Spam stew is all about.
Spam is a type of canned meat product originally from Japan that has many health benefits.
So, it makes sense that this dish is also healthy!
The potatoes are cooked in the same broth as the Spam to make one hearty, filling meal.
This soup is pretty much a Korean version of ramen!
And it comes out even better with a few extra ingredients.
I love this recipe because you can use whatever veggies you like.
It's best to eat them right out of the jar, so they soak up all those flavors.
As for the noodles, I prefer to use ramen noodles.
But if you're in a rush, they work just fine too.
You can keep it simple with only four ingredients or make it fancier with ginger scallions, sliced mushrooms, and sesame seeds!
Spicy, fragrant, and bright, this Korean stew is bursting with the flavors of kimchi and gochujang.
It's also a complete meal in its own right.
The carrots add a nice dose of sweetness, while the zucchini provides an amazing base for all the spicy goodness .
It's also packed with protein-rich tofu and healthy veggies.
Enjoy it over rice as a filling meal or serve it to your family for breakfast.
This soup is a traditional staple in the North Asian region.
Muguk, which translates to "radish soup", uses radishes as its base – radish root and all.
There are many variations of muguk recipes, but this is the one I like best.
It has a light sweetness that pairs well with garlic and broth.
This simple dish is an easy way to bring freshness to your meals.
Serve it as a side or enjoy it as-is!
This Korean noodle soup is made of thin noodles and each spoonful is loaded with tender beef, carrots, and potatoes.
I love the combination of different flavors in this dish. It's a mix of salty and sweet – just like the best ramen!
This recipe calls for dried mango slices, but you can also use canned or fresh fruit.
Either way, it's great to keep around.
Just make sure you don't eat all the meat first!
Dakgaejang is a spicy chicken soup loaded with thinly sliced scallions and sesame seeds.
It's filled with raw, lightly pickled scallions that meld perfectly with the sesame seeds.
The broth also contains ginger, garlic, and hot pepper flakes for a little kick.
If you don't have time to make your own spicy soup, try this Instant Pot version instead!
When I'm feeling a little under the weather, I like to make this cabbage soup.
It's super easy to whip up and tastes like warm, delicious home cooking!
The broth is made with scallions, garlic, green onions, carrots, and soft mushrooms.
It's thick with a light sweetness from the ginger and honey.
Throw in some dried chili peppers if you want something extra spicy.
And of course, there are plenty of veggies in this bowl that will keep you full all day long.
25 Easy Korean Soup
In fact, I think Korean cuisine is one of the most fascinating in the world.
Instructions
Select your favorite recipe.

Organize all the required ingredients.

Prep a Korean Soup in 30 minutes or less!
---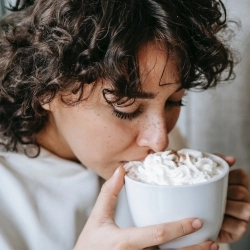 Latest posts by Grace Lambert
(see all)