When it comes to Hawaiian appetizers, I think most people automatically think of sushi, ramen, and barbecue.
I don't blame them, either.
Of course, you can get some really amazing sushi here too.
Hawaii is known for a lot of things, but I don't think most people realize how delicious their food is.
Even when they're not eating it, I know that the state is often associated with burgers and fries.
Hawaii may not be the first place that comes to mind when you think about good eats, but it certainly isn't the last!
Hawaiian appetizers are just one of the many things that you can enjoy in Hawaii.
If you're looking for some new ways to try out your favorite Hawaiian dishes, you've come to the right place.
There are so many different ways to enjoy Hawaiian cuisine.
From simple sides like crab rangoon to more elaborate entrees like seared ahi salad, there are so many dishes that Hawaii has to offer.
Not only will these recipes show you how easy it is to make authentic Hawaiian foods, but they'll also teach you a thing or two about the state itself!
If you want to learn something new and exciting while enjoying your favorite Hawaiian dishes at home, this list is for you.
Without further ado, here are 25 Hawaiian appetizers that will show you how easy it is to make some of your favorite Hawaii dishes!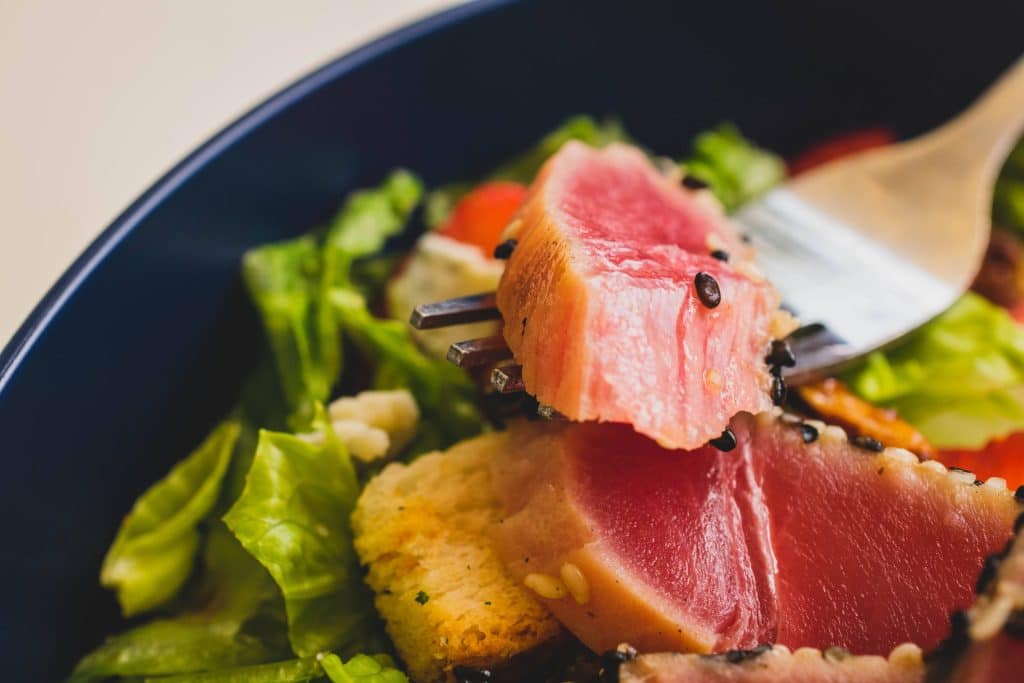 This Hawaiian salsa recipe is the perfect option for those who prefer their salsa less chunky.
It's a fresh, zesty blend of pineapple, mangoes, red onions, and tomatoes.
Just give it a few minutes to marinate in lemon juice and seasonings before serving.
Serve this on top of grilled chicken or shredded fish for an extra boost of flavor.
It also pairs well with your favorite Mexican dishes.
These Hawaiian barbecue meatballs are the stuff of legends.
It's hard to believe that you can whip up a batch of these in just 40 minutes.
Between the sweet and tangy pineapple glaze and smoky, spicy Thai chili sauce, there's not much this dish can't withstanding.
With only six ingredients and 35 minutes of prep time, it couldn't get any easier than this!
3. Hawaiian Pineapple Cream Cheese Dip
Cream cheese dip is pretty tame.
It's nothing new, but you might have never tried this one before.
It's a healthy and delicious take on the classic appetizer that pairs sweet pineapple with creamy cream cheese.
It's like heaven in a spoon!
This recipe is super easy to make, so feel free to whip it up whenever you want.
If you love the flavor of Hawaiian food, this dip will be your big fan's favorite.
It starts with a simple mix of mayonnaise, butter, and shredded cheese.
Then, it gets even better by tossing in carrots, celery, onions, and pineapple chunks.
Once that's done baking in the oven for 30 minutes or so (or one hour if you use frozen ingredients), it's ready to be served.
Serve it with crackers or chips for an easy snack.
Or serve it as an appetizer; just pair it with some fresh fruit!
This recipe is the perfect way to get your family excited about a tropical meal.
Each kabob consists of juicy chicken thighs marinated in lime juice and salt and served with pineapple chunks.
It's a great way to impress guests, and it always leaves me feeling out of this world!
This Hawaiian snack, also called Spam musubi, is a delicious way to enjoy the flavors of Hawaii's favorite meat-based snack.
It features Spam and veggies in bite-sized chunks.
The soft and fluffy maki-zushi wraps are filled with Spam, melon slices, and cucumber slices.
These tender snacks are perfect for any occasion.
However, they're especially great for picnics and barbecues!
This recipe is for the person who wants to try a new way of eating fish.
There are no rules and you can use whatever kind of fish you like.
I find salmon, tuna, or even swordfish work well here.
The best part about this salad is that it's also Paleo-friendly.
So if you're trying to eat healthier, this recipe will be a lifesaver!
I've been making this for years and it never disappoints.
It's so simple, yet it tastes so good.
It's easy to make, too!
Plus, you can have a big colorful party with all of your friends.
This is one recipe that will not only impress your guests but also your taste buds.
If you're a fan of tuna salad, this is the recipe for you!
And it tastes just like the real thing.
It's creamy and tropical, with a tangy kick from the avocado.
The crunchiness is accentuated by the toasted sesame seeds on top.
Every bite is packed with goodness from all angles!
These Hawaiian BBQ chicken cups are the perfect way to celebrate a successful hunt.
It's tender, juicy, and has the most incredible BBQ flavor.
The addition of macaroni noodles adds a bit of crunch.
They're also incredibly easy to make.
All you'll need is six ingredients and 30 minutes!
Serve these Hawaiian BBQ chicken cups with rice or pasta for a complete meal.
My go-to poke has always been ahi poke.
The fish is firm and flaky, the veggies are crunchy, and the sauce is sweet.
But if you're looking for something new, try this simple recipe.
All you'll need are shoyu marinade mix, mirin, quinoa, tofu, and ahi poke seasonings.
It's easy to throw together at home but looks fantastic on your dinner table!
This recipe is a lot like grilled cheese, but with more dip.
It's got the same gooey melted cheese, buttery crust, and salty bacon.
But instead of just one sandwich, you'll also make two!
The trick is to fill the second one before serving it.
Make sure you let it cool completely so that all the flavors can mix together.
While this recipe is more suited for savory than sweet sandwiches, I think the sweet version would be awesome.
Sweet mayo or honey mustard would add some sweetness to each bite.
I'm not a fan of pork hash because I don't like the texture.
It gets too dense and rubbery, and it doesn't taste as good as it looks.
However, this recipe is so much better than any pork dish you'll ever make at home.
It takes about 45 minutes to cook the pork, but there are no other dishes involved.
You can even make this in a slow cooker if you prefer.
Crab rangoons are a popular street food in China that's served for breakfast, lunch, and dinner.
They're crispy on the outside with chewy goodness inside.
The main ingredient is crab meat but you can mix it up with shrimp or chicken.
This easy recipe uses only five ingredients – garlic, oil, prawns, eggs, and seasoning!
A bite of this crunchy delight will make your mouth water so much it might give you an appetite.
(Or maybe that's just me!)
The Hawaiian cheese ball is a sweet and creamy treat made with cream cheese, pineapple juice, coconut flakes, and red curry paste.
It's like having a little slice of paradise for your tastebuds.
You'll love how it tastes as soon as you bite into it.
It has the same feel and taste as other Hawaiian desserts with just one added bonus: it's also vegan!
How awesome is that?
These Hawaiian wings are so meaty, you'll want to take them home with you.
They're made with chicken, pineapple chunks, and garlic butter.
The chicken is cooked until its juices run clear and the pineapple evaporates.
It's a simple five-ingredient recipe, but the flavor is sensational.
If you love Hawaiian food but aren't fond of spicy food (or spice lovers), this is a dish for you!
If you love bacon and fruit, this recipe has your name on it!
This fruit-filled bacon wrap is a delicious way to start your day.
And the best part?
It's easy to put together!
Just wrap strips of pineapple with bacon, cream cheese, and blueberries in an airtight bag.
Then refrigerate until ready to eat.
Serve as a dessert or snack, or just enjoy crunchy bacon wrapped around sweet pineapple.
If you love Asian cuisine, this recipe will definitely impress.
It's such an elegant dish that takes just 15 minutes to prepare.
You start by braising beef with a spice blend and some papaya.
Then it gets turned into a bowl of flavors.
The result is a delicious, spicy dish that's packed with flavor.
Serve it for your next dinner party or enjoy it as a light lunch on its own.
Huli Huli chicken is a classic Filipino dish.
It's super simple to make and the results are guaranteed to be delicious.
This recipe uses just a few ingredients and takes about 30 minutes of your time.
It's a great way to show off how creative you can be with your dishes!
The secret ingredient to this dish is shiitake mushrooms.
These morels are so flavorful, they'll make your mouth water.
Serve this flavorful, juicy chicken dish with rice or noodles for an instant meal.
Some people like their peanut butter smooth and creamy, while others prefer crunchy.
That's why I love this recipe!
As long as you have your Instant Pot on high heat, it's ready in a flash.
The key to making the most out of this is to add a dash of salt and pepper.
Otherwise, they'll be kind of bland.
If you want to make them extra nutty, try adding some chopped almonds or a little brown sugar.
This recipe is perfect for a Hawaiian BBQ, and it's so easy to make!
With just four ingredients, you can have this amazing grill treat ready in one hour.
It's an ideal appetizer or dessert that everyone will love.
You could even serve them with Kahlua caramel or coconut whipped cream.
Yum!
These tacos are just as delicious as the original and they're packed with protein.
The meat is cubed, seared on the grill, then cooked right in a mix of mayo, ketchup, soy sauce, Sriracha, and butter.
It's not quite filet mignon but it comes close.
The inside is even more yummy than usual because there are toasted wontons in the mix!
Want to try the next vegan stir-fry?
Here, you can get that Asian flavor without the meat.
Packed with veggies and spices, these cauliflower bites are a fantastic way to enjoy this favorite dish.
And if you're looking for something new to add to your weekly meal rotation, this recipe is just what you need.
If you like your salads a little lighter, try this delicious Hawaiian macaroni salad instead.
It's super simple to make and it tastes just as good as anything you could order at a restaurant.
The key is in the dressing, which is made with mango ketchup and honey mustard.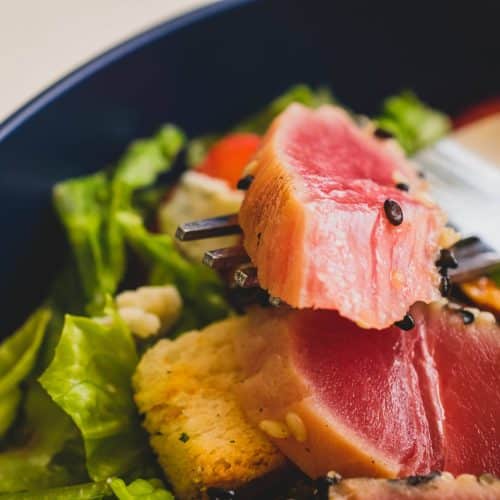 24 Yummy Hawaiian Appetizers
Hawaiian Seared Ahi Salad is made with fresh ingredients and topped with seared tuna and a toasted sesame dressing. Appetizer that is both elegant and delicious
Ingredients
5

oz

ahi tuna steak

1

head

romaine lettuce

chopped

1

mango

peeled and cut into strips or cubes

1

small

English cucumber

thinly sliced

1

avocado

peeled and cut into strips

1

c.

shredded carrots

2

radishes

thinly sliced

1/4

jicama

peeled and cut into strips

1/2

cup

peanuts

dry roasted and unsalted

1/8

c

sesame oil

1/4

c

sesame seeds

2

tsp

ground pepper

Salt

to taste

Toasted sesame dressing
Instructions
Wash your tuna steak in cold water and pat it dry with paper towels. Place aside.

Combine sesame seeds and pepper. Salt both sides of the steak, then dip into the sesame seeds and pepper—nestle the steak into the seasoning, making sure all sides, including the outside edges, are covered.

In a nonstick skillet, heat the sesame oil. When the oil is hot, add the steak and sear for 2 minutes per side. Sear the steak's edges with tongs as well (but only for about 30 seconds). Allow to cool slightly before slicing tuna into 1/2 inch thick strips against the grain.

Arrange the remaining vegetables and fish on top of the lettuce to make the salad. Refrigerate and serve cold!
Video
Nutrition
Calories:
461
kcal
Carbohydrates:
35
g
Protein:
20
g
Fat:
31
g
Saturated Fat:
5
g
Polyunsaturated Fat:
10
g
Monounsaturated Fat:
14
g
Cholesterol:
13
mg
Sodium:
80
mg
Potassium:
1365
mg
Fiber:
15
g
Sugar:
14
g
Vitamin A:
25013
IU
Vitamin C:
44
mg
Calcium:
218
mg
Iron:
5
mg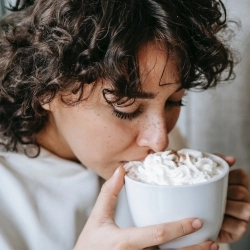 Latest posts by Grace Lambert
(see all)