There's nothing as appetizing as tender and juicy boneless chicken breasts, whether baked, grilled, pan-fried, or slow-cooked.
If it's your first time baking chicken breasts, it might just be a go-to recipe every night.
The versatility of pairing with any side dish and adjusting to small and large audiences makes it the best dinner choice–not to mention that the leftovers taste even better.
So, how long and what temp to bake chicken breasts?
Bake boneless chicken breasts at 375F for about 20 to 25 minutes—depending on the thickness—with a 5 to 10 minutes rest.
Baking at high temperatures for a short time locks in moisture, resulting in a tender and juicy chicken breast.
Regardless of the baking heat or thickness, the final internal temperature of cooked chicken breasts should be at least 165F.
Assuming chicken breasts are prevalent in your kitchen, does that mean you know everything about baking them?
Here we highlight what you probably don't know about the cooking time and temperature for perfect chicken breasts.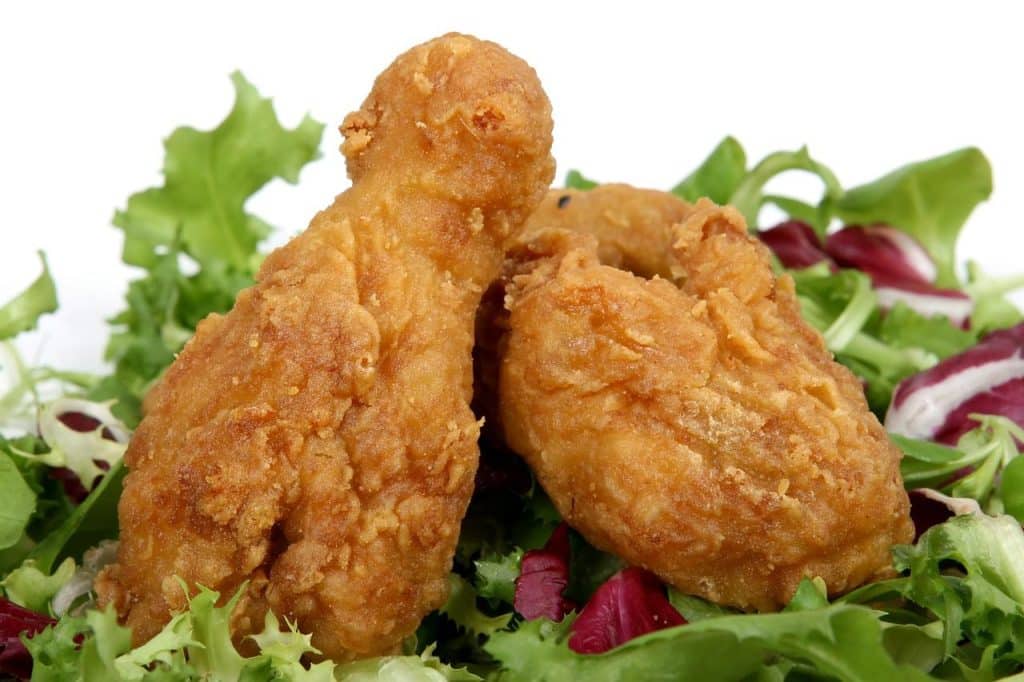 What temperature should you bake chicken breasts?
The recommended oven temperature for baking chicken breasts is between 350F and 450F.
When you cook chicken at high temperatures for a brief time, it seals in the moisture producing tender and juicy results.
However, you can bake at slightly lower temperatures provided it reaches a final internal temperature of 165F.
Is it better to bake chicken breasts at 350 or 450F?
Baking chicken breasts at 375F to 425F for about 25 minutes is the recommended temperature.
This ensures the chicken cooks evenly and quickly, resulting in tender and juiciest breasts.
Dark chicken cuts like drumsticks and thighs would cook through at 450F without drying out, unlike breasts.
Baking time depends on chicken breast thickness, boneless or bone-in, skinless or skin-on.
For instance, medium-sized boneless, skinless chicken breasts cook for about 20 to 30 minutes at 375F to reach a final internal temperature of 165F.
On the other hand, a large bone-in, skin-on chicken breast would need approximately 35 – 40 minutes to cook through and reach a final temperature of 165F.
How long does it take to bake chicken breasts at 400F?
Baking chicken at 400F takes about 18 to 25 minutes to reach 165F depending on the cut size—with a 10 minutes rest.
For instance, a piece of boneless chicken weighing 6 lbs. takes about 20 minutes in the oven.
A bone-in, skin-in chicken breast will take between 30 and 40 minutes to cook through and reach a final internal temperature of 165Fat 400F oven heat.
The prolonged period is due to the fat, skin, and bone making it extra juicy and evenly cooked.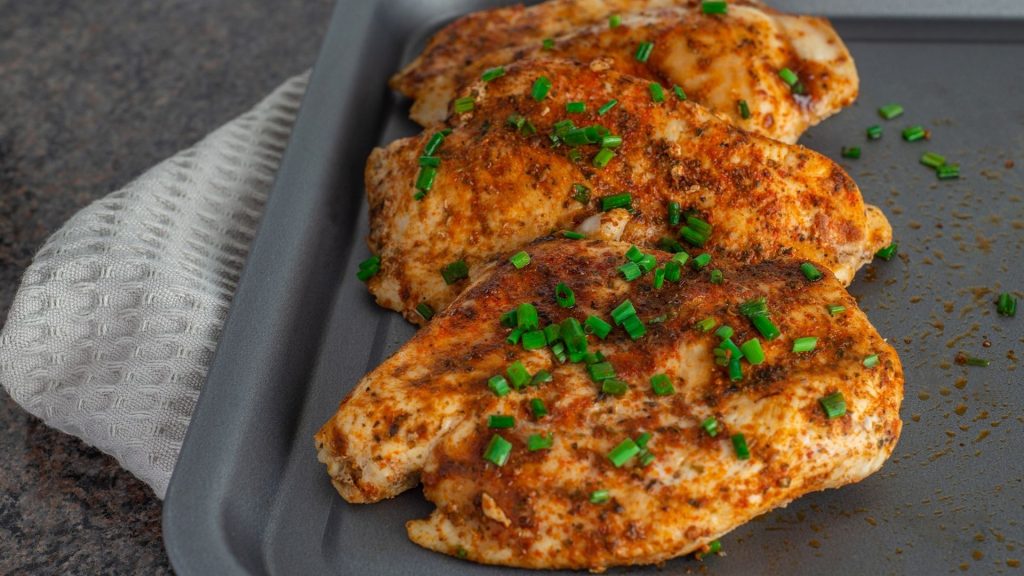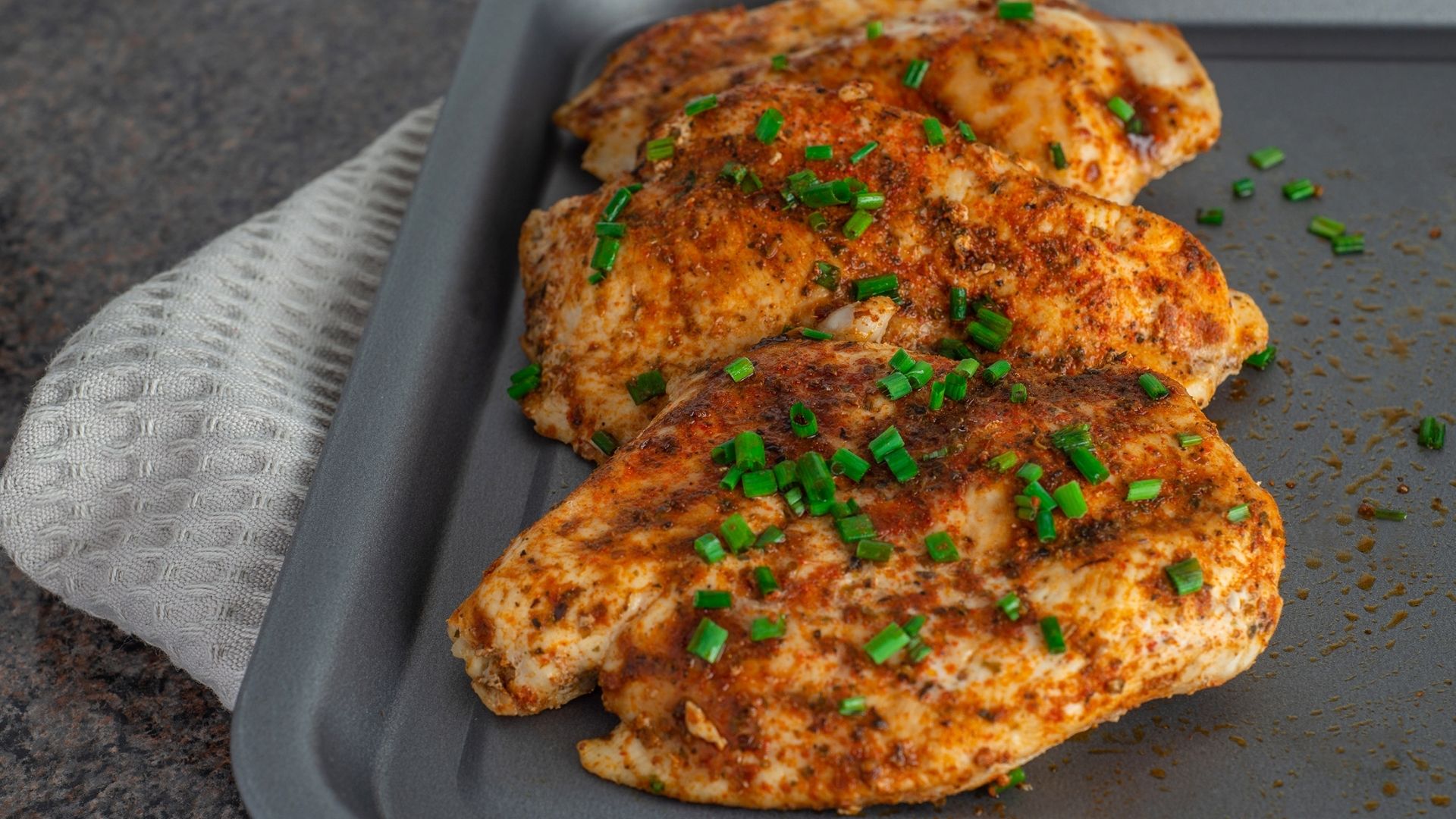 How do I know when the chicken breasts are well-done?
The most effective way to know your chicken breasts are well done is by using an instant thermometer.
Insert it at the thickest part of chicken breasts avoiding bones, fats, and gristle; a 165F reading indicates that your breasts are well-done.
You could also remove the heat source at 160F and let it cook to 165F.
If you don't own an instant thermometer, here are a few hacks:
Your hands: Use your fingers to gently press the chicken breasts to assess doneness. If the breasts are firm to the touch and oozing clear juices, it's cooked through. However, a soft feel with some pink meat color indicates more cook time is needed.
Metal cake tester: Insert a metal cake tester at the center of the chicken breasts and press it against the inner parts of your wrist. If hot, then your chicken is done. A cold or slightly warm feel indicates your chicken breasts need to cook longer.
A knife: When slow cooking chicken breasts, this is the best way to find its tenderness and doneness since it'll reach 165F early enough. Insert a knife at the thickest part; if it penetrates without resistance, your chicken is well-done. In case of resistance, let the meat cook a bit longer.
What is meat rest?
Meat resting is when you remove the heat source and let the meat carry over cooking for about 10 minutes before carving or serving it.
For instance, turn off the oven when chicken breasts reach 160F and let stand for 7 – 10 minutes to a final 165F.
A meat thermometer helps you determine if your meat is well-rested.
The resting time depends on the meat type, the thickness, and the size of your cut.
Letting the meat rest deepens the flavors by redistributing the juices back to the meat fibers.
It also kills harmful bacteria for a safe meal.
How long to bake chicken breasts? Hacks for perfect chicken breasts
Perfectly baked chicken breasts require some skills to come out tender, juicy, flavorful, and crispy.
Here are a few hacks in steps;
Size matters: Smaller pieces might burn before the larger pieces are well-done—to avoid this, get chicken breasts of the same size for even cooking.
Brine: Brining chicken breasts in lukewarm water brings them to room temperature resulting in extra juicy and evenly cooked breasts. Moreover, it significantly reduces the baking time to about 15 minutes. To brine chicken, mix warm water with salt and let it dissolve; place your breasts and let them sit for 15 minutes. Rinse with cold water to stop cooking and pat dry—that's all.
Brush: Glaze your chicken breasts with melted butter for that added flavor. Brushing prevents the chicken from sticking to a baking pan and eases seasoning. This also gives your chicken some nice crispy golden crust.
Salt and black pepper are best if you want to keep things simple.
For spicier and flavor-dense chicken breasts, sprinkle with your favorite seasonings; you'll love it.
Roast: Bake your chicken on high heat (425F) for about 18 minutes, depending on the thickness. Some prefer low heat, 350F, for a prolonged time. However, if looking for crispy and juicy chicken breasts, aim high on the temperature, provided it reaches 165F.
Rest: Allow your baked chicken breasts to stand for 10 minutes before carving or serving. This locks in the moisture distributing it evenly and giving each bite a decadent taste.
How to store chicken breasts: Storage tips
Leftovers
Tender chicken breasts taste even better as leftovers and make great sandwiches.
You can refrigerate or freeze based on the remaining portion and your preference.
Refrigerate chicken breasts packed in airtight containers for up to 4 days.
Properly packaged chicken breasts in freezer-safe bags can last up to a month in the freezer.
Fresh chicken breasts
Portion your raw chicken according to the family recipes you want to prepare—this makes it easier while thawing.
Double wrap in plastic and place in the zip-top freezer to increase their shelf life and prevent freezer burns.
How do you reheat leftover chicken breasts?
Depending on the urgency, you can reheat chicken breast in the oven, microwave, or skillet.
It'll take about 5 minutes in the microwave but may result in a tough outcome.
In a skillet, you can add gravy or desired sauce to retain the moisture, which will take about 20 minutes.
Finally, reheating in the oven takes about 40 minutes, but the outcome is tender and juicy breasts—thus, the best, if not in a rush.
Follow these steps;
In the oven: Preheat the oven to 350F. Reheat for about 20 minutes, flipping sides at 10 minutes intervals. Wrap your chicken breasts in foil and place them on an oven-safe dish in the preheated oven.
In a skillet: Thaw the leftover chicken breasts and place on a large wok over low heat—cover to lock in the moisture. Reheat for about 10 minutes and avoid burning or overcooking. You can brush with some oil or butter to prevent sticking in the skillet.
In the microwave: Place the chicken breasts in a microwave-safe dish, cover with a lid and reheat for about 5 minutes.
Frequently asked questions?
What can I use to season my chicken breasts?
Depending on your taste buds, you can opt for extra virgin olive oil with lemon juice or balsamic or Italian herb seasoning for that Italian feel.
Teriyaki gives off a spicy Asian taste, while lime chili is great for moderately mild flavoring.
Any spice is okay, provided you don't overdo it.
Is it better to bake a whole chicken at 350F or 425F?
It depends on what and how you're cooking it.
For example, tender cuts and soft skins are best at 350F, whereas tougher cuts roast better at 425F.
The time differs based on how stuffed or the thickness of the amount you're preparing; a whole stuffed chicken takes about 2 hours while an unstuffed one cooks in about an hour and a half.
The bottom line
How long to cook chicken breasts depends on various factors, thickness, size, and what you're looking for.
If you want crisp crusts, bake on high heat for a brief time.
Similarly, for tender pulled meat, slow cook for hours.
The best part is that chicken breast recipes are easy and versatile, perfect for weeknights, holidays, and special occasions.
Feel free to try different variations, don't forget to brine, brush, rub, roast and rest.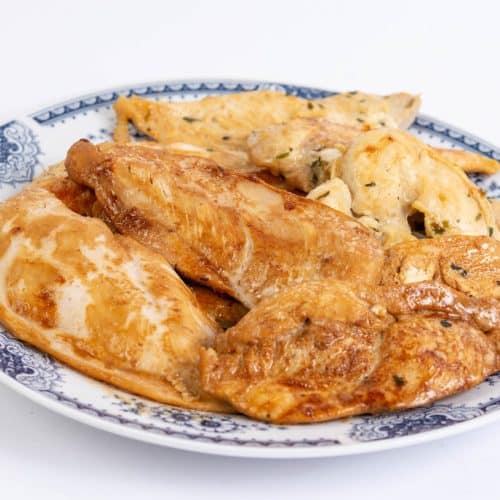 How Long To Bake Chicken Breasts? Just How High Is 425F?
Perfectly baked chicken breasts require some skills to come out tender, juicy, flavorful, and crispy.
Ingredients
1

Boneless

skinless chicken breasts

1

olive oil

1

Kosher Salt

1

smoked

paprika

1

garlic powder

1

salt and black pepper
Instructions
Brine the chicken

Heat the oven.

Preheat oven to 450°F.

Season the chicken. Place the chicken breasts in a single layer in a large baking dish

Bake for 15-18* minutes, or until the chicken is cooked through and no longer pink

Rest the chicken

Serve.
Video
Nutrition
Calories:
582
kcal
Carbohydrates:
0.2
g
Protein:
98
g
Fat:
18
g
Saturated Fat:
6
g
Polyunsaturated Fat:
2
g
Monounsaturated Fat:
7
g
Cholesterol:
277
mg
Sodium:
215
mg
Potassium:
1645
mg
Fiber:
0.02
g
Sugar:
0.01
g
Vitamin A:
6
IU
Vitamin C:
0.3
mg
Calcium:
22
mg
Iron:
2
mg
---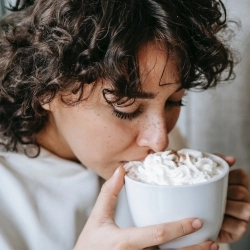 Latest posts by Grace Lambert
(see all)