The weekend is here, still stressing over what to cook?
Chicken wings, thighs, drumsticks, breasts, or even the whole chicken are great options.
You can make stew, roast, bake, or grill and eat with some veggies.
Now that you are preparing for dinner, do you know how long it takes to cook chicken breast?
The recommended heat for baking chicken is between 375F and 450F, with a final internal temperature of 165F (chicken cuts) and 180F (whole chicken).
It takes about 25 to 30 minutes for boneless chicken breasts—depending on the thickness—with a 10-minute stand time.
If you want crispy skin, bake on high for a short time.
How long should you bake chicken breast?
Let's look at the factors that maintain the perfect temperature to ensure your chicken comes out juicy and delicious.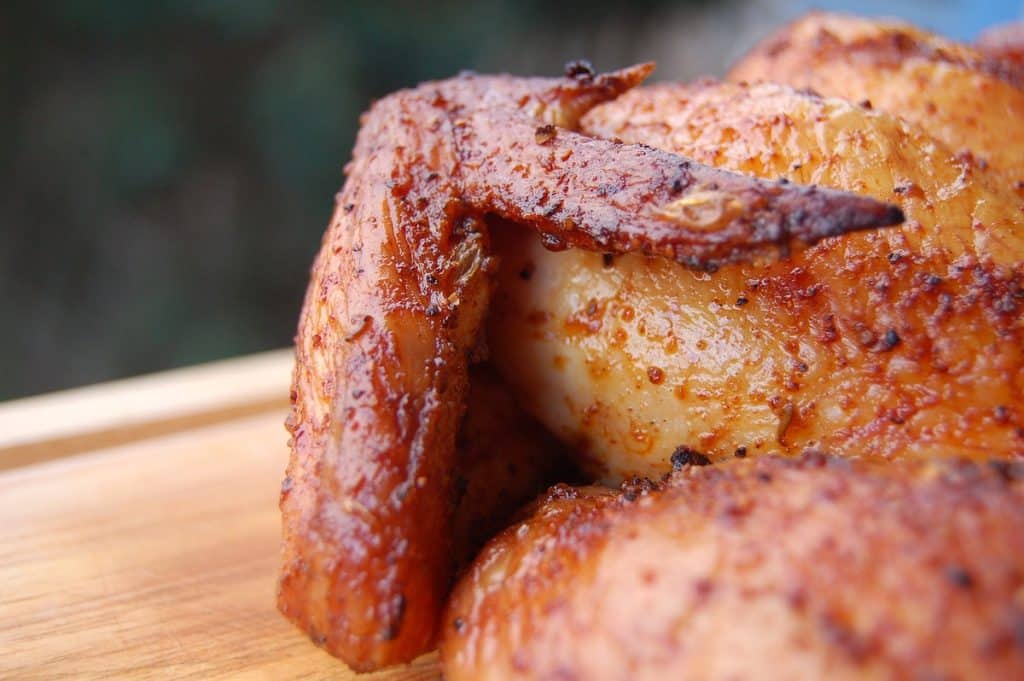 How long should you bake chicken breast?
Bake chicken breasts at 350F to 450F for approximately 25 to 40 minutes, depending on the weight, thickness, and cooking method.
The time may fluctuate but ensure the final internal temperature is at least 160F to indicate doneness.
The meat cut also affects cooking time.
For instance, breast halves bone-in weighing 8 pounds take about 30 to 40 minutes when roasting at 375F and 10 to 15 minutes grilling time.
Contrary, boneless breast halves weighing 4 pounds roast for 20 to 30 minutes and about 10 minutes when grilling.
Another factor to consider is whether the chicken breasts have skin or not.
A 4 lbs. skinless, boneless breast roasts for about 30 minutes a pound at 375F.
Meanwhile, an 8 lbs. skin-on and bone-in chicken breast would roast for about 45 minutes at 375F or until it reaches 165F final internal temperature.
How long should you bake chicken legs or thighs?
At 400F, chicken thighs (Bone-in, skin-on) will take 40 minutes to cook through and 50 minutes at 350F.
Although the lower temperature takes longer, it decreases the risks of drying out.
However, cook at a high temperature (400F) for a brief period if you aim for a crispy texture.
Deepening on the size and thickness, boneless, skinless chicken thighs cook for about 15 to 20 minutes in the oven at 425F.
Bone-in skin-on thighs take between 25 and 30 minutes to cook through or until it reaches a final temperature of at least 165F.
For boneless, skinless thighs, grilling chicken thighs on medium-high heat takes about 10 to 13 minutes.
Bone-in thighs with skin on the grill for 15 to 20 minutes, depending on the size, or until the temperature reaches 165F.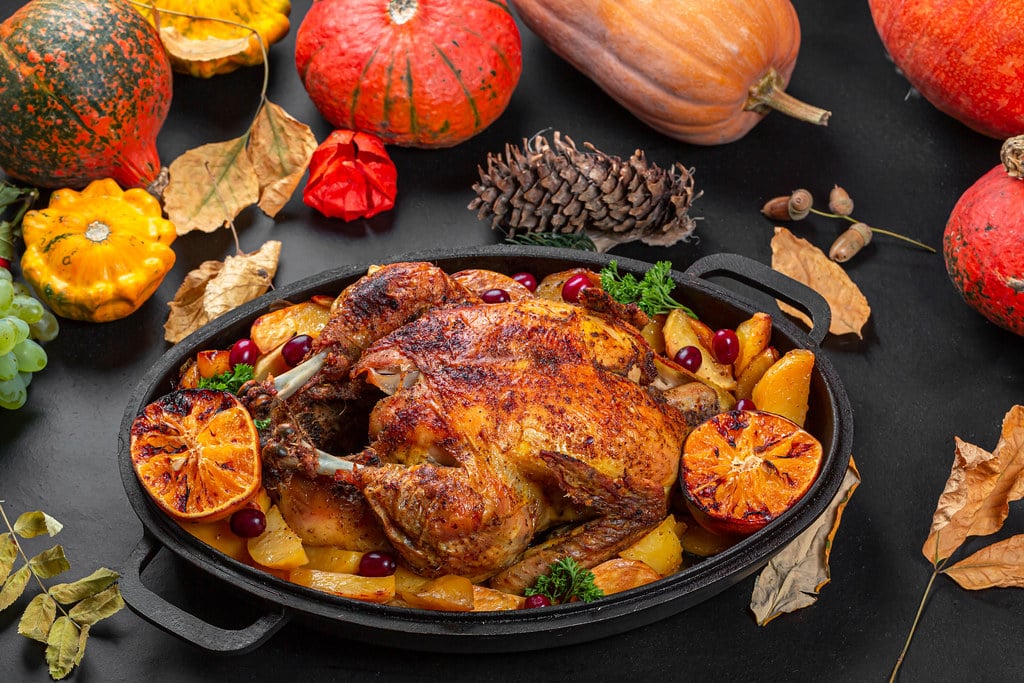 How long should you bake chicken drumsticks?
Baking medium-sized drumsticks take between 35 and 45 minutes in the oven, from 350F to 375F.
Oven frying at 425F will take about 15 to 25 minutes, depending on the weight and thickness of your drumstick.
Braising a 4lbs. drumstick takes 25 to 35 minutes to cook through, while 15 minutes is enough when grilling a skinless drumstick.
Simmering or slow cooking may take about 50 minutes per pound based on the size or until the internal temperature reaches 165F.
How long should you bake chicken wings?
The baking temperature for chicken wings varies between 325F and 425F depending on the desired outcome, wing size, and thickness.
For instance, baking chicken wings on a wire grate at 350F for about 30 minutes gets you a crispy skin.
At 325F, it will take longer to get done.
For maximum crispiness, bake wings at 400F, ensuring they are not overcrowded for about 50 minutes, flipping sides at 25 minutes intervals.
Are you wondering how long to cook chicken wings in the air fryer?
It's simple and takes about 30 minutes.
Set the air fryer at 370F, place the wings, and reduce it to 350F—cook for 10 to 12 minutes on each side.
Increase the heat to 400F and cook for 10 more minutes flipping at 5 minutes intervals—for extra-crispy wings.
How to know when your chicken is done baking?
Cooking time differs according to the size of your chicken and the method used.
Thus, it's important to know how to measure doneness and avoid undercooking or overcooking.
Here are a few ways to do that;
Instant thermometer: This is the most effective way to tell chicken doneness. Insert a digital thermometer at the thickest meat part; if the temperature is at 160F, it's well done. Allow it to stand for 10 minutes to reach 165F. Avoid bones, fat, or cartilage for accurate measuring.
Metal skewer: Insert a log skewer or fork in the center part of your chicken. If it penetrates without resistance, your chicken is cooked through. However, give it more time in the oven if the knife doesn't slide smoothly.
Cake tester: Insert a metal cake tester at the thickest part of your chicken and press it against the inner parts of your wrist; if hot, your chicken is done. A cold or slightly warm feel means more cook time is needed.
Clear juices: Cut through the thickest part; if it bursts with clear juices, it's cooked through. However, extend the cooking if you see some pink color or soft texture.
How to store and reheat baked leftover chicken
Storing leftover chicken in the refrigerator can last for 3 to 5 days in an airtight or zipper bag.
Properly wrapped in freezer-safe bags, cooked chicken can last up to 6 months in the freezer.
However, it's best to defrost and use within 3 months for quality purposes.
You can reheat chicken in a skillet, microwave, air fryer, or oven depending on the urgency, as explained below;
Microwave: Place your chicken in a microwave-safe dish, sprinkle with some gravy or water, and cover. Reheat on high heat for 3 minutes. Flip the pieces and microwave in 30 seconds intervals until cooked through.
Air fryer: Set the air fryer at 350F and reheat for about 10 minutes, flipping halfway through.
Oven: Preheat the oven to 400Fand reheat for about 20 minutes, flipping sides at 10 minutes intervals. Place the chicken on a wire rack over a baking pan and wrap in foil to allow even heat circulation.
In a skillet: Thaw the leftover chicken and place on a large saucepan over low heat—cover to lock in the moisture. Reheat for about 10 minutes, flipping halfway through: avoid burning or overcooking. You can brush with some oil or butter to prevent sticking in the pan.
What's the importance of resting my chicken?
Meat resting, also known as carry-over cooking, is when your chicken is done, but you let it stand before carving or serving.
For example, if cooked a whole chicken, remove it from the oven at 175F and let it sit for about 10 minutes to reach a final temperature of 180F.
Resting your chicken enhances even juice distribution in the chicken fibers deepening the flavors.
It also ensures your chicken is not overcooked.
Slicing the meatloaf before resting may cause the juices to seep, leaving you with a drier chicken.
Preferably, cover the meatloaf in foil while resting.
Frequently asked questions (FAQs)
Should I bake a whole chicken at 350F or 450F?
It depends on what you're cooking.
The temperature differs based on how stuffed or the thickness of the amount you're preparing; a whole stuffed chicken takes about 2 hours while an unstuffed one cooks in about an hour and a half.
For example, tender cuts with soft skins are best at 350F, whereas tougher cuts roast better at 425F.
How do you thaw frozen chicken?
The first step is to place frozen chicken in a fridge for 36 hours before reheating it in the microwave, oven, or skillet.
Alternatively, use a warm bath.
Heat some water in a large pot until it becomes warm, not boiling.
Place a container with the frozen chicken bags in the warm water bath.
The frozen items will defrost in about 2 hours—this is best for frozen chicken leftovers.
How do I make my chicken tender and juicy?
First, buy similar-sized pieces and cover them when cooking to allow even baking.
Secondly, brine your chicken in warm water and brush it with melted butter for extra juiciness.
Lastly, let your chicken rest before carving.
This allows the juices to be evenly distributed, rendering a tender and flavorful chicken.
What's the best method for reheating leftover chicken?
Depending on the urgency, you can reheat chicken in the oven, microwave, or skillet.
It'll take about 5 minutes in the microwave but may result in a tough outcome.
In a skillet, you can add gravy or desired sauce to retain the moisture, which will take about 20 minutes.
Finally, reheating in the oven takes about 40 minutes, but the outcome is a tender and juicy chicken—thus, the best, if not in a rush.
The bottom line
There's an art to baking chicken that revolves around how well it has been seasoned, what temperature you cook it at, and whether or not the skin is on.
However, remember that meat thickness, preparation method, and cut determine the cooking time and final temperature.
The general rule of thumb is to ensure it reaches an internal temperature of 165F; that way, it's perfectly safe for consumption.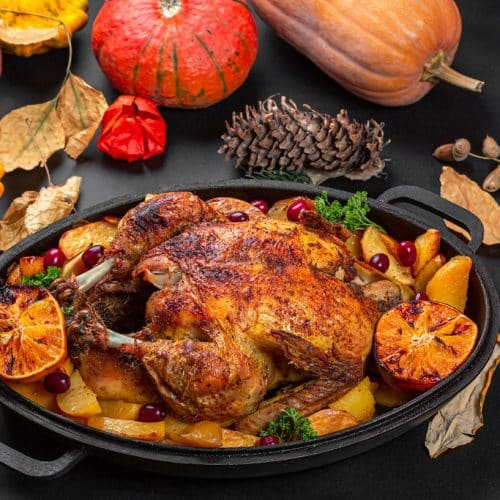 The Pioneer Woman's Baked Chicken Recipe
This dish is a classic example of The Pioneer Woman's cooking style: it takes a familiar dish and gives it a twist that makes it even more delicious.
Ingredients
1

whole chicken

4-5 pounds, giblets removed

1

tablespoon

olive oil

1

tablespoon

butter

2

cloves

garlic

minced

1

teaspoon

rosemary

chopped

1

teaspoon

salt

1/2

teaspoon

black pepper

1/4

cup

white wine
Instructions
The first step is to preheat your oven to 350 degrees Fahrenheit.

Next, you'll need to prepare the chicken. Rub the olive oil all over the chicken, then sprinkle on the garlic, rosemary, salt, and pepper. Be sure to rub it all over the chicken, so it's evenly coated.

Once the chicken is prepared, place it in a baking dish and pour it into the white wine. You'll want to use enough wine to cover the bottom of the dish.

Bake the chicken for 45 minutes to 1 hour or until it's cooked.

Once the chicken is cooked, remove it from the oven and let it rest for 5-10 minutes before carving.

Be sure to enjoy this delicious dish with your family and friends! Bon appetite!
Video
Nutrition
Calories:
961
kcal
Carbohydrates:
2
g
Protein:
71
g
Fat:
70
g
Saturated Fat:
21
g
Polyunsaturated Fat:
13
g
Monounsaturated Fat:
30
g
Trans Fat:
1
g
Cholesterol:
301
mg
Sodium:
1477
mg
Potassium:
762
mg
Fiber:
0.2
g
Sugar:
0.3
g
Vitamin A:
713
IU
Vitamin C:
7
mg
Calcium:
55
mg
Iron:
4
mg
---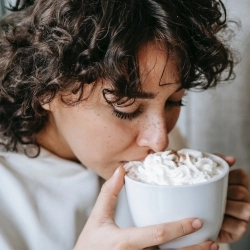 Latest posts by Grace Lambert
(see all)