Old-fashioned Simple Syrup Recipe
.
Simple syrup can be traced- back to the beginning of the drink.
It's linked to some variants of the old-fashioned, which many consider to be the first cocktail ever made.
It began as a technique of resolving a minor issue that developed while mixing drinks.
The issue is that sugar granules take a long time to dissolve in cold water.
As a result, to speed up – the procedure, a pre-mixed liquid sweetener was required..
Recipe for deliciously Sweet Simple Syrup:
.
The flavour characteristic of simple syrup is sweet and nothing more, but; if you measure the ingredients by volume, the degree of sweetness might vary greatly.
Using a kitchen scale, measure both the water and the sugar by weight..
Also, take in mind that the texture will vary depending on how you blend the water and sugar.
At room temperature, shaking or stirring 1:1 simple syrup will eventually result in both liquids blending perfectly, leaving no sugar crystals at the bottom of the container.
Even so, getting them combined may take some time.
When blended in this way, the syrup gives drinks a richer, more viscous mouthfeel..
Heat is an alternative way of combining sugar and water, which speeds up the dissolution process but results in a syrup with a different mouthfeel..
Simple syrup prepared in a 2:1 ratio is both sweeter and thicker than syrup prepared in a 1:1 ratio.
It delivers sweetness without using as much water, which can improve the flavour of a drink..
It's very simple to make this 2-Minute Microwave Simple Syrup!
It's delicious in iced coffee, tea, cocktails, and other cold drinks.
There will be no more sugar at the bottom of your glass!.
What kind of sweetener can I use?
.
●
Sugar Granules:
In classic simple syrup, white sugar is utilised. It's a liquid sweetener with no added tastes that melts delightfully.
●
Sugar (brown):
Brown sugar lends a caramel flavour to the drink, which is wonderful in a variety of cocktails!
●
Honey:
While honey is already a liquid, it does not mix well with other liquids. This difficulty is solved by mixing it with hot water! In iced tea, the honey syrup is extremely delightful!
●
Artificial Sweetener:
It is recommended to use Splenda as your sweetener if you want to make a sugar-free version.
Instructions:
1.
Fill a container with sugar that can be microwaved.
2.
Combine the sugar and water in a mixing bowl.
3.
Cook for 90 seconds on high power in the microwave.
4.
Stir and microwave for another 30 seconds.
How To Use Homemade Simple Syrup?
●
Beverages:
For every teaspoon of sugar in your beverage, use 1 12 teaspoon (a quarter ounce) of simple syrup. A half-ounce of rum is used in most cocktails, including this Cranberry Old Fashioned (3 teaspoons).
●
On the Cake:
The cake's moisture is locked in with simple syrup. Fill a squeeze bottle halfway with the cooled syrup and squeeze 1-4 teaspoons over the top of the cake layer.
●
Yoghurt Ingredients:
Squeeze some lemon juice into plain yoghurt and garnish with fresh fruit.
●
Fruit Salad
:
Adding simple syrup to your fruit salad provides sweetness while also preventing the fruit from browning.
Storage tips:
1.
The syrup can be moved to a mason jar or other airtight container once it has cooled.
2.
If you pour the syrup into a storage container while it's still hot, you risk thermal shock and breaking the glass container.
3.
For the longest shelf life, keep it refrigerated. In the refrigerator, it will keep for up to a month.
4.
If you add one tablespoon of vodka, the shelf life will be extended to 2-3 months.
5.
Once the syrup has gotten murky, discard it.
Flavour variations:
By adding an ingredient right after removing the syrup from the microwave, you can make it flavoured.
Allow for complete cooling to absorb the flavour of your addition.
Before keeping your syrup, remove the component addition.
Some of the best ingredient additions include:
●
Citrus peel or lemon juice
●
Vanilla bean or vanilla extract
Simple syrup is made for what purpose?
Simple syrups are commonly associated with the creation of elegant cocktails, but did you know that they can be used for so much more?
Most importantly, you may infuse simple syrups with herbs and spices in the traditional foods kitchen, and this infused mixture is the perfect ingredient for all kinds of nutritious tonics.
You can make simple syrups by infusing herbs and spices.
Simple syrups come to the rescue when it comes to producing healthy tonics.
When making a healthy simple syrup with honey and water instead of white sugar and water, for example, you can boost the health benefits of your syrup by infusing it with herbs and spices like:
How Much Healthy Is A Simple Syrup?
As the simple syrup is made out of refined white sugar crystals mixed in water, its health advantages are minimal.
It can provide you with a boost of energy because of the sugar's high-calorie content, but it won't give you anything else.
The simple syrup contains no vitamins, minerals, or other nutrients outside the sugar's carbs.
Conclusion
.
The name also serves as an explanation of what it is: A syrup recipe that's easy to make! It only requires two ingredients: water and sugar in equal parts.
Then you heat them to dissolve the sugar in the water, resulting in a liquid sweetener.
The typical way of making simple syrup is on the stovetop, but this microwave approach makes it much easier!
The sugar turns into a viscous liquid in about 2 minutes, great for mixing into your favourite cold drinks!
FAQs
.
How long does simple syrup last?
.
The syrup can be kept on the counter for up to a week or up to 30 days.
Suggestions for extending the shelf life beyond 30 days can be found in the storage tips section.
You can keep your simple syrup at room temperature for up to a week, but it will last up to a month in the refrigerator..
As you can see, preparing Microwave Simple Syrup is quite simple!
And it's a lot less work than simply adding sugar to the beverage!.
Can simple syrup be made on the stove?
.
It is possible to make simple syrup on the stove.
Heat the sugar and water in a saucepan over medium-high heat, stirring constantly, until the sugar dissolves..
Do you have any suggestions for making a smaller batch of syrup?
.
Smaller batches of syrup can be made.
Cooking time should be reduced because smaller volumes heat up faster. Once the sugar has dissolved, it is ready to serve..
What are the options for sweetening the syrup?
.
Yes, simply; add additional sugar to get a sweeter syrup.
For 1 cup of water, up to 2 cups of sugar can be utilised.
When you use a larger sugar ratio, your syrup will be thicker as well..
How does simple syrup benefit you?
.
Making simple syrup, a liquid sweetener requires the dissolving of sugar in water.
That's all there is to it.
Its ability to distribute sweetness evenly across any liquid temperature makes simple syrup an ideal ingredient in many iced drinks and cocktails (like a whiskey sour or sparkling beet lemonade)..
Describe two of the main functions of simple syrup.
.
The liquid form of sugar, sometimes called "sugar syrup," is used to sweeten cocktail drinks, iced tea, iced coffee, lemonade, and other cold drinks.
The fact that it's a liquid sweetener makes it easy to mix into cold beverages..
Simple syrup is an alternative to sugar, but does it have the same nutritional benefits?
.
All sweet syrups include roughly 20% water and just 70–85% sugars. Thus, they'll always provide you with fewer kilojoules (Calories) and sugars than white or raw sugar, which is 100% sugar (sucrose)..
Where can I buy simple syrup?
.
Pre-made bottles of simple syrup are available at any liquor store or in the liquor section of most grocery stores.
Producing simple syrup at home is
ridiculously easy, and it's much cheaper than buying it.
This dish can be made by anyone who can boil water..
How to Store Syrup?
.
The use of sugar as a preservative is found in many cuisines, such as jams and jellies, which are sometimes called preserves.
As long as they're prepared and stored correctly, simple syrups have a long shelf life: they should be made with very hot water and kept in a sealed container in the refrigerator..
A decent quantity of syrup does not imply endless quantities-if you leave your syrup out too long; it will mould.
So only prepare what you'll use in a reasonable amount of time.
When stored in the refrigerator, 1:1 hot-process simple syrup should last one month, whereas 2:1 simple syrup should last six months.
Syrups made by the cold-process method can turn mouldy in as little as half the time..
What is the arrangement of simple syrup?
.
●
Sugar and water is the only ingredient in simple syrup. That's all.
●
Simple syrup is created by boiling equal parts of water and sugar until the sugar dissolves.
.
.
.
.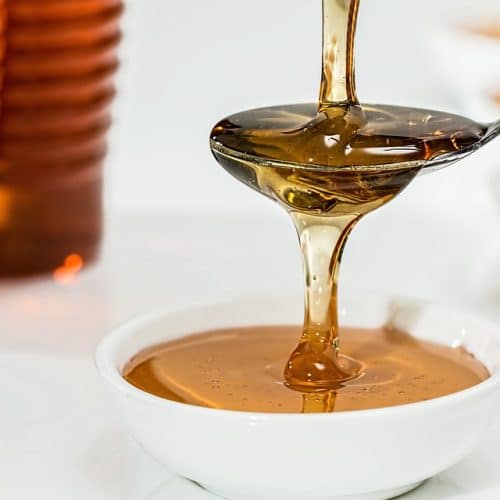 Simple syrup microwave
Simple syrup can be traced- back to the beginning of the drink.
Instructions
Fill a container with sugar that can be microwaved.

Combine the sugar and water in a mixing bowl.

Cook for 90 seconds on high power in the microwave.

Stir and microwave for another 30 seconds.
Video
Nutrition
Calories:
1
kcal
Carbohydrates:
1
g
Sodium:
1
mg
Potassium:
1
mg
Sugar:
1
g
Calcium:
1
mg
Iron:
1
mg
---