If you're looking for a great way to commemorate your special birthday, look no further than these fun and easy birthday cupcakes!
From chocolate to pumpkin, there's something for everyone.
Celebrate the big day with a sweet treat from your heart.
These birthday cupcakes are a labor of love packed full of decorations, frosting, and deliciousness.
Whether you have a small birthday party or a large bday bash, these birthday cupcakes will be sure to delight.
Trust me; these cakes are so good, you won't want to let go!
So get busy and get baking!
These cakes are waiting!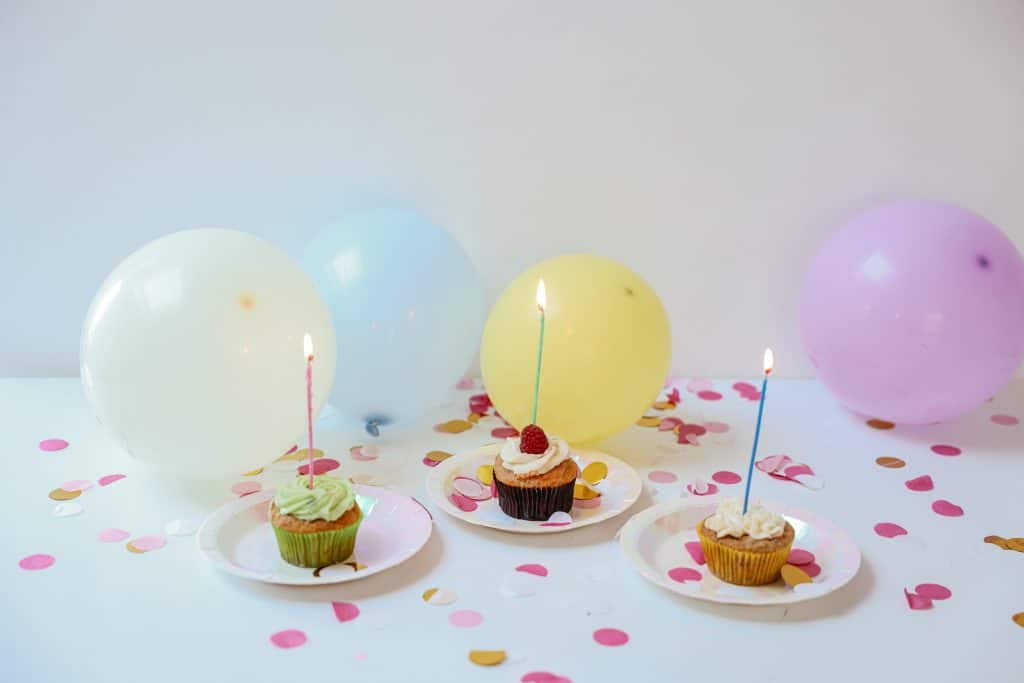 I can't even begin to express how happy I am to have found this recipe!
It's such a fun and unique way to dress up cupcakes.
As you can imagine, the colors are bright and vibrant, but they also look so graceful.
Plus, these cute little treats make for such a fun party favor.
You can even use regular cupcake liners if you want them to be extra special.
These birthday cupcakes are a great way to celebrate.
They're rich, chocolatey, and guaranteed to be a hit!
They're also gluten-free and vegan.
So no one will know they're made with only six ingredients.
Plus, you can easily add some sprinkles if you want them extra festive.
I like using M&Ms because they'll melt right in the cupcake batter.
Coconut and almond are two of my favorite nutty flavors.
And these cupcakes are the ultimate flavor combo!
These rich, moist cakes have a lovely buttery and sweet flavor that's sure to please even the most discerning palate.
The almond extract adds a subtle bitterness that pairs perfectly with the coconut, giving you one delicious dessert that will leave you wanting more.
These cupcakes are bursting with lemon flavor.
They have a buttery, moist cake base and a light cream cheese filling that's so light, you won't even miss the frosting.
You can use lemon extract or fresh lemons for an extra zesty taste.
But this recipe is just as delicious without it.
Vanilla cupcakes are the perfect treat for any occasion.
They're moist, fluffy, and utterly delicious.
But if you want to impress your guests with how amazing these cake bites are, try this recipe!
These cupcakes taste like a cross between a gingersnap cookie and a vanilla shake.
They're soft, chewy, and wonderfully sweet.
But the vanilla frosting makes them even more decadent.
The vanilla frosting is creamy and perfectly sweetened by the pecans.
I love this recipe because it uses plenty of cream cheese in addition to heavy cream.
But feel free to use half-and-half instead.
If you're looking for something a little different, I have just the recipe for you.
These cupcakes are the perfect combination of sweet and super moist.
They're so delicious that they make you want to gobble up more than one.
They'll be a hit with your family, especially if they have a dessert craving.
And they're even better when you make them in mini-muffin cups!
With these cupcakes, it really is all about the presentation!
They look amazing on the plate and taste awesome in your mouth.
I love strawberry shortcakes.
They're sweet, buttery, a little tart and tangy, and I just can't get enough of them.
These cupcakes are similar to the traditional version, using vanilla cake and strawberries in the batter.
The fruit also gives you some lovely color.
For extra flavor, add lemon zest, powdered sugar, and lemon juice to the batter.
They won't be as silky smooth as regular strawberry shortcakes but they'll still be delicious.
These cute little owl cupcakes are a great way to show your love for the animal on your ID.
Plus, they're delicious and easy to make.
Dip each one in melted chocolate, then top with white chocolate shavings and chopped nuts or dried fruit.
If you love the idea of a strawberry and cream cupcake, but you're looking for something a little more decadent, give this one a try.
You'll make it with a simple sponge cake base and whipped cream frosting.
It has all the deliciousness of those popular desserts – strawberries, cream, and chocolate chip cookie crumbles.
The key difference is that these are topped with sweetened whipped cream instead of buttercream.
They make them even more delectable!
These cupcakes are made with a buttery, crumbly cake and a decadent chocolate icing.
They're delicious, but they're also pretty healthy.
So the next time you get stuck at the end of the week without dessert, give these a try.
Plus, they make great leftovers – especially if you feed them to your family every night.
How many chocolate chip cookies have you made this year?
I don't know, but it's a lot!
These cupcakes are very much like vegan cookie cakes.
They have the same tasty frosting and all the same ingredients.
The only difference is that these cupcakes are packed with chocolate chips.
But even though you won't miss out on those traditional flavors, these babies will definitely impress your friends.
These circus cookie cupcakes have all the best of both worlds.
They're super cute, and they're lovely on the inside.
As a child, I loved making cookies in giant cookie jars.
These cupcakes are no exception!
They're loaded with chocolate chips and frosting, so you know they'll be unbeatable.
If you want extra sugar and butter to make them fudgy, feel free to add it in!
These chocolate cupcakes are the perfect balance of sweet and tangy.
They're made with rich black forest cake, an amazing dark chocolate frosting, and a sprinkling of white chocolate chips.
It's also loaded with peanut butter cups for added texture and crunch.
So if you like your cupcakes super thick, you'll have to use a muffin pan instead!
These are sure to be a hit with your family and friends.
They're very light and airy, but the chocolate rosemary cupcake is dense and full of flavor.
You can make these in under an hour using just six ingredients.
They take on a beautiful red color as they bake.
The trick to getting a nice rosemary flavor is to start with freshly chopped rosemary.
Once they're thoroughly infused, you can top them with some chocolate frosting or drizzle over some dark chocolate Streusel.
Yes, you can make cupcakes with Key lime juice!
I'm not kidding.
It works just as well as the zest.
In fact, if you add a little extra to the batter for these, it will taste like a Key lime pie without all that yummy filling.
I prefer the tempered sweetened zested Key lime juice here because I find it more comparable to key lime pie than regular fresh-squeezed lemon juice.
If you want something more tart, try swapping in some grapefruit juice instead of Key lime.
It will give these an intense flavor that flows through each bite.
The best part?
You can also swap out some of your cake batter ingredients for those listed at the top of this list.
This dessert is a cross between an Oreo and a cream cheese frosting.
One bite of this, and you'll see why it's called 'Boston Cream Pie Cupcake.'
I mean, who can resist the sweet and silky taste of Boston cream pie?
The soft and slightly crumbly cupcakes are also delightful.
They have the same taste as traditional Boston cream pie with a unique twist.
You can have them ready in less than 20 minutes!
The ice cream cups are decorated with colorful sprinkles and topped with a Neapolitan-inspired whipped cream frosting.
They're light and airy, making them a great dessert to enjoy during the summer.
And since they contain only eight ingredients (including the toppings), they take just 10 minutes to make.
Best of all, you can change up the flavor of the topping any time you like.
So whether you want your sprinkles to be coconut or pistachio, there's no limit to what you can create.
I love making cupcakes to bring to parties because they're quick and easy, but who doesn't love butterbeer?
Plus, they sure look fantastic!
These Butterbeer cupcakes are a great ice-cream-inspired dessert that is both sweet and tart.
The frosting is made with store-bought vanilla ice cream, which makes them even more indulgent.
But if you have leftover vanilla ice cream in the fridge, why not use that instead?
I have to admit, I'm a huge fan of salted caramel.
It's rich, sweet, and decadent.
Like chocolate, salted caramel has a wonderful balance of saltiness and sweetness.
Plus, it's hard not to lick your spoon after dipping it in this stuff.
These cupcakes are no exception!
The cupcake itself is moist with tender crumb and a delightful nutty flavor from the buttery cake mix.
The filling is made with brown sugar and butter for extra flavor.
It also features some chocolate chips for that wonderfully sweet finish.
If you want a little more crunch on top (or leave it off if you don't like those things), try coating the top in confectioner's sugar before baking.
Filled with chocolate syrup, pecans, and whipped cream, these cupcakes are just as decadent as the name suggests.
Adding a dash of rum to the batter creates a drinkable dessert that you can feel good about serving to your guests.
These are such an excellent addition to any New Orleans celebration.
Just be careful not to overdo it on the booze!
These cupcakes are made with black tea instead of coffee or chocolate, and they have a ton of flavor.
They're sweet, chocolatey, and soft, too.
The best part is that you can customize them the way you like them!
Top these cupcakes with whipped cream frosting if you want to add a bit more sweetness.
Or maybe just go ahead and add some salted caramel sauce.
They're so good that they could even be served as breakfast treats!
Either way, I'm sure your guests will love them.
You don't need a big fancy popcorn machine to make these.
However, it will make them extra special.
These cupcakes are filled with buttery, fudgy popcorn pudding and topped with gooey chocolate chips.
They have the most insanely delectable combination of flavors in one bite.
If you want something different, try adding some crushed toffee bits into the mix.
They also look amazing.
I didn't realize how much I love blueberries until I tried these cupcakes.
The texture is pretty close to a blueberry muffin, but the flavor is all lemon.
Remember to get fresh and frozen berries when you can, as those freeze-frozen versions are super salty.
These cinnamon roll cupcakes are the perfect way to kick off your day.
Plus, they're ridiculously easy to make.
I know you want to serve these babies for breakfast, but I think it's best served as a snack or dessert.
Either way, you can't go wrong with a slice of warm cinnamon roll in your mouth!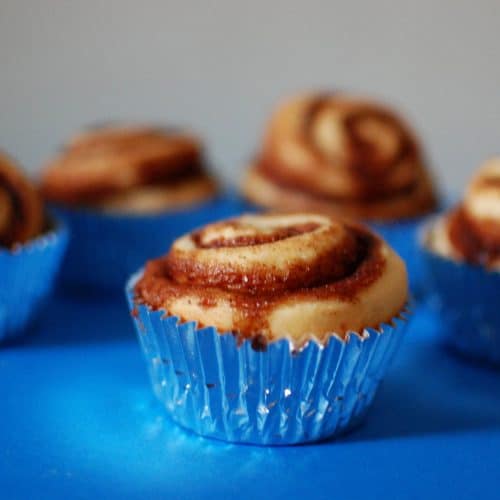 Cinnamon Roll Cupcakes
These simple Cinnamon Roll Cupcakes feature a cinnamon swirl vanilla cupcake, fluffy cream cheese frosting, and mini cinnamon rolls smothered in silky cream cheese icing!
Ingredients
CINNAMON SUGAR FILLING:
½

cup

dark brown sugar

packed

1 ½

tablespoon

ground cinnamon
CINNAMON SWIRL CUPCAKES:
1⅔

cups

all purpose flour

1½

teaspoon

baking powder

½

teaspoon

Baking soda

¼

teaspoon

salt

¼

teaspoon

ground nutmeg

optional

½

cup

unsalted butter

softened to room temperature

1 ¼

cups

granulated sugar

2

large

eggs

room temperature

⅓

cup

vegetable oil

2

teaspoon

pure vanilla extract

1

cup

buttermilk

room temperature
CREAM CHEESE FROSTING:
½

cup

unsalted butter

room temperature

8

ounce

cream cheese

softened to room temperature

6

cups

powdered sugar

1 ½

teaspoon

Pure Vanilla Extract

⅛

teaspoon

salt
CREAM CHEESE ICING GLAZE:
¼

cup

unsalted butter

softened

4

oz.

cream cheese

softened to room temperature

1

cup

powdered sugar

½

teaspoon

pure vanilla extract

⅛

teaspoon

salt

2-3

tablespoon

milk
GARNISH:
20

mini cinnamon rolls

store-bought
Instructions
TO MAKE THE CINNAMON SUGAR FILLING
Combine brown sugar and cinnamon in a small bowl with a fork.
DIRECTIONS FOR THE CINNAMON SWIRL CUPCAKE:
Preheat the oven to 350 degrees Fahrenheit (177 degrees Celsius). Cupcake liners should be used to line a 12-cup muffin tin. Line a second baking sheet with 6-8 cupcake liners. This recipe yields approximately 18-20 cupcakes.

Sift together the flour, baking powder, baking soda, salt, and nutmeg in a large mixing bowl. Place aside.

Beat the butter and sugar on medium-high speed in the bowl of a stand mixer fitted with the paddle attachment, or in a large mixing bowl with a hand mixer, until light and fluffy, 3-4 minutes.

Scrape down the bowl's sides and bottom. Reduce the speed to medium-low and add the eggs one at a time, mixing until just combined. Combine the vegetable oil and vanilla extract in a mixing bowl.

Alternately add 3 additions of dry ingredients and 2 additions of buttermilk to the batter, beginning and ending with the dry ingredients. Before adding the next, beat each addition just until combined.

Alternate between 1 tablespoon batter and 1 teaspoon cinnamon sugar, then 1 tablespoon batter and another teaspoon cinnamon sugar. Swirl the layers together with a toothpick.

Bake for 16-18 minutes, or until a toothpick inserted into a cupcake comes out clean.

Allow to cool for about 5 minutes in the pans before transferring to a wire rack to cool completely.
FOR THE CREAM CHEESE FROSTING:
In the bowl of a stand mixer, or in a large mixing bowl using a hand mixer, beat the softened butter and cream cheese for 5-6 minutes, or until super pale and fluffy.

Scrape down the bowl's sides and bottom. One cup at a time, add the powdered sugar and beat on low speed until combined.

Once combined, add the vanilla and salt and continue to beat until smooth.

Increase the speed to medium-high and continue to beat for 5-7 minutes, or until the frosting is light and fluffy.
GLAZE FOR CREAM CHEESE ICING:
Using a handheld mixer, beat butter and cream cheese in a medium mixing bowl until light and fluffy, about 3-5 minutes.

Mix in the powdered sugar on low until combined. Mix in the vanilla extract and salt until smooth.

1 tablespoon at a time, add milk until desired consistency is reached.
ASSEMBLE:
Place the frosting in a piping bag fitted with a large round tip and set aside. Top each cupcake with a dollop of frosting.

Place a mini cinnamon roll on top and drizzle with cream cheese glaze. Enjoy!
Video
Nutrition
Calories:
455
kcal
Carbohydrates:
71
g
Protein:
3
g
Fat:
19
g
Saturated Fat:
11
g
Polyunsaturated Fat:
1
g
Monounsaturated Fat:
5
g
Trans Fat:
0.5
g
Cholesterol:
68
mg
Sodium:
203
mg
Potassium:
75
mg
Fiber:
1
g
Sugar:
61
g
Vitamin A:
634
IU
Vitamin C:
0.02
mg
Calcium:
69
mg
Iron:
1
mg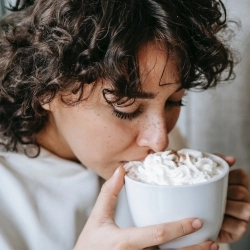 Latest posts by Grace Lambert
(see all)